Abstract
The standardization of environments (E) encouraged by modern society and by the productivist model of agriculture has resulted in the standardization of genotypes (G) thereby reducing G × E interaction. New societal values call for the diversification of agriculture to fit contrasted environments. This process can be depicted by four models defined by two axes, one socio-economic (individual logics versus collective governance), and the other agro-ecological (reductionist versus systemic approaches). These models differ in (i) their objectives (from improvement in yield to the empowerment of farmers), (ii) their specific expectations with respect to genotypes (from inherited genetic resources to varieties that represent genetic, ethical and social progress), (iii) their specific representations of the environment (E) (from a simple interaction between the bio-physical environment (B) and the crop management (C), to a complex interaction including the competences of the actors (A), outlets (O), regulations (R), society (S)), (iv) their particular relations between G and E (from G × E to G × B × C × A under evolving constraints represented by R × O × S). Taking this diversity into account changes the way plant improvement is considered. Thus, depending on the model, the order, interest and status of the five classic stages of plant improvement (setting objectives, creating variability, selecting, evaluating and disseminating) may be called into question. Between the existing analytical model (Model I) and a holistic model (Model IV) which remains to be developed, lies the challenge of ensuring the sustainability, efficiency and acceptability of plant breeding and resulting innovations. From a simple "statistical parameter" that we, as plant breeders, attempt to reduce, the G × E interaction is becoming an "objective" that we try to predict and valorize. Structuring the different components of E, G and G × E, enables us to extend the basic concept of representivity to both the cultivation conditions and the relational socio-economic positions of the actors involved.
Access options
Buy single article
Instant access to the full article PDF.
US$ 39.95
Tax calculation will be finalised during checkout.
Subscribe to journal
Immediate online access to all issues from 2019. Subscription will auto renew annually.
US$ 119
Tax calculation will be finalised during checkout.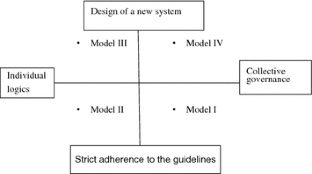 Notes
1.

GNIS: Groupement National Interprofessionnel des Semences et plants.

2.

CTPS: Comité Technique Permanent de la Sélection.

3.

DUS trials eliminate a variety that is (i) not distinct from another variety that is already registered, (ii) not uniform (conformity of all individuals), (iii) unstable (appearance of off types in the 2nd generation).

4.

VCU trials eliminate any variety that shows no improvement in cultivation value (yield and factors influencing the regularity of yield) or technological value (quality with respect to the manufacturer's specifications).

5.

SOC: Service Officiel de Contrôle et Certification.

6.

The Common Agricultural Policy.
Abbreviations
A:

Main actors (competences & resources)

B:

Bio-physical environment

C:

Crop management

O:

Outlet, market

G:

Genotype

E:

Environment

G × E:

Genotype × environment interaction

R:

Regulations, coordinating structures (public policies, public or private standards, etc.)
References
Aggeri F, Hatchuel A (2003) Ordres socio-économiques et polarisation de la recherche dans l'agriculture: pour une critique des rapports science/société. Sociologie du travail 45(1):113–133

Allaire G (2002) L'économie de la qualité, en ses secteurs, ses territoires et ses mythes. Géographie, Économie, Société 4:155–180

Almekinders C, Hardon J (eds) (2006) Bringing farmers back into breeding. Experiences with participatory plant breeding and challenges for institutionalisation. Agromisa Special 5. Agromisa, Wageningen, 125p

Atlin GN, Cooper M, Bjornstad A (2001) A comparison of formal and participatory breeding approaches using selection theory. Euphytica 122:463–475

Beck U (1992) The risk society: toward a new modernity. London, Sage

Boltanski L, Thévenot L (1991) De la justification. Les économies de la grandeur. Paris, Gallimard

Bonneuil C, Thomas F (2007) Du maïs hybride aux OGM: une histoire de la génétique végétale à l'INRA. INRA, Paris (in press)

Bonneuil C, Demeulenaere E, Thomas F, Joly PB, Allaire G, Goldringer I (2006) Innover autrement? La recherche face à l'avènement d'un nouveau régime de production et de régulation des savoirs en génétique végétale. In: Gasselin P, Clément O (eds) Quelles variétés et semences pour des agricultures paysannes durables? INRA, Paris, pp 29–51

Bourdeix R, Leclerc C, Thampan PH, Beaudouin L, Joly HI (2008) Modern and natural coconut hybrids in southern India: natural, technical and social facts. J Ethnobiol 32 (in press)

Bourdieu P (1979) La distinction. Critique sociale du jugement. Les Editions de Minuit, coll. Le sens commun., Paris

Brancourt-Hulmel M, Lecomte C, Meynard JM (1999) A diagnosis of yield-limiting factors on probe genotypes for characterizing environments in winter wheat trials. Crop Sci 39:1798–1808

Callon M, Lascoumes P, Barthe Y (2001) Agir dans un monde incertain. Essai sur la démocratie technique. Le Seuil, Paris

Cauderon A (2003) Un cas d'école dans l'accueil d'une innovation: les OGM. Semences et progrès 115:15–18

Cecarelli S, Grando S, Tutwiler R, Baha J, Martini AM, Salahieh H, Goodchild A, Michael M (2000) A methodological study on participatory barley breeding. I. Selection phase. Euphytica 111:91–104

Cecarelli S, Grando S, Bailey E, Amri A, El Felah M, Nassif F, Rezgui S, Yahyaoui A (2001) Farmer participation in barley breednig in Syria, Marocco and Tunisia. Euphytica 122:521–536

Chiffoleau Y (2006) La selection participative du Sud au Nord. In Quelles variétés et semences pour des agricultures paysannes et durables? Dossiers de l'environnement de l'INRA n°30, Paris, 186p

Chiffoleau Y, Desclaux D (2006) Participatory plant breeding: the best way to breed for sustainable agriculture? Int J Sustain Agric 4(2):119–130

Cochet H, Devienne S (2006) Operation and economic performance of farming systems: a regional approach. Cah Agric 15(6):578–583

Denis JB (1988) Two-way analysis using covariates. Statistics 19:123–132

Desclaux D (1996) De l'intérêt de génotypes révélateurs de facteurs limitants dans l'analyse des interactions génotype*milieu chez le soja (Glycine max L. Merrill). Thèse Institut national polytechnique de Toulouse. Spécialité: Biologie et Technologie végétales, 196p

Desclaux D (2000) Adaptability and stability of soybean genotypes: interest of environmental diagnosis from soybean 'black box'. In: Gallais A, Dillmann C, Goldringer I (eds) Eucarpia: quantitative genetics and breeding methods: the way ahead. Ed. INRA, 331p

Desclaux D (2005) Participatory plant breeding for organic cereals. In: Proceedings of the Eco-Pb workshop on organic plant breeding strategies and the use of molecular markers. Driebergen(NK), 2006, pp 17–23

Desclaux D, Hedont M (eds) (2006) In: Proceedings of ECO-PB workshop: "participatory plant breeding: relevance for organic agriculture?" Ed. ITAB, 112p

Desroches H (1976) Le Projet coopératif. Son utopie et sa pratique, Ses appareils et ses réseaux. Ses espérances et ses déconvenues. Éd. Ouvrières, 464p

Dieng I (2003) Prédiction de l'interaction génotype*environnement à partir d'indices variétaux de sensibilité à la sécheresse et de bilan hydrique à l'aide d'un modèle de régression factorielle dans les essais d'arachide au Sénégal. Université de Montpellier II et CIRAD/CA, Montpellier, 51p

Dieng I, Gozé E, Sabatier R (2006) Prediction of crop response by linearisation about control approximation. C. r., biol. (ISSN 1631-0691) 329(3):148–155. Elsevier, Paris, France

Finlay KW, Wilkinson GN (1963) The analysis of adaptation in a plant breeding programme. Aust J Agric Res 14:742–754

Fisher RA (1938) Statistical methods for research workers, 7eme ed. OLIVER & BOYD, Edinburg

Friedberg E (1988) L'analyse stratégique des organisations. Pour, numéro spécial, n°128

Gallais A (1990) Théorie de la sélection en Amélioration des Plantes. Ed. Masson, 588p

Gallais (2006) Preface. In: Lançon J, Floquet A, Weltzien E (eds) Partenaires pour construire des projets de sélection participative. Ed CIRAD, 207p

Gauch HG (1992) Statistical analysis of regional yield trials: AMMI analysis of factorial designs. Elsevier, Amsterdam, 278p

Gibson RH, Pearce S, Morris RJ, Symondson WOC, Memmott J (2007) Plant diversity and land use under organic and conventional agriculture: a whole-farm approach. J Appl Ecol 44(4):792–803

Giddens A (1991) Modernity and self-identity. Self and society in the late modern age. Polity, Cambridge

Goldringer I, Galic N, Rousselle Y, Demeulenaere E, Bonneuil C, Payement J, Berthellot JF, Chesneau V, Mercier F, Ferté H, Pommart A, Zaharia H (2007) On-farm dynamic management of wheat populations/varieties in organic agriculture: a way to valorize G × E interactions. In: Proc. of Eucarpia symposium, 7–9 Nov., Wageningen

Gozé E (1992) Détermination de la dimension des réseaux d'essais. Coton Fibres Trop 47(2):81–94

Hubert B (2002) Agricultures et développement durable. Enjeux de connaissances et attitudes de recherche. Dossiers de l'Environnement de l'INRA, n°27, pp 41–54

Kastler G (2006) Les semences paysannes. In Quelles variétés et semences pour des agricultures paysannes et durables? Dossiers de l'environnement de l'INRA n°30, Paris, 186p

Lammerts van Bueren ET, Struik PC, Tiemens-Hulscher M, Jacobsen E (2003) The concepts of intrinsic value and integrity of plants in organic plant breeding and propagation. Crop Sci 43:1922–1929

Lefort PL, Guy P, Buson M, Poisson C (1979) Aspects biologiques de l'interaction génotypes × milieux. Recherche de définitions. Implications en amélioration des plantes. Le tocsin du radiateur 79(1):15–24, Ed INRA

Le Guyader (2006) In rapport d'activité. Comité d'éthique et de précaution de l'INRA et de l'IFREMER. COMEPRA, ed INRA

Nolot JM (1994) Parcours d'élaboration du rendement. In CR Réunion Sci.gpe céréales, Dijon, mars 94, ed INRA

Paillotin G (2006) In Rapport d'activité—Comité d'éthique et de précaution de l'INRA et de l'IFREMER. COMEPRA, ed. INRA

Pecqueur B (2007) L'économie territoriale : une autre analyse de la globalisation. L'économie politique n°33, pp 41–52

Pope de Vallavieille C, Belhaj Fraj M, Mille B, Meynard JM (2007) Associations de variétés de blé pour stabiliser le rendement et la qualité de la récolte. In proc. Rencontres du Cirad, Journée d'agronomie, 30 août 2007, ed CIRAD

Rastoin JL (2007) Quel système alimentaire à l'horizon 2050? Académie d'agriculture de France, Paris

Sperling L, Ashby JA, Smith ME, Weltzien E, McGuire S (2001) A framework for analyzing participatory plant breeding approaches and results. Euphytica 122:439–450

Stengers I (1999) Le développement durable, une nouvelle approche? Alliage, n°40

Sylvander B, Bellon S, Benoit M (2006) Facing the organic reality: the diversity of development models and their consequences on research policies. Paper presented at Joint Organic Congress, Odense, Denmark, May 30–31, 2006

Vinck D (1999) «Les objets intermédiaires dans les réseaux de coopération scientifique. Contribution à la prise en compte des objets dans les dynamiques sociales». Revue Française de Sociologie XL(2):385–414

Von Hippel E (2005) Democratizing innovation. The MIT Press, Cambridge, Massachusettes, 204p

White HC (1981) Where do markets come from? Am J Sociol 87(3):517–547

Witcombe JR, Joshi A, Goyal SN (2003) Participatory plant breeding in maize: a case from Gujurat, India. Euphytica 130:413–422

Wolfe MS (1997) Variety mixtures: concept and value. In: Wolfe MS (ed) Variety mixtures in theory and practice. European Union Variety and Species Mixtures working group of COST Action 817. Online at: http://www.scri.sari.ac.uk/TiPP/Mix/Booklet/default.htm

Yan W, Hunt LA (2001) Interpretation of genotype × environment interaction for winter wheat yield in Ontario. Crop Sci 41:19–25

Yates F, Cochran WG (1938) The analysis of groups of experiments. J Agric Sci 9:556–580
About this article
Cite this article
Desclaux, D., Nolot, J.M., Chiffoleau, Y. et al. Changes in the concept of genotype × environment interactions to fit agriculture diversification and decentralized participatory plant breeding: pluridisciplinary point of view. Euphytica 163, 533 (2008). https://doi.org/10.1007/s10681-008-9717-2
Received:

Accepted:

Published:
Keywords
Plant breeding

Sociotechnical approach

Diversity of agricultural models

Heterogeneous environments

Representivity

On-farm selection

Ex-situ/in-situ