Abstract
The GCAs are new tetraploid interspecific hybrids developed in Madagascar from Coffea eugenioides, C. canephora and C. arabica. Selected GCA having genotype UF1023 contained 0.37% DW caffeine and no detectable theobromine in green beans. Low caffeine accumulation in GCA plants is due mainly to the low biosynthetic activity of purine alkaloids, possibly the extremely weak N-methyltransferase reactions in caffeine biosynthesis. No significant catabolic activity of caffeine was found in GCA-UF1023, in common with almost all coffee plants including C. arabica.
Access options
Buy single article
Instant access to the full article PDF.
US$ 39.95
Tax calculation will be finalised during checkout.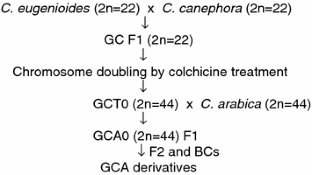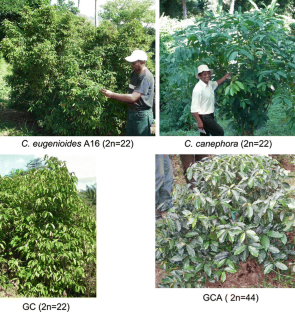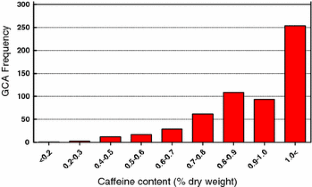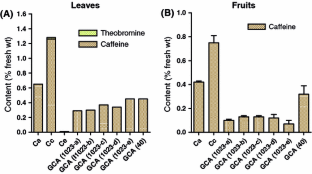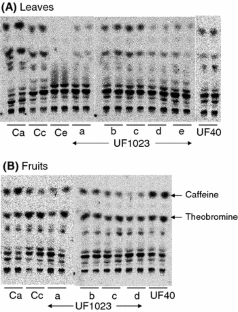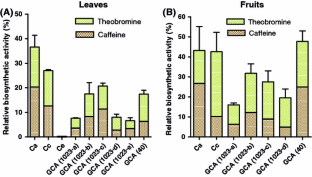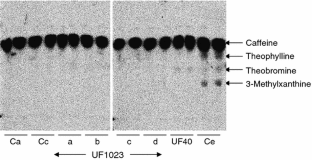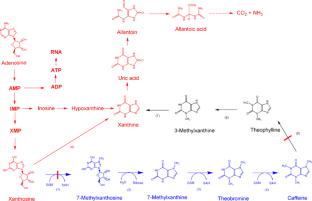 References
Anthony F, Clifford MN, Noirot M (1993) Biochemical diversity in the genus Coffea L.: chlorogenic acids, caffeine and mozambioside contents. Genet Resour Crop Evol 40:61–70

Ashihara H, Crozier A (1999a) Biosynthesis and catabolism of caffeine in low-caffeine-containing species of Coffea. J Agric Food Chem 47:3425–3431

Ashihara H, Crozier A (1999b) Biosynthesis and metabolism of caffeine and related purine alkaloids in plants. Adv Bot Res 30:118–205

Ashihara H, Crozier A (2001) Caffeine: a well known but little mentioned compound in plant science. Trends Plant Sci 6:407–413

Ashihara H, Monteiro AM, Gillies FM, Crozier A (1996a) Biosynthesis of caffeine in leaves of coffee. Plant Physiol 111:747–753

Ashihara H, Monteiro AM, Moritz T, Gillies FM, Crozier A (1996b) Catabolism of caffeine and related purine alkaloids in leaves of Coffea arabica L. Planta 198:334–339

Ashihara H, Sano H, Crozier A (2008) Caffeine and related purine alkaloids: biosynthesis, catabolism, function and genetic engineering. Phytochemistry 69:841–856

Ashihara H, Zheng XQ, Katahira R, Morimoto M, Ogita S, Sano H (2006) Caffeine biosynthesis and adenine metabolism in transgenic Coffea canephora plants with reduced expression of N-methyltransferase genes. Phytochemistry 67:882–886

Campa C, Doulbeau S, Dussert S, Hamon S, Noirot M (2005) Diversity in bean caffeine content among wild Coffea species: evidence of a discontinuous distribution. Food Chem 91:633–637

Carvalho A, Tango JS, Monaco LC (1965) Genetic control of the caffeine content of coffee. Nature 203:314

Charrier A, Berthaud J (1975) Variation de la teneur en caféine dans le genre Coffea. Café Cacao Thé 19:251–264

Cornelis MC, El-Sohemy A (2007) Coffee, caffeine and coronary heart disease. Curr Opin Lipidol 18:13–19

Daly JW (2007) Caffeine analogs: biochemical impact. Cell Mol Life Sci 64:2153–2169

Eteng MU, Eyong EU, Akpanyung EO, Agiang MA, Aremu CY (1997) Recent advances in caffeine and theobromine toxicities: a review. Plant Food Hum Nutr 51:231–243

Fazuoli LC, Perez Maluf M, Guerreiro Filho O, Medina Filho H, Silvarolla MV (2000) Breeding and biotechnology of coffee. Coffee biotechnology and quality. Proceeding 3rd international seminar on biotechnology in coffee agroindustry. Londrina, pp 28–45

Fujimori N, Ashihara H (1994) Biosynthesis of theobromine and caffeine in developing leaves of Coffea arabica. Phytochemistry 36:1359–1361

Heilmann W (2001) TechnologyII: decaffeination of coffee. In: Clarke RJ, Vitzthum OG (eds) Coffee: recent development. Blackwell Science, Oxford, pp 108–124

Koshiro Y, Zheng XQ, Wang M, Nagai C, Ashihara H (2006) Changes in content and biosynthetic activity of caffeine and trigonelline during growth and ripening of Coffea arabica and Coffea canephora fruits. Plant Sci 171:242–250

Lanaud C (1979) Etude des problèmes posés chez le caféier par l'introgression de caractères d'une espèces sauvage (C. kianjavatensis: Mascarocoffea) dans l'espèce cultivée C. canephora (Eucoffea). Café Cacao Thé 23:3–28

Lashermes P, Combs MC, Robert J, Trouslot P, D'hont A, Anthony F, Charrier A (1999) Molecular characterization and origin of Coffea arabica L. genome. Mol Gen Genet 261:259–266

Leroy T, Ribeyre F, Bertrand B, Charmetant P, Dufour M, Montagnon C, Marraccini P, Pot D (2006) Genetics of coffee quality. Braz J Plant Physiol 18:229–242

Louarn J (1976) Hybrides interspécifiques entre Coffea canephora Pierre et C. eugenioides Moore. Café Cacao Thé 20:33–52

Mazzafera P, Carvalho A (1992) Breeding for low seed caffeine content of coffee (Coffea L.) by interspecific hybridization. Euphytica 59:55–60

Ogita S, Uefuji H, Morimoto M, Sano H (2004) Application of RNAi to confirm theobromine as the major intermediate for caffeine biosynthesis in coffee plants with potential for construction of decaffeinated varieties. Plant Mol Biol 54:931–941

Ogita S, Uefuji H, Yamaguchi Y, Nozomu K, Sano H (2003) Producing decaffeinated coffee plants. Nature 423:823

Rakotomalala JJR (1993) Diversité biochimique des caféiers: Analyse des acides hydroxycinnamiques, bases puriques et diterpènes glycosidiques. particularités des caféiers sauvages de la région malgache (Mascarocoffea Chev.). Travaux et Documents Microfichés. ORSTOM Editions, N° 99, F3, 220 pp

Rakotomalala JJ, Cros E, Clifford MN, Charrier A (1992) Caffeine and theobromine in green beans from Mascarocoffea. Phytochemistry 31:1271–1272

Rabemiafara A, Rakotomalala JJR, Rakotomalala JOE (1997) Vers la diversification de la qualité du café malgache: un nouveau caféier hybride, le "Ratelo" ou GCA. in 17th ASIC. Nairobi ,Kenya, pp 506–512

Silvarolla MB, Mazzafera P, Fazuoli LC (2004) Plant biochemistry: a naturally decaffeinated arabica coffee. Nature 429:826

Suzuki T, Ashihara H, Waller GR (1992) Purine and purine alkaloid metabolism in Camellia and Coffea plants. Phytochemistry 31:2575–2584

Vitzthum OG (2005) Decaffeination. In: Illy A, Viani R (eds) Espresso coffee: the science of quality, 2nd edn. Elsevier Academic Press, Amsterdam, London, pp 142–147

Zheng XQ, Ashihara H (2004) Distribution, biosynthesis and function of purine and pyridine alkaloids in Coffea arabica seedlings. Plant Sci 166:807–813
About this article
Cite this article
Nagai, C., Rakotomalala, JJ., Katahira, R. et al. Production of a new low-caffeine hybrid coffee and the biochemical mechanism of low caffeine accumulation. Euphytica 164, 133–142 (2008). https://doi.org/10.1007/s10681-008-9674-9
Received:

Accepted:

Published:

Issue Date:
Keywords
Caffeine biosynthesis

Caffeine degradation

Coffea arabica
Coffea canephora
Coffea eugenioides

Interspecific hybrid