Abstract
The quantity and quality of pollen produced by a genotype are important attributes to be considered in the selection of male parents for breeding. The objective of this research was to determine the quantity and quality of pollen in 13 selected East African Highland bananas (EAHB) in relation to six diploids commonly used as male parents. Pollen quantity was scored on a scale of 0–6 while the variation of pollen stainability along the rachis was determined using acetocarmine glycerol jelly. Actual male fertility was determined by using pollen from the EAHB varieties on M. acuminata spp. burmannicoides, 'Calcutta 4', as the female. The diameter of 200 viable pollen grains was measured under a microscope with the aid of a graduated eyepiece. Significant differences were obtained for mean pollen stainability and pollen diameter. The pollen stainability for diploids was higher than that for the EAHB. Node numbers contributed significantly to variation of pollen stainability in EAHB (P ≤ 0.01) and 'Pisang lilin' (P ≤ 0.001). 'Pisang lilin' and the EAHB varieties had about 100 nodes as opposed to about 200 in other diploids. The EAHB varieties produced less pollen than most of the diploids. The actual male fertility of EAHB varieties was low (1 seed/bunch), compared to that of 'Calcutta 4' (223.3 seeds/bunch) and 'Pisang lilin' (13.7 seeds/bunch). Although the production of 2n pollen in EAHB varieties was low (0–7%), the potential exists for using them in new breeding approaches.
Access options
Buy single article
Instant access to the full article PDF.
USD 39.95
Price includes VAT (USA)
Tax calculation will be finalised during checkout.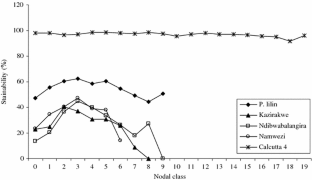 References
Adeleke MTV, Pillay M, Okoli BE (2004) Meiotic irregularities and fertility relationships in diploid and triploid Musa L. Cytologia 69:387–393

Ariyasu T (1959) Density effect of pollen put on artificial culture media, upon its germination and pollen tube growth. Bot Mag (Tokyo) 72:473–476

Bakry F, Horry JP, Teisson C, Tezenas du Montcel H, Ganry J (1990) L'amelioration genetique des bananiers a l' IRFA/CIRAD. Fruits (numero speciale) 25–39

Darlington CD (1937) Recent advances in cytology, 2nd edn. Churchill, London

Dessauw D (1988) Etude des facteurs de la stérilité du bananier (Musa spp.) et des relations cytotaxinomiques entre M. acuminata et M. balbisiana Colla. Fruits 43:685–700

Dodds KS, Simmonds NW (1948) Sterility and parthenocarpy in diploid hybrids of Musa Heredity 2:101–117

Dumpe BB, Ortiz R (1996) Apparent male fertility in Musa germplasm. HortScience 31:1019–1022

Fortescue JA, Turner DW (2004) Pollen fertility in Musa: Viability in cultivars grown in Southern Australia. Aust J Agric Res 55:1085–1091

Harlan JR, De Wet JMJ (1975) On O. Winge and a prayer: the origins of polyploidy. Bot Rev 41:1–14

Iwanami Y (1959) Physiological studies of pollen. J Yokohama Municipal Univ 116C:1–137

Jiang L, Olusola L (1996) Barriers to intersubgeneric crosses between Muscadinia and Euvitis. HortScience 31:269–271

Johri BM, Vasil IK (1961) Physiology of pollen. Bot Rev 27:325–381

Krishnakumar MP, Valsalakumari PK, Aravindakshan M (1992) Pollen production, fertility and viability in different nodes of the banana cultivars. Agric Res J Kerala 30:53–57

Marks GE (1954) An acetocarmine glycerol jelly for use in pollen fertility counts. Stain Technol 29:277

Marrewijk GAM (1994) Flowering biology and hybrid varieties. International course on applied plant breeding, Department of Plant Breeding, Agricultural University Wageningen, The Netherlands

Mukasa SB, Rubaihayo PR (1993) Male fertility in Uganda banana germplasm. Afr Crop Sci J 1(2):87–93

Nyine M, Pillay M (2007) Banana nectar as a medium for testing pollen viability and germination in Musa. Afr J Biotechnol 6:1175–1180

Ortiz R, Vuylsteke D (1995) Factors influencing seed set in triploid Musa spp. L. and production of euploid hybrids. Ann Bot 75:151–155

Ortiz R, Ulburghs F, Okoro J (1998) Seasonal variation of apparent male fertility and 2n pollen production in plantain and banana. HortScience 33:146–148

Ramanna MS, Jacobsen E (2003) Relevace of sexual polyploidization for crop improvement—a review. Euphytica 133:3–18

SAS (1998) SAS Institute Inc., Cary

Sathiamoorthy S (1973) Preliminary investigations on breeding potential of some banana clones. M. S. Thesis, Tamil Nadu Agricultural University, Coimbatore

Sathiamoorthy S, Madhava-Rao VN (1980) Pollen production in relation to genome and ploidy in banana clones. In: Proceedings of National Seminar, Banana Production Technology, Tamil Nadu Agricultural University, Coimbatore, pp 46–49

Sathiamoorthy S, Balamohan TN (1993) Improvement of banana. Adv Hortic (India) 1:303–335

Sathiamoorthy S, Madhava-Rao VN, Bhakthavatsalu C (1984) Banana germplasm and breeding in India. Current problems on fruits and vegetables, India, p 121

Shepherd K (1960) Seed fertility of edible bananas. J Hortic Sci 35:6–20

Shepherd K (1999) Cytogenetics of the genus Musa. International network for the Improvement of Banana and Plantain, Montpellier, p 160

Shivanna KR, Johri BM (1989) The Angiosperm pollen, structure and function. John Wiley and Sons, USA

Simmonds NW (1966) Bananas. Tropical Agricultural Series, 2nd edn. Longman, London, p 512

Ssebuliba RN (2002) Fertility in East African highland bananas. Ph.D. Thesis, Makerere University, Uganda

Ssebuliba R, Talengera D, Makumbi D, Namanya P, Tenkouano A, Tushemereirwe W, Pillay M (2006) Reproductive efficiency and breeding potential of East African highland (Musa AAA-EA) bananas. Field Crops Res 95: 250–255

Tenkouano A, Crouch JH, Crouch HK, Vuylsteke D (1998) Ploidy determination in Musa germplasm using pollen and chloroplast characteristics. HortScience 33:889–890

Visser T (1955) Germination and storage of pollen. Meded Landbouwhogesch Hoogesch Wageningen 55:1–68

Vuylsteke D, Ortiz R, Ferris S, Crouch J (1997) Plantain improvement. Plant Breed Rev 14:267–320
Acknowledgement
The senior author acknowledges the input of the late Dirk R. Vuylsteke and Dr. J Hartman (IITA, Uganda), and Prof P. Rubaihayo, Makerere University, Kampala, Uganda in this research.
About this article
Cite this article
Ssebuliba, R.N., Tenkouano, A. & Pillay, M. Male fertility and occurrence of 2n gametes in East African Highland bananas (Musa spp.). Euphytica 164, 53–62 (2008). https://doi.org/10.1007/s10681-007-9637-6
Received:

Accepted:

Published:

Issue Date:
Keywords
Banana

Pollen quantity/staining/fertility

Actual male fertility

2n gametes