Abstract
There is a strong link between formal plant breeding and seed supply. In developed countries, it was the emergence of systematic plant breeding that generated new named varieties and stimulated organized seed multiplication and marketing by commercial companies. In developing countries likewise, the experience of the 'Green Revolution' in the 1960's led to the establishment in the following decade of national seed projects which could deliver the products of plant breeding more effectively from breeder to farmer. The provision of a secure conduit leading from research to agriculture remains a major justification for formal seed systems. The limitations of formal breeding approaches have been recognized in recent years, especially for crops grown in marginal and diverse environments, where farmers' requirements are more complex. This has prompted interest in alternative participatory plant breeding strategies in which farmers can play an active role in the selection process. There has been a parallel recognition of the role of the informal seed sector, as the major seed supplier in many crops and areas where the regular sale of seed by formal organizations is difficult. The question which arise therefore is—"How do participatory breeding approaches relate to both formal and informal seed systems?" The purpose of this paper is to examine the technical, regulatory and policy aspects of this question, with emphasis on the following issues:
The nature and definition of participatory plant breeding (PPB) outputs,

Maintaining the identity and integrity of PPB outputs

The relevance of official variety evaluation and registration procedures

Maximizing the diffusion and impact of PPB outputs

Innovative seed supply systems linked to PPB activities

The role of policy in facilitating alternative seed delivery systems
The synthesis of this discussion is that PPB initiatives must be linked to a secure diffusion strategy within and beyond the participating communities if the technical and social benefits of this approach are to be fully realized. National policies relating to seeds and regulatory frameworks must also take account of this approach to avoid downstream constraints.
Access options
Buy single article
Instant access to the full article PDF.
USD 39.95
Price includes VAT (USA)
Tax calculation will be finalised during checkout.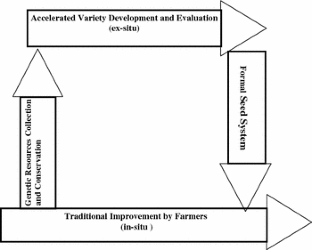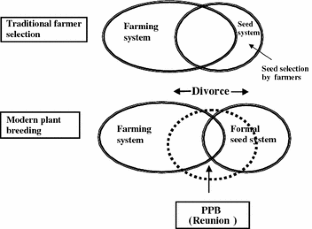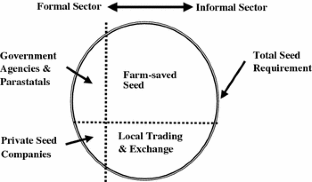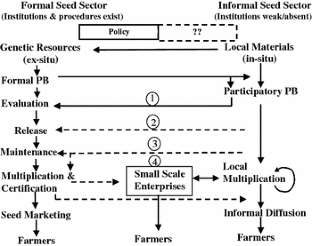 References
Almekinders CJM, Thiele G, Danial DL (2007) Can cultivars from participatory plant breeding improve seed provision to small-scale farmers? Euphytica 153:363–372

Atlin GN, Cooper M, Å Bjørnstad (2001) A comparison of formal, participatory breeding approaches using selection theory. Euphytica 122:463–475

Bellon MR, Adato M, Becerril J, Mindek D (2005) Impact of improved germplasm on poverty alleviation: the case of tuxpeño-derived materials in Mexico. CIMMYT, Mexico, DF

Bellon MR, Risopoulos J (2001) Small-scale farmers expand the benefits of improved maize germplasm: a case study from Chiapas, Mexico. World Dev 29:799–811

Ceccarelli S, Grando S (2007) Decentralized-participatory plant breeding: an example of demand driven research. Euphytica 155(3):349–360

Ceccarelli S, Grando S (2005) Decentralized-participatory plant breeding. In: Tuberosa R, Phillips RL, Gale M (eds) In the wake of the double helix: from the green revolution to the gene revolution. Proceedings of an International Congress, 27–31 May 2003, University of Bologna, Italy, pp 145–156

Ceccarelli S, Grando S, Tutwiler R, Baha J, Martini A, Salahieh H, Goodchild A, Michael M (2000) A methodological study on participatory barley breeding I. Selection phase. Euphytica 111:91–104

Cromwell E (1997) Local-level seed activities: Opportunities and challenges for regulatory frameworks. In: Tripp R (ed) New seed and old laws. regulatory reform and diversification of national seed systems. Intermediate Technology Publications, London, pp 214–230

Cromwell E, Wiggins S, Wentzel S (1993) Sowing beyond the state: NGOs and seed supply in developing countries. Overseas Development Institute, London, UK

David S (2004) Farmer seed enterprises: a sustainable approach to seed delivery. Agric Human Value 21:387–397

David S, Kasozi S (2000) Designing sustainable, commercial and farmer seed production systems in Africa: Case studies from Uganda. In: Fujisaka S (ed) Systems and farmer participatory research: developments in research on natural resource management. CIAT, Colombia, pp 128–140

Gerhart J (1975) The diffusion of hybrid maize in western Kenya. Ph.D. thesis, Princeton University, New Jersey, U.S.A. Abridged by International Maize and Wheat Improvement Center (CIMMYT), Mexico. CIMMYT: D.F

Grisley W, Shamambo M (1993) An analysis of the adoption and diffusion of Carioca beans resulting from an experimental distribution of seed. Exp Agric 29:373–382

Heisey P, Brennan J (1991) An analytical model of farmers' demand for replacement seed. Am J Agric Econ 73(4):1044–1052

Joshi KD, Sthapit BR, Witcombe JR (2001) How narrowly adapted are the products of decentralised breeding? The spread of rice varieties from a participatory plant breeding program in Nepal. Euphytica 122:589–597

Joshi A, Witcombe JR (1996) Farmer participatory crop improvement. II. Participatory varietal selection a case study in India. Exp Agric 32:461–477

Kugbei S., Bishaw Z (2002) Policy measures for stimulating indigenous seed enterprises. J New Seeds 4(1/2):47–63

Mangione D, Ceccarelli S, Grando S(2006) Decentralized-participatory plant breeding: an example of demand driven research. Euphytica 150:289–306

Osborn T, Faye A (1991) Using farmer participatory research to improve seed and food grain production. Winrock International Institute for Agricultural Development. Morrilton, Arkansas, USA

Omanya GO, Weltzien-Rattunde E, Sogodogo D, Sanogo M, Hanssens N, Guero Y, Zangre R (2007) Participatory varietal selection with improved pearl millet in West Africa. Exp Agric 43:5–19

Parlevliet JE (2007) How to maintain improved cultivars. Euphytica 153:353–362

Singh RP, Pal S, Morris M (1995) Maize research and development and seed production in India: Contributions of the public and private sectors. CIMMYT Economics Working Paper 95-03. CIMMYT, Mexico, DF

Sperling L, Ashby JA, Smith ME, Weltzien E, McGuire S (2001) A framework for analyzing participatory plant breeding approaches and results. Euphytica 122:439–450

Sperling L, Scheidegger U (1995) Participatory selection of beans in Rwanda: Results, methods and institutional issues. International Institute for Environment and Development. Gatekeeper Series No. 51. IIED, London

Sperling L, Loevinsohn ME (1993) The dynamics of adoption: Distribution and mortality of bean varieties among small farmers in Rwanda. Agric Syst 41:441–453

Sthapit BR, Joshi KD, Witcombe JR (1996) Farmer participatory crop improvement. III. Participatory plant breeding, a case study for rice in Nepal. Exp Agric 32:479–496

Tripp R (2000) The organization, of farmer seed systems: Relevance for participatory plant breeding. Paper presented in international symposium of scientific basis of participatory plant breeding and conservation of genetic resources held 8–14 October 2000, Oaxtepec, Mexico

Tripp R, Louwaars NP, van der Burg WJ, Virk DS, Witcombe JR (1997) Alternatives for seed regulatory reform: an analysis of variety testing, variety regulation and seed quality control. Agricultural Research and Extension Network. Network Paper No. 69. ODI, London

Turner MR (2005) Linking rice research to national seed programmes. In: Proceedings of the mekong rice conference, 15–17 October Ho Chi Minh City, Vietnam, pp 93–99

Turner MR (1996) Problems of privatizing the seed supply in self-pollinated grain crops. Pages 17–29. In: van Amstel H, Bottema JWT, Sidik M, van Santen CE (eds) Integrating Seed Systems for Annual Food Crops. Proceedings of a Workshop, 24–27 October 1995, Malang, Indonesia. Bogor, CGPRT Center, Indonesia

Witcombe JR, Gyawali S, Sunwar S (2006) Participatory plant breeding is better described as highly client-oriented plant breeding. II. Optional farmer collaboration in the segregating generations. Exp Agric 42:79–90

Witcombe JR, Joshi KD, Gyawali S, Musa AM, Johansen C, Virk DS, Sthapit BR (2005) Participatory plant breeding is better described as highly client-oriented plant breeding. I. Four indicators of client-orientation in plant breeding. Exp Agric 41:299–319

Witcombe JR, Joshi KD, Rana RB, Virk DS (2001) Increasing genetic diversity by participatory varietal selection in high potential production systems in Nepal and India. Euphytica 122:575–588

Witcombe JR, Joshi A, Joshi KD, Sthapit BR (1996) Farmer participatory crop improvement. I. Varietal selection and breeding methods and their impact on biodiversity. Exp Agric 32:445–460

Witcombe JR, Petre R, Jones S, Joshi A (1999) Farmer participatory crop improvement. IV. The spread and impact of a rice variety identified by participatory varietal selection. Exp Agric 35:471–487

van Amstel H, Bottema JWT, Sidik M, van Santen CE (ed) (1996) In: Integrating Seed Systems for Annual Food Crops. Proceedings of a Workshop, 24–27 October 1995, Malang, Indonesia. CGPRT Center, Bogor, Indonesia

Virk DS, Singh DN, Prasad SC, Gangwar JS, Witcombe JR (2003) Collaborative and consultative participatory plant breeding of rice for the rainfed uplands of eastern India Euphytica 132:95–108
About this article
Cite this article
Bishaw, Z., Turner, M. Linking participatory plant breeding to the seed supply system. Euphytica 163, 31–44 (2008). https://doi.org/10.1007/s10681-007-9572-6
Received:

Accepted:

Published:

Issue Date:
Keywords
Participatory plant breeding

Formal seed supply

Informal seed supply

Developing countries