Abstract
We applied Bayesian population assignment methods to assess the trueness to type of four populations of the coconut cultivar Panama Tall (PNT) located in Jamaica and found that two of them presented a high percentage of off-types, while genetic contamination was low in the two others. The PNT is the pollen parent of the MAYPAN hybrid, which used to be planted in Jamaica to control an epidemic disease: Lethal Yellowing. The main source of contamination was the susceptible Jamaica Tall, thus increasing the susceptibility in the resulting MAYPAN progeny. The incidence of genetic contamination seems however to be insufficient to be the only cause of the latest outbreak of the disease. Neither the MAYPAN nor its parents can be said resistant in the present context of Jamaica.
Access options
Buy single article
Instant access to the full article PDF.
US$ 39.95
Tax calculation will be finalised during checkout.
Subscribe to journal
Immediate online access to all issues from 2019. Subscription will auto renew annually.
US$ 119
Tax calculation will be finalised during checkout.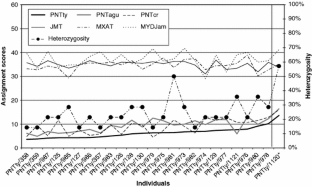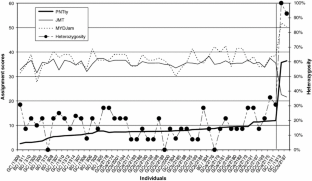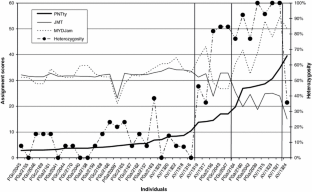 Abbreviations
SMD-CNRA:

Station marc delorme, Centre National de la Recherche Agronomique (Côte d'Ivoire)

CIB:

Coconut industry board (Jamaica)

CICY:

Centro de investigation Cientifica de Yucatan

Fadcanic:

Fundación para la Autonomía y el Desarollo de la Costa Atlántica de Nicaragua (Nicaragua)
References
Baudouin L, Lebrun P (2002) The development of a microsatellite kit and dedicated software for use with coconuts. Burotrop Bull 17:16–20

Baudouin L, Lebrun P, Konan J-L, Ritter E, Berger A, Billotte N (2006) QTL analysis of fruit components in the progeny of a Rennell Island Tall coconut (Cocos nucifera L.) individual. Theor Appl Genet 112:258–268

Baudouin L, Piry S, Cornuet JM (2004) Analytical Bayesian approach for assigning individuals to populations. J Hered 95:217–224

Been BO (1981) Observations on field resistance to lethal yellowing in coconut varieties and hybrids in Jamaica. Oléagineux 36:9–12

Broschat TK, Harrison NA, Donselman H (2002) Losses to lethal yellowing cast doubt on coconut cultivar resistance. Palms 46:185–189

Falush D, Stephens M, Pritchard JK (2003) Inference of population structure using multilocus genotype data: linked loci and correlated allele frequencies. Genetics 164:1567–1587

Lebrun P, Baudouin L, Myrie W, Berger A, Dollet M (2007) Recent Lethal Yellowing outbreak: why is the Malayan Yellow Dwarf Coconut no longer resistant in Jamaica? Tree Genetics & Genomes, doi: 10.1007/s 11295-007-0093-1

Lebrun P, Berger SA, Hodgkin T, Baudouin L (2005) Biochemical and molecular methods for characterizing coconut diversity. In: Batugal PA, Ramanatha Rao V, Oliver J (eds) Coconut genetic resources. International Plant Genetic Resources institute—Regional office for Asia, the Pacific and Oceania (IPGRI-APO), Serdang, pp 225–251

Lebrun P, N'Cho YP, Bourdeix R, Baudouin L (2003) Coconut. In: Hamon P, Seguin M, Perrier X, Glaszmann J-C (eds) Genetic diversity of cultivated tropical plants. SPI and Cirad, Enfield (NH) and Plymouth UK, pp 219–238

Piry S, Alapetite A, Cornuet JM, Paetkau D, Baudouin L, Estoup A (2004) GENECLASS2: a software for genetic assignment and first-generation migrant detection. J Hered 95:536–539

Rannala B, Mountain JL (1997) Detecting immigration by using multilocus genotypes. Proc Natl Acad Sci USA 94:9197–9201

Santos GA, Batugal PA, Othman A, Baudouin L, Labouisse JP (1996) Manual on standardized research techniques in coconut breeding. IPGRI, Cogent. p 46
Acknowledgements
We thank IPGRI and the Cogent network, which financed the development of the coconut cultivar identification kit, and the Genotyping Platform of the Languedoc Roussillon Genopole, hosted by Cirad (C. Billot and R. Rivallan) were all the SSr data have been obtained.
About this article
Cite this article
Baudouin, L., Lebrun, P., Berger, A. et al. The Panama Tall and the Maypan hybrid coconut in Jamaica: did genetic contamination cause a loss of resistance to Lethal Yellowing?. Euphytica 161, 353–360 (2008). https://doi.org/10.1007/s10681-007-9568-2
Received:

Accepted:

Published:

Issue Date:
Keywords
Coconut

Lethal Yellowing

Phytoplasma

Genetic control

Microsatellites