Abstract
The present work was conducted to identify microsatellite markers linked to the rice blast resistance gene Pi-1(t) for a marker-assisted selection program. Twenty-four primer pairs corresponding to 19 microsatellite loci were selected from the Gramene database (www. gramene.org) considering their relative proximity to Pi-1(t) gene in the current rice genetic map. Progenitors and DNA bulks of resistant and susceptible families from F3 segregating populations of a cross between the near-isogenic lines C101LAC (resistant) and C101A51 (susceptible) were used to identify polymorphic microsatellite markers associated to this gene through bulked segregant analysis. Putative molecular markers linked to the blast resistance gene Pi-1(t) were then used on the whole progeny for linkage analysis. Additionally, the diagnostic potential of the microsatellite markers associated to the resistance gene was also evaluated on 17 rice varieties planted in Latin America by amplification of the specific resistant alleles for the gene in each genotype. Comparing with greenhouse phenotypic evaluations for blast resistance, the usefulness of the highly linked microsatellite markers to identify resistant rice genotypes was evaluated. As expected, the phenotypic segregation in the F3 generation agreed to the expected segregation ratio for a single gene model. Of the 24 microsatellite sequences tested, six resulted polymorphic and linked to the gene. Two markers (RM1233*I and RM224) mapped in the same position (0.0 cM) with the Pi-1(t) gene. Other three markers corresponding to the same genetic locus were located at 18.5 cM above the resistance gene, while another marker was positioned at 23.8 cM below the gene. Microsatellite analysis on elite rice varieties with different genetic background showed that all known sources of blast resistance included in this study carry the specific Pi-1(t) allele. Results are discussed considering the potential utility of the microsatellite markers found, for MAS in rice breeding programs aiming at developing rice varieties with durable blast resistance based on a combination of resistance genes.
Access options
Buy single article
Instant access to the full article PDF.
USD 39.95
Price includes VAT (USA)
Tax calculation will be finalised during checkout.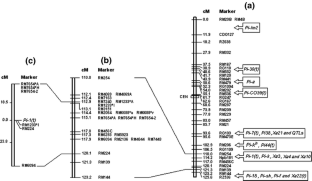 References
Ahn SN, Kim YK, Hong HC, Han SS, Kwon SJ, Choi HC, Moon HP, McCouch SR (2000) Molecular mapping of a new gene for resistance to rice blast (Pyricularia grisea Sacc.). Euphytica 116:17–22

Berruyer R, Adreit H, Milazzo J, Gaillard S, Berger A, Dioh W, Lebrun MH, Tharreau D (2003) Identification and fine mapping of Pi33, the rice resistance gene corresponding to the Magnaporthe grisea avirulence gene ACE1. Theoret Appl Genet 107:1139–1147

Causse MA, Fulton TM, Cho YG, Ahn SN, Chunwongse J, Wu K, Xiao J, Yu Z, Ronald PC, Harrington SE, Second G, McCouch SR, Tanksley SD (1994) Saturated molecular map of the rice genome based on an interspecific backcross population. Genetics 138:1251–1274

Chauhan RS, Farman MI, Zhang HB, Leong SA (2002) Genetic and physical mapping of a rice blast resistance locus, Pi-CO39(t), that corresponds to the avirulence gene AVR-CO39 of Magnaporthe grisea. Mol Genet Genom 267:603–612

Chen X, Temnykh S, Xu Y, Cho YG, McCouch SR (1997) Development of a microsatellite framework map providing genome-wide coverage in rice (Oryza sativa L). Theoret Appl Genet 95:553–567

Chen DH, dela Viña M, Inukai T, Mackill DJ, Ronald PC, Nelson RJ (1999) Molecular mapping of the blast resistance gene, Pi44(t) in a line derived from a durable resistant rice cultivar. Theoret Appl Genet 98:1046–1053

Chen S, Lin XH, Xu CG, Zhang QF (2000) Improvement of bacterial blight resistance of "Minghui 63", an elite restorer line of hybrid rice, by molecular marker-assisted selection. Crop Sci 40:239–244

Conaway-Bormans CA, Marcheti MA, Johnson CW, McClung AM, Park WD (2003) Molecular markers linked to the blast resistance gene pi-z in rice for use in marker-assisted selection. Theoret Appl Genet 107:1014–1020

Correa-Victoria FJ, Zeigler RS (1993) Pathogenic variability in Pyricularia grisea at a rice blast "Hot Spot" breeding site in eastern Colombia. Plant Dis 77:1029–1035

Correa-Victoria FJ, Tharreau D, Martínez C, Vales M, Escobar F, Prado G, Aricada G (2002) Combinación de genes en arroz para el desarrollo de resistencia durable a Pyricularia grisea en Colombia. Fitopatología Colombiana 26:47–54

Dellaporta SL, Wood J, Hicks JB (1983) A plant DNA minipreparation: version II. Plant Mol Biol Rep 1:19–21

Deng Y, Zhu X, Shen Y, He Z (2006) Genetic characterization and fine mapping of the blast resistance locus Pigm(t) tightly linked to Pi2 and Pi9 in a broad-spectrum resistant Chinese variety. Theor Appl Genet 113:705–713

Fjellstrom R, Conaway-Bormans CA, McClung AM, Marchetti MA, Shank AR, Park WD (2004) Development of DNA markers suitable for marker assisted selection of three Pi genes conferring resistance to multiple Pyriculria grisea pathotypes. Crop Sci 44:1790–1798

Glaszmann JC, (1987) Isozymes and classification of Asian rice varieties. Theoret Appl Genet 74:21–30

Gramene Data Base (www. gramene.org)

Gowda M, Roy-Barman S, Chatoo BB (2006) Molecular mapping of a novel blast resistance gene Pi38 in rice using SSLP and AFLP markers. Plant Breed 125:596–599

Hittalmani S, Parco A, Mew TV, Zeigler RS (2000) Fine mapping and DNA marker-assisted pyramiding of three major genes for blast resistance in rice. Theoret Appl Genet 100:1121–1128

Huang N, Angeles ER, Domingo J, Magpantay G, Singh S, Zhang G, Kumaravadivel N, Bennett J, Khush GS (1997) Pyramiding of bacterial blight resistance genes in rice: marker assisted selection using RFLP and PCR. Theoret Appl Genet 95:313–320

Hühn M, Piepho HP (2003) Determining the sample size for co-dominant molecular marker-assisted linkage detection for a monogenic qualitative trait by controlling the type-I and type-II errors in a segregating F2 population. Theoret Appl Genet 106:840–845

INGER-IRRI (1996) Standard evaluation system for rice, 4th edn. INGER-IRRI, Manila

Inukai T, Nelson RJ, Zeigler RS, Sarkarung S, Mackill DJ, Bonman JM, Takamure I, Kinoshita T (1994) Allelism of blast resistance genes in near-isogenic lines of rice. Phytopathology 84:1278–1283

Jia Y, Wang Z, Singh P (2002) Development of dominant rice blast Pi-ta resistance gene markers. Crop Sci 42:2145–2149

Jiang J, Wang S (2002) Identification of a 118-kb DNA fragment containing the locus of blast resistance gene Pi-2(t) in rice. Mol Genet Genom 268:249–252

Jiang GH, Xu CG, Tu JM, Li XH, He YQ, Zhang QF (2004) Pyrmiding insect- and disease-resistance genes into an elite indica, cytoplasm male sterile restorer line of rice, "Minghui 63". Plant Breed 123:112–116

Lander ES, Green P, Abrahamson J, Barlow A, Daly MJ, Lincoln SE, Newburg L (1987) MAPMAKER: an interactive computer package for constructing primary linkage maps of experimental and natural populations. Genomics 1:174–181

Mackill DJ, Bonman JM (1992) Inheritance of blast resistance in near-isogenic lines of rice. Phytopathology 82:746–749

Mackill DJ, Ni J (2001) Molecular mapping and marker-assisted selection for major-gene traits in rice. In: Khush GS, Brar DS, Hardy B (eds) Proceeding of the four international rice genetics symposium. Rice genetic IV, IRRI-SPI, p 137–151

Mago R, Nair S, Mohan M, (1999) Resistance gene analogues from rice: cloning, sequencing and mapping. Theoret Appl Genet 99:50–57

McCouch SR, Temnykh S, Lukashova A, Coburn J, DeClerck G, Cartinhour S, Harrington S, Thomson M, Septiningsih E, Semon M, Moncada P, Li J (2001) Microsatellite markers in rice: abundance, diversity, and applications. In: Khush GS, Brar DS, Hardy B (eds) Proceeding of the four international rice genetics symposium. Rice genetic IV, IRRI-SPI, p 117–135

McCouch SR, Teytelman L, Xu Y, Lobos KB, Clare K, Walton M, Fu B, Maghirang R, Li Z, Xing Y, Zhang Q, Kono I, Yano M, Fjellstrom R, DeClerck G, Schneider D, Cartinhour S, Ware D, Stein L (2002) Development and mapping of 2240 new SSR markers for rice (Oryza sativa L.). DNA Res 9:199–207

Michelmore RW, Paran I, Kesseli RV (1991) Identification of markers linkage to disease resistance genes by bulked segregant analysis: a rapid method to detect markers in specific genome regions using segregating population. Proc Natl Acad Sci USA 88:9828–9832

Mohan M, Nair S, Bhagwat A, Krishna TG, Yano M, Bhatia CR, Sasaki T (1997) Genome mapping, molecular markers and marked assisted selection in crop plants. Euphytica 3:87–103

Narayanan NN, Baisakh N, Vera Cruz CM, Gnanamanickam SS, Datta K, Datta SK (2002) Molecular breeding for the development of blast and bacterial blight resistance in rice cv. IR50. Crop Sci 42:2072–2079

Nelson JC (1997) QGENE: software for marker-based genomic analysis and breeding. Mol Breed 3:239–245

Purcell S, Cherny SS, Sham PC (2003) Genetic power calculator: design of linkage and association genetic mapping studies of complex traits. Bioinformatics 19:149–150

Ramalingam J, Vera Cruz CM, Kukreja K, Chittoor JM, Wu JL, Lee SW, Baraoidan M, George ML, Cohen MB, Hulbert SH, Leach JE, Leung H (2003) Candidate defense genes from rice, barley, and maize and their association with qualitative and quantitative resistance in rice. Mol Plant Microbe Interact 16:14–24

Rossman AY, Howard RJ, Valent B (1990) Pyricularia grisea the correct name for the rice blast disease fungus. Mycologia 82:509–512

Sallaud C, Lorieux M, Roumen E, Tharreau D, Berruyer R, Svestasrani P, Garsmeur O, Ghesquiere A, Notteghem JL (2003) Identification of five new blast resistance genes in the highly blast-resistant rice variety IR64 using a QTL mapping strategy. Theoret Appl Genet 106:794–803

Sanchez AC, Brar DS, Huang N, Li Z, Khush GS (2000) Sequence tagged site marker assisted selection for three bacterial blight resistance genes in rice. Crop Sci 40:792–797

Sharma TR, Madhav MS, Singh BK, Shanker P, Jana TK, Dalal V, Pandit A, Singh A, Gaikwad K, Upreti HC, Singh NK (2005) High-resolution mapping, cloning and molecular characterization of the Pi-k h gene of rice, which confers resistance to Magnosporthe grisea. Mol Genet Genom 274:569–578

Temnykh S, Park WD, Ayres N, Cartinhour S, Hauck N, Lipovich L, Cho YG, Ishii T, McCouch SR, (2000) Mapping and genome organization of microsatellite sequences in rice (Oryza sativa L.). Theoret Appl Genet 100:697–712

Temnykh S, DeClerck G, Lukashova A, Lipovich L, Cartinhour S, McCouch SR (2001) Computational and experimental analysis of microsatellites in rice (Oryza sativa L.): frequency, length variation, transposons associations and genetic marker potential. Genome Res 11:1441–1452

Wang GL, Mackill DJ, Bonman JM, McCouch SR, Champoux MC, Nelson RJ (1994) RFLP mapping of genes conferring complete and partial resistance to blast in a durably resistant rice cultivar. Genet 136:1421–1434

Wang Z, Taramino G, Yang D, Liu G, Tingey SV, Miao GH, Wang GL (2001) Rice ESTs with disease-resistance gene- or defense-response gene-like sequences mapped to regions containing major resistance gene or QTLs. Mol Genet Genom 265:302–310

Wen N, Chu Z, Wang S (2003) Three types of defense-responsive genes are involved in resistance to bacterial blight and fungal blast diseases in rice. Mol Genet Genom 269:331–339

Witcombe JR, Hash CT (2000) Resistance gene deployment strategies in cereal hybrids using markers-assisted selection: gene pyramiding, three-way hybrids, and synthetic parent populations. Euphytica 112:175–186

Yi G, Lee SK, Hong YK, Cho YC, Nam MH, Kim SC, Han SS, Wang GL, Hahn TR, Ronald PC, Jeon JS (2004) Use of Pi5(t) markers in marker-assisted selection to screen for cultivars with resistance to Magnaporthe grisea. Theoret Appl Genet 109:978–985

Yu ZH, Mackill DJ, Bonman JM, Tanksley SD (1996) Tagging genes for blast resistance in rice via linkage to RFLP markers. Theoret Appl Genet 81:471–476

Zenbayashi K, Ashizawa T, Tani T, Koizumi S (2002) Mapping of the QTL (quantitative trait locus) conferring partial resistance to leaf blast in rice cultivar Chubu 32. Theoret Appl Genet 104:547–552
Acknowledgments
The Rice program of the International Centre for Tropical Agriculture (CIAT) and the International Atomic Energy Agency from Vienna, Austria (Research Contract 12816/R0) supported this research. The authors would like to thank Hector Fabio Buendia from CIAT for his help in the use of MAPMAKER software. We appreciate the fruitful discussions with Dr Daniel G. Debouck from Genetic Resources Unit from CIAT. We also want to express our acknowledgment to anonymous Reviewers because their comments greatly helped to improve the quality of the manuscript.
Additional information
Centro Internactional de Agricultura Tropical (CIAT) institute where the research was carried out
About this article
Cite this article
Fuentes, J.L., Correa-Victoria, F.J., Escobar, F. et al. Identification of microsatellite markers linked to the blast resistance gene Pi-1(t) in rice. Euphytica 160, 295–304 (2008). https://doi.org/10.1007/s10681-007-9497-0
Received:

Accepted:

Published:

Issue Date:
Keywords
Blast (Pyricularia grisea Sacc)

Marker-assisted selection

Microsatellite

Resistance gene

Rice (Oryza sativa L)