Abstract
Mutations were induced in chickpea (Cicer arietinum L.) cultivar 'JG 315' through treatment of seeds with ethyl methane sulphonate (EMS). One of the mutants, named JGM 1, had brachytic growth (compact growth), characterized by erect growth habit, thick and sturdy stem, short internodal and interleaflet distances and few tertiary and later order branches. It was isolated from M2 derived from seeds treated with 0.6% EMS for 6 h. Segregation analyses in F2 progenies of its crosses with normal chickpea genotypes (JG 315, ICC 4929, and ICC 10301) suggested that a single recessive gene controlled brachytic growth in JGM 1. This gene was not allelic to the br gene for brachytic growth in spontaneous brachytic mutant E100YM. Thus, the gene for brachytic growth in JGM 1 was designated br2 and the br gene of E100YM was redesignated br1. Efforts are being made to use JGM 1 in development of a plant type with short internodes and erect growth habit. Such plant type may resist excessive vegetative growth in high input (irrigation and fertility) conditions and accommodate more plants per unit area.
Access options
Buy single article
Instant access to the full article PDF.
USD 39.95
Price includes VAT (USA)
Tax calculation will be finalised during checkout.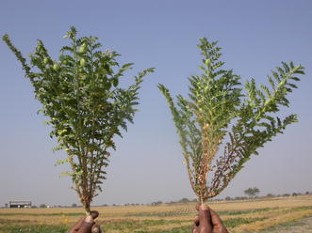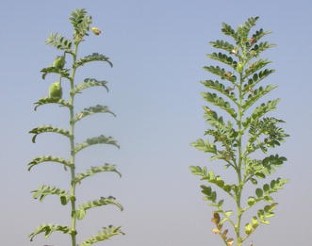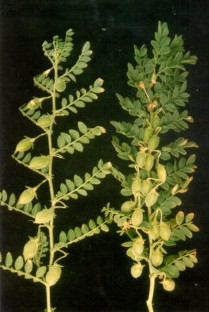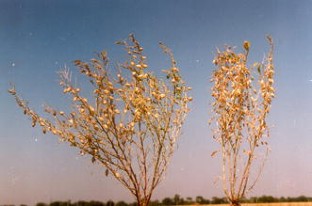 References
Bahl PN (1980) Kabuli-desi introgression and genesis of new plant type in chickpea. In: Proceedings of the international workshop on chickpea improvement, ICRISAT, Patancheru, AP, India, pp 75–80

Bahl PN, Jain HK (1977) Association among agronomic characters and plant ideotypes in chickpea (Cicer arietinum L.). Z Pflanzenzuechtung 79:154–159

Cooper RL, Mendiola T, St Martin SK, Fioritto RJ, Dorrance ARJ (2004) Registration of 'Stalwart' soybean. Crop Sci 44:1019–1020

Dahiya BS, Lather VS (1990) A breakthrough in chickpea yields—Paper 1. Int Chickpea Newsl 22:6–8

Dahiya BS, Lather VS, Solanki IS, Kumar R (1984) Useful spontaneous mutants in chickpea. Int Chickpea Newsl 11:5–7

Dahiya BS, Lather VS, Kumar R (1990) A brachytic mutant of chickpea. Int Chickpea Newsl 22:42–43

Dahiya BS, Mehta BS, Lather VS (1990) A new approach to chickpea breeding. Crop Improv 17:104–110

Dahiya BS, Naidu MR, Waldia RS, Kumar R, Mehta BS (1988) Introduction of major phenological changes in chickpea to improve biological and seed yield. Int Chickpea Newsl 19:4–6

Ekbote RB (1937) Mutations in gram (Cicer arietinum L.). Curr Sci 5:648–649

FAOSTAT data (2006) http://faostat.fao.org/faostat/(last updated 24 January 2006)

Gataulina GG, Lukashevich MI, Medvedeva NV (2005) Producing early maturing white lupin varieties with a determinate type of growth. Kormoproizvodstvo 6:8–10

Gaur PM, Gour VK (1999) An induced fasciated mutant of chickpea. Indian J Genet 59:325–330

Gaur PM, Gour VK (2001) A gene inhibiting flower colour in chickpea. Indian J Genet 61:41–43

Gaur PM, Gour VK (2003) Broad-few-leaflets and outwardly curved wings: two new mutants of chickpea. Plant Breed 122:192–194

Gaur PM, Gour VK, Singh K (2004) Induction and genetics of a variegated leaf and an apical chlorosis mutant in chickpea. Indian J Genet 64:208–211

Gupta VP, Lal S (1981) Developmental allometry and plant type in chickpea. Int Chickpea Newsl 4:8–9

Jain HK (1975) Breeding for yield and other attributes in grain legumes. Indian J Genet 35:169–187

Juller B, Huyghe C, Papineau J, Milford GFJ, Day JM, Billot C, Mangin P (1993) Yield and yield stability of determinate and indeterminate autumn-sown white lupins (Lupinus albus) at different locations in France and the UK. J Agric Sci 121:283–287

Khanna-Chopra R, Sinha SK (1987) Chickpea: physiological aspects of growth and yield. In: Saxena MC, Singh KB (eds) The chickpea. CAB International, Wallingford, Oxon, UK, pp. 163–190

Khanna-Chopra R, Sinha SK (1990) What limits the yield of pulses? Plant processes or plant type. In: Sinha SK, Sane PV, Bhargava SC, Agarwal PK (eds) Proc international congress in plant physiology, vol 1. Water Technology Centre, Indian Agricultural Research Institute, New Delhi, India, pp 268–278

Lal S (1992) Pulses production in India—perspectives and possibilities for 2000 AD. In: Sachan JN (ed) New frontiers in pulses research and development. Directorate of Pulses Research, ICAR, Kanpur, India, pp 5–13

Lather VS (2000) Promising chickpea ideotype for higher plant density. Int Chickpea Pigeonpea Newsl 7:26–27

Mligo JK (1989) VULI-1, an extra-early maturing cowpea variety for Tanzania. Trop Grain Legume Bull 36:39–40

Passioura JB (1976) Physiology of grain in wheat growing on stored water. Aust J Plant Physiol 3:559–565

Ramanujam S (1975) Genetic diversity, stability and plant type in pulse crops. In: Proceedings of the international workshop on grain legumes, ICRISAT, Patancheru, AP, India, pp 167–176

Saindon G, Mundel HH, Huang HC (1996) Registration of 'AC Skipper' navy bean. Crop Sci 36:207

Sandhu JS, Brar HS, Verma MM (1990) Inheritance of a plant type mutant and its utilization in chickpea. Euphytica 48:111–112

Sandhu JS, Brar HS, Singh S, Phul PS, Kumar R (2003) PBM 1: a new variety of kharif mungbean for south-west regions of Punjab State. J Res Punjab Agric Univ 40:305

Scott RE, Goulden DD (1993) Apex garden pea (Pisum sativum L.). NZ J Crop Hortic Sci 21:263–264

Sedgley RH, Siddique KHM, Walton GH (1990) Chickpea ideotypes for Mediterranean environments. In: van Rheenen HA, Saxena MC, Walby BJ, Hall SD (eds) Chickpea in the nineties: proceedings of the second international workshop on chickpea improvement. ICRISAT, Patancheru, AP, India, pp 87–91

Shamsuzzaman KM, Gibson AH, Oram RN, Shaikh MAQ (2002) Assimilation and partitioning of dry matter and nitrogen in Hypersola, a more determinate mutant of chickpea, and in its parental cultivar. Field Crops Res 77:51–59

Sinha SK (1977) Food legumes: distribution, adaptability and biology of yield. Food and Agriculture Organization of the United Nations Plant Production and Protection Paper, No. 3, FAO, Rome, p 124

Sinha SK, Aggarwal PK, Khanna-Chopra R (1985) Phenological and physiological irrigation in India. Adv Irrigation 3:130–212

Srinivasan S, Gaur PM, Chaturvedi SK, Rao BV (2006) Allelic relationships of genes controlling number of flowers per axis in chickpea. Euphytica 152:331–337

Suiter KA, Wendel JF, Case JS (1983) LINKAGE-1: a PASCAL computer program for the detection and analysis of genetic linkage. J Hered 74:203–204

van Rheenen HA, Pundir RPS, Miranda JH (1994) Induction and inheritance of determinate growth habit in chickpea (Cicer arietinum L.). Euphytica 78:137–141

Wallace SU, Blanchet R, Bouniols A, Gelfi N (1990) Influence of nitrogen fertilization on morphological development of indeterminate and determinate soybeans. J Plant Nutr 13:1523–1537
Acknowledgments
We are thankful to the Board of Research in Nuclear Sciences, Department of Atomic Energy, Government of India for financial assistance.
About this article
Cite this article
Gaur, P.M., Gour, V.K. & Srinivasan, S. An induced brachytic mutant of chickpea and its possible use in ideotype breeding. Euphytica 159, 35–41 (2008). https://doi.org/10.1007/s10681-007-9454-y
Received:

Accepted:

Published:

Issue Date:
Keywords
Cicer arietinum

Brachytic

Compact growth

Ideotype breeding

Inheritance

Induced mutation

Short internodes