Abstract
GA 20-oxidase (GA20ox) is a regulatory enzyme for the syntheses of biologically active GAs in plants. The loss-of-function mutations in OsGA20ox2 of rice (Oryza sativa L.) generate the well-known Green Revolution gene sd-1, which cause the semi-dwarfism phenotype. In our present investigation, semi-dwarf plants were generated from a taller rice variety QX1 by RNAi suppression on the expression of OsGA20ox2. The 531bp-fragment of OsGA20ox2 was amplified by PCR from genomic DNA of QX1 and used to construct the hairpin RNAi vector pCQK2. The wild type QX1 was transformed with pCQK2 by Agrobacterium-mediated transformation and some independent transgenic RNAi lines exhibited semi-dwarfism. RT-PCR and Northern blot analyses showed that the expression of OsGA20ox2 was specifically suppressed in the RNAi semi-dwarf lines. Endogenous GA assays revealed that the contents of the GA20ox2-catalyzed products GA19, GA20 and the down-stream biologically active GA1 were drastically reduced in the RNAi semi-dwarf lines. We further showed that the RNAi semi-dwarf lines could be restored to normal plant height by applying exogenous GA3. The results indicated that the semi-dwarfism of the RNAi semi-dwarf lines was associated with the decreased expression of OsGA20ox2 gene and the reduced content of endogenous biologically active GA1. Analyses of panicle length, seeds per panicle and 1000-grain weight suggested that the RNAi semi-dwarf lines showed stable grain yield compared with the wild type plants. It is demonstrated that the RNAi approach could be useful for plant breeding purposes in the future.
Access options
Buy single article
Instant access to the full article PDF.
US$ 39.95
Tax calculation will be finalised during checkout.
Subscribe to journal
Immediate online access to all issues from 2019. Subscription will auto renew annually.
US$ 119
Tax calculation will be finalised during checkout.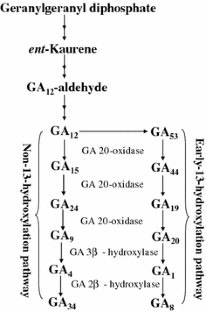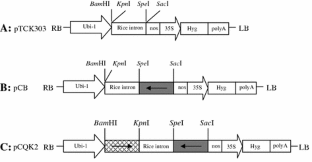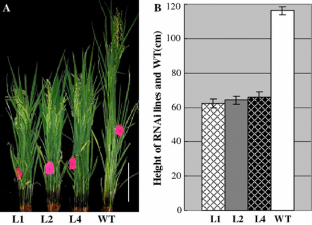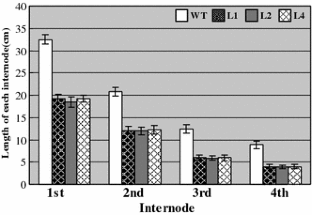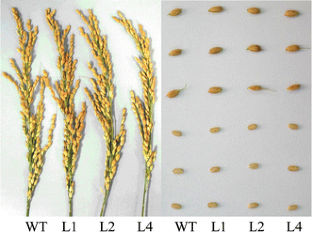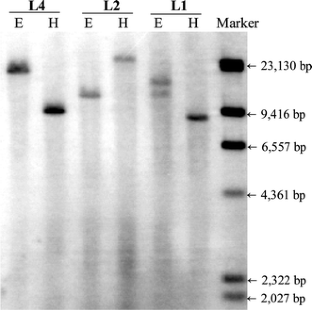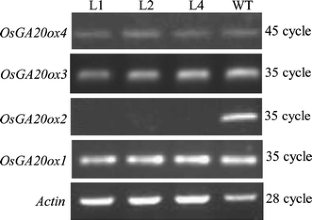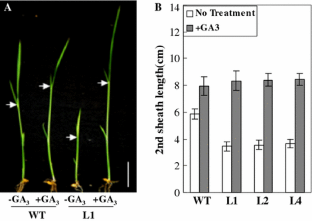 References
Aoki T, Kitano H, Kameya N, Nakamura I (2002) Accelerated shoot over- growth of rice mutant ao-1 is epistatic to gibberellin-sensitive and -insensitive dwarf mutants. J Plant Res 115:195–202

Ashikari M, Itoh H, Ueguchi-Tanaka M, Sasaki A, Gomi K, Kitano H, Matsuoka M (2003) Gibberellin signal transduction in rice. J Plant Growth Regul 22:141–151

Chiang HH, Hwang I, Goodman HM (1995) Isolation of the Arabidopsis GA4 locus. Plant Cell 7:195–201

Coles JP, Phillips AL, Croker SJ, Garcia-Lepe R, Lewis MJ, Hedden P (1999) Modification of gibberellin production and plant development in Arabidopsis by sense and antisense expression of gibberellin 20-oxidase genes. Plant J 17:547–556

Crozier A, Durley RC (1983) Modern methods of analysis of gibberellins. In: Crozier A (ed) The Biochemistry and Physiology of Gibberellins, vol 1. Praeger, New York, pp 485–580

Curtis IS, Hanada A, Yamaguchi S, Kamiya Y (2005) Modification of plant architecture through the expression of GA 2-oxidase under the control of an estrogen inducible promoter in Arabidopsis thaliana L. Planta 222:957–967

Evans LT (1998) Feeding the ten billion. Plant and population growth. Cambridge University Press, Cambridge

Hedden P, Kamiya Y (1997) Gibberellin biosynthesis: enzymes, genes and their regulation. Annu Rev Plant Physiol Plant Mol Biol 48:431–460

Hedden P, Proebsting WM (1999) Genetic analysis of gibberellin biosynthesis. Plant Physiol 119:365–370

Hedden P, Phillips AL (2000a) Gibberellin metabolism: new insights revealed by the genes. Thends Plant Sci 5:523–530

Hedden P, Phillips AL (2000b) Manipulation of hormone biosynthetic genes in transgenic plants. Curr Opin Biotechnol 11:130–137

Hedden P (2002) Gibberellin metabolism and its regulation. J Plant Growth Regul 20:317–318

Itoh H, Ueguchi-Tanaka M, Sakamoto T, Kayano T, Tanaka H, Ashikari M, Matsuoka M (2002) Modification of rice plant height by suppressing the height- controlling gene, D18, in rice. Breed Sci 52:215–218

Khush GS (1999) Green Revolution: preparing for the 21st Century. Genome 42:646–655

Kobayashi M, MacMillan J, Phinney B, Gaskin P, Spray CR, Hedden P (2000) Gibberellin biosynthesis: metabolic evidence for three steps in the early-13-hydroxylation pathway of rice. Phytochemistry 55:317–321

Kusaba M (2005) RNA interference in crop plants. Curr Opin Biotechnol 15:139–143

Lange T, Hedden P, Graebe JE (1994) Expression cloning of a gibberellin 20-oxidase, a multifunctional enzyme involved in gibberellin biosynthesis. Proc Natl Acad Sci 91:8552–8556

Lin YJ, Zhang QF (2005) Optimising the tissue culture conditions for high efficiency transformation of indica rice. Plant Cell Reports 23(8): 540–547

Matthew L (2004) RNAi for plant functional genomics. Comp Funct Genom 5:240–244

Murray MG, Thompson WF (1980) Rapid isolation of high molecular weight DNA Nucleic. Acids Res 8:4321–4325

Oikawa T, Koshioka M, Kojima K, Yoshida H, Kawata M (2004) A role of OsGA20ox1, encoding an isoform of gibberellin 20-oxidase, for regulation of plant stature in rice. Plant Mol Biol 55:687–700

Olszewski N, Sun TP, Gubler F (2002) Gibberellin signaling: biosynthesis, catabolism, and response pathways. Plant Cell 14(Suppl):S61–S80

Ross JJ, Murfet IC, Reid JB (1997) Gibberellin mutants. Physiol Plant 100:550–560

Sakamoto T, Kobayashi M, Itoh H, Tagirl A, Kayano T, Tanaka H, Iwahori S, Matsuoka M (2001) Expression of a gibberellin 2-oxidase gene around the shoot apex is related to phase transition in rice. Plant Physiol 125:1508–1516

Sakamoto T, Morinaka Y, Ishiyama K, Kobayashi M, Itoh H, Kayano T, Iwahori S, Matsuoka M, Tanaka H (2003) Genetic manipulation of gibberellin metabolism in transgenic rice. Nature Biotechnol 21(8): 909–913

Sakamoto T, Matsuoka M (2004a) Generating high-yielding varieties by genetic manipulation of plant architecture. Curr Opin Biotechnol 15:144–147

Sakamoto T, Miura K, Itoh H, Tatsumi T, Ueguchi-Tanaka M, Ishiyama K, Kobayashi M, Agrawal GK, Takeda S, Abe K, Miyao A, Hirochika H, Kitano H, Ashikari M, Matsuoka M (2004b) An overview of Gibberellin metabolism enzyme genes and their related mutants in rice. Plant Physiol 134:1642–1653

Sambrook J, Fritsch EF, Maniatis T (1989) Molecular cloning—A laboratory manual, 2nd edn. Cold Spring Habour Laboratory Press, New York

Smith N, Singh S, Wang MB et al (2000) Total silencing by intron-spliced hairpin RNAs. Nature 407:319–320

Spielmeyer W, Ellis MH, Chandler PM (2002) Semidwarf (sd-1), ''green revolution'' rice, contains a defective gibberellin 20-oxidase gene. Proc Natl Acad Sci 99:9043–9048

Sun TP, Kamiya Y (1994) The Arabidopsis GA1 locus encodes the cyclase ent-kaurene synthetase A of gibberellin biosynthesis. Plant Cell 6:1509–1518

Sunilkumar G, Campbell LM, Puckhaber L, Stipanovic RD, Rathore KS (2006) Engineering cottonseed for use in human nutrition by tissue-specific reduction of toxic gossypol. PNAS 103(48):18054–18059

Swain SM, Singh DP (2005) Tall tales from sly dwarves: novel functions of gibberellins in plant development. Trend Plant Sci 10:123–129

Tanaka-Ueguch M, Itoh H, Oyama N, Koshioka M, Matsuoka M (1998) Over-expression of tobacco homeobox gene, NTH15, decreases the expression of a gibberellin biosynthetic gene encoding GA 20-oxidase. Plant J 15:391–400

Toyomasu T, Kawaide H, Sekimoto H, Numers C, Phillips AL, Hedden P, Kamiya Y (1997) Cloning and characterization of a cDNA encoding gibberellin 20-oxidase from rice (Oryza sativa L.) seedlings. Physiol Plant 99:111–118

Wang Z, Chen CB, Xu YY, Jiang RX, Han Y, Xu ZH, Chong K (2004) A practical vector for efficient knockdowm of gene expression in rice (Oryza sativa L.). Plant mol biol rep 22:409–417
Acknowledgements
We thank Prof. Chong K. (Institute of Botany, the Chinese Academy of Sciences) for providing the pTCK303 RNAi vector. We are grateful to Professor Mander L.N. (Australian National University, Canberra) for kindly providing us the internal standards of GAs. We would also like to thank Prof. Jiang X.N. (College of Biological Sciences and Biotechnology, Beijing Forestry University) for his help for the measurement of the endogenous GA contents. This work was supported by the Outstanding Researcher Fellowship from Chinese Academy of Agricultural Sciences (Zhao K.).
Additional information
Qing Yang, Chun-Lian Wang have contributed equally to this work.
About this article
Cite this article
Qiao, F., Yang, Q., Wang, CL. et al. Modification of plant height via RNAi suppression of OsGA20ox2 gene in rice. Euphytica 158, 35–45 (2007). https://doi.org/10.1007/s10681-007-9422-6
Received:

Accepted:

Published:

Issue Date:
Keywords
GA20ox

Plant height

Rice (Oryza sativa L.)

RNAi

Semi-dwarfism