Abstract
Early-maturity helps chickpea to avoid terminal heat and drought and increases its adaptation especially in the sub-tropics. Breeding for early-maturing, high-yielding and broad-based cultivars requires diverse sources of early-maturity. Twenty-eight early-maturing chickpea germplasm lines representing wide geographical diversity were identified using core collection approach and evaluated with four control cultivars in five environments for 7 qualitative and 16 quantitative traits at ICRISAT Center, Patancheru, India. Significant genotypic variance was observed for days to flowering and maturity in all the environments indicating scope for selection. Genotypes × environment interactions were significant for days to flowering and maturity and eight other agronomic traits. ICC 16641, ICC 16644, ICC 11040, ICC 11180, and ICC 12424 were very early-maturing, similar to or earlier than control cultivars Harigantars and ICCV 2. The early-maturing accessions produced on average 22.8% more seed yield than the mean of four control cultivars in the test environments. ICC 14648, ICC 16641 and ICC 16644 had higher 100-seed weight than control cultivars, Annigeri and ICCV 2. Cluster analysis delineated three clusters, which differed significantly for all the traits. First cluster comprised three controls, ICCV 96029, Harigantars, ICCV 2 and two germplasm lines, ICC 16644 and ICC 16641, second cluster comprised 13 germplasm lines and control cultivar Annigeri, and third cluster comprised 13 germplasm lines. Maturity was main basis of delineation of the first cluster from others. Plot yield and its associated traits were the main basis for delineation of the second cluster from the others. Identification of these diverse early-maturing lines would be useful in breeding broad-based, early-maturing and high-yielding cultivars.
Access options
Buy single article
Instant access to the full article PDF.
USD 39.95
Price includes VAT (USA)
Tax calculation will be finalised during checkout.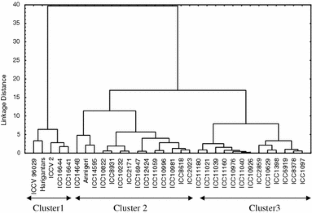 References
Ali M, Kumar S (2003) Chickpea research in India: an overview. In: Masood A, Shiv K, Singh NB (eds) Chickpea research in India. Indian Institute of Pulses Research, Kanpur, India, pp 1–13

Arumingtyas EL, Murfet IC (1994) Flowering in Pisum: a further gene controlling response to photoperiod. J Hered 85:12–17

Erskine W, Muehlbauer FJ (1991) Allozyme and morphological variability, outcrossing rate and core collection formation in lentil germplasm. Theor Appl Genet 83:119–125

FAO (Food and Agriculture Organization of United Nations) (2005) http://apps.fao.org/faostat

Frankel OH (1984) Genetic perspective of germplasm conservation. In: Arber W et al (eds) Genetic manipulations: impact on man and society. Cambridge Univ. press, Cambridge, England, pp 161–170

Frankel OH, Brown AHD (1984) Current plant genetic resources—a critical appraisal. In: Chopra VL, Joshi BC, Sharma RP, Bansal HC (eds) Genetics: new frontiers, vol IV. Oxford & IBH publ. Co., New Delhi, pp 1–13

Halward TM, Wynne JC (1991) Generation means analysis for productivity in two diverse peanut crosses. Theor Appl Genet 82:784–792

IBPGR, ICRISAT & ICARDA (1993) Descriptors for chickpea (Cicer arietinum L.). International Board for Plant Genetic Resources, Rome, Italy; International Crops Research Institute for the Semi-Arid Tropics, Patancheru, India and International Center for Agriculture Research in the Dry Areas, Aleppo, Syria

Isleib TG, Wynne JC (1983) Heterosis in test crosses of 27 exotic peanut cultivars. Crop Sci 23:832–841

Johansen C, Singh DN, Krishnamurthy L, Saxena NP, Chauhan YS, Kumar Rao JVDK (1997) Options for alleviating moisture stress in pulse crops. In: Asthana AN, Masood A (eds) Recent advances in pulses research. Indian Institute of Pulses Research, Indian Society of Pulses Research and Development, Kanpur, Uttar Pradesh, India, pp 425–442

Johns MA, Skroch PW, Nienhuis J, Hinrichsen P, Bascur G, Munoze-schick C (1997) Gene pool classification of common bean landraces from Chile based on RAPD and morphological data. Crop Sci 37:605–613

Kelley TG, Parthasarathy PR (1994) Chickpea competitiveness in India. Econ Pol Weekly 29:89–100

Keuls M (1952) The use of the 'studentized range' in connection with an analysis of variance. Euphytica 1:112–122

Kumar J, Haware MP, Simthson JB (1985) Registration of four short-duration fusarium wilt-resistant kabuli (gerbanzo) chickpea germplasms. Crop Sci 25:576–577

Kumar J, Rao BV (2001) Registration of ICCV 96029 a super-early and double podded chickpea germplasm. Crop Sci 41:605–606

Kumar J, van Rheenen HA (2000) A major gene for time of flowering in chickpea. J Hered 91:67–68

Kumar S, Gupta S, Chandra S, Singh BB (2004) How wide is genetic base of pulse crops? In: Ali M, Singh BB, Kumar S, Dhar V (eds) Pulses in new perspective. Proceedings of the national symposium on crop diversification and natural resources management, 20–22 December 2003, Indian Society of Pulses Research and Development, Indian Institute of Pulses Research, Kanpur, pp 211–221

Levene H (1960) Robust tests for equlity of variances. In: Olkin I (ed) Contributions to probability and statistics: essays in honour of Harold hotelling. Stanford University Press, Stanford, pp 278–292

Murfet IC, Reid JB (1985) The control of flowering and internode length in Pisum. In: Hebbleth Waite PD, Heath MC, Dawkins TCK (eds) The pea crop: a basis for improvement. Butterworths, London, pp 67–80

Nene YL, Reed W (1994) Integrated management system to control biotic and abiotic stresses in cool season food legumes. In: Muehlauer FJ, Kaiser WJ (eds) Expanding the production and use of cool season food legumes. Proceedings of the second international food legume research conference. Kluwer Academic Publishers, Netherlands, pp 666–678

Newman D (1939) The distribution of range in samples from a normal population expressed in terms of an independent estimate of standard deviation. Biometrika 31:20–30

Or E, Horav R, Abbo S (1999) A major gene for flowering time in chickpea. Crop Sci 39:315–322

Roberts EH, Hadley P, Summerfield RJ (1985) Effect of temperature and photoperiod on flowering in chickpeas (Cicer arietinum L.). Ann Bot 55:881–892

Shannon CE, Weaver W (1949) The mathematical theory of communication. Univ. of Illinois Press, Urbana

Sharma D, Jodha NS (1984) Constraints and opportunities of pulses production in semi-arid regions of India. In: Srivastava HC et al (eds) Pulses production constraints and opportunities: Proceedings of symposium on increasing pulse production in India- constraints and opportunities, October 1982, New Delhi. Oxford and IBH publishing Co., New Delhi, pp 241–265

Siddique KHM, Khan TN (1996) Early-flowering and high-yielding chickpea lines from ICRISAT ready for release in western Australia. Int Chickpea Pigeonpea Newsl 3:22–24

Singh KB (1987) Chickpea breeding. In: Saxena MC, Singh KB (eds) The chickpea. C.A.B. International, Wallingford, UK, pp 127–162

Skinner DZ, Bauchan GR, Auricht G, Hughes S (1999) A method for the efficient management and utilization of large germplasm collections. Crop Sci 39:1237–1242

Subbarao GV, Johansen C, Slinkard AE, Nageshwara Rao RC, Saxena NP, Chauhan YS (1995) Strategies for improving drought resistance in grain legumes. Critic Rev Plant Sci 14:469–523

Upadhyaya HD, Bramel PJ, Singh S (2001) Development of a chickpea core subset using geographical distribution and quantitative traits. Crop Sci 41:206–210

Upadhyaya HD, Furman BJ, Dwivedi SL, Udupa SM, Gowda CLL, Baum M, Crouch JH, Buhariwalla HK, Singh S (2006) Development of a composite collection for mining germplasm possessing allelic variation for beneficial traits in chickpea. Plant Genet Resour 4:13–19

Upadhyaya HD, Ortiz R, Bramel PJ, Singh S (2002) Phenotypic diversity for morphological and agronomic characteristics in chickpea core collection. Euphytica 123:333–342

Ward J (1963) Hierarchial grouping to optimize an objective function. J Am Stat Assoc 38:236–244

Williams PC, Singh U (1987) Nutritional quality and the evaluation of quality in breeding programmes. In: Saxena MC, Singh KB (eds) The chickpea. CAB International, Wallingford, UK, pp 329–356
About this article
Cite this article
Upadhyaya, H.D., Salimath, P.M., Gowda, C.L.L. et al. New early-maturing germplasm lines for utilization in chickpea improvement. Euphytica 157, 195–208 (2007). https://doi.org/10.1007/s10681-007-9411-9
Received:

Accepted:

Published:

Issue Date:
Keywords
Chickpea

Diversity

Early-maturity

Genetic resources

Quantitative trait

Utilization