Abstract
India is the second largest producer of wheat in the world, with production hovering around 68–75 million tons for past few years. The latest estimated demand for wheat production for the year 2020 is approximately 87.5 million tons, or about 13 million tons more than the record production of 75 million tons harvested in crop season 1999–2000. Since 2000, India has struggled to match that record production figure and thus faces a critical challenge in maintaining food security in the face of its growing population. The current major challenges facing future wheat production in India are increasing heat stress; dwindling water supplies for irrigation; a growing threat of new virulence of diseases such as wheat rusts (yellow, brown, and black) and leaf blight; continuous adoption of rice-wheat systems on around 11 million hectares; changes in urbanization patterns, and demand for better quality wheat. In addition, the threat posed by the new stem rust race Ug99 can not be underestimated. The wide gap (around 2.5 t/ha) between the potential and harvested yield in the eastern Gangetic Plains also cries out for solutions. Addressing issues related to different stresses will require harnessing genes discovered in landraces and wild relatives following conventional as well as non-conventional approaches. For effective technology delivery in areas that suffer from poor linkages with farmers, participatory research needs to be strengthened. The future germplasm requirements from a dependable collaborator such as CIMMYT are largely being dictated by the above factors.
Access options
Buy single article
Instant access to the full article PDF.
USD 39.95
Price excludes VAT (USA)
Tax calculation will be finalised during checkout.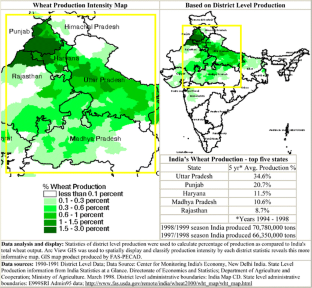 Abbreviations
EGP:

Eastern Gangetic Plains

EGPYT:

Eastern Gangetic Plains Yield Trial

EGPSN:

Eastern Gangetic Plains Screening Nursery
References
Anonymous (2003) Salient features of Lok1. www.lokbharti.org. Verified 27 January, 2007

Anonymous (2007) CIMMYT. 2007. Dangerous wheat disease jumps red sea. Mexico, DF: CIMMYT. Available on-line at: http://www.globalrust.org (verified 27/1/07)

Araus JL, Reynolds MP, Acevedo E (1993) Leaf posture, grain yield, growth, leaf structure and carbon isotope discrimination in wheat. Crop Sci 33:1273–1279

Arun B, Joshi AK, Chand R, Singh D (2003) Wheat somaclonal variants showing, earliness, improved spot blotch resistance and higher yield. Euphytica 132:235–241

Bhalla GS, Hazell P, Kerr J (1999) Prospects for India's cereal supply and demand to 2020. International Food Policy Research Institute, USA

Chatrath R (2004) Breeding strategies for developing wheat varieties targeted for rice-wheat cropping system of Indo-Gangetic Plains of Eastern India. In: Joshi AK, Chand R, Arun B, Singh G (eds) A compendium of the training program (26–30 December, 2003) on wheat improvement in eastern and warmer regions of India: conventional and non-conventional approaches. NATP project, (ICAR), BHU, Varanasi, India

Chatrath R, Mishra B, Shoran J (2006a) Yield potential survey–India. In: Reynolds MP, Godinez D (eds) Extended abstracts of the international symposium on wheat yield potential "Challenges to International Wheat Breeding", March 20–24, 2006, Cd. Obregon, Mexico. CIMMYT, Mexico, D.F., p 53

Chatrath R, Mishra B, Joshi AK, Ortiz-Ferrara G (2006b) Challenges to wheat production in South Asia. In: Reynolds MP, Godinez D (eds) Extended abstracts of the international symposium on wheat yield potential "Challenges to International Wheat Breeding", March 20–24, 2006, Cd. Obregon, Mexico. CIMMYT, Mexico, D.F., p 6

Directorate of Wheat Research (2006) Project Director's Report: 2005–2006. B Mishra, Project Director, Directorate of Wheat Research, Karnal 132001, pp 29

Evenson RE, Pray CE, Rosegrant MV (1999) Agricultural research and productivity growth in India. IFPRI, Washington, DC

FAO (2004) Statistical database. www.fao.org. Verified 4 January, 2007

Fischer RA (1985) Number of kernels in wheat crops and the influence of solar radiation and temperature. J Agric Sci (Camb) 105:447–461

Fischer RA, Byerlee DB (1991) Trends of wheat production in the warmer areas: major issues and economic considerations. In: Wheat for the Non-traditional Warm Areas. Proc. of Conf., Iguazu, Brazil, 29 Jul.–3 Aug. 1990. CIMMYT, Mexico, DF. pp 3–27

Fischer RA (1996) Wheat physiology at CIMMYT and raising the yield plateau. In: Reynolds MP, Rajaram S, McNab A (eds) Increasing yield potential in wheat: breaking the barriers. Proc. Workshop, Cd. Obregon, Mexico, 28–30 March 1996. CIMMYT, Mexico, DF, pp 150–166

Fischer RA, Rees D, Sayre KD, Lu Z-M, Condon AG, Larqué-Saavedra A (1998) Wheat yield progress is associated with higher stomatal conductance and photosynthetic rate, and cooler canopies. Crop Sci. 38:1467–1475

Government of India (1996) Population projections for India and states 1996–2016, Report of Technical Group on Population Projections. New Delhi, Registrar General

Gupta RK (2004) Quality of Indian wheat and infrastructure for analysis. In: Joshi AK, Chand R, Arun B, Singh G (eds) A compendium of the training program (26–30 December, 2003) on wheat improvement in eastern and warmer regions of India: Conventional and non-conventional approaches. NATP project, (ICAR), BHU, Varanasi, India

Harrington LW, Fujisaka S, Morris ML, Hobbs PR, Sharma HC, Singh RP, Chaudhary MK, Dhiman SD (1993) Wheat and Rice in Karnal and Kurukshetra Districts, Haryana, India: Farmers' Practices, Problems and an Agenda for Action. Mexico, DF: Haryana Agricultural University (HAU), Indian Council for Agricultural Research (ICAR), CIMMYT, and the International Rice Research Institute (IRRI)

Hobbs PR (2001) Tillage and crop establishment in South Asian rice-wheat systems: present and future options. In: Kataki PK (ed) The Rice-Wheat Cropping System of South Asia: Efficient Production Management. J Crop Prod 4:1–23

Hobbs P, Morris M (1996) Meeting South Asia's Future Food Requirements from Rice-Wheat Cropping Systems: Priority Issues Facing Researchers in the Post-Green Revolution Era. NRG paper 96–01. Mexico, DF: CIMMYT. pp 46

Howard A (1924) Crop production in India: a critical survey of its problems. Oxford University Press, Oxford, UK, p 156

Innes P, Blackwell RD (1983) Some effects of leaf posture on the yield and water economy of winter wheat. J Agric Sci (Camb) 101:367–376

Johnson R (1988) Durable resistance to yellow (stripe) rust in wheat and its implications in plant breeding. In: Simmonds NW, Rajaram S (eds) Breeeding strategies for resistance to the rusts of wheat. CIMMYT, Mexico, DF, pp 63–75

Joshi AK, Chand R (2002) Variation and inheritance of leaf angle, and its association with spot blotch (Bipolaris sorokiniana) severity in wheat (Triticum aestivum). Euphytica 124:283–291

Joshi AK, Chand R, Arun B (2002) Relationship of plant height and days to maturity with resistance to spot blotch in wheat. Euphytica 123:221–228

Joshi AK, Chand R, Chandola VK (2003) 1st Annual Report of CIMMYT collaborated, DFID funded project, Participatory Research to Increase the Productivity and Sustainability of Wheat Cropping Systems in the Eastern Subcontinent of South Asia. CIMMYT, BHU, Varanasi, India

Joshi AK, Chand R, Kumar S, Singh RP (2004a) Leaf tip necrosis: a phenotypic marker associated with resistance to spot blotch disease in wheat. Crop Sci 44:792–796

Joshi AK, Kumar S, Chand R, Ortiz-Ferrara G (2004b) Inheritance of resistance to spot blotch caused by Bipolaris sorokiniana in spring wheat. Plant Breed 123:213–219

Joshi AK, Chand R, Chandola VK, Prasad LC, Arun B, Tripathi R, Ortiz Ferrara G (2005) Approaches to Germplasm Dissemination and Adoption - Reaching Farmers in the Eastern Gangetic Plains. Proceedings of 7th International Wheat Symposium, Nov 27–Dec 2, 2005, Mar del Plata, Argentina

Joshi AK, Chand R, Arun B, Singh RP, Ortiz R (2007a) Breeding crops for reduced-tillage management in the intensive, rice-wheat systems of South Asia. Euphytica 153:135–151

Joshi AK, Kumari M, Singh VP, Reddy CM, Kumar S, Rane J, Chand R (2007b) Stay green trait: variation, inheritance and its association with spot blotch resistance in spring wheat (Triticum aestivum L.). Euphytica 153:59–71

Joshi AK, Ortiz-Ferrara G, Crossa J, Singh G, Alvarado G, Bhatta MR, Duveiller E, Sharma RC, Pandit DB, Siddique AB, Das SY, Sharma RN, Chand R (2007c) Associations of environments in South Asia based on spot blotch disease of wheat caused by Cochliobolus sativus. Crop Sci (In press)

Kulshrestha VP, Jain HK (1982) Eighty years of wheat breeding in India: Past selection pressures and future prospects. Z Pflanzenzuchtg 89:19–30

Kronstad WE, McCuistion WL, Swearingen ML, Qualset CO (1978) Crop selection for specific residue management systems. In: Oschwald WR (ed) Crop residue management systems. American Society of Agronomy, Madison, WI, pp 207–217 Spec Pub 31

Lal R, Hansen DO, Hobbs P, Uphoff N (2004) Reconciling food security with environment quality through no-till farming. In: Lal R, Hobbs P, Uphoff N, Hansen DO (eds) Sustainable agriculture and the rice-wheat system. Marcel Dekker, Inc., New York, pp 495–512

Ladha JK, Fischer KS, Hossain M, Hobbs PR, Hardy B (2000) Improving the productivity of rice-wheat systems of Indo-Gangetic Plains: A synthesis of NARS-IRRI partnership research. IRRI Discussion Paper No. 40. Los Banos, Philippines: IRRI

McIntosh RA, Devos KM, Dubcovsky J, Rogers WJ, Morris CF, Apples R, Anderson OD (2005) Catalogue of gene symbols for wheat: 2005 supplement. http://www.shigen.nig.ac.jp/wheat/komugi/genes/macgene/supplement2005

Nagarajan S (2005) Can India produce enough wheat even by 2020. Curr Sci 89:1467–1471

Ortiz-Ferrara G, Bhatta MR, Pokharel T, Mudwari A, Thapa DB, Joshi AK, Chand R, Muhammad D, Duveiller E, Rajaram S (2001) Farmers' participatory variety selection in South Asia. Research Highlights of the CIMMYT Wheat Program, 1999–2000. CIMMYT, Mexico D.F., pp 33–37

Pandey SP, Kumar S, Kumar U, Chand R, Joshi AK (2005) Sources of inoculum and reappearance of spot blotch of wheat in rice-wheat cropping system in eastern India. Eur J Plant Pathol 111:47–55

Peña RJ, Trethowan R, Pfeiffer WH, van Ginkel M (2002) Quality (End-Use) Improvement in wheat: Compositional, Genetic and Environmental Factors. In: Basra AS, Randhawa LS (eds) Quality improvement in field crops. The Howarth Press, New York, pp 1–38

Pretorius ZA, Singh RP, Wagoire WW, Payne TS (2000) Detection of virulence to wheat stem rust resistance gene Sr31 in Puccinia graminis f. sp. tritici in Uganda. Plant Dis 84:203

Rajaram S (2001) Prospects and promise of wheat breeding in the 21st century. Euphytica 119:3–15

Rane J, Shoran J, Nagarajan S (2000) Heat stress environments and impact on wheat productivity in India: Guestimate of losses. Indian Wheat News Lett 6(1):5–6

Reynolds MP, Acevedo E, Sayre KD, Fischer RA (1994) Yield potential in modern wheat varieties: its association with a less competitive ideotype. Field Crops Res 37:149–160

Reynolds MP, Rajaram S, Sayre KD (1999) Physiological and genetic changes of irrigated wheat in the post-Green Revolution period and approaches for meeting projected global demand. Crop Sci 39:1611–1621

Reynolds MP, van Ginkel M, Ribaut J-M (2000) Avenues for genetic modification of radiation use efficiency in wheat. J Exp Bot 51:459–473

Reynolds MP, Calderini DF, Condon AG, Rajaram S (2001) Physiological basis of yield gains in wheat associated with the Lr19 translocation from Agropyron elongatum. In: Bedo Z, Lang L (eds) Wheat in a global environment. Kluwer Academic Publishers, the Netherlands, pp 345–351

Reynolds MP, Trethowan R, Crossa J, Vargas M, Sayre KD (2004) Erratum to "Physiological factors associated with genotype by environment interaction in wheat". Field Crops Res 85:253–274

Reynolds MP, Borlaug NE (2006) Applying innovations and new technologies for international collaborative wheat improvement. J Agric Sci 144:99–110

Richards RA, Rebetzke GJ, Condon AG, Mickelson BJ (1996) Targeting traits to increase the grain yield of wheat. In: Richards RA, Wrigley CW, Rawson HM, Rebetzke GJ, Davidson JL, Brettell RIS (eds) Proc. 8th assembly, wheat breeding society of Australia. Wheat Breeding Society of Australia, Sydney, Australia, pp 054–057

Saari EE (1998) Leaf blight disease and associated soil-borne fungal pathogens of wheat in south and southeast Asia. In Duvellier E, Dubin HJ, Reeves J, McNab A (eds) Helminthosporium blights of wheat: spot blotch and tan spot. CIMMYT, Mexico, DF, pp 37–51

Sharma SN, Bhatnagar VK, Mann MS, Shekhawat US, Sain RS (2002) Maximization of wheat yields with a unique variety in warmer areas. Wheat Inform Ser 95:11–16

Singh RP, Huerta-Espino J, Rajaram S, Crossa J (1998a) Agronomic effects from chromosome translocations 7DL.7Ag and 1BL.1RS in spring wheat. Crop Sci 38:27–33

Singh RP, Rajaram S, Miranda A, Huerto-Espino J, Autroque E (1998b) Comparison of two crossing and four selection schemes for yield, yield traits, and slow rusting resistance to leaf rust in wheat. Euphytica 100:25–43

Singh RP, Huerta-Espino J, William M (2004) Genetics and breeding for durable resistance to leaf and stripe rusts in wheat. In: Joshi AK, Chand R, Arun B, Singh G (eds) A compendium of training program (26–30 December, 2003) on wheat improvement in eastern and warmer regions of India: conventional and non-conventional approaches. NATP project (ICAR), BHU, Varanasi, India

Singh RP, Huerta-Espino J, William HM (2005) Genetics and breeding for durable resistance to leaf and stripe rusts in wheat. Turkish J Agric Forestry 29:121–27

Singh RP, Hodson DP, Jin Y, Huerta-Espino J, Kinyua MG, Wanyera R, Njau P, Ward RW (2006) Current status, likely migration and strategies to mitigate the threat to wheat production from race Ug99 (TTKS) of stem rust pathogen. CAB Reviews: Perspectives in Agriculture, Veterinary Science, Nutrition and Natural Resources 1, No. 054: 1–13 (http://www.cababstractsplus.org/cabreviews)

Singh RP, Huerta-Espino J, Sharma R, Joshi AK, Trethowan R (2007) High Yielding Spring Bread Wheat Germplasm for Global Irrigated and Rainfed Production Systems. Euphytica (In this issue)

Stone PJ, Nicolas ME (1995) Effect of timing of heat stress during grain filling on two wheat varieties differing in heat tolerance. I. Grain growth. Aust J Plant Physiol 22: 927–934

Tandon JP (1994) Wheat cultivation, research organization and production technology in the hot dry regions of India. In: Saunders DA, Hettel GP (eds) Wheat in heat-stressed environments: irrigated, dry areas and rice-wheat farming systems. CIMMYT, Mexico, DF, pp 17–23

Trethowan RM, Singh RP, Huerta-Espino J, Crossa J, van Ginkel M (2001) Coleoptile length variation of near-isogenic Rht lines of modern CIMMYT bread and durum wheats. Field Crops Res 70:167–176

Trethowan RM, Borja J, Kazi-Mujeeb (2003) The impact of synthetic wheat on breeding for stress tolearance at CIMMYT. Ann Wheat News Lett 49:67–69

Trethowan RM, Reynolds M (2005) Drought resistance: genetic approaches for improving productivity under stress. In: Proc 7th Intl. Wheat Conf, 27 Nov-2 Dec 2005, Mar del Plata, Argentina

Trethowan RM, Reynolds MP, Sayre KD, Ortiz-Monasterio I (2005) Adapting wheat cultivars to resource conserving farming practices and human nutritional needs. Ann Appl Biol 146: 404–413

United Nations (1995) World urbanization prospects, the 1994 revision. United Nations, New York

Villareal RL, Banuelos O, Borja J, Mujeeb-Kazi A (1998) Drought tolerance of synthetic wheats (Triticum turgidum x Aegilops tauschii). Ann Wheat Newslett 44:142–144

Wardlaw IF (1994) The effect of high temperature on kernel development in wheat: Variability related to pre-heading post-anthesis conditions. Aust J Plant Physiol 21:731–739

Witcombe JR, Joshi A, Goyal SN (2003) Participatory plant breeding in maize: A case study from Gujarat, India. Euphytica 130:413–22

Witcombe JR, Joshi KD, Rana RB, Virk DS (2001) Increasing genetic diversity by participatory varietal selection in high potential production systems in Nepal and India. Euphytica 122:575–88

Zadoks JC, Chang TT, Konzak CF (1974) A decimal code for the growth stages of cereals. Weeds Res 14:415–421
About this article
Cite this article
Joshi, A.K., Mishra, B., Chatrath, R. et al. Wheat improvement in India: present status, emerging challenges and future prospects. Euphytica 157, 431–446 (2007). https://doi.org/10.1007/s10681-007-9385-7
Received:

Accepted:

Published:

Issue Date:

DOI: https://doi.org/10.1007/s10681-007-9385-7
Keywords
Wheat

Triticum aestivum

Wheat improvement

India

Present status

Challenges

Future prospects