Abstract
To understand the genetic gains of grain yield in the Southern China Winter Wheat Region (SCWWR), two yield potential trials, i.e., YPT 1 including 11 leading cultivars from the Middle and Low Yangtze Valley (Zone III) and YPT 2 including 15 leading cultivars from the Southwestern China Region (Zone IV) from 1949 to 2000, were conduced during the 2001–2003 cropping seasons. A completely randomized block design of three replicates was employed with controlled field environments. Molecular markers were used to detect the presence of dwarfing genes and the 1B/1R translocation. Results showed that average annual genetic gain was 0.31% (P < 0.05) or 13.96 kg/ha/year and 0.74% (P < 0.01) or 40.80 kg/ha/year in Zones III and IV, respectively. In YPT 1, changes of all other traits were not significant, but plant height was significantly reduced. In YPT 2, the genetic improvement of grain yield was primarily attributed to the increased thousand kernel weight (TKW) (0.65%, P < 0.01) and kernel weight/spike (0.87%, P < 0.01), reduced plant height and increased harvest index (HI). The dwarfing gene Rht 8 was most frequently present (46.1%), Rht-B1b was observed in three genotypes in Zone III, and Rht-D1b was present in only one genotype in Zone IV. The 1B/1R translocation was present in four genotypes. Utilization of Italian germplasm and development of landmark cultivar Fan 7 were the key factors for grain yield improvement in SCWWR. The future challenge of wheat breeding in this region is to continue improving grain yield and disease resistance, and to develop cultivars suitable for the reduced tillage of wheat/rice double cropping. Utilization of Mexican germplasm could provide opportunities for future yield improvement.
Access options
Buy single article
Instant access to the full article PDF.
US$ 39.95
Tax calculation will be finalised during checkout.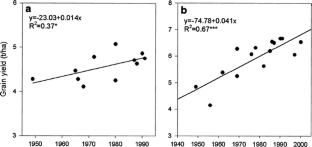 References
Austin RB, Bingham J, Blackwell RD, Evens LT, Ford MA, Morgan CL, Taylor M (1980) Genetic improvement in winter wheat yields since 1900 and associated physiological changes. J Agric Sci Camb 94:675–689

Austin RB, Ford MA, Morgan CL (1989) Genetic improvement in the yield of winter wheat: a further evaluation. J Agric Sci Camb 112:295–301

Brancourt-Hulmel M, Doussinault G, Lecomte C, Berard P, Le Buanec B, Trottet M (2003) Genetic improvement of agronomic traits of winter wheat cultivars released in France from 1946 to 1992. Crop Sci 43:37–45

Calderni DF, Dreccer MF, Slafer GA (1995) Genetic improvement in wheat yield and associated traits: a re-examination of previous results and the latest trends. Plant Breed 114:108–112

Canevara MG, Romani M, Corbellini M, Perenzin M, Borghi B (1994) Evolutionary trends in morphological, physiological, agronomical and qualitative traits of Triticum aestivum L. cultivars bred in Italy since 1900. Eur J Agron 3:175–185

Cox TS, Shroyer JP, Liu BH, Sears RG, Martin TJ (1988) Genetic improvement in agronomic traits of hard red winter wheat cultivars from 1919 to 1987. Crop Sci 28:756–760

Donmez E, Sears RG, Shroyer JP, Paulsen GM (2001) Genetic gain in yield attributes of winter wheat in the Great Plains. Crop Sci 41:1412–1419

Ellis MH, Spielmeyer WR, Gale GJ, Richards RA (2002) "Perfect" markers for the Rht-B1b and Rht-D1b dwarfing genes in wheat. Theor Appl Genet 105:1038–1042

Fransis HA, Leitch AR, Koebner RMD (1995) Conversion of a RAPD-generated PCR product, containing a novel dispersed repetitive element, into a fast robust assay for the presence of rye chromatin in wheat. Theor Appl Genet 90:636–642

He ZH, Lin ZJ, Wang LJ, Xiao ZM, Wan FS, Zhuang QS (2002) Classification of Chinese wheat regions based on quality. Scientia Agriculture Sinica 35:359–364 (in Chinese)

He ZH, Rajaram S, Xin ZY, Huang GZ (eds) (2001) A history of wheat breeding in China. CIMMYT, Mexico, DF

Hucl P, Baker RJ (1987) A study of ancestral and modern Canadian spring wheat. Can J Plant Sci 67:87–97

Korzun V, Roder MS, Ganal MW, Worland J (1998) Genetic analysis of the dwarfing gene (Rht8) in wheat. Part I. Molecular mapping of Rht8 on the short arm of chromosome 2D of bread wheat (Triticum aestivum L.). Theor Appl Genet 96:1104–1109

Kulshrestha VP, Jain HK (1982) Eighty years of wheat breeding in India: past selection pressures and future prospects. Z Pflanzenzuchtg 89:19–30

McCaig TN, DePauw RM (1995) Breeding hard red spring wheat in western Canada: historical trends in yield and related variables. Can J Plant Sci 75:387–393

Ortiz-Monasterio R, Sayre KD, Rajaram S, McMahon M (1997) Genetic progress in wheat yield and nitrogen use efficiency under four nitrogen rates. Crop Sci 37:898–904

Perry M, D'Antuono MF (1989) Yield improvement and associated characteristics of some Australian spring wheat cultivars introduced between 1860 and 1982. Aust J Agric Res 40:457–472

Rajaram S, van Ginkel M (1996) Yield potetial debate: germplasm vs methodology or both. Increasing yield potetial in wheat: breaking the barriers. CIMMYT, Mexico, DF, pp 11–18

SAS Institute (1997) SAS user's guide: statistics. SAS Institute, Cary, NC

Sayre KD, Rajaram S, Fischer RA (1997) Yield potential progress in short bread wheat in northwest Mexico. Crop Sci 37:36–42

Slafer GA, Andrade FH (1989) Genetic improvement in bread wheat (Triticum aestivum L.) yield in Argentina. Field Crops Res 21:289–296

Waddington SR, Ransom JK, Osmanzai M, Saunders DA (1986) Improvement in yield potential of bread wheat adapted to northwest Mexico. Crop Sci 26:698–703

Zhang XK, Yang SJ, Zhou Y, Xia XC, He ZH (2006) Distribution of Rht-B1b, RhtD-1b, and Rht 8 genes in autumn-sown Chinese wheats detected by molecular markers. Euphytica 152:109–116

Zhou Y, Sui XX, Xia XC, Zhang XK, He ZH, Zhang GS (2007) Genetic improvement of grain yield and associated traits in the northern China winter wheat region from 1960 to 2000. Crop Sci, in press

Zhuang QS (2003) Chinese wheat improvement and pedigree analysis. China Agricultural Press, Beijing, (in Chinese)
Acknowledgements
The authors are grateful to Prof. R. A. McIntosh for kindly reviewing this manuscript. This project is supported from Ministry of Agriculture (2003-Q01 and 05-02-01A).
About this article
Cite this article
Zhou, Y., Zhu, H.Z., Cai, S.B. et al. Genetic improvement of grain yield and associated traits in the southern China winter wheat region: 1949 to 2000. Euphytica 157, 465–473 (2007). https://doi.org/10.1007/s10681-007-9376-8
Received:

Accepted:

Published:

Issue Date:
Keywords
Bread wheat

Genetic improvement

Yield potential

Yield components

Dwarfing gene