Abstract
In Maritime Guinea, the interpenetration of upland, lowland and mangrove rice growing ecosystems has found expression in the cohabitation of the two rice cultivated species. Recent changes in cropping practices may lead to the replacement of local varieties by modern high-yielding varieties. In the framework build-up of a strategy for the preservation of local varieties, we analysed the extent, the organisation and the specificities of the rice genetic diversity. One hundred seventy accessions collected in farmers' fields were genotyped with 11 SSR markers and phenotyped with 26 morpho-physiologic descriptors. The general organisation of rice genetic diversity in Maritime Guinea, and its tight relationship with the rice growing ecosystems were similar to the one observed elsewhere. The two major subspecies of O sativa––indica and tropical japonic––as well as the two major ecotypes of O. glaberrima––"floating" and "upright"––were present. Moreover, an original genetic compartment was detected, highlighting the occurrence of glaberrima × sativa hybridisation. Allelic diversity was found to be comparable to that noted worldwide for indica and japonica groups of O. sativa, but not as large for O. glaberrima. Given its extent, its original compartment, and its potential for inter-specific and inter-subspecific indica × japonica recombination, the preservation of rice genetic diversity in Maritime Guinea deserves special attention.
This is a preview of subscription content, log in to check access.
Access options
Buy single article
Instant access to the full article PDF.
US$ 39.95
Price includes VAT for USA
Subscribe to journal
Immediate online access to all issues from 2019. Subscription will auto renew annually.
US$ 199
This is the net price. Taxes to be calculated in checkout.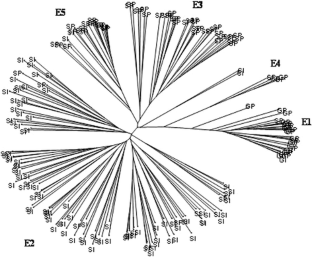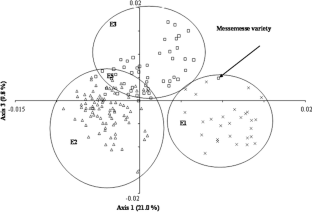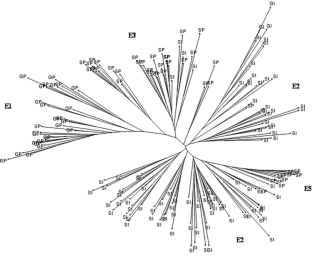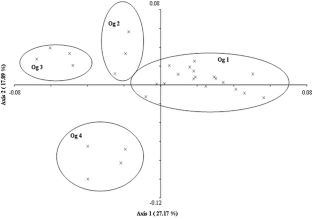 References
Beavogui L, Diallo A, Dillo M (2000) Affinage du zonage agro-écologique de la Guinée martitime IRAG, Conakry

Belkhir K, Borsa P, Chikhi L, Raufaste N, Bonhomme F (2001) GENETIX 4.02, logiciel sous Windows TM pour la génétique des populations, Laboratoire Génome, Populations, Interactions; CNRS UMR 5000; Université Montpellier II, Montpellier France

Bezançon G (1994) Le riz cultivé d'origine africaine Oryza glaberrima Steud. et les formes sauvages et adventices apparentées : diversité, relations génétiques et domestication, Université de Paris-Sud (Centre d'Orsay), Paris-Sud

Bezançon G (1995) Riziculture traditionnelle en Afrique de l'Ouest : valorisation et conservation des ressources génétiques. Journal d'Agriculture Traditionnelle et de Botanique Appliquée 37:3–24

Bougerol B, Pham J (1989) Influence of the Oryza sativa genotype on the fertility and quantitative traits of hybrids between the two cultivated rice species O. sativa and O. glaberrima. Genome 32:810–815

Garris A, Tai T, Coburn J, Kresovich S, McCouch S (2005) Genetic structure and diversity in Oryza sativa L. Genetics 169:1631–1638

Ghesquère A, Second G (1983) Polymorphisme enzymatique et évolution d'Oryza sativa en Afrique. In: Societé Zoologique de France (ed) Colloque Electrophorère et taxonomie. Société Zoologique de France, Paris, pp 83–90

Ghesquière A, Sequier J, Second G, Lorieux M (1997) First steps towards a rational use of African rice, Oryza glaberrima, in rice breeding through a 'contig line' concept. Euphytica 96:31–39

Glaszmann J (1987) Isozymes and classification of Asian rice varieties. Theor Appl Genet 74:21–30

Godon P (1991) Histoire du riz en Guinée : les variétés. Cirad Presse. CIRAD, Montpellier, France

Jacquot M, Arneaud M (1979) Classification numérique de variétés de riz. Agron Trop 34:157–173

Jones MP, Dinkuhn M, Aluko GK, Semon M (1997) Interspecific Orysa sativa L X O. glaberrima Steud. Progenies in upland rice improvement. Euphytica 92: 237–246

Luce C, Noyer JL, Tharreau D, Ahmadi N, Feyt H (2001) The use of microsatellite markers to examine the diversity of the genetic resources of rice (Oryza sativa) adapted to european conditions. Acta Hort 546:221–235

Perrier X, Flori A, Bonnot F (2003) Data analysis methods In: Hamon P et al (eds) Genetic diversity of cultivated tropical plants. Enfield, Science Publishers, Montpellier, pp 43–76

Pham J (1992) Evaluation des ressources génétiques des riz cultivés en Afrique par hybridation intra- et interspécifique, Université de Paris XI - Orsay, Paris

Portères R (1950) Vieilles agricultures de l'Afrique tropicale: centre d'origine, de diversification variétale primaire et berceau de l'agriculture antérieure au XVIème siècle. Agron Trop 44:165–178

Portères R (1955) Historique des échantillons d'O. glaberrima Stude recueillis en Afrique. JATBA TII, N 10–11:535–537

Portères R (1956) Taxonomie agrobotanique des riz cultivés O. sativa Linné et O. glaberrima Steudel. Journal d'Agriculture Tropical et de Botanique Appliquées 4

Portères R (1966) Les noms des riz en Guinée. JATBA 13

Risterucci AM, Grivet L, N'Goran JAL, Pierett I, Flament MH, Lanaud C (2000) A high-density linkage map of Theobroma cacao L. Theor Appl Genet 101:1176–1182

Saitou N, Nei M (1987) The neighbor-joining method: a new method for reconstructing phylogenetic trees. Mole Biol Evol 4:406–425

Second G (1985) Relations évolutives chez le genre Oryza et processus de domestication, Orstom, Paris

Second G, Zy W (1992) Mitochondrial DNA RFLP in genus Oryza and cultivated rice. Genet Resour Crop Evol 39:125–140

Semon M, Nielsen R, Jones P, McCouch S (2004) The population structure of cultivated Oryza glaberrima (Steud): Evidence for elevated levels of LD caused by admixture with O. sativa and ecological adaptation. Genetics 169:639–1647
Acknowledgments
This work was funded by the French Ministry of Foreign Affairs and by the Centre de Coopération en Recherche Agronomique pour le Développement provided funding for this research.
About this article
Cite this article
Barry, M.B., Pham, J.L., Noyer, J.L. et al. Genetic diversity of the two cultivated rice species (O. sativa & O. glaberrima) in Maritime Guinea. Evidence for interspecific recombination. Euphytica 154, 127–137 (2007). https://doi.org/10.1007/s10681-006-9278-1
Received:

Accepted:

Published:

Issue Date:
Keywords
Conservation

Diversity

Guinea

O. glaberrima
O. sativa

Rice