Abstract
Reliable mortality forecasts are an essential component of healthcare policies in ageing societies. The Lee–Carter method and its later variants are widely accepted probabilistic approaches to mortality forecasting, due to their simplicity and the straightforward interpretation of the model parameters. This model assumes an invariant age component and linear time component for forecasting. We apply the Lee–Carter method on smoothed mortality rates obtained by LASSO-type regularization and hence adjust the time component with the observed lifespan disparity. Smoothing with LASSO produces less error during the fitting period than do spline-based smoothing techniques. As a more informative indicator of longevity, matching with lifespan disparity makes the time component more reflective of mortality improvements. The forecasts produced by the new method were more accurate during out-of-sample evaluation and provided optimistic forecasts for many low-mortality countries.
Access options
Buy single article
Instant access to the full article PDF.
US$ 39.95
Tax calculation will be finalised during checkout.
Subscribe to journal
Immediate online access to all issues from 2019. Subscription will auto renew annually.
US$ 79
Tax calculation will be finalised during checkout.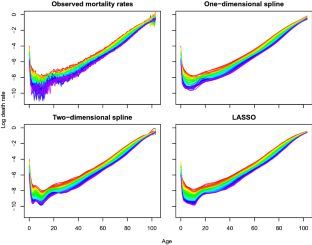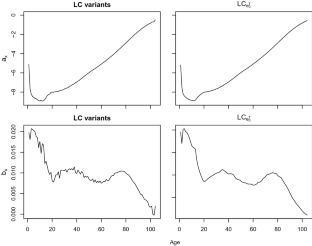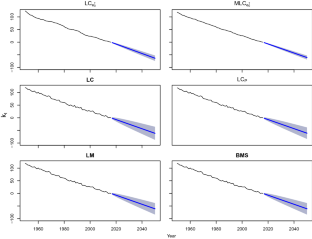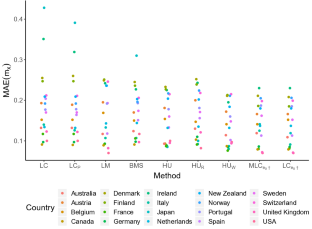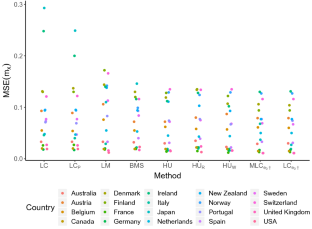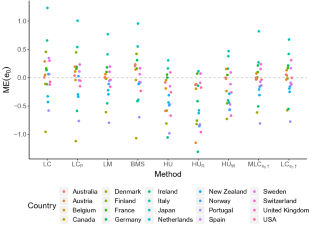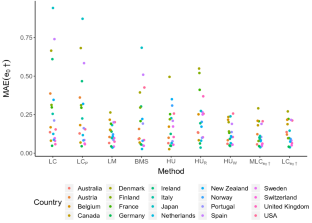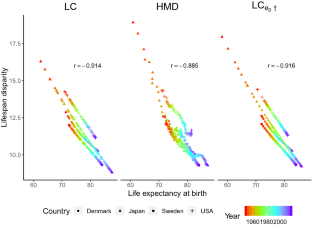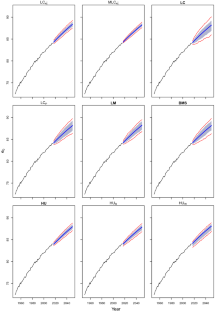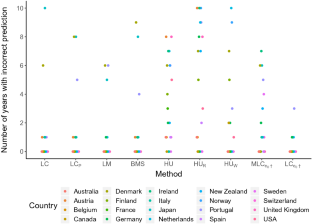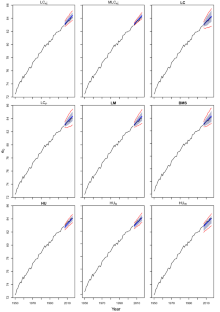 Availability of Data and Materials
Data used in study are freely accessible from Human Mortality Database.
References
Aburto, J. M., & van Raalte, A. (2018). Lifespan dispersion in times of life expectancy fluctuation: the case of Central and Eastern Europe. Demography, 55(6), 2071–2096.

Aburto, J. M., Wensink, M., van Raalte, A., & Lindahl-Jacobsen, R. (2018). Potential gains in life expectancy by reducing inequality of lifespans in Denmark: An international comparison and cause-of-death analysis. BMC Public Health, 18(1), 831.

Basellini, U., & Camarda, C. G. (2019). Modelling and forecasting adult age-at-death distributions. Population Studies, 73(1), 119–138.

Bohk-Ewald, C., Ebeling, M., & Rau, R. (2017). Lifespan disparity as an additional indicator for evaluating mortality forecasts. Demography, 54(4), 1559–1577.

Bohk-Ewald, C., & Rau, R. (2017). Probabilistic mortality forecasting with varying age-specific survival improvements. Genus, 73(1), 1.

Booth, H., Maindonald, J., & Smith, L. (2002). Applying Lee–Carter under conditions of variable mortality decline. Population Studies, 56(3), 325–336.

Booth, H., & Tickle, L. (2008). Mortality modelling and forecasting: A review of methods. Annals of Actuarial Science, 3(1–2), 3–43.

Brouhns, N., Denuit, M., & Vermunt, J. K. (2002). A Poisson log-bilinear regression approach to the construction of projected lifetables. Insurance: Mathematics and Economics, 31(3), 373–393.

Cairns, A. J., Blake, D., Dowd, K., Coughlan, G. D., & Khalaf-Allah, M. (2011). Bayesian stochastic mortality modelling for two populations. ASTIN Bulletin: The Journal of the IAA, 41(1), 29–59.

Camarda, C. G. (2012). MortalitySmooth: An R package for smoothing Poisson counts with P-splines. Journal of Statistical Software, 50(1), 1–24.

Currie, I. D., Durban, M., & Eilers, P. H. (2006). Generalized linear array models with applications to multidimensional smoothing. Journal of the Royal Statistical Society: Series B (Statistical Methodology), 68(2), 259–280.

De Jong, P., & Tickle, L. (2006). Extending Lee–Carter mortality forecasting. Mathematical Population Studies, 13(1), 1–18.

Dokumentov, A., & Hyndman, R. (2017). Smoothing of two-dimensional demographic data, optionally taking into account period and cohort effects.

Dokumentov, A., Hyndman, R. J., & Tickle, L. (2018). Bivariate smoothing of mortality surfaces with cohort and period ridges. Stat, 7(1), e199.

Girosi, F., & King, G. (2006). Demographic forecasting. Cambridge: Cambridge University Press.

HMD. (2018). Human mortality database. University of California, Berkeley (USA), and Max Planck Institute for Demographic Research (Germany).

Hyndman, R. J., & Booth, H. (2008). Stochastic population forecasts using functional data models for mortality, fertility and migration. International Journal of Forecasting, 24(3), 323–342.

Hyndman, R. J., Booth, H., Tickle, L., & Maindonald, J. (2011). Demography: Forecasting mortality, fertility, migration and population data. R package version, 1.

Hyndman, R. J., & Ullah, M. S. (2007). Robust forecasting of mortality and fertility rates: A functional data approach. Computational Statistics & Data Analysis, 51(10), 4942–4956.

Jacobsen, R., Keiding, N., & Lynge, E. (2002). Long term mortality trends behind low life expectancy of Danish women. Journal of Epidemiology & Community Health, 56(3), 205–208.

Lee, R. (2000). The Lee–Carter method for forecasting mortality, with various extensions and applications. North American Actuarial Journal, 4(1), 80–91.

Lee, R., & Miller, T. (2001). Evaluating the performance of the Lee–Carter method for forecasting mortality. Demography, 38(4), 537–549.

Lee, R. D., & Carter, L. R. (1992). Modeling and forecasting us mortality. Journal of the American Statistical Association, 87(419), 659–671.

Li, N., Lee, R., & Gerland, P. (2013). Extending the Lee–Carter method to model the rotation of age patterns of mortality decline for long-term projections. Demography, 50(6), 2037–2051.

Németh, L. (2017). Life expectancy versus lifespan inequality: A smudge or a clear relationship? PloS One, 12(9), e0185702.

Raftery, A. E., Chunn, J. L., Gerland, P., & Ševčíková, H. (2013). Bayesian probabilistic projections of life expectancy for all countries. Demography, 50(3), 777–801.

Renshaw, A. E., & Haberman, S. (2000). Modelling the recent time trends in UK permanent health insurance recovery, mortality and claim inception transition intensities. Insurance: Mathematics and Economics, 27(3), 365–396.

Schuette, D. R. (1978). A linear programming approach to graduation. Transactions of Society of Actuaries, 30, 407–431

Shang, H. L. (2012). Point and interval forecasts of age-specific life expectancies: A model averaging approach. Demographic Research, 27, 593–644.

Shang, H. L., Booth, H., & Hyndman, R. (2011). Point and interval forecasts of mortality rates and life expectancy: A comparison of ten principal component methods. Demographic Research, 25, 173–214.

Shkolnikov, V. M., Andreev, E. M., Zhang, Z., Oeppen, J., & Vaupel, J. W. (2011). Losses of expected lifetime in the United States and other developed countries: Methods and empirical analyses. Demography, 48(1), 211–239.

Smits, J., & Monden, C. (2009). Length of life inequality around the globe. Social Science & Medicine, 68(6), 1114–1123.

Stoeldraijer, L., van Duin, C., van Wissen, L., & Janssen, F. (2018). Comparing strategies for matching mortality forecasts to the most recently observed data: exploring the trade-off between accuracy and robustness. Genus, 74(1), 16.

Tuljapurkar, S., & Edwards, R. D. (2011). Variance in death and its implications for modeling and forecasting mortality. Demographic Research, 24, 497.

Vaupel, J. W., & Canudas-Romo, V. (2003). Decomposing change in life expectancy: A bouquet of formulas in honor of Nathan Keyfitz's 90th birthday. Demography, 40(2), 201–216.

Vaupel, J. W., Zhang, Z., & van Raalte, A. A. (2011). Life expectancy and disparity: An international comparison of life table data. BMJ Open, 1, e000128.

Wilmoth, J. R., & Horiuchi, S. (1999). Rectangularization revisited: Variability of age at death within human populations. Demography, 36(4), 475–495.

Wiśniowski, A., Smith, P. W., Bijak, J., Raymer, J., & Forster, J. J. (2015). Bayesian population forecasting: Extending the Lee–Carter method. Demography, 52(3), 1035–1059.

Wood, S. N. (1994). Monotonic smoothing splines fitted by cross validation. SIAM Journal on Scientific Computing, 15(5), 1126–1133.

Wood, S. N. (2006). Generalized additive models: An introduction with R. Boca Raton: Chapman and Hall/CRC.

Zhang, Z., & Vaupel, J. W. (2009). The age separating early deaths from late deaths. Demographic Research, 20, 721–730.
Acknowledgements
The authors are grateful to Dr. Christina Bohk-Ewald, Professor Heather Booth, Dr. Carlo-Giovanni Camarda, Professor Vladimir Canudas-Romo, Dr. Alyson van Raalte and two anonymous reviewers for their constructive comments and discussions on this paper. The authors thank researchers at the Department of Statistical Sciences, University of Padua and School of Demography, Australian National University for their many helpful comments and for useful discussions which have helped improve this work.
Funding
We acknowledge support from MIUR–PRIN 2017 project—grant 20177BRJXS Unfolding the SEcrets of LongEvity: Current Trends and future prospects (SELECT). A path through morbidity, disability and mortality in Italy and Europe—in the preparation of the final article.
Ethics declarations
Conflict of interest
The authors declare that they have no competing interests.
Additional information
Publisher's Note
Springer Nature remains neutral with regard to jurisdictional claims in published maps and institutional affiliations.
Electronic supplementary material
Below is the link to the electronic supplementary material.
About this article
Cite this article
Rabbi, A.M.F., Mazzuco, S. Mortality Forecasting with the Lee–Carter Method: Adjusting for Smoothing and Lifespan Disparity. Eur J Population 37, 97–120 (2021). https://doi.org/10.1007/s10680-020-09559-9
Received:

Accepted:

Published:

Issue Date:
Keywords
Mortality forecasting

Mortality smoothing

Lifespan disparity

LASSO