Abstract
The so-called speed-premium, introduced in Sweden in the 1980s and still in effect in 2018, grants some advantages regarding parental leave benefits for parents that have two births within a set number of months. Previous research has shown a great increase in the prevalence of short birth intervals in the 1980s and 1990s associated with the introduction of this policy. This study shows that the previously documented spike in short birth intervals has mostly disappeared in recent years. By the 2010s, the pattern of birth intervals is similar to that seen around the time of the introduction of the speed-premium in the early 1980s. Altogether the present results suggest that the effect of the speed-premium on birth spacing is relatively small in recent years.
This is a preview of subscription content, log in to check access.
Access options
Buy single article
Instant access to the full article PDF.
US$ 39.95
Price includes VAT for USA
Subscribe to journal
Immediate online access to all issues from 2019. Subscription will auto renew annually.
US$ 99
This is the net price. Taxes to be calculated in checkout.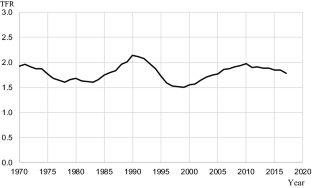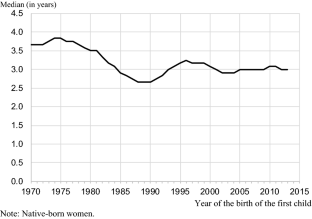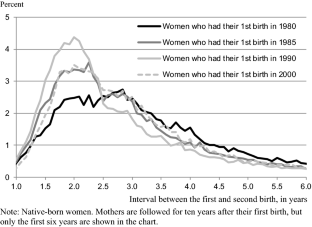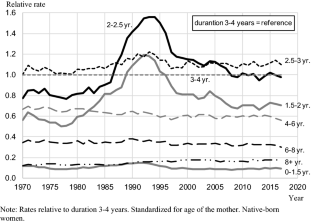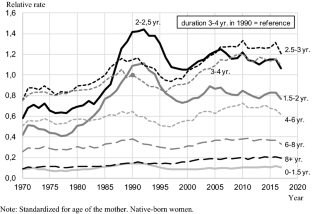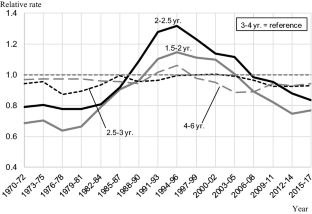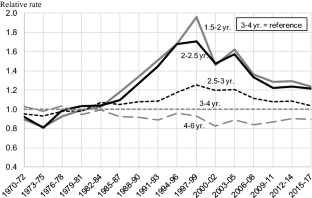 Notes
1.

Further information on the legislation pertaining to the parental leave system and additional statistics can be found at the website of the Swedish Social Insurance Agency (https://www.forsakringskassan.se).

2.

Parental leave can be spread out longer through some mechanisms. For instance, one may work 50% and take parental leave at a 50% rate. This would mean a lower benefit per month, for a greater number of months. Periods of paid leave can also be combined with unpaid leave. Furthermore, parents have the legal right to reduced working hours with reduced pay throughout their children's preschool years.

3.

In order to receive the parental leave benefit above the flat rate during the first 6 months after the birth, it is necessary to have worked for the 8 months preceding the birth. Otherwise, the parent receives the flat rate. After the first 6 months following the birth, parental leave benefit is associated with the income earned when the parent requests the benefit. One of the aims of this provision is to incentivize parents, and especially women, to engage in paid work before and between births.

4.

For instance, after being fixed at 5400 kronor per month for most of the 2000s, the flat rate was raised to 6750 kronor per month in 2014 and further to 7500 kronor in 2016.

5.

The main reason for focusing on native-born women is that the shortening of birth intervals in the 1980 s has been largely concentrated in that group, as documented by previous studies. Changes in birth interval were much less pronounced among foreign-born mothers (Andersson et al. 2006). Seventy percent of all children born in Sweden in 2017 had a native-born mother. The proportion was higher in the previous decades.

6.

7.

It is also conceivable that awareness of the policy increased over time and that parents realized that the policy was not as advantageous as previous generation had thought. This would also explain why its effect declined over time.
References
Agency, Swedish Social Insurance. (2018). Social insurance in figures 2018. Stockholm: Swedish Social Insurance Agency.

Allison, P. D. (2010). Survival analysis using SAS: A practical guide (2nd ed.). Cary, NC: SAS Institute Inc.

Andersson, G. (2000). The impact of labour-force participation on childbearing behaviour: Pro-cyclical fertility in Sweden during the 1980s and the 1990s. European Journal of Population,16(4), 293–333.

Andersson, G. (2004). Childbearing developments in Denmark, Norway, and Sweden from the 1970s to the 1990s: A comparison. Demographic Research,3, 155–176.

Andersson, G., Hoem, J. M., & Duvander, A. Z. (2006). Social differentials in speed-premium effects in childbearing in Sweden. Demographic Research,14, 51–70.

Blossfeld, H.-P., Golsch, K., & Rohwer, G. (2007). Event history analysis with Stata. New York: Lawrence Erlbaum.

Carlson, J. (2013). Sweden's parental leave insurance: A policy analysis of strategies to increase gender equality. The Journal of Sociology & Social Welfare,40(2), 63–76.

Duvander, A. Z. (2008). Family policy in Sweden: An overview. SPaDE Working Paper, 2008:5, Stockholm University Linnaeus Center on Social Policy and Family Dynamics in Europe.

Duvander, A. Z., & Johansson, M. (2012). What are the effects of reforms promoting fathers' parental leave use? Journal of European Social Policy,22(3), 319–330.

Hoem, J. M. (1990). Social policy and recent fertility change in Sweden. Population and Development Review,16(4), 735–748.

Hoem, J. M. (1993a). Public policy as the fuel of fertility: Effects of a policy reform on the pace of childbearing in Sweden in the 1980s. Acta Sociologica,36(1), 19–31.

Hoem, J. M. (1993b). Classical demographic methods of analysis and modern event-history techniques. In IUSSP: 22nd international population conference, Montreal, Canada (Vol. 3, pp. 281–91).

Neyer, G., & Andersson, G. (2008). Consequences of family policies on childbearing behavior: Effects or artifacts? Population and Development Review,34(4), 699–724.

SOU. (2017). Jämställt föräldraskap och goda uppväxtvillkor för barn: en ny modell för föräldraförsäkringen. Statens offentliga utredningar 2017:101. Stockholm: Wolters Kluwer.

Statistics Sweden. (2003). Access to microdata in the Nordic countries. Örebro: Statistics Sweden.

Statistics Sweden. (2018). Women and men in Sweden 2018: Facts and figures. Stockholm: Statistics Sweden.

Sweden Ministry of Education and Science. (1999). Early childhood education and care policy in Sweden. Background report prepared for the OECD Thematic Review. Paris: Organisation for Economic Co-operation and Development.
Acknowledgements
The author gratefully acknowledges the helpful comments provided by two anonymous reviewers.
Ethics declarations
Conflict of interest
I have no conflict of interest to disclose.
Additional information
Publisher's Note
Springer Nature remains neutral with regard to jurisdictional claims in published maps and institutional affiliations.
The views and opinions expressed in the text belong solely to the author and do not necessarily reflect the position of their employer or any other agency or organization.
About this article
Cite this article
Miranda, V. Recent Trends in Birth Intervals in Sweden: A Decline of the Speed-Premium Effect?. Eur J Population 36, 499–510 (2020). https://doi.org/10.1007/s10680-019-09539-8
Received:

Accepted:

Published:

Issue Date:
Keywords
Birth interval

Birth spacing

Sweden

Parental leave

Policy

Speed-premium