Abstract
According to "the energy balance mechanism" theory, female ovarian function is strongly hindered by even a modest negative energy balance (the difference between calorie intake and calorie consumption). Agriculture-based economies were characterized by periods of extremely intense workload (especially in summer when grain was harvested) without sufficient nutrition. We analyze the role of the intensity of agricultural workload (proxied by marriage seasonality) on seasonal oscillations in births. Using data at the regional level, from Italian Unification to the eve of the World War I, we find some empirical support for the energy balance theory. In particular, we find the strength of the relationship between marriage seasonality and birth seasonality to be lower in the more developed Northern part of the Italian country, in which some signs of industrialization had already been present.
This is a preview of subscription content, log in to check access.
Access options
Buy single article
Instant access to the full article PDF.
US$ 39.95
Price includes VAT for USA
Subscribe to journal
Immediate online access to all issues from 2019. Subscription will auto renew annually.
US$ 99
This is the net price. Taxes to be calculated in checkout.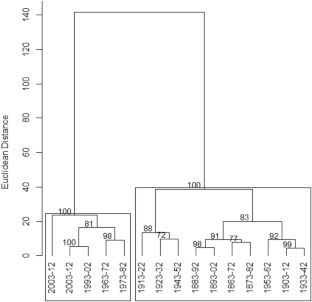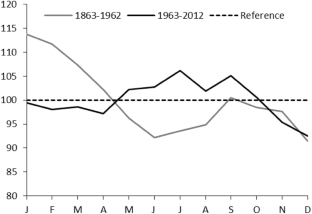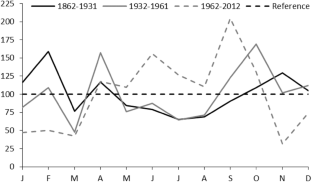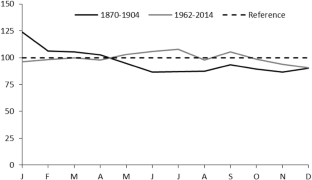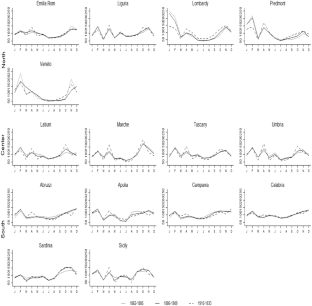 Notes
1.

The datasets generated during and/or analyzed during the current study are available from the corresponding author on receipt of a reasonable request.

2.

Data on miscarriages for the epoch are not available. For stillbirths, Breschi et al. (2012) noted that, especially in the South, the presence of biases in the registration of stillbirths was clear. However, it might be argued that if the public officials had misclassified stillbirths, they will have done this all the year around, so the absence of summer peaks in stillbirths cannot be attributed to their errors. See also Derosas (2009) for an interesting discussion about the combined effect of malnutrition in late gestation and cold temperatures on neonatal mortality.

3.

With high temperatures, female work in summer may have led to more miscarriages and/or stillbirths. Unfortunately, we do not have statistics for miscarriages for the period under analysis. For stillbirths, the reader is referred to the comments in Table 3.

4.

Another possible effect of religious beliefs on marriage seasonality comes in May. Given that this month was dedicated to the Virgin Mary, some scholars sustain that marriages were avoided in the Catholic World as an act of respect for the Holy Virgin. It should be noted that if religious considerations are at the basis of the decision to not marry in May, then it would be reasonable to expect a depressive effect on sexual activity. This should imply a reduction in births approximately in February of the subsequent year. As we will show in the section of results, this seems not to have been true for the Italian regions. February was in fact a month of maximum concentration for live births.

5.

The main problem highlighted by Somogyi was associated with the first decade of the marriage time series: the 1866 marriage law reform, which revoked the legal validity of religious marriages. This law entered force 1 January 1866 causing an overwhelming concentration of celebrations in December 1865 to avoid the application of the new law. As far as births are considered, Livi (1929) discussed the postponement of the registration of home births in the last days of December 1865. This custom was due to parents' attempts to delay compulsory military service for their sons. However, Crisafulli et al. (2000) observed that the number of births in January continued to be higher than those in December, even in the second part of the twentieth century when the hospitalization of births was common and when the postponement of registration was impossible.

6.

July, August and September were months of high workload in the agricultural economy, and we are estimating workload using a seasonal marriage index. At the same time, there are also other possible factors (for instance, hot temperatures) that might determine a trough in the conceptions and thus a depression in the number of births 9 months later. The inclusion of month dummies gives a partial control for this possible unobserved confounding effect.

7.

Ruiu and Breschi (2017) argued that during dramatic events like wars or epidemics, there is a huge decrease in fertility levels due to the dramatic increase of marriage dissolution caused in turn by rising mortality. Furthermore, even when the event is ended, only after several lags do, we observe a rebound in fertility to higher levels than pre-crisis times.

8.

In northern Italy, 1884 and the 1889 were also characterized by heavy production losses due to vine mildew (Matta and Alma 2010).

9.

The reader is referred to Daniele and Malanima (2014) for more details on the economic development of Italian regions from unification onwards.
References
Bai, J., & Perron, P. (1998). Estimating and testing linear models with multiple structural changes. Econometrica,66, 47–78.

Bai, J., & Perron, P. (2003a). Computation and analysis of multiple structural change models. Journal of Applied Econometrics,18, 1–22.

Bai, J., & Perron, P. (2003b). Critical values for multiple structural change tests. Econometrics Journal,6, 72–78.

Bailey, R. C., Jenike, M. R., Ellison, P. T., Bentley, G., Harrigan, A. M., & Peacock, N. R. (1992). The ecology of birth seasonality among agriculturalists in central Africa. Journal of Biosocial Science,24(3), 393–412.

Baroni, U. (1964). La periodicità delle nascite lungo il secolo delle rilevazioni demografiche in Italia (1862–1962). Rivista Italiana di Economia, Demografia e Statistica,18(3–4), 151–174.

Bell, R. M. (1979). Fate, honor, family and village: Demographic and cultural change in rural Italy since 1800. Chicago: Chicago University Press.

Beltrami, V. (2011). Italia D'Oltremare. Storia dei territori italiani dalla conquista alla caduta. Roma: Edizioni Nuova Cultura.

Black, R. E., Allen, L. H., Bhutta, Z. A., Caulfield, L. E., de Onis, M., Ezzati, M., et al. (2008). Maternal and child undernutrition: Global and regional exposures and health consequences. The Lancet,371(9608), 243–260.

Bobak, M., & Gjonca, A. (2001). The seasonality of live birth is strongly influenced by sociodemographic factors. Human Reproduction,16(7), 1512–1517.

Bonardi, L. (2014). Espace et production vitivinicoles en Italie depuis l'unification italienne jusqu'à aujourd'hui (p. 6). Territoires du vin: Tendances et étapes principales.

Bongaarts, J., & Potter, R. G. (1979). Fertility effect of seasonal migration and seasonal variation in fecundability: Test of a useful approximation under more general conditions. Demography,16(3), 475–479.

Breschi, M., Esposito, M., Mazzoni, S., & Pozzi, L. (2012). The Sardinian Experience of the lowest Italian infant mortality at the turn of the twentieth century. Annales de démographie historique,1(123), 63–94.

Breschi, M., Esposito, M., Mazzoni, S., & Pozzi, L. (2014). Fertility transition and social stratification in the town of Alghero, Sardinia (1866–1935). Demographic Research,30(28), 823–852.

Breschi, M., & Livi-Bacci, M. (1986). Saison et climat comme contraintes de la survie des enfants. L'expérience italienne au XIXe siècle. Population,41(1), 9–35.

Breschi, M., & Livi-Bacci, M. (1997). Month of birth as a factor of children's survival. In A. Bideau, B. Desjardins, & H. Pérez-Brignoli (Eds.), Infant and child mortality in the past (pp. 157–173). Oxford: Clarendon Press.

Bronson, F. H. (1995). Seasonal variation in human reproduction: Environmental factors. The Quarterly Review of Biology,70(2), 141–161.

Buckles, K. S., & Hungerman, D. M. (2013). Season of birth and later outcomes: Old questions, new answers. The Review of Economics and Statistics,95(3), 711–724.

Butte, N. F., & King, J. C. (2005). Energy Requirements during pregnancy and lactation. Public Health Nutrition,8(7A), 1010–1027.

Chiassino, G., & Di Comite, L. (1972). Le fluttuazioni stagionali dei matrimoni in Italia e nelle singole regioni. Rassegna economica,36(6), 1535–1553.

Coppa, A., Di Donato, L., Vecchi, F., & Danubio, M. E. (2001). Seasonality of marriages and ecological contexts in rural communities of central-southern Italy (Abruzzo), 1500–1871. Collegium Antropologicum,25(2), 403–412.

Crisafulli, C., Dalla Zuanna, G., & Solero, F. (2000). La stagionalità delle nascite di ancien régime nelle provincie italiane e in Calabria. Popolazione e Storia,1, 177–198.

Cummings, D. R. (2002). The seasonality of human births, melatonin and cloud cover. Biological Rhythm Research,33(5), 521–559.

Cummings, D. R. (2007). Additional confirmation for the effect of environmental light intensity on the seasonality of human conceptions. Journal of Biosocial Science,39(3), 383–396.

Cummings, D. R. (2010). Human birth seasonality and sunshine. American Journal of Human Biology,22(3), 316–324.

Cummings, D. R. (2012). Canadian birth seasonality and its possible association with seasonal brightness. Canadian Studies in Population,39(1–2), 45–62.

Dalla Zuanna, G. (2010). Tacit consent: The Church and birth control in Northern Italy. Population and Development Review,37(2), 361–374.

Dalla Zuanna, G., & Rosina, A. (2010). An analysis of extremely high 19th century winter neonatal mortality in a local context of northeastern Italy. European Journal of Population,27(1), 33–55.

Daniele, V., & Malanima, P. (2014). Falling disparities and persisting dualism: Regional development and industrialisation in Italy, 1891–2001. Economic History Research,10, 165–176.

Danubio, M. E., & Amicone, E. (2001). Biodemographic study of a central appenine area (Italy) in the 19th and 20th centuries: Marriage seasonality and reproductive isolation. Journal of Biosocial Science,33(3), 442–449.

Danubio, M. E., Di Donato, L., Vecchi, F., & Coppa, F. (2002). Natality and the changing pattern of seasonality of births in the province of Teramo (Abruzzo, Italy: 1500–1871). Journal of Biosocial Science,35(3), 321–334.

Delgado Perez, M., & Livi-Bacci, M. (1992). Fertility in Italy and Spain: The lowest in the world. Family Planning Perspectives,24(4), 162–167.

Derosas, R. (2009). The joint effect of maternal malnutrition and cold weather on neonatal mortality in nineteenth-century Venice: An assessment of the hypothermia hypothesis. Population Studies,63(3), 233–251.

Doblhammer, G., Lee Rodgers, J., & Rau, R. (1999). Seasonality of birth in nineteenth and twentieth century Austria: Steps toward a unified theory of human reproductive seasonality. Max Planck Institute for Demographic Research, MPIDR Working Paper WP 1999-013.

Domenech, J. (2007). Working hours in the European periphery: The length of the working day in Spain, 1885–1920. Explorations in Economic History,44, 469–486.

Dorélien, A. M. (2015). Effects of birth month on child health and survival in sub-Saharan Africa. Biodemography and Social Biology,61(2), 209–230.

Dribe, M., & van de Putte, B. (2012). Marriage seasonality and the industrious revolution: Southern Sweden, 1690–1895. Economic History Review,65(3), 1123–1146.

Ellison, P. T. (2003). Energetics and reproductive effort. American Journal of Human Biology,15(3), 342–351.

Ellison, P. T., & Lager, C. (1986). Moderate recreational running is associated with lowered salivary progesterone profiles in women. American Journal of Obstetrics and Gynecology,154(5), 1000–1003.

Ellison, P. T., Valeggia, C., & Sherry, D. (2005). Human birth seasonality. In D. K. Brockman & C. P. van Schaik (Eds.), Seasonality in primates: Studies of living and extinct human and non-human primates (pp. 379–399). Cambridge: Cambridge University Press.

Grace, K. (2017). Considering climate in studies of fertility and reproductive health in poor countries. Nature Climate Change,7, 479–485.

Grech, V., Savona-Ventura, C., Agius-Muscat, H., & Janulova, L. (2003). Seasonality of births is associated with seasonality of marriages in Malta. Journal of Biosocial Science,35(1), 95–105.

Gruppioni, G., Coppa, A., & Danubio, M. E. (2005). Subsistence patterns as regulators of vital events. The case study: Seasonality of marriages and conceptions in Historical Times in Central-Southern Apennines (Abruzzo Region). Human Evolution,21(2), 181–191.

Istat. (1940). Annuario statistico dell'agricoltura italiana 1936-1938, Rome, Italy.

Istat. (1948). Annuario statistico dell'agricoltura italiana 1939–1942, Rome, Italy.

Istat. (1986). Sommario Statistiche Storiche 1926-1985, Roma, Italia.

Istat. (2011). Italia in 150 anni. Sommario di Statistiche storiche 1861–2010, Roma, Italia.

James, W. H. (1971). Social class and season of birth. Journal of Biosocial Science,3(3), 309–320.

Jasienska, G., & Ellison, P. T. (1998). Physical work causes suppression of ovarian function in women. Proceedings Biological Sciences,265(1408), 1847–1851.

Jennings, J. A., & Gray, C. L. (2017). Climate and marriage in Netherlands, 1871–1937. Population and Environment,30(3), 242–260.

Kussmaul, A. (1985). Time and space, hoofs and grain: The seasonality of marriage in England. The Journal of Interdisciplinary History,5(4), 755–779.

Lam, D. A., & Miron, J. A. (1994). Global patterns of seasonal variations in human fertility. Annals New York Academy of Sciences,709, 9–28.

Lam, D. A., & Miron, J. A. (1996). The effect of temperature on human fertility. Demography,33, 291–306.

Lam, D. A., Miron, J. A., & Riley, A. (1994). Modeling seasonality in fecundability, conceptions, and births. Demography,31, 321–346.

Lentini, R. (2015). L'invasione silenziosa. Storia della fillossera nella Sicilia dell'800. Palermo: Torri del Vento.

Lesthaeghe, R., & Lopez-Gay, A. (2013). Spatial continuities and discontinuities in two successive demographic transitions: Spain and Belgium, 1880–2010. Demographic Research,28(4), 77–136.

Lesthaeghe, R., & Surkyn, J. (1988). Cultural dynamics and economic theories of fertility change. Population and Development Review,14(1), 1–45.

Levine, R. J. (1994). Male factors contributing to the seasonality of human reproduction. Annals New Iork Academy of Sciences,709, 29–45.

Livi, L. (1929). Sulle false dichiarazioni della data di nascita per i nati alla fine dell'anno, e rettifica della distribuzione mensile delle nascite nel triennio 1923–1925. In Istat (Ed.), Annali di Statistica, Serie VI (Vol. III, pp. 41–109). Roma.

Livi-Bacci, M. (1990). Italian fertility: An historical account. Journal of family history,15(4), 385–408.

Lucchetti, E., Manfredini, M., Boetsch, G., Bley, D., Aluja, P., Pena, J., et al. (1996). Changes in marriage seasonality among some european rural populations. International Journal of Anthropology,11(2–4), 73–81.

Maggiorino, A. (1883). Monografia agraria sul circondario di Susa. In Atti della giunta per l'inchiesta agraria e sulle condizioni della classe agricola. Monografie allegate alla relazione sulla VII Circoscrizione (Cuneo, Torino, Alessandria, Novara, Piacenza e circondari di Bobbio e Voghera) (Vol. 7(2), pp. 9–106). Rome: Forzani e C. Tipografi del Senato.

Manfredini, M. (2009). Birth seasonality in present day Italy, 1993–2005. Human Ecology,37, 227–234.

Matsuda, S., & Kahyo, H. (1994). Geographical differences and time trends in the seasonality of birth in Japan. International Journal of Epidemiology,23, 107–118.

Matta, A., & Alma, A. (2010). Catastrofiche pandemie di parassiti delle piante. I Georgofili, 2009–V, 7–27.

Menken, J. (1979). Seasonal migration and seasonal variation in fecundability: Effects on birth rates and birth intervals. Demography,16(1), 103–119.

Millman, S. R., & Potter, R. G. (1984). The fertility impact of spousal separation. Studies in Family Planning,15(3), 121–126.

Moroni, A., Adornato, A., Anelli, A., Anghinetti, W., Rossi, O., Siri, E., et al. (1973). Ricerche di ecologia umana nelle isole Eolie. Biogeographia The Journal of Integrative Biogeography,3(1), 853–894.

Muñoz-Tudurì, M., & Garcìa-Moro, C. (2008). Season of birth affects short and long-term survival. American Journal of Physical Anthropology,135(4), 462–468.

Navarra, E. (1998). Demografia di un villaggio alpino della Carnia: nuzialità e natalità a Sauris tra Settecento e Ottocento. La Ricerca Folklorica,38, 49–61.

Newey, W. K., & West, K. D. (1994). Automatic lag selection in covariance matrix estimation. Review of Economic Studies,61, 631–653.

Papa, C. (1985). Dove sono molte braccia è molto pane. Perugia (Italy): Editoriale Umbra.

Pascual, J., Dipierri, J. E., Alfaro, E., & Garcìa-Moro, C. (2002). Birth Seasonality in Jujeño (North-West Argentina) altitude populations. Journal of Biosocial Science,34(2), 249–258.

Philibert, A., Tourigny, C., Coulibaly, A., & Fournier, P. (2013). Birth seasonality as a response to a changing rural environment (Kayes region, Mali). Journal of Biosocial Science,45, 547–565.

Prentice, A. M., & Cole, T. J. (1994). Seasonal changes in growth and energy status in the third world. Proceedings of the Nutrition Society,53(3), 509–519.

Quaranta, L. (2011). Agency of change: Fertility and seasonal migration in a nineteenth century alpine community. European Journal of Population,27(4), 457–485.

Regneir-Loilier, A., & Divinagracia, E. (2010). Changes in the seasonality of births in France from 1975 to the Present. Population,65(1), 145–185.

Roenneberg, T., & Aschoff, J. (1990). Annual rhythm of human reproduction: II. Environmental correlations. Journal of Biological Rhythms,5, 217–239.

Ruiu, G., & Breschi, M. (2015). 'For the times they are a changin'. The respect for religious precepts through the analysis of the seasonality of marriages. Italy, 1862–2012. Demographic Research,33, 179–210.

Ruiu, G., & Breschi, M. (2017). Seasonality of livebirths and climatic factors in Italian regions (1863–1933). Historical Life Course Studies,4, 144–163.

Ruiu, G., & Gonano, G. (2015). Seasonality of marriages in Italian regions: An analysis from the formation of the Italian Kingdom to the present. Rivista Italiana di Economia, Demografia e Statistica,LXIX(1), 135–142.

Sanna, E., & Danubio, M. E. (2008). Seasonality of Marriage in Sardinian pastoral and agricultural communities in the nineteenth century. Journal of Biosocial Science,40(4), 577–586.

Seiver, D. A. (1985). Trend and variation in the seasonality of U.S. fertility. Demography,22, 89–100.

Seiver, D. A. (1989). Seasonality of fertility. Population and Environment: A Journal of Interdisciplinary Studies,10(4), 245–257.

Somogyi, S. (1965). Nuzialità. In Istat (ed), Sviluppo della Popolazione dal 1861 al 1961. Annali di Statistica, Serie VIII, (Vol. 17, pp. 321–398). Roma

Suzuki, R., & Shimodaira, H. (2006). Pvclust: An R package for assessing the uncertainty in hierarchical clustering. Bioinformatics,22(12), 1540–1542.

Trovato, F., & Odynak, D. (1993). The seasonality of births in Canada and the provinces 1881–1989: Theory and analysis. Canadian Studies in Population,20(1), 1–41.

van Poppel, F. (1995). Seasonality of work, religion and popular customs: The seasonality of marriage in the nineteenth- and twentieth century Netherlands. Continuity and Change,10(2), 215–256.

Wehr, T. A. (2001). Photoperiodism in humans and other primates: Evidence and implications. Journal of Biological Rhythms,16, 348–364.
Funding
The research activity carried out by Gabriele Ruiu has been in part financed by the "Fondo per il finanziamento dei dipartimenti universitari di eccellenza" (Law nr. 232/2016).
Ethics declarations
Conflict of interest
The authors declare that they have no conflict of interest.
Human and animal rights
This research has not involved human and animal participants.
Additional information
Publisher's Note
Springer Nature remains neutral with regard to jurisdictional claims in published maps and institutional affiliations.
About this article
Cite this article
Ruiu, G., Breschi, M. Intensity of Agricultural Workload and the Seasonality of Births in Italy. Eur J Population 36, 141–169 (2020). https://doi.org/10.1007/s10680-019-09524-1
Received:

Accepted:

Published:

Issue Date:
Keywords
Seasonality of births

Seasonality of marriages

Energy balance

Economic development

Agricultural calendar