Abstract
Childcare arrangements are key in women's ability to juggle motherhood and work outside the home. As such, the study of access to childcare and its use is of great policy relevance. We focus on a particular kind of informal childcare, the one provided by grandparents. Empirically, assessing the effect of grandparental childcare is not an easy task due to unobserved preferences. In light of the potential outcome framework, we interpret the biases resulting from unobserved preferences as arising from the non-compliance of mothers to the availability of grandparents and from preferences of grandparents for activities other than childcare. Using an instrumental variable approach on Italian data, we find that the effect of grandparental childcare on mothers' labour supply is positive, statistically significant and economically relevant. The effect is stronger for less educated mothers, with young children and living in northern and central Italy.
Access options
Buy single article
Instant access to the full article PDF.
US$ 39.95
Tax calculation will be finalised during checkout.
Subscribe to journal
Immediate online access to all issues from 2019. Subscription will auto renew annually.
US$ 79
Tax calculation will be finalised during checkout.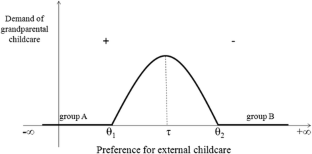 Notes
1.

Authors' calculations from the 2004 wave of the SHARE data.

2.

The non response rate is about 12 %. For further details on the Multiscopo surveys, see ISTAT (2006).

3.

We tried different categorisations but the main results (Sect. 6) remain qualitatively the same.

4.

For an overview on single motherhood and childcare choices see Raeymaeckers et al. (2008).

5.

We cannot use SHARE since our instrumental variable is not available in this survey. Moreover, in SHARE we would have information only about two grandparents instead of four, which would provide an incomplete picture of the care of the children in the family.

6.

This situation is similar to the Zelen's (1979) single-consent design where patients are randomly assigned to two groups: the first group of patients is only offered with the standard therapy, while patients in the second group can choose between the standard and new therapy.

7.

Angrist et al. (1996) also imposed two other assumptions: (i) the instrument is as good as randomised, whereby this assumption implies that assumption (2) in the text should also hold without conditioning on covariates; and (ii) stable unit treatment value assumption (SUTVA). SUTVA rules out interference among units, i.e. potential outcomes for each unit are not influenced by the level of instrument and treatment assigned to other units.

8.

The use of standard 2SLS methods with dichotomous dependent variables is very common in empirical works, for example, Conley and McCabe (2012). We also used a bivariate probit model with the same exclusion restrictions as used in the analyses reported in the paper. Results are very similar to those presented here. We provide further details on this robustness check in Sect. 6.2.

9.

We used the ivreg2 command in STATA (Baum et al. 2007).

10.

This variant of the standard Cragg–Donal F test is required because we are allowing heteroskedasticity of any kind and so errors are not to be i.i.d. (Baum et al. 2007).

11.

We tried additional specifications of the IVs obtaining similar results. In particular, we considered the number of grandparents alive and we restricted the analyses only to grandmothers. Results are available from the authors upon request.

12.

Results not shown (available upon request).
References
Aassve, A., Arpino, B., & Goisis, A. (2012). Grandparenting and mothers' labour force participation: A comparative analysis using the generations and gender survey. Demographic Research, 27(3), 53–84.

Abendroth, A. K., van der Lippe, T., & Maas, I. (2012). Social support and the working hours of employed mothers in Europe: The relevance of the state, the workplace, and the family. Social Science Research, 41(3), 581–597.

Alesina, A., Algan, Y., Cahuc, P., & Giuliano, P. (2010) Family Ties and the Regulation of Labor. NBER Working Paper 15747.

Angrist, J. D. (2004). Treatment effect heterogeneity in theory and practice. Economic Journal, 114(494), C52–C83.

Angrist, J. D., Imbens, G. W., & Rubin, D. B. (1996). Identification of causal effects using instrumental variables. Journal of the American Statistical Association, 91, 444–472.

Angrist, J. D., & Pischke, J. S. (2009). Mostly harmless econometrics. Princeton: Princeton University Press.

Baum, C. F., Schaffer, M. E., & Stillman, S. (2007). Enhanced routines for instrumental variables/GMM estimation and testing. Stata Journal, 7(4), 465–506.

Blau, D., & Currie, J. (2006). Preschool, day care, and after school care: Who's minding the kids?, vol. 2, Chapter 20. In E. A. Hanushek & F. Welch (Eds.), Handbook on the economics of education. Amsterdam: North Holland Press.

Blau, F. D., & Ferber, M. (1992). The economics of women, men, and work (2nd ed.). Englewood Cliffs, NJ: Prentice-Hall.

Borck, R., & Wrolich, K. (2011). Preferences for childcare policies: Theory and evidence. European Journal of Political Economy, 27, 436–454.

Brilli, Y., Del Boca, D., & Pronzato, C. (2014). Does childcare availability play a role in maternal employment and children's development? Review of Economics of the Household, forthcoming.

Brussig, M., & Knuth, M. (2007) Raising statutory pension age: Extending careers or unemployment of the elderly? Paper presented at the 5th International research conference on social security. Retrieved from http://www.issa.int. Accessed 20 May 2014.

Compton, J., & Pollak, R. A. (2014). Family proximity, childcare, and women's labor force attachment. Journal of Urban Economics, 79, 72–90.

Conley, D., & McCabe, B. J. (2012). Bribery or just desserts? Evidence on the influence of congressional reproductive policy voting patterns on PAC contributions from exogenous variation in the sex mix of legislator offspring. Social Science Research, 41, 120–129.

Dalla Zuanna, G. (2001). The banquet of Aeolus: A familistic interpretation of Italy's lowest low fertility. Demographic Research, 4, 133–162.

Del Boca, D. (2002). The effect of child care and part time opportunities on participation and fertility decisions in Italy. Journal of Population Economics, 15(3), 549–573.

Dimova, R., & Wolff, F.-C. (2008). Grandchild care transfers by ageing immigrants in France: Intra-household allocation and labour market implications. European Journal Population, 24, 315–340.

Dimova, R., & Wolff, F.-C. (2011). Do downward private transfers enhance maternal labor supply? Evidence from around Europe. Journal of Population Economics, 24(3), 911–933.

El-Attar, M. (2013). Trust, child care technology choice and female labor force participation. Review of Economics of the Household, 11, 507–544.

Ermisch, J. (2002). Symposium on "child care". Journal of Population Economics, 15, 463–464.

European Commission. (2009). Dealing with the impact of an ageing population in the EU. European Commission 2009 Ageing Report.

Farré, L., & Vella, F. (2013) The intergenerational transmission of gender role attitudes and its implications for female labor force participation, Economica, 80(318), 219–247.

Felfe, C., & Lalive, R. (2010) How does early childcare affect child development? Learning from the children of German unification. CESifo Area Conference on Economics of Education, Center for Economics Studies, Mimeo.

Frölich, M. (2007). Non parametric IV estimation of local average treatment effects with covariates. Journal of Econometrics, 139, 35–75.

García-Morán, E., & Kuehn, Z. (2012) With strings attached: Grandparent-provided child care, fertility and female labor market outcomes. MPRA Paper No. 37001.

Glaser, K., Ribé Montserrat, E., Waginger, U., Price, D., Stuchbury, R., & Tinker, A. (2010). Grandparenting in Europe. London: Grandparents Plus.

Hank, K. (2007). Proximity and contacts between older parents and their children: A European comparison. Journal of Marriage and Family, 69(1), 157–173.

Hank, K., & Buber, I. (2009). Grandparents caring for their grandchildren: findings from the 2004 survey of health, ageing, and retirement in Europe. Journal of Family Issues, 30(1), 53–73.

Hank, K., & Kreyenfeld, M. (2003). A multilevel analysis of child care and women's fertility decisions in Western Germany. Journal of Marriage and Family, 65, 584–596.

Havnes, T., & Mogstad, M. (2011). No child left behind. Universal childcare and children's long-run outcomes. American Economic Journal: Economic Policy, 3, 97–129.

Heckman, J. J. (1974). Effects of child-care programs on women's work effort. The Journal of Political Economy, 82(2), S136–S163.

Hellevik, O. (2009). Linear versus logistic regression when the dependent variable is a dichotomy. Quality and Quantity, 43, 59–74.

ISTAT. (2006). Il sistema di indagini sociali multiscopo. Contenuti e metodologia delle indagini. ISTAT Working Paper Series "Metodi e norme" n.31.

Jappens, M., & Van Bavel, J. (2012). Regional family norms and child care by grandparents in Europe. Demographic Research, 27(4), 85–120.

Kimmel, J. (1998). Child care costs as a barrier to employment for single and married mothers. Review of Economics and Statistics, 80(2), 287–299.

Leopold, T., Geißler, F., & Pink, S. (2012). How far do children move? Spatial distances after leaving the parental home. Social Science Research, 41(4), 991–1002.

Neyman, J. (1923). On the application of probability theory to agricultural experiments: essay on principles, section 9. Translated in Statistical Science, 5(4), 465–480. (1990).

Ogawa, N., & Ermisch, J. F. (1996). Family structure, home time demands and the employment patterns of Japanese married women. Journal of Labor Economics, 14, 677–702.

Parera-Nicolau, A., & Mumford, K. (2005). Labour supply and childcare for British mothers in two-parent families: A structural approach. IZA Discussion Paper 1908.

Powers, D. A., & Xie, Y. (2008). Statistical methods for categorical data analysis (2nd ed.). England: Emerald, Howard House.

Raeymaeckers, P., Dewilde, C., Snoeckx, L., & Mortelmans, D. (2008). Childcare strategies of divorced mothers in Europe: A comparative analysis. European Sociological Review, 24(1), 115–131.

Rubin, D. B. (1974). Estimating causal effects of treatments in randomized and nonrandomized studies. Journal of Educational Psychology, 66, 688–701.

Shlay, A. B. (2010). African American, white and Hispanic child care preferences: A factorial survey analysis of welfare leavers by race and ethnicity. Social Science Research, 39, 125–141.

Staiger, D., & Stock, J. (1997). Instrumental variables regression with weak instruments. Econometrica, 65(3), 557–586.

van Ham, M., & Büchel, F. (2004). Females' Willingness to work and the discouragement effect of a poor local childcare provision. IZA Discussion Paper 1220.

Zelen, M. (1979). A new design for randomized clinical trials. England Journal of Medicine, 300, 1242–1245.
Acknowledgments
The research leading to these results received funding from the European Research Council under the European Union's Seventh Framework Programme (FP7/2007-2013)/ERC Grant Agreement No. 201194-CODEC, which is gratefully acknowledged. ERC had no involvment in the study design, in the collection, analysis and interpretation of data, in the writing of the paper nor in the decision to submit the paper for publication. Our thanks go also to Arnstein Aassve, Fabrizia Mealli, Steve Pudney, Andrea Salvatori, to the editor Dimiter Philipov, and to two anonymous referees for useful comments on previous versions of the paper.
About this article
Cite this article
Arpino, B., Pronzato, C.D. & Tavares, L.P. The Effect of Grandparental Support on Mothers' Labour Market Participation: An Instrumental Variable Approach. Eur J Population 30, 369–390 (2014). https://doi.org/10.1007/s10680-014-9319-8
Received:

Accepted:

Published:

Issue Date:
Keywords
Female labour market participation

Grandparental childcare

Intergenerational transfers

Instrumental variables

Unobserved preferences