Abstract
Current norms among professional military officers that govern obedience and dissent strongly discourage officers from offering public criticism of policy enacted by civilian authorities, even if that policy is immoral, illegal, or unconstitutional. We identify a set of circumstances that create a moral imperative for an officer to take action and we leverage prevailing ethical guidelines to argue that in certain cases, even individual officers not directly involved in the execution of the policy have moral standing to offer public criticism of it. We consider the consequences of relaxing norms prohibiting public dissent and explore the trade-off between tolerating immoral policy and the likelihood of mistakenly criticizing appropriate policy. Finally, we offer evidence that current military-civilian relations in the United States are such that placing higher value on dissent would benefit professional military officers and may improve policy.
Access options
Buy single article
Instant access to the full article PDF.
USD 39.95
Price excludes VAT (USA)
Tax calculation will be finalised during checkout.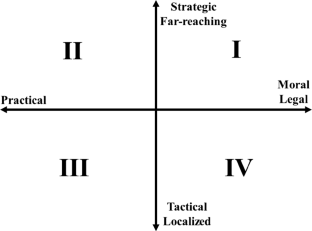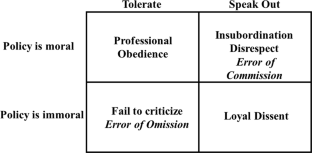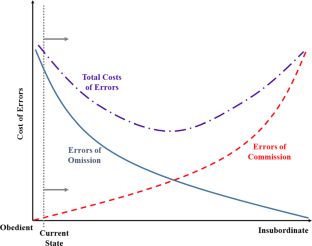 Notes
See Moten (2009) for a thorough discussion of the dispute between General Eric Shinseki, Army Chief of Staff, and Secretary of Defense Donald Rumsfeld in 2003 over the appropriate number of troops with which to invade Iraq.

See Joint Staff (Joint Staff 2001) for doctrinal definitions of these terms.

For elaboration on this point, see Seagren (2015, pg. 183-185).

A Lieutenant Commander typically has between ten to twenty years of commissioned service, and are effectively mid-level officers. The rank is equivalent to that of of Major in the Marine Corps, Army, and Air Force.

Army Chief of Staff during WWII, General George Marshall, is credited by many as the paragon of the non-partisan officer of this era and the fact that he did not vote was widely known. See Kohn Kohn (2009) and Corbett and Davidson Corbett and Davidson (2009) for discussions of the norm among officers to abstain from voting in elections.
References
Abdel-Nour F (2003) National responsibility. Polit Theory 31(5):693–719

Alkadry MG, Witt MT (2009) Abu Ghraib and the normalization of torture and hate. Public Integr 11(2):135–154

Angeles RE (2013) Military dissent: what are the ethical implications of tensions in us civil-military relations? US Army War College

Becker J, Shane S (2012) Secret 'kill list' proves a test of Obama's principles and will. New York Times

Brooks RA (2009) Militaries and political activity in democracies. In: Nielson S, Snider D (eds) American civil-military relations: The Soldier and the State in a New Era. Johns Hopkins University Press, pp 213–38

Burk J (2002) Theories of democratic civil-military relations. Armed Forces Soc 29(1):7–29

Chiu RK (2003) Ethical judgment and whistleblowing intention: examining the moderating role of locus of control. J Bus Eth 43(1-2):65–74

Chokshi N (2016) My conscious bothered me: army captain sues Obama over illegal war on islamic state. The Washington Post

Clausewitz CV (1976) On war. Princeton University Press, Princeton

Coleman S (2009) The problems of duty and loyalty. J Mil Ethics 8(2):105–115

Cook ML (2008) Revolt of the generals: a case study in professional ethics. Parameters 38(1):4–15

Corbett S, Davidson MJ (2009) The role of the military in presidential politics. Parameters 39(4):58–72

Crawford NC (2007) Individual and collective moral responsibility for systemic military atrocity. J Polit Philos 15(2):187–212

Davion V (2006) Health care in the united states: evil intentions and collective responsibility. Midwest Stud Philos 30(1):325–337

Department of Defense (2006) The Armed Forces Officer. United States Government

Elliston FA (1982) Civil disobedience and whistleblowing: a comparative appraisal of two forms of dissent. J Bus Eth 1(1):23–28

Epps G (2015) The war the congress won't declare. The Atlantic

Feaver P (1996) The civil-military problematique: Huntington, Janowitz, and the question of civilian control. Armed Forces Soc 23(2):149–178

Feaver P (2003) Armed servants: agency, oversight, and civil-military relations. Harvard University Press, Cambridge

Feinberg J (1968) Collective responsibility. J Philos 65(21):674–688

Firth R (1952) Ethical absolutism and the ideal observer. Philos Phenomenol Res 12(3):317–345

Fishback I (2005) A matter of honor. Washington Post

French PA (1973) Individual and collective responsibility: the massacre at My Lai. Schenkman

French PA (1984) Corporate and collective responsibility. Columbia University Press, New York

Gibson BW (2012) The need for proper military dissent. US Army War College

Hayek FA (1944) The Road to Serfdom. The University of Chicago Press, Chicago

Hersh S (2004) Torture at Abu Ghraib: American soldiers brutalized iraqis. The New Yorker

Huntington SP (1957) The soldier and the state: the theory and politics of civil-military relations. Harvard University Press, Harvard

Janowitz M (1961) The professional soldier: a social and political portrait. The Free Press

Jensen JV (1987) Ethical tension points in whistleblowing. J Bus Eth 6(4):321–328

Joint Staff (2001) Joint Publication 1-02:Department of Defense Dictionary of Military and Associated Terms. United States Government

Jubb PB (1999) Whistleblowing: a restrictive definition and interpretation. J Bus Eth 21(1):77–94

Kiel JL (2007) When soldiers speak out: a survey of provisions limiting freedom of speech in the military. Parameters 37(3):69–82

King ML (1963) Letter from birmingham city jail

Kohn RH (2009) Building trust: civil-military behaviors for effective national security. In: Nielson S, Snider D (eds) American civil-military relations: The Soldier and the State in a New Era. Johns Hopkins University Press, pp 264–289

Koven SG (2009) Separation of powers, rule of law, and the bush administration. Public Integr 11(4):347–362

Kutz C (2000) Complicity: ethics and law for a collective age. Cambridge University Press, Cambridge

Lewis H (1948) Collective responsibility. Philosophy 24:3–18

Lewis NA (2003) Red cross criticizes indefinite detention in guantanamo bay. New York Times

May L (1987) The Morality of Groups

Mazzetti M (2014) Senate panel faults cia over brutality and deciet in terrorism interrogations. The New York Times, pp A1

McGary H (1986) Morality and collective liability. J Value Inq 20(2):157–165

Milburn AR (2010) Breaking ranks: dissent and the military professional. Joint Force Quarterly, pp 101–107

Miller Z (2014) Obama: 'we tortured some folks'. Time

Moten M (2009) A broken dialogue: Rumsfeld, Shinseki, and civil-military tension. In: Nielson S, Snider D (eds) American civil-military relations: the Soldier and the State in a New Era. Johns Hopkins University Press, pp 42–71

Narveson J (2002) Collective responsibility. J Ethics 6(2):179–198

Newbold G (2006) Why iraq was a mistake. TIME

Pfiffner JP (2005) Torture and public policy. Public Integr 7(4):313–329

Priest D, Smith RJ (2004) Memo offered justification for use of torture. Washington Post

Reed GE (2014) Expressing loyal dissent: moral considerations from literature on followership. Public Integr 17(1):5–18

Reinke SJ (2006) Abu Ghraib a case of moral and administrative failure. Public Integr 8(2):135–147

Risen J, Lichtblau E (2005) Bush lets us spy on callers without courts. New York Times

Roush P (2008) Constitutional ethics. In: Lucas G, Rubel WR (eds) Ethics and the military profession: the moral foundations of leadership. Pearson Education, pp 79–86

Sappington DE (1991) Incentives in principal-agent relationships. J Econ Perspect 5(1):45–66

Savage C (2011) 2 top lawyers lost to Obama in libya war policy debate. The New York Times

Savage C, Baker P (2013) Obama, in a shift, to limit targets of drone strikes. The New York Times

Savage C (2016) An army captain takes Obama to court over isis fight. The New York Times

Seagren CW (2015) Military ethics and moral blame across agency lines. J Mil Ethics 14(2):177–193

Shahinpoor N, Matt BF (2007) The power of one: dissent and organizational life. J Bus Eth 74(1):37–48

Shane L (2010) 'Birther' sentenced to six months in prison, kicked out of army. Stars & Stripes

Smith A (1976) The theory of moral sentiments. DD Raphael & AL MacFie (éd), 6e éd(1790), The Glasgow Edition of the Works and Correspondence of Adam Smith

Snider D M (2008) Dissent and strategic leadership of the military professions. Orbis 52(2):256–277

Snow NE (2009) How ethical theory can improve practice: lessons from Abu Ghraib. Ethical Theory Moral Pract 12(5):555–568

Stilz A (2011) Collective responsibility and the state. J Polit Philos 19(2):190–208

Strausz R (1997) Collusion and renegotiation in a principal–supervisor–agent relationship. Scand J Econ 99(4):497–518

Tirole J (1986) Hierarchies and bureaucracies: on the role of collusion in organizations. J Law Econ Organ 2(2):181–214

Weber J (1993) Institutionalizing ethics into business organizations: a model and research agenda. Bus Ethics Q 3(04):419–436
Acknowledgements
The author wishes to thank Stephen Trainor, John Bauer, David Henderson, Matthew Larkin, Melissa Martin, and John Chapman for helpful comments on and discussion of various concepts contained in older drafts on this topic. The views and opinions expressed in this article are those of the author and do not necessarily reflect the official policy or position of any agency of the U.S. Government.
Additional information
Publisher's Note
Springer Nature remains neutral with regard to jurisdictional claims in published maps and institutional affiliations.
About this article
Cite this article
Seagren, C.W. Collective Responsibility and the Career Military Officer's Right to Public Dissent. Ethic Theory Moral Prac 22, 41–59 (2019). https://doi.org/10.1007/s10677-019-09977-7
Accepted:

Published:

Issue Date:

DOI: https://doi.org/10.1007/s10677-019-09977-7
Keywords
Dissent

Military ethics

Collective responsibility

Civilian-military relations