Abstract
Moral progress may be a matter of time scale. If intuitive measures of moral progress like the degree of physical violence within a society are taken as empirical markers, then most human societies have experienced moral progress in the last few centuries. However, if the development of the human species is taken as relevant time scale, there is evidence that humanity has experienced a global moral decline compared to a small-band hunter-gatherer (SBHG) baseline that represents a lifestyle presumed to largely account for 99% of human history. A counter-argument to such a diagnosis of moral decline is the fact that the living conditions of the modern world that emerged since sedentariness and the beginning of agriculture are completely different compared to those of SBHG due to cultural and technological developments. We therefore suggest that two notions of moral progress should be distinguished: a "biological notion" referring to the inherited capacities typical of the evolutionary niche of mammals and that unfold in a specific way in the human species; and a "cultural notion" that relates moral progress to dealing with an increasing diversity of temptations and possible wrongdoings in a human social world whose complexity accumulates in time. In our contribution, we describe these two different notions of moral progress, we discuss how they interact, how this interaction impacts the standards by which we measure moral progress, and we provide suggestions and justifications for re-aligning biological and cultural moral progress.
Access options
Buy single article
Instant access to the full article PDF.
US$ 39.95
Tax calculation will be finalised during checkout.
Subscribe to journal
Immediate online access to all issues from 2019. Subscription will auto renew annually.
US$ 79
Tax calculation will be finalised during checkout.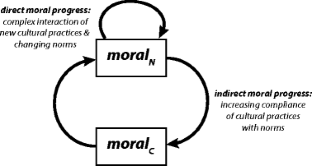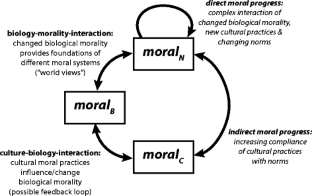 Notes
1.

2.

We note that these analyses are disputed by experts on empirical and categorization grounds (see Ferguson 2013a, 2013b; Fry 2013). For example, small-band hunter-gatherers, who represent 99% of human genus history, are relatively peaceful and not war-like, but Pinker mixes them together with complex hunter-gatherers, who can be war-like.

3.

We note that human use of natural resources is not necessarily linked to the destruction of nature and decrease of biodiversity. For example, Europe today without human intervention would be wooded to a large degree, with a likely lower degree of biodiversity compared to a Europe with bounded and non-monocropping agricultural activity, because boundary zones between forest and acres increase the number of ecological niches.

4.

It is important to clarify that we do not use this term with a specific geographic focus (i.e., focus on Europe or North America) or racial implication (i.e., focus on "white" culture). The term "western" just denotes that the conceptual origin of the idea that humans are special in a normative sense and that this special status provides the legitimation of exploiting nature has its historic origin mainly in assumptions about human distinctiveness (Biblical theology) which undergird the rationalization of thinkers of the western world (e.g. Francis Bacon or René Descartes). As the example of contemporary China shows, exploitation of nature and environmental pollution are not bound to specific geographic regions or racial boundaries. And, as the example of the Easter Island civilization has shown, destruction of nature can also happen without the presence of a "western worldview" in a culture (Diamond 2005).

5.

This problem points to fundamental questions of moral philosophy: the quest for the universality of moral norms and the quest on how to "ground" ethical theories (foundationalism vs. coherentism). We will not outline these questions further.

6.

We do not claim that the biological systems determine the behavior of the agent, nor do we claim that we have complete knowledge how biological systems enable moral behavior – actually, an individual's biological systems might be much more complex than initially thought. There are for example indications that even the type of microorganisms that populate a human body may have an effect on moral behavior (Kramer and Bressan 2015).

7.

With respect to indirect moral progress, one has to be aware that political declarations of progress are not the same as actual progress. For example, slavery is nowadays technically illegal throughout most of the world – but according to some global watch-dog groups (e.g., http://www.freetheslaves.net/), we still have millions of people that live under slave-like conditions. Thus, the removal of institutional racism may not address the persistence or growth of other, less institutionalized, forms of systematic oppression [we thank an anonymous reviewer for this observation].

8.

Another interesting question to ask would be: Why did these complex societies emerge, given the high "moral price" that resulted from this change in lifestyle? In addition, other problems resulted from this transition, for example a higher vulnerability for epidemics, decreased health from worse nutrition. The causes for this change are still a matter of scientific controversies; see for example Cochran and Harpending (2009).

9.

A similar argument has been put forward regarding nutrition. Some suggest that the human metabolism is not adapted to the modern feeding pattern, which would partly explain the increasing obesity problem in many countries once the "western" diet is introduced.

10.

We thank an anonymous reviewer for this observation.

11.

This information emerges from the HYDE (History Database of the Global Environment) database that presents (gridded) time series of population and land use for the last 12,000 years: http://themasites.pbl.nl/tridion/en/themasites/hyde/ (last access: October 31 2015).

12.

A highly topical instance of this disrespect towards others in children and adolescents is the systematic, targeted and ongoing power abuse characterizing bullying in both its normal (offline) and online forms (see for example Hymel et al. 2010 for an overview of the moral dimensions of bullying).

13.

However, too, peoples exist worldwide who have a legacy of or adopt the indigenous worldview.
References
Appiah KA (2010) The honor code: how moral revolutions happen. W.W. Norton & Company, New York

Arnsten AFT (2009) Stress signaling pathways that impair prefrontal cortex structure and function. Nat Rev Neurosci 10(6):410–422

Arrows F, Narvaez D (2016) Reclaiming our indigenous worldview: a more authentic baseline for social/ecological justice work in education. In: McCrary N, Ross W (eds) Working for social justice inside and outside the classroom: a community of teachers, researchers, and activists. Peter Lang, New York, pp. 93–112

Bicchieri M (ed) (1972) Hunters and gatherers today. Prospect Heights, IL, Waveland

Black DS, Sussman S, Unger JB (2010) A further look at the intergenerational transmission of violence: witnessing interparental violence in emerging adulthood. J Interpers Violence 25(6):1022–1042

Bolin I (2010) Chillihuani's culture of respect and the circle of courage. Reclaiming Children and Youth Worldwide 18(4):12–17

Boyd R, Richerson PJ (1985) Culture and the evolutionary process. University Of Chicago Press, Chicago

Caplan A (ed) (1979) The sociobiology debate. HarperCollins, New York

Christen M, Alfano M (2013) Outlining the field – a research program for empirically informed ethics. In: Christen M, Fischer J, Huppenbauer M, Tanner C, van Schaik C (eds) Empirically informed ethics. Morality between facts and norms. Library of ethics and applied philosophy. Springer, Berlin, pp. 3–28

Christen M, Müller S (2015) Effects of brain lesions on moral agency: ethical dilemmas in investigating moral behavior. In: Ohl F, Lee G, Illes J (eds) Ethical issues in Behavioural neuroscience. Current topics in behavioral neuroscience, vol 5. Springer, Berlin, pp. 159–188

Christen M, Fischer J, Huppenbauer M, Tanner C, van Schaik C (eds) (2013) Empirically informed ethics. Morality between facts and norms. Library of ethics and applied philosophy. Springer, Berlin

Claeys G (2000) The "survival of the fittest" and the origins of social Darwinism. J Hist Ideas 61(2):223–240

Cloninger CR, Salloum IM, Mezzich JE (2012) The dynamic origins of positive health and wellbeing. Int J Person Centered Med 2(2):179–187

Cochran G, Harpending H (2009) The 10,000 Year explosion: how civilization accelerated human evolution. Basic Books, New York

Cooper T (1998) A time before deception. Clear Light Publishers, Santa Fe

Darwin C (1871) The Descent of man, and selection in relation to sex, vol I & II. Princeton University Press, Princeton original: Murray, London

Derber C (2013) Sociopathic society: a people's sociology of the United States. Paradigm Press, Boulder, CO

Diamond J (2005) Collapse. How societies choose to fail or succeed. Penguin, New York

Ferguson B (2013a) Pinker's list: exaggerating prehistoric war mortality. In: Fry DP (ed) War, peace and human nature. Oxford University Press, New York, pp. 112–129

Ferguson B (2013b) The prehistory of war and peace in Europe and the near east. In: Fry DP (ed) War, peace and human nature. Oxford University Press, New York, pp. 191–241

Fry DP (2006) The human potential for peace: an anthropological challenge to assumptions about war and violence. Oxford University Press, New York

Fry DP (ed) (2013) War, peace and human nature. Oxford University Press, New York

Gómez-Robles A, Hopkins WD, Schapiro SJ, Sherwood CC (2015) Relaxed genetic control of cortical organization in human brains compared with chimpanzees. Proc Natl Acad Sci 112(48):14799–14804

Gowdy J (1998) Limited wants, unlimited means: a reader on hunter-gatherer economics and the environment. Island Press, Washington DC

Herman A (1997) The idea of decline in western history. Free Press, New York

Hewlett BS, Lamb ME (2005) Hunter-gatherer childhoods: evolutionary, developmental and cultural perspectives. Aldine, New Brunswick

Highwater J (1981) The primal mind. Meridian (Penguin), New York

Hymel S, Schonert-Reichl KA, Bonanno RA, Vaillancourt T, Rocke Henderson N (2010) Bullying and morality: understanding how good kids can behave badly. In: Jimerson SM, Swearer S, Espelage DL (eds) Handbook of bullying in schools. An international perspective. Routledge, New York, pp. 101–118

Jensen D (2016) The myth of human supremacy. Seven Stories Press, New York

Joyce R (2006) The evolution of morality. MIT Press, Cambridge MA

Kimmerer RW (2013) Braiding Sweetgrass: indigenous wisdom, scientific knowledge and the teachings of plants. Milkweed Editions, Minneapolis

Kitcher P (2011) The ethical project. Harvard University Press, Cambridge MA

Konner M (2005) Hunter-gatherer infancy and childhood: the !Kung and others. In: Hewlett B, Lamb M (eds) Hunter-gatherer childhoods: evolutionary, developmental and cultural perspectives. Transaction, New Brunswich, NJ, pp. 19–64

Kramer P, Bressan P (2015) Humans as superorganisms: how microbes, viruses, imprinted genes, and other selfish entities shape our behavior. Perspect Psychol Sci 10(4):464–481

Lee RB, Daly R (eds) (2005) The Cambridge encyclopedia of hunters and gatherers. Cambridge University Press, New York

Merchant C (2003) Reinventing Eden: the fate of Eden in western culture. Routledge, New York

Naess A, Rothenberg D (1989) Ecology, community and lifestyle. Cambridge University Press, Cambridge, UK

Narvaez D (2008) Triune ethics: the neurobiological roots of our multiple moralities. New Ideas Psychol 26:95–119

Narvaez D (2013) The 99 percent – development and socialization within an evolutionary context: growing up to become "a good and useful human being.". In: Fry D (ed) War, peace and human nature: the convergence of evolutionary and cultural views. Oxford University Press, New York, pp. 643–672

Narvaez D (2014) Neurobiology and the development of human morality. Evolution, culture, and wisdom. W.W. Norton & Company, New York

Narvaez D (2015) The co-construction of virtue: epigenetics, neurobiology and development. In: Snow NE (ed) Cultivating virtue. Oxford University Press, New York, pp. 251–277

Narvaez D (2016a) Evolution, early experience and Darwin's moral sense. In: Joyce R (ed) Routledge handbook of evolution and philosophy. Routledge, London (in press)

Narvaez D (2016b) Embodied morality: protectionism, engagement and imagination. Palgrave-Macmillan, New York

Narvaez D, Gleason T, Wang L, Brooks J, Lefever J, Cheng A, Centers for the Prevention of Child Neglect (2013a) The evolved development niche: longitudinal effects of caregiving practices on early childhood psychosocial development. Early Child Res Q 28(4):759–773

Narvaez D, Wang L, Gleason T, Cheng A, Lefever J, Deng L (2013b) The evolved developmental niche and sociomoral outcomes in Chinese three-year-olds. Eur J Dev Psychol 10(2):106–127

Narvaez D, Gettler L, Braungart-Rieker J, Miller L, Harris P (2016) Flourishing as an aim of child development. In: Narvaez D, Braungart-Rieker J, Miller L, Gettler L, Harris P (eds) Contexts for young child flourishing: evolution, family and society. Oxford University Press, New York, NY, pp. 3–27

Nelson MK (ed) (2008) Original instructions: indigenous teachings for a sustainable future. Bear & Company, Rochester, Vermont

Oyama S, Griffiths PE, Gray RD (2001) Cycles of contingency: developmental systems and evolution. MIT Press, Cambridge, MA

Pinker S (2011) Better angels of our nature: why violence has declined. Penguin Books, New York

Powledge TM (2011) Behavioral epigenetics: how nurture shapes nature. Bioscience 61:588–592

Sahlins M (2008) The western illusion of human nature. Prickly Pear Paradigm Press, Chicago

Spengler O (1918) Der Untergang des Abendlandes–Umrisse einer Morphologie der Weltgeschichte (Band 1: Gestalt und Wirklichkeit). Braumüller, Wien

Trevathan WR (2011) Human birth: an evolutionary perspective. Aldine Transaction, Piscataway NJ

Van Schaik C, Burkart J, Jaeggi A, Rudolf von Rohr C (2013) Morality as a biological adaptation–an evolutionary model based on the lifestyle of human foragers. In: Christen M, Fischer J, Huppenbauer M, Tanner C, van Schaik C (eds) Empirically informed ethics. Springer, Berlin, pp. 65–84

West MJ, King AP (1987) Settling nature and nurture into an ontogenetic niche. Dev Psychobiol 20(5):549–562
About this article
Cite this article
Christen, M., Narvaez, D. & Gutzwiller-Helfenfinger, E. Comparing and Integrating Biological and Cultural Moral Progress. Ethic Theory Moral Prac 20, 55–73 (2017). https://doi.org/10.1007/s10677-016-9773-y
Accepted:

Published:

Issue Date:
Keywords
Moral progress

Small-band hunter gatherer

Culture

Biology

Moral development

Parenting