Abstract
The use of the capability approach as an evaluative tool for Information and Communication Technology (ICT) policy and programs in developing countries, in particular at a grass-roots community level, is an emerging field of application. However, one of the difficulties with ICT for development (ICT4D) evaluations is in linking what is often no more than a resource, for example basic access, to actual outcomes, or means to end. This article argues that the capability approach provides a framework for evaluating the strength of this linkage and that the latter is a key determinant of whether or not communities sustain ICT4D programs beyond the initial start-up phase. The argument is made by describing an evaluative application of the capabilities approach to community ICT4D programs using two Indigenous community case studies conducted in Cape York, in the far north-east of Australia. Key to the evaluative approach is the identification of community defined, context specific concepts of well-being and constitutive valued functionings and the derivation from this of required capabilities. This move away from normative definitions of capabilities or capability types to a definition that reflects the Indigenous culture, history, circumstances, and well-being aspirations of each community is intended to give a voice to the people and at the same time provide a deeper informational base—through narrative—for policy and program design than has previously been available. The article concludes that by operationalising the capability approach in a context and purpose specific way, policy and program design can be improved so as to include more communities on the margin and thereby achieve more socially inclusive ICT based development. A process is also outlined for using the evaluative application of the capability approach for community ICT4D within a policy feedback loop.
This is a preview of subscription content,
to check access.
Access this article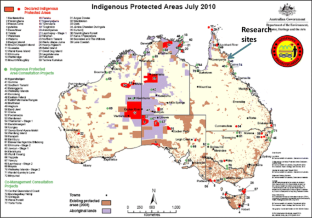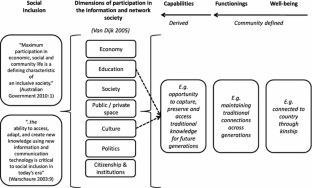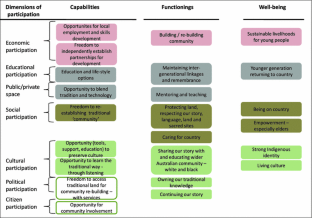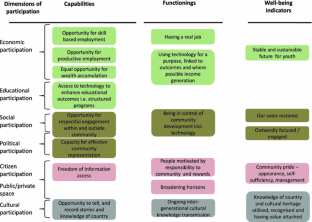 Similar content being viewed by others
Notes
These sites were chosen firstly because of the researcher's involvement through an NGO in ICT4D in Sri Lanka, and in the case of the Indigenous communities, because they provide a different scenario of poor, developing communities living within a developed country. This point of difference is more relevant to the policy analysis component of the research, as distinct from community analysis dealt with in this paper.

The term community is not authentic to the Indigenous kinship or cultural tradition but is commonly used to refer to a clan or tribe (made up of clans) living together often, but not always, on their traditional land or 'country'. The term community is used in this sense in this paper.

The term 'country' is commonly used by Indigenous people to refer to their traditional tribal land, the land of their ancestors and their connection to it. The connection is based on kinship but is also a spiritual connection with obligations attached to 'care for country' both physically and in terms of protecting heritage and sacred sites. W.E.H. Stanner, a renowned Australian essayist and anthropologist (Stanner 2009:88) describes this "bond" as follows: "This was fundamentally a religious relation. The Aborigines conceived it as a union of earth, sky and water on the one hand with spirit, body and personality on the other. A band [clan] did not 'own' land in the European sense. It and territory were twain; the connection was inextinguishable, the territory inalienable."

Nussbaum's list in brief is as follows: life (length and quality); bodily health; bodily integrity; senses imagination and thought; emotions; practical reason; affiliation; living with concern for other species, play, control over one's political and material environment (Nussbaum 2000:78–80).

Even some Indigenous actors in the policy process adhere to this narrow Government framework. For example, the Cape York Institute for Policy and Leadership (2005), a prominent Indigenous think-tank, advisor to Government and implementer of reform programs in Cape York communities, also proposes a set of capabilities as a step towards well-being which are a standard set of socio-economic areas of access to services and participation such as health, education, employment (Cape York Institute for Policy and Leadership 2005:3).

The framework was developed in consultation with Indigenous researchers and considered local and international work on Indigenous wellbeing.

In addition to the stated purpose of this research project, such an approach might also be valuable in other related research areas including: the pursuit of "capability sensitive design" which can target specific groups, specific capabilities, specific situations, and specific technologies (Oosterlaken 2009); the use of the sustainable livelihoods approach to evaluating ICT based on the mutually reinforcing role of ICT support for livelihood enhancement and the latter's contribution to sustaining ICT (Grunfeld 2010); the choice framework and ICT (Kleine 2010); and rationale for ICT adoption based on capability value (Good et al. 2010).

The use of ICT in community development for Indigenous communities is an emerging field of practice in its own right which focuses on cultural preservation, cultural communication, and strengthening identity. See for example the United Nations Education, Scientific and Cultural Organisation (UNESCO) program on Indigenous People and ICT (United Nations Education, Scientific and Cultural Organisation (UNESCO) 2010). This goes beyond earlier basic ideas of simply providing local content in local language. Anchoring Indigenous ICT programs and approaches within a capability framework can expand the range and use of ICT to enhance the wellbeing of these communities.

On the debate over collective capabilities see also Ibrahim (2006) for a discussion of social capital, social structure and agency as a basis for collective action which in turn creates collective capabilities; Stewart and Deneulin (2002) and Stewart (2005) who argues that in addition to the space of capabilities we must also evaluate the structures of living together and their value in terms of quality of life precisely because the individual's choices are not made independently of the society in which they live. Policy must therefore address itself not only to individual freedoms but to social structures that are conducive to individual wellbeing.

A telecentre may be non-profit or a commercial enterprise offering telephone, computer and Internet access for a community for a fee. It typically will also include photo-copying and fax services and is found in areas with low level of ICT penetration at a household level.

For some individuals who already have the necessary skills, the telecentre itself may constitute a freedom where access would otherwise not be feasible due to distance or other infrastructure issues. Coeckelbergh (2010:8) further challenges the positioning of ICT, even basic access as a resource on the basis that some capabilities are constituted by a range of human attributes or dimensions: "Technologies, then, are not a mere means that contribute to human ends, but are part of a techno anthropological whole that has technological, cognitive, biological and social dimensions and which constitutes individual capabilities." This is not disputed where this is observable however, where there is no evidence of this embodiment in the participation of individuals in society then the ICT such as it is remains an unconverted resource.

Alkire (2002:52–53) proposes a similar approach to dealing with the different values in different communities in relation to broader, poverty related deprivations.

This article and the wider research project on which it is based has adopted a case study approach, working with a limited but influential (in traditional as well as non-traditional terms) group of community participants. In Community Case Study 1, this included the Indigenous Program designer (not of the case study community) who at the time worked for an Indigenous NGO, the local program manager (community member), a traditional elder of the clan who were the primary beneficiaries of the program, and two senior members of the same clan closely involved in the program. In Community Case Study 2, interviews were conducted with the NGO Program Manager (non-Indigenous) for one of the two ICT programs being evaluated, the local (Indigenous) centre managers where the programs were based, a Councillor and Mayor (Indigenous) from the community, and a local welfare program worker (Indigenous). The data for the research is based on single interviews with the above participants and other background research on the communities and their history. The interviews with community members were conducted in the field in October 2007 and with other informants in mid-2009.

Interviewees consented to participate in the research on the basis of anonymity. Disclosing the community name, would inadvertently breach that undertaking.

Traditional knowledge includes all elements of the culture such as the ancestral stories or 'dreaming' of the tribe and clans, bush craft, sacred sites, location and boundaries of 'country', cultural beliefs, totems and symbols, kinship, and Indigenous medicine.

The IKC model implemented by the Queensland State Library in sixteen Indigenous communities combines a telecentre with a library and centre for holding items of cultural value. The IKC offers a range of education programs—literacy, computers, as well as cultural programs. The concept creates a knowledge 'place' for the community and has been successfully embedded within the structures and habits of the communities.

Native Title is granted to Indigenous tribes and clans through a complex and extremely long legal process which can take years (in this case 3 years) and requires the applicants to establish continuous connection with the land. The access rights granted under Native Title vary but even at the highest level do not include resource rights e.g. for mining.

Only a very small number of households (approximately 7–10) have computers with Internet connection.

This application arose out of the high number of deaths in custody of Indigenous people, which has been ongoing for decades without significant improvement. Isolation from family was found to be a major factor in suicide deaths in custody.

Only a very small number of households (approximately 16) have computers with Internet connection.

In fact Community No. 2's story has proven to be very dependent initially on external agents to break through the social structure barriers which could not be easily challenged from within.

This arises largely because the Government finds it difficult to consult in a structured way through the traditional social structures and processes of Indigenous society but rather relies on ad hoc engagement with individuals who choose to engage or through non-traditional structures and processes such as elected community Councils whose authority and standing within communities varies and is often in conflict with the traditional structures based on kinship and ties to country.

Funds have been set aside to provide Internet access to some remote Indigenous communities and a study commenced to examine the potential for a national IKC rollout. In addition grant funding, which places the onus for delivery and outcomes on the grant recipients rather than Government, has been available for several years for community programs related to caring for country including ICT based traditional knowledge capture programs.

The application of deliberative democracy in the Indigenous Australian context requires a level of analysis which is beyond the scope of this article or indeed the wider research project. It does however offer an alternative to the current model of engagement by Government and could potentially support emergence of new structural properties within Indigenous communities anchored in their own traditional structures rather than simply as a new consultation mechanism applied within the externally imposed structures of Government.
References
Alampay, E. (2005). Beyond access to ICTs: Measuring capabilities in the information society. International Journal of Education and Development using Information and Communication Technologies, 2(3), 4–22.

Alkire, S. (2002). Valuing freedoms—Sen's capability approach and poverty reduction. Oxford: Oxford University Press.

Alkire (2007). Choosing dimensions: The capability approach and multi-dimensional poverty, Chronic Poverty Research centre, Working Paper 88.

Australian Bureau of Statistics (ABS). (2001). Measuring Wellbeing: Framework for Australian Social Statistics, ABS Online http://www.ausstats.abs.gov.au/ausstats/free.nsf/0/D609B8E54F0EDCA8CA256AE30004282D/$File/41600_2001.pdf. Accessed 2 July 2009.

Australian Bureau of Statistics (ABS). (2006). Population Distribution, Aboriginal And Torres Strait Islander Australians, ABS Online http://www.ausstats.abs.gov.au/Ausstats/subscriber.nsf/0/377284127F903297CA25733700241AC0/$File/47050_2006.pdf. Accessed 27 July 2010.

Australian Bureau of Statistics (ABS). (2010a). Framework for Measuring Wellbeing: Aboriginal and Torres Strait Islander Peoples, Online http://www.abs.gov.au/ausstats/abs@.nsf/ProductsbyTopic/E8B15412D3BD0B3ACA2576DC001456EF?OpenDocument. Accessed 27 July 2010.

Australian Bureau of Statistics (ABS) (2010b). Indigenous Disadvantage And Selected Measures Of Wellbeing, Online http://www.abs.gov.au/ausstats/abs@.nsf/Latestproducts/1301.0Feature%20Article9012009%E2%80%9310?opendocument&tabname=Summary&prodno=1301.0&issue=2009%9610&num=&view= Accessed 10 November 2010.

Australian Government (2010). Social Inclusion Principles for Australia, Online http://www.socialinclusion.gov.au/SIAgenda/Principles/Documents/SIPrincilpes.pdf. Accessed 12 July 2010.

Ballet, J., Dubois, J., & Mahieu, F. (2007). Responsibility for each other's freedom: Agency as the source of collective capability. Journal of Human Development and Capabilities, 8(2), 185–201.

Bell, T. (2006). Village computing: A state of the field—reflections on the village computing consultation, Grameen Foundation, November 2006 Online http://www.villagecomputing.org/docs/A_State_of_the_Field.pdf. Accessed 14 October 2008.

Calma, T. (2008). Essentials for social Justice: Land and culture. Speech at the Department of Environment, Water, Heritage and the Arts, 7 July 2008, Online http://www.hreoc.gov.au/about/media/speeches/social_justice/2008/20080707_essentials_land_and_culture.html. Accessed 25 June 2008.

Cape York Institute for Policy and Leadership. (2005). Freedom, Capabilities and the Cape York Reform Agenda. Viewpoint, October 2005, Online http://www.cyi.org.au/WEBSITE%20uploads/Speeches_Articles%20Folder/Papers%20and%20Position%20Pieces/6%20Freedom,%20capabiltiies%20and%20Cape%20York%20reform%20agenda.pdf. Accessed 25 October 2005.

Coeckelbergh, M. (2010). Human development or human enhancement? A methodological reflection on capabilities and the evaluation of information technologies. Ethics and Information Technology, Online http://www.springerlink.com/content/d84u378862kg345g/fulltext.pdf. Accessed 10 November 2010.

Crocker, D. A. (2008). Ethics of global development. Cambridge: Cambridge University Press.

Deneulin, S., & MacGregor, J. A. (2010). The capability approach and the politics of a social conception of wellbeing. European Journal of Social Theory, 13, 501–519.

Department of Sustainability, Environment, Water, Population and Communities (2010). Location of Indigenous Protected Areas in Australia, Online http://www.environment.gov.au/indigenous/ipa/declared/pubs/map.pdf. Accessed 11 November 2010.

Department of Treasury. (2004). Policy Advice and Treasury's Wellbeing Framework. Economic Roundup, 2004 Winter, pp. 1–20, Online http://www.treasury.gov.au/documents/876/PDF/Policy_advice_Treasury_wellbeing_framework.pdf. Accessed 30 June 2009.

Evans, P. (2002). Symposium on development as freedom by Amartya Sen: Collective capabilities, culture, and Amartya Sen's development as freedom. Studies in Comparative International Development, 37(2), 54–60.

Gigler, B. S. (2004). Including the Excluded—Can ICTs empower poor communities? Towards an alternative evaluation framework based on the capability approach. Paper for 4th International Conference on the Capability Approach, 5–7 September, 2004 University of Pavia, Italy.

Good, T., Morales, L., Quereshi, S. (2010). Investigating Capabilities Associated with ICT Access and Use in Latino Micro-enterprises. In Americas Conference on Information Systems (AMCIS), AMCIS 2010 Proceedings Online http://aisel.aisnet.org/amcis2010/500. Accessed 4 October 2010.

Grunfeld, H. (2010). Framework for evaluating contributions of ICT to capabilities, empowerment and sustainability in disadvantaged communities. Paper presented at CPRsouth2 Conference, Chennai, India—December 15–17, 2007 Empowering rural communities through ICT policy and research Online http://www.cprsouth.org/wp-content/uploads/drupal/Helena_Grunfeld.pdf. Accessed 10 November 2010.

Heeks, R., Molla, A. (2009). Impact assessment of ICT-for-development projects: A compendium of approaches. Development Informatics Working Paper Series, Paper No. 36.

Henry, K. (2007). Addressing extreme disadvantage through investment in capability development, closing keynote address to the australian institute of health and welfare conference. Australia's Welfare 2007, Canberra, 6 December 2007, Online http://www.aihw.gov.au/eventsdiary/aw07/presentations/ken_henry_addressing_extreme_disadvantage.pdf. Accessed 29 December 2007.

Ibrahim, S. (2006). From individual to collective capabilities: The capability approach as a conceptual framework for self-help. Journal of Human Development, 7(3).

Kleine, D. (2010) Policy arena: Ict4what?—using the choice framework to operationalise the capability approach to development. Journal of International Development, 22, 674–692.

Nussbaum, M. C. (2000). Women and human development—The capabilities approach. Cambridge: Cambridge University Press.

Oosterlaken, I. (2009). Design for development: A capability approach, Massachusetts Institute of Technology. Design Issues, 25(4).

Robeyns, (2005a). Selecting capabilities for quality of life measurement. Social Indicators Research, 74(1), 191–215.

Robeyns, I. (2005b). The capability approach: A theoretical survey. Journal of Human Development, 6(1), 93–114.

Robeyns, I. (2006). The capability approach in practice. The Journal of Political Philosophy, 14(3), 351–376.

Sen, A. (1992). Inequality re-examined. USA: London: First Harvard University Press.

Sen, A. (1999). Development as freedom. Oxford: Oxford University Press.

Sen, A. (2002). Symposium on development as freedom by Amartya Sen: Response to commentaries. Studies in Comparative International Development, 37(2), 78–86.

Sen, A. (2004). Capabilities. Lists, and public reason: Continuing the conversation, feminist economics, 10(3), 77–80.

Sen, A. (2009). The idea of justice. Cambridge, MA: The Belknap Press of Harvard University Press

Stanner, W. E. H. (2009). The dreaming & other essays. Agenda: Black Inc.

Steering Committee for the Review of Government Service Provision. (2009). Overcoming Indigenous Disadvantage Key Indicators Report 2009, Commonwealth of Australia, Melbourne 2009 Online http://www.pc.gov.au/__data/assets/pdf_file/0003/90129/key-indicators-2009.pdf. Accessed 4 July 2009.

Stewart, F. (2005). Groups and capabilities. Journal of Human Development, 6(2).

Stewart, F., & Deneulin, S. (2002). Symposium on development as freedom by Amartya Sen: Amartya Sen's contribution to development thinking. Studies in Comparative International Development, 37(2), 61–70.

Taylor, J. (2008). Indigenous peoples and indicators of well-being: an Australian perspective on UNPFII global frameworks. Social Indicators Research, 87, 111–126.

United Nations (UN). (2007). United Nations Declaration on the Rights of Indigenous Peoples (UN DRIP), 2007 Online http://www.un.org/esa/socdev/unpfii/en/UN DRIP.html. Accessed 10 March 2010.

United Nations Education, Scientific and Cultural Organisation (UNESCO) (2010). Indigenous people and ICT Online http://portal.unesco.org/ci/en/ev.php-URL_ID=23284&URL_DO=DO_TOPIC&URL_SECTION=201.html. Accessed 17 January 2011.

United Nations Permanent Forum on Indigenous Issues (UNPFII). (2006). Report Of The Meeting On Indigenous Peoples And Indicators Of Well-Being Ottawa, 22–23 March 2006, Online http://www.un.org/esa/socdev/unpfii/documents/workshop_indic_report.doc. Accessed 17 June 2009.

Van Dijk, J. A. G. M. (2005). The deepening divide—Inequality in the information society. USA: Sage Publications

Warschauer, M. (2003a). Technology and social inclusion. Massachusetts, USA: The MIT Press

Zheng, Y., Walsham, G. (2009). Inequality of what? Social exclusion in the e-society as capability deprivation. Information Technology and People, 21(3), 222–243.
Acknowledgments
The author gratefully acknowledges the financial support received from the University of New South Wales, Kensington, Australia which allowed the fieldwork underpinning this article and the related wider research project to be carried out.
About this article
Cite this article
Vaughan, D. The importance of capabilities in the sustainability of information and communications technology programs: the case of remote Indigenous Australian communities. Ethics Inf Technol 13, 131–150 (2011). https://doi.org/10.1007/s10676-011-9269-3
Published:

Issue Date:

DOI: https://doi.org/10.1007/s10676-011-9269-3
Keywords