Abstract
The present study carries out an impact analysis of a conditional cash transfer (CCT) program for secondary-school girls in seven districts of Khyber Pakhtunkhwa province in Pakistan, including Battagram, Bonair, Hangu, Kohistan, Shangla, Tank, and Upper Dir. In 2012 we collected household-level primary data and used a probit model for quantitative analysis. Further, we conducted various focus group discussions and key informant interviews in the target areas. Results show that the chances of female schooling decrease with a rise in family size. The chances of female education increase by 1.8 and by 3.3 % if household heads and their spouses have one additional year of schooling, respectively. Better educational services and rises in family income increase the chances of female ecucation by 11 and 0.3 %, respectively. Finally, socioeconomic awareness, improved economic conditions, and CCTs increase the chances of female education by 5.2, 4.7, and 0.03 %, respectively. Overall, the stipend program (CCTs) shows a pareto improvement. Our results indicate that 35 % of girls will drop out in the absence of a stipend program. The present study recommends that to increase program effectiveness, local-level monitoring and program evaluation may be improved, delays in stipend payments to female students should be reduced, a grievance redressal mechanism for parents and guardians should be introduced, and clear synergies should be developed with other transfer programs.
Access options
Buy single article
Instant access to the full article PDF.
US$ 39.95
Tax calculation will be finalised during checkout.
Subscribe to journal
Immediate online access to all issues from 2019. Subscription will auto renew annually.
US$ 79
Tax calculation will be finalised during checkout.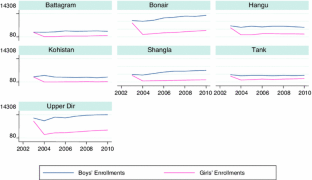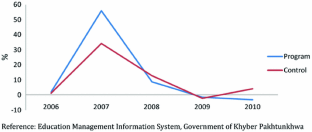 Notes
1.

2.

3.

Source: Pakistan Social and Living Standards Measurement 2010–2011.

4.

Class 6–8 is middle-level schooling.

5.

The term ghost school refers to those educational institutions that have a physical infrastructure but no teachers or students. There have been instances where local influential persons use these state-owned premises for their own interests.
References
Ai, C., & Norton, E. C. (2003). Interaction terms in logit and probit models. Economics Letters, 80, 123–129.

Barham, T. (2009). A healthier start: The effect of conditional cash transfers on neonatal and infant mortality in rural Mexico. Journal of Development Economics, 94(1), 74–85.

Barrera-Osorio, F., Bertrand, M., Linden, L. L., & Perez-Calle, F. (2008). Conditional cash transfers in education design features, peer and sibling effects evidence from a randomized experiment in Colombia. NBER Working Paper Series, No. 13890.

Bassett, L. (2008). Can conditional cash transfer programs play a greater role in reducing child undernutrition?. Social Protection Discussion Papers, No. 46687.

Chaudhry, I. S., Malik, S., Hassan, A. U., & Faridi, M. Z. (2010). Does education alleviate poverty?. International Research Journal of Finance and Economics: Empirical Evidence from Pakistan. 52.

Chevalier, A., & Lanot, G. (2002). The relative effect of family characteristics and financial situation on educational achievement. Education Economics, 10(2), 165–81.

Chevalier, A. (2004). Parental education and child's education: A natural experiment. London School of Economics and IZA Bonn, No. 1153.

Faith, G., & Vinay, C. (2010). Conditional cash transfers: Myths and findings, No. 01.

Geda, A., Jong, N., Kimenyi, M. S. & Mwabu, G. (2005). Determinants of poverty in Kenya: A household level analysis. University of Connecticut working paper series.

Government of Pakistan (GoP) (2012). Economic Survey of Pakistan. Ministry of Finance.

Government of Pakistan (GoP) (2013). Review of public sector Development Program in Pakistan. Islamabad: Planning Commission.

Hobcraft, J., & Kiernan, K. (2001). Childhood poverty, early motherhood and adult social exclusion. The British Journal of Sociology, 52(3), 495–517.

Independent Evaluation Group. (2011). Do conditional cash transfers lead to medium term impacts?: Evidence from a female school Stipend Programme in Punjab. Washington DC: World Bank.

Johnson, M. T. (2013). The impact of business cycle fluctuations on graduate school enrollment. Economics of Education Review, 34, 122–134.

Ladd, H. F. (2012). Education and poverty: Confronting the evidence. Journal of Policy Analysis and Management, 31(2), 203–227.

Mogstad, M., & Wiswall, M. (2009). How linear models can mask non-linear causal relationships an application to family size and children's education'. Research Department, Discussion Papers No: Statistics Norway. 586.

Njong, A. M. (2010). The effects of educational attainment on poverty reduction in Cameroon. Journal of Education Administration and Policy Studies, 2(1), 001–008.

Roche, K. (2013). Reconciling gender differences in the returns to education in self-employment: Does occupation matter? Journal of Socio-Economics Volume, 44, 112–119.

Saavedra, J., & Garcia, S. (2012). Impacts of conditional cash transfer programs on educational outcomes in developing countries. RAND Population Research Center.

Schurmann, A. T. (2009). Review of the Bangladesh female secondary school stipend project using a social exclusion framework. Journal of Health, Population, and Nutrition, 27(4), 505–517.

Shahzad, S., Ali, R., Qadeer, M. Z. H., & Khan, M. S. (2011). Community attitude towards female education. International Journal of Academic Research, 3(1), 970–973.

Skoufias, E., & Maro, V. D. (2008). Conditional cash transfers, adult work incentives, and poverty. Journal of Development Studies, 44(7), 935–960.

Thorpe, R. J, Jr, Szanton, S. L., Bell, C. N., & Whitfield, K. E. (2013). Education, income and disability in African Americans. Ethnicity and Disease, 23, 12–17.

UNESCO. (2012a). Youth and skills: Putting education to work. EFA Global Monitoring Report.

UNESCO. (2012b). Seminar on girls right to education. Pakistan: Islamabad.

United Nations Education, Scientifical and Culturla Organization. (2012). Tuation analysis of the education sector. Pakistan.

World Bank. (2012). On norms and agency: Conversations about gender equality with women and men in 20 countries. Working Paper, 74191.
Acknowledgments
The authors are economists at the Sustainable Development Policy Institute. We would like to acknowledge the financial support of UNDP and the government of Khyber Pakhtunkhwa and Pakistan and the technical advice of two internal referees.
About this article
Cite this article
Ahmed, V., Zeshan, M. An analysis of the social impact of the stipend program for secondary school girls of Khyber Pakhtunkhwa. Educ Res Policy Prac 13, 129–143 (2014). https://doi.org/10.1007/s10671-013-9154-4
Received:

Accepted:

Published:

Issue Date:
Keywords
Education

Poverty

Conditional cash transfers

Gender
JEL Classification