Abstract
Cryptocurrencies have the potential to revolutionize the exchange of information and money through blockchain and distributed ledger technologies. Despite the promise of such underlying technologies, their reliance upon distributed consensus processes to approve software updates raises the potential for governance failures to destabilize a given cryptocurrency. These governance failures, known as 'hard forks,' can separate a cryptocurrency into two rival camps. Where such events can destabilize a given cryptocurrency's value, and instill distrust in the capacity of a cryptocurrency to survive as a reliable vehicle of exchange, it is imperative for the cryptocurrency community to improve their governance processes and limit the potential for hard forks to occur. While the distributed nature of cryptocurrency governance makes any traditional governing process unlikely to succeed, anticipatory approaches that establish thresholds and metrics to determine when software reform is necessary may help alleviate the governance failures presented by many hard forks.
Access options
Buy single article
Instant access to the full article PDF.
USD 39.95
Price excludes VAT (USA)
Tax calculation will be finalised during checkout.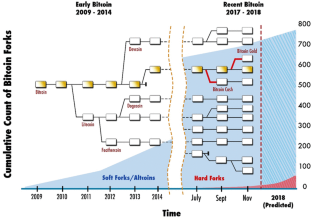 References
Baldwin J (2018) In digital we trust: Bitcoin discourse, digital currencies, and decentralized network fetishism. Palgrave Commun 4(1):14

Barben D, Fisher E, Selin C, Guston DH (2008) 38 Anticipatory governance of nanotechnology: foresight, engagement, and integration. In: The handbook of science and technology studies, p 979

Bitcoin Exchange Guide (2018) Bitcoin blockchain forks history—list of all BTC hard and soft forks. https://bitcoinexchangeguide.com/bitcoin-blockchain-forks-history/

Cointelegraph Media Partners (2018) Map of coins. http://mapofcoins.com/

Herrera-Joancomartí J, Pérez-Solà C (2016) Privacy in Bitcoin transactions: new challenges from blockchain scalability solutions. In: Modeling decisions for artificial intelligence. Springer, Cham, pp 26–44

Kharif O (2018) Bitcoin may split 50 times in 2018 as forking craze mounts. Bloomberg. https://www.bloomberg.com/news/articles/2018-01-23/bitcoin-may-split-50-times-in-2018-as-forking-craze-accelerates

Kornilov D, Zaitsev D, Evdokimov N, Raitsyn M, Babaev A, Generalova D (2018) Monthly cryptocurrency and ICO market analysis. Coinspeaker. https://www.coinspeaker.com/2018/02/06/monthly-cryptocurrency-ico-market-analysis-january-2018/

Linkov I, Trump BD, Poinsatte-Jones K, Florin MV (2018a) Governance strategies for a sustainable digital world. Sustainability 10(2):440

Linkov I, Trump BD, Anklam E, Berube D, Boisseasu P, Cummings C et al (2018b) Comparative, collaborative, and integrative risk governance for emerging technologies. Environ Syst Decis 38:1–7

Quay R (2010) Anticipatory governance: a tool for climate change adaptation. J Am Plan Assoc 76(4):496–511
About this article
Cite this article
Trump, B.D., Wells, E., Trump, J. et al. Cryptocurrency: governance for what was meant to be ungovernable. Environ Syst Decis 38, 426–430 (2018). https://doi.org/10.1007/s10669-018-9703-8
Published:

Issue Date:

DOI: https://doi.org/10.1007/s10669-018-9703-8
Keywords