Abstract
Recent estimates indicate that 12% of the global population is likely to have suffered from chronic hunger, due to lack of enough food for an active and healthy life. West Africa, specifically across the Sahel countries, is acutely vulnerable to food insecurity concerns. Mail is emblematic of this problem with approximately 4.6 million citizens considered food insecure. Food security poses formidable challenges. Studies have shown that in order to understand food insecurity and identify steps for effective intervention, there is a need to apprehend the food systems and food in/security in a holistic way beyond production alone. Understanding the behavioral aspects of food security is critical in the African context where agriculture, while oriented toward basic subsistence, remains embedded in social system including the social dynamics of households, extended families, and communities. This exploratory work focuses on developing a nuanced understanding of food security and adaptive behaviors to current challenges to food security at the household level with a distinct focus on inter- and intra-family behavioral dynamics in rural, southern Mali. Using mental models methodology, we developed two influence diagrams and a set of sub-models that represent rural households' mental models of food security under traditional conditions and under conditions of external pressures. These models suggest that food security in rural Mali is at considerable risk due to the influence of external challenges, such as climate change, on traditional behaviors and a lack of easily accessible corresponding behavioral adaptations.
This is a preview of subscription content, log in to check access.
Access options
Buy single article
Instant access to the full article PDF.
US$ 39.95
Price includes VAT for USA
Subscribe to journal
Immediate online access to all issues from 2019. Subscription will auto renew annually.
US$ 99
This is the net price. Taxes to be calculated in checkout.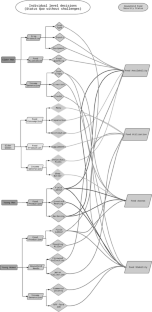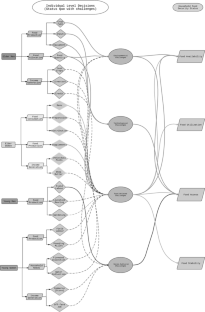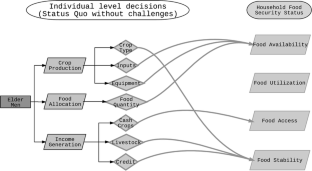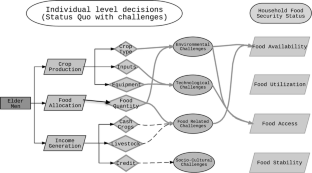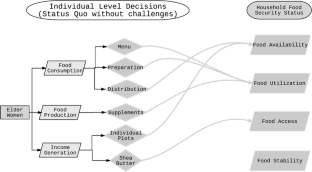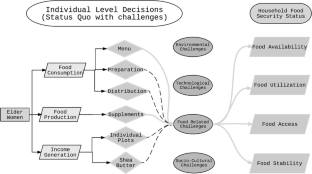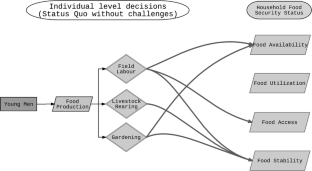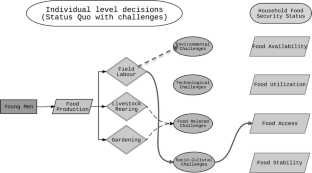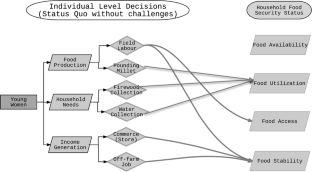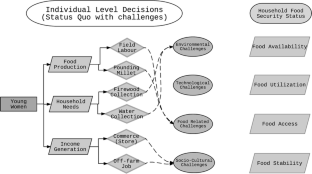 Notes
1.

Lucidchart is an online model creation software package that allows multiple individuals to work on the same model collectively or individually.
References
Aberman N, Ali S, Behrman JA, Bryan E, Davis P, Donnelly A, Gathaara V, Kone D, Nganga T, Ngugi J, Okoba B, Roncoli C (2015) Climate change adaptation assets and group-based approaches: gendered perceptions from Bangladesh, Ethiopia, Mali, and Kenya. http://ebrary.ifpri.org/cdm/ref/collection/p15738coll2/id/128950. Accessed 19 April 2017

Adams A (1993) Food insecurity in Mali: exploring the role of the moral economy. IDS Bull 24(4):41–51

Adger WN (2010) Climate change, human well-being and insecurity. New Political Econ 15(2):275–292

Adger WN, Barnett J, Brown K, Marshall N, O'Brien K (2013) Cultural dimensions of climate change impacts and adaptation. Nat Clim Change 3:112–117

Alliance R (2009). Adaptive capacity

Allen CD, Savage M, Falk DA, Suckling KF, Swetnam TW, Schulke T, Stacey PB, Morgan P, Hoffman M, Klingel JT (2002) Ecological restoration of southwestern ponderosa pine ecosystems: a broad perspective. Ecol Appl 12:1418–1433

Barrett CB (2010) Measuring food insecurity. Science 327:825–828. https://doi.org/10.1126/science.1182768

Becker LC (1990) The collapse of the family farm in West Africa? Evidence from Mali. Geogr J 156:313–322

Benjaminsen TA, Aune JB, Sidibé D (2010) A critical political ecology of cotton and soil fertility in Mali. Geoforum 41:647–656

Biernacki P, Waldorf D (1981) Snowball sampling: problems and techniques of chain referral sampling. Soc Methods Res 10:141–163

Bingen RJ, Robinson D, Staatz JM (2000) Democracy and development in Mali. Michigan State University Press, East Lansing. https://doi.org/10.14321/j.ctt15hvwv2

Brooks N (2004) Drought in the African Sahel: long term perspectives and future prospects. Tyndall Centre for Climate Change Research, Norwich, Working Paper, No. 61, p. 31

Brown ME, Funk CC (2008) Food security under climate change. Science 319:580–581

Butt TA, McCarl BA, Angerer J, Dyke PT, Stuth JW (2005) The economic and food security implications of climate change in Mali. Clim Change 68:355–378

Cannon-Bowers JA, Salas E, Converse SA (1993) Shared mental models in expert team decision making. In: Castellan NJ Jr (ed) Current issues in individual and group decision making. Psychology Press, New York, pp 221–246

Craik K (1943) The nature of explanation. Cambridge University Press, Cambridge

de Haen H, Stephan Klasen S, Matin Qaim M (2011) What do we really know? Metrics for food insecurity and undernutrition. Food Policy 36:760–769

de Suarez JM, Suarez P, Bachofen C, Fortugno N, Goentzel J, Gonçalves P, Grist N, Macklin C, Pfeifer K, Schweizer S, van Aalst M, Virji H (2012) Games for a new climate: experiencing the complexity of future risks. Pardee Center Task Force Report

European Commission's Directorate—General for European Civil Protection and Humanitarian Aid Operations (2016) ECHO factsheet—Sahel: food & nutrition crisis. http://ec.europa.eu/echo/files/aid/countries/factsheets/sahel_en.pdf. Accessed 19 April 2017

FAO (2009) Declaration of the world summit on food security: FAO. http://www.fao.org/wsfs/world-summit/en/?no_cache=1. Accessed 24 August 2017

FAO, IFAD, WFP (2013) The state of food Insecurity in the world 2013: the multiple dimensions of food security. http://www.fao.org/docrep/018/i3434e/i3434e.pdf. Accessed 19 April 2017

Fisher-Vanden K, Wing IS, Lanzi E, Popp D (2013) Modeling climate change feedbacks and adaptation responses: recent approaches and shortcomings. Clim Change 117(3):481–495

Gentner D (1983) Structure-mapping: a theoretical framework for analogy. Cognit Sci 7:155–170

Grothmann T, Patt A (2005) Adaptive capacity and human cognition: the process of individual adaptation to climate change. Glob Environ Chang 15(3):199–213

Hanjra MA, Qureshi ME (2010) Global water crisis and future food security in an era of climate change. Food Policy 35:365–377

Hatløy A, Hallund J, Diarra MM, Oshaug A (2000) Food variety, socioeconomic status and nutritional status in urban and rural areas in Koutiala (Mali). Public Health Nutr 3:57–65

Holling CS (1973) Resilience and stability of ecological systems. Ann Rev Ecol Evol Syst 4(1):1–23

Hussein K (2002) Food security: rights, livelihoods and the World Food Summit—five years later. Soc Policy Adm 36:626–647

Johns T, Sthapit BR (2004) Biocultural diversity in the sustainability of developing-country food systems. Food Nut Bul 25:143–155

Jolly CM, Gadbois M (1996) The effect of animal traction on labour productivity and food self-sufficiency: the case of Mali. Agric Syst 51:453–467

Kuyvenhoven A (2004) Creating an enabling environment: policy conditions for less-favored areas. Food Policy 29:407–429

Laris P, Foltz JD, Voorhees B (2015) Taking from cotton to grow maize: the shifting practices of small-holder farmers in the cotton belt of Mali. Agric Syst 133:1–13

Menezes F (2001) Food sovereignty: a vital requirement for food security in the context of globalization. Development 44(4):29–33

Mertz O, Mbow C, Reenberg A, Diouf A (2009) Farmers' perceptions of climate change and agricultural adaptation strategies in rural Sahel. Environ Manag 43:804–816

Miller F, Osbahr H, Boyd E, Thomalla F, Bharwani S, Ziervogel G, Walker B, Birkmann J, Van der Leeuw S, Rockström J, Hinkel J, Downing T, Folke C, Nelson D (2010) Resilience and vulnerability: complementary or conflicting concepts? Ecol Soc 15(3):1–25

Morgan MG, Fischhoff B, Bostrom A, Atman CJ (2002) Risk communication: a mental models approach. Cambridge University Press, Cambridge

Nicholson SE, Tucker CJ, Ba MB (1998) Desertification, drought, and surface vegetation: an example from the West African Sahel. Bull Am Meteorol Soc 79(5):815–829

Nielsen JØ, Reenberg A (2010) Cultural barriers to climate change adaptation: a case study from Northern Burkina Faso. Glob Environ Chang 10:142–152

Osbahr H, Twyman C, Adger WN, Thomas DS (2008) Effective livelihood adaptation to climate change disturbance: scale dimensions of practice in Mozambique. Geoforum 39(6):1951–1964

Pelling M, High C (2005) Social learning and adaptation to climate change. Benfield Hazard Research Centre, Disaster Studies Working Paper, No. 11, pp. 1–19

Richards P (1990) Local strategies for coping with hunger: central Sierra Leone and Northern Nigeria compared. Afr Aff 89:265–275

Roudier P, Sultan B, Quirion P, Berg A (2011) The impact of future climate change on West African crop yields: what does the recent literature say? Glob Environ Change 21(3):1073–1083

Staatz JM (1994) The strategic role of food and agricultural systems in fighting hunger through fostering sustainable economic growth. Michigan State University. http://fsg.afre.msu.edu/scans/mali/sp%2094-39.pdf. Accessed 19 April 2017

Staatz JM, D'Agostino VC, Sundberg S (1990) Measuring food security in Africa: conceptual, empirical, and policy issues. Am J Agric Econ 72:1311–1317

Sultan B, Roudier P, Quirion P, Alhassane A, Muller B, Dingkuhn M, Ciais P, Guimberteau M, Traore S, Baron C (2013) Assessing climate change impacts on sorghum and millet yields in the Sudanian and Sahelian savannas of West Africa. Environ Res Lett 8:1–9

Sylla MB, Elguindi N, Giorgi F, Wisser D (2016) Projected robust shift of climate zones over West Africa in response to anthropogenic climate change for the late 21st century. Clim Change 134:241–253

Tappan G, McGahuey M (2007) Tracking environmental dynamics and agricultural intensification in southern Mali. Agric Syst 94:38–51

Torheim LE, Ouattara F, Diarra MM, Thiam FD, Barikmo I, Hatløy A, Oshaug A (2004) Nutrient adequacy and dietary diversity in rural Mali: association and determinants. Eur J Clin Nutr 58:594–604

Traore B, Corbeels M, van Wijk MT, Rufino MC, Giller KE (2013) Effects of climate variability and climate change on crop production in southern Mali. Eur J Agron 49:115–125

Tschakert P (2007) Views from the vulnerable: understanding climatic and other stressors in the Sahel. Glob Environ Change 17:381–396

UN-OCHA (2012) Office for the coordination of humanitarian affairs (OCHA) annual report. https://www.unocha.org/publication/ocha-annual-report/ocha-annual-report-2012

Walker B, Holling CS, Carpenter S, Kinzig A (2004) Resilience, adaptability and transformability in social–ecological systems. Ecol Soc. https://doi.org/10.5751/ES-00650-090205

von Winterfeldt D, Edwards W (2007) Advances in decisanalysis: from foundations to applications. Cambridge University Press, Cambridge

Whitley CT, Rivers III L, Mattes S Marquart-Pyatt ST, Ligmann-Zielinska A, Olabisi LS, Du J (2017) Climate-induced migration: using mental models to explore aggregate and individual decision-making. J Risk Res 20:1–17

Wittig R, König K, Schmidt M, Szarzynski J (2007) A study of climate change and anthropogenic impacts in West Africa. Environ Sci Pollut Res 14:182–189

Wood MD, Bostrom A, Bridges T, Linkov I (2012) Cognitive mapping tools: review and risk management needs. Risk Anal 32:1333–1348

Wooten S (2003) Women, men, and market gardens: gender relations and income generation in rural Mali. Hum Organ 62:166–177

Zaksek M, Arvai JL (2004) Toward improved iommunication about wildland fire: mental models research to identify information needs for natural resource management. Risk Anal 24:1503–1514
Ethics declarations
Ethical approval
All procedures performed in studies involving human participants were in accordance with the ethical standards of the institutional and/or national research committee and with the 1964 Declaration of Helsinki and its later amendments or comparable ethical standards.
About this article
Cite this article
Rivers III, L., Sanga, U., Sidibe, A. et al. Mental models of food security in rural Mali. Environ Syst Decis 38, 33–51 (2018). https://doi.org/10.1007/s10669-017-9669-y
Keywords
Mental models

Food security

Climate change

Agriculture

Mali