Abstract
Participatory modeling has been widely recognized in recent years as a powerful tool for dealing with risk and uncertainty. By incorporating multiple perspectives into the structure of a model, we hypothesize that sources of risk can be identified and analyzed more comprehensively compared to traditional 'expert-driven' models. However, one of the weaknesses of a participatory modeling process is that it is typically not feasible to involve more than a few dozen people in model creation, and valuable perspectives on sources of risk may therefore be absent. We sought to address this weakness by conducting parallel participatory modeling processes in three countries in West Africa with similar climates and smallholder agricultural systems, but widely differing political and cultural contexts. Stakeholders involved in the agricultural sector in Ghana, Mali, and Nigeria participated in either a scenario planning process or a causal loop diagramming process, in which they were asked about drivers of agricultural productivity and food security, and sources of risk, including climate risk, between the present and mid-century (2035–2050). Participants in all three workshops identified both direct and indirect sources of climate risk, as they interact with other critical drivers of agricultural systems change, such as water availability, political investment in agriculture, and land availability. We conclude that participatory systems methods are a valuable addition to the suite of methodologies for analyzing climate risk and that scientists and policy-makers would do well to consider dynamic interactions between drivers of risk when assessing the resilience of agricultural systems to climate change.
Access options
Buy single article
Instant access to the full article PDF.
USD 39.95
Price includes VAT (USA)
Tax calculation will be finalised during checkout.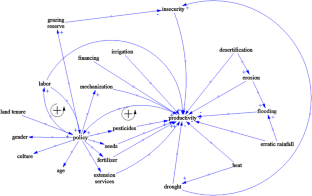 References
Aalst MKV, Cannon T, Burton I (2008) Community level adaptation to climate change: the potential role of participatory community risk assessment. Glob Environ Change 18:165–179

Abiodun BJ, Lawal KA, Salami AT, Abatan AA (2013) Potential influences of global warming on future climate and extreme events in Nigeria. Reg Environ Change 13:477–491

Boubacar I (2010). The effects of drought on crop yields and yield variability in Sahel. Southern agricultural economics association annual meeting, Orlando, FL, pp 1–30

Clark WC, Dickson NM (2003) Sustainability science: the emerging research program. PNAS 100(14):8059–8061

Conroy S (2014). Land conflicts and lethal violence in Nigeria: patterns, mapping and evolution (2006–2014). IFRA-Nigeria working papers series, Abuja, IFRA-Nigeria, vol 38

Enfors EI, Gordon LJ, Peterson GD, Bossio D (2008) Making investments in dryland development work: participatory scenario planning in the Makanya Catchment, Tanzania. Ecol Soc 13(2):42–61

Géronimi V, Diallo SB, Sidibé L (2005) Le franc malien: fausses ruptures et vraies discontinuités dans les relations franco-maliennes. In: Gemdev and Université du Mali (eds) Mali-France: regards croisés sur une histoire partagée. Donniya-Karthala, Bamako, Paris

Ghana Statistical Service (2012) 2010 population & housing census summary report of final results. Ghana Statistical Service, Accra

Gregory PJ, Johnson SN, Newton AC, Ingram JS (2009) Integrating pests and pathogens into the climate change/food security debate. J Exp Bot 60(10):2827–2838

Ibisomi LDG, Wet ND (2014) The dynamics of household structure in Sub-Saharan Africa. In: Odimegwu CO, Kekovole J (eds) Continuity and change in Sub-Saharan African demography. Routledge, New York

Ittersum MKV, Bussel LGJV, Wolf J, Grassini P, Wart JV, Guilpart N, Claessens L, Groot HD, Wiebe K, Mason-D'Croz D, Yang H, Boogaard H, Oort PAJV, Loon MPV, Saito K, Adimo O, Adjei-Nsiah S, Agali A, Bala A, Chikowo R, Kaizzi K, Kouressy M, Makoi JHJR, Ouattara K, Tesfaye K, Cassman KG (2016) Can sub-Saharan Africa feed itself? Proc Natl Acad Sci 113(52):14964–14969

Kahane A (2012) Transformative scenario planning: working together to change the future. Berrett-Koehler Publishers, San Francisco

Kok K, Vliet M, Bärlund I, Dubel A, Sendzimir J (2011) Combining participative backcasting and exploratory scenario development: experiences from the SCENES project. Technol Forecast Soc 78(5):835–851

Legasto A, Forrester JW, Lyneis JM (1980) System dynamics. North-Holland Pub. Co., Elsevier/North-Holland, Amsterdam, New York

Lobell DB, Burke MB, Tebaldi C, Mastrandrea MD, Falcon WP, Naylor RL (2008) Prioritizing climate change adaptation needs for food security in 2030. Science 319(5863):607–610

Lobell DB, Bänziger M, Magorokosho C, Vivek B (2011) Nonlinear heat effects on African maize as evidenced by historical yield trials. Nat Clim Change 1:42–45

Mertz O, D'haen S, Maiga A, Moussa IB, Barbier B, Diouf A, Diallo D, Da ED, Dabi D (2012) Climate variability and environmental stress in the Sudan-Sahel zone of West Africa. Ambio 41(4):380–392

National Population Commission (2014) Nigeria demographic and health survey 2013. ICF International, Rockville

Newig J, Haberl H, Pahl-Wostl C, Rothman DS (2008) Formalised and non-formalised methods in resource management-knowledge and social learning in participatory processes: an introduction. Syst Pract Act Res 21(6):381–387

Obioha EE (2008) Climate change, population drift and violent conflict over land resources in northeastern Nigeria. J Hum Ecol 23(4):311–324

Oladipo E (2010) Towards enhancing the adaptive capacity of Nigeria: a review of the country's state of preparedness for climate change adaptation. Henrich Boll Foundation, Ilorin

Paeth H, Hall NMJ, Gaertner MA, Alonso MD, Moumouni S, Polcher J, Ruti PM, Fink AH, Gosset M, Lebel T, Gaye AT, Rowell DP, Moufouma-Okia W, Jacob D, Rockel B, Giorgi F, Rummukainen M (2011) Progress in regional downscaling of west African Precipitation. Atmos Sci Lett 12(2011):75–82

Palazzo A, Vervoort JM, Mason-D'Croz D, Rutting L, Havlík P, Islam S, Bayala J, Valin H, Kadi HAK, Thornton P, Zougmore R (2017) Linking regional stakeholder scenarios and shared socioeconomic pathways: quantified West African food and climate futures in a global context. Glob Environ Change 45:227–242

Parnell S, Walawege R (2011) Sub-Saharan African urbanisation and global environmental change. Glob Environ Change Hum Policy Dimens 21:S12–S20

Peterson GD, Cumming GS, Carpenter SR (2003) Scenario planning: a tool for conservation in an uncertain world. Conserv Biol 17(2):358–366

Roudier P, Sultan B, Quirion P, Berg A (2011) The impact of future climate change on West African crop yields: what does the recent literature say? Glob Environ Change 21(3):1073–1083

Salter J, Robinson J, Wiek A (2010) Participatory methods of integrated assessment—a review. Wiley Interdiscip Rev Clim Change 1(5):697–717

Sanogo S, Fink AH, Omotosho JA, Ba A, Redl R, Ermert V (2015) Spatio-temporal characteristics of the recent rainfall recovery in West Africa. Int J Climatol 35(2015):4589–4605

Schlenker W, Lobell DB (2010) Robust negative impacts of climate change on African agriculture. Environ Res Lett 5(1):014010

Schmitt Olabisi L (2010) The system dynamics of forest cover in the developing world: researcher vs. community perspectives. Sustainability 2(6):1523–1535

Schmitt Olabisi L, Kapuscinski AR, Johnson KA, Reich PB, Stenquist B, Draeger KJ (2010) Using scenario visioning and participatory system dynamics modeling to investigate the future: lessons from minnesota 2050. Sustainability 2(8):2686–2706

Stave KA (2002) Using system dynamics to improve public participation in environmental decisions. Syst Dyn Rev 18(2):139–167

Todd MC, Washington R, Cheke RA, Kniveton D (2002) Brown locust outbreaks and climate variability in southern Africa. J Appl Ecol 39:31–42

Van den Belt M (2004) Mediated modeling: a system dynamics approach to environmental consensus building. Island Press, Washington

Vervoort JM, Thornton PK, Kristjanson P, Förch W, Ericksen PJ, Kok K, Ingram JSI, Herrero M, Palazzo A (2014) Challenges to scenario-guided adaptive action on food security under climate change. Glob Environ Change 28:383–394

Webber AD, Hill CM (2014) Using participatory risk mapping (PRM) to identify and understand people's perceptions of crop loss to animals in Uganda. PLoS One 9(7):e102912

World Bank (2017) World Bank Open Data. Retrieved 16 March 2017, from https://data.worldbank.org/

Yu M, Wang G, Pal JS (2016) Effects of vegetation feedback on future climate change over West Africa. Clim Dyn 46(11):3669–3688

Zhou Y, Staatz J (2016) Projected demand and supply for various foods in West Africa: implications for investments and food policy. Food Policy 61:198–212
Acknowledgements
This study was funded by the National Science Foundation Directorate for Social, Behavioral and Economic Sciences (Grant No. 1416730), the USAID/Nigeria funded Food Security Policy Innovation Lab Associate Award, contract number AID1-620-LA-15-00001, and the Adaptation at Scale in Semi-Arid Regions program.
About this article
Cite this article
Schmitt Olabisi, L., Liverpool-Tasie, S., Rivers, L. et al. Using participatory modeling processes to identify sources of climate risk in West Africa. Environ Syst Decis 38, 23–32 (2018). https://doi.org/10.1007/s10669-017-9653-6
Keywords
Participatory modeling

Food security

West Africa

System dynamics

Scenarios