Abstract
While local food production may be beneficial in terms of developing the local economy and reducing greenhouse gases from transportation, sustainability strategies focused on local food production may generate their own risks due to yield variability. We have developed a robust optimization (RO) model to determine the minimum amount of land (cropland and pasture) required to grow food items that would satisfy a local population's (accounting for gender and age) calorie and nutrient needs. This model has been applied to Boone County, Missouri, which has a population of approximately 170,000. Boone County is 1790 km2, with 16% of the land defined as cropland and 30% defined as pasture. The model includes 27 nutrients from 17 potential foods that could be produced: six fruits and vegetables, five grains and six animal-sourced foods. Yield estimates are based on the predominate methods of agriculture in the USA. We first run our model assuming no variability, using the midpoint yield estimates. Then, to quantify uncertainty in yield for different food types, we use historical yield data over 10 years to estimate this variability and run our RO model under these variability estimates. We compare the two model results to illustrate the impact of data uncertainty on meeting sustainable local food for communities. Solutions suggest that nutrition needs can be met for the Boone County population within the land area defined.
Access options
Buy single article
Instant access to the full article PDF.
US$ 39.95
Tax calculation will be finalised during checkout.
Subscribe to journal
Immediate online access to all issues from 2019. Subscription will auto renew annually.
US$ 79
Tax calculation will be finalised during checkout.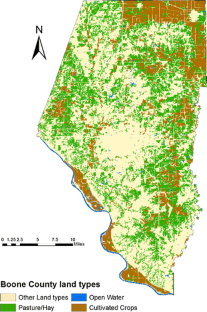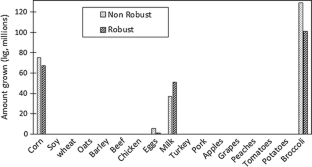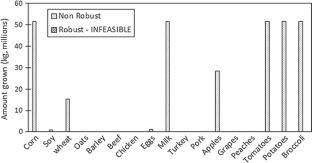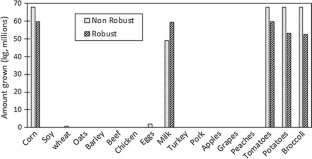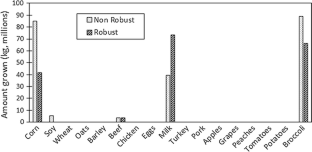 References
Bedoussac L, Journet E-P, Hauggaard-Nielsen H, Naudin C, Corre-Hellou G, Jensen ES, Prieur L, Justes E (2015) Ecological principles underlying the increase of productivity achieved by cereal-grain legume intercrops in organic farming. A review. Agron Sust Dev 35(3):911–935

Ben-Tal A, Ghaoui LE, Nemirovski A (2009) Robust optimization. Princeton University Press, Princeton

Briend A, Darmon N, Ferguson E, Erhardt JG (2003) Linear programming: a mathematical tool for analyzing and optimizing children's diets during the complementary feeding period. J Pediatr Gastroenterol Nutr 36:12–22

Buzby JC, Wells HF, Hyman J (2014) The estimated amount, value, and calories of postharvest food losses at the retail and consumer levels in the United States. United States Department of Agriculture Economic Research Service, Bull Number 121

Clark KH, Nicholas KA (2013) Introducing urban food forestry: a multifunctional approach to increase food security and provide ecosystem services. Landsc Ecol 28:1649–1669

Costello C, Xue X, Howarth RW (2015) Comparison of production-phase environmental impact metrics derived at the farm and national-scale for United States agricultural commodities. Environ Res Lett 10(11):114004

Johnson T, Rossi J, Hendrickson M, Cantrell R, Scott JR (2014) Economic impacts of local food systems in the rural midwest: evidence from Missouri and Nebraska

Low SA, Adalja A, Beaulieu E, Key N, Martinez S, Melton A, Perez A, Ralston K, Stewart H, Suttles S, Vogel S, Jablonski BBR (2015)Trends in U.S. local and regional food systems. AP-068, U.S. Department of Agriculture, Economic Research Service

Mariola MJ (2008) The local industrial complex? Questioning the link between local foods and energy use. Agric Hum Values 25(2):193–196

Martinez S, Hand M, Da Pra M, Pollack S, Ralston K, Smith T, Vogel S, Clark S, Lohr L, Low S, Newman C (2010) Local food systems: concepts, impacts, and issues. ERR 97, U.S. Department of Agriculture, Economic Research Service

Monaco F, Sali G, Mazzocchi C, Corsi S (2016) Optimizing agricultural land use options for complying with food demand: evidences from linear programming in a metropolitan area. Aestimum 68:45–59

Mount PA (2012) Local food, scale and conventionalization: mid-scale farms and the governance of "Local Beef" Chains. Ph.D. thesis, University of Guelph, Guelph, Ontario, Canada. https://atrium2.lib.uoguelph.ca/xmlui/bitstream/handle/10214/3971/UG_Thesis_Mount_2012.pdf. Accessed 13 Oct 2016

National Land Cover Database (NLCD) (2011) http://www.mrlc.gov/nlcd11_data.php. Accessed 13 Oct 2016

Peters CJ, Bills NL, Lembo AJ, Wilkins JL, Fick GW (2009) Mapping potential foodsheds in New York State: a spatial model for evaluating the capacity to localize food production. Renew Agric Food Syst 24(1):72–84

Smith J, Pearce BD, Wolfe MS (2012) A European perspective for developing modern multifunctional agroforestry systems for sustainable intensification. Renew Agric Food Syst 27(4):323–332

United States Census Bureau (2016) http://factfinder.census.gov/faces/tableservices/jsf/pages/productview.xhtml?pid=ACS_14_1YR_S0101&prodType=table. Accessed 13 Oct 2016

United States Department of Agriculture (USDA), Agricultural Research Service (ARS), national nutrient database for standard reference release 28. https://ndb.nal.usda.gov/ndb/search. Accessed 13 Oct 2016

USDA Center for Nutrition Policy and Promotion (CNPP). http://www.cnpp.usda.gov/sites/default/files/myplate_miplato/table3.pdf. Accessed 13 Oct 2016

USDA, Economic Research Service (ERS) (2016) Food Availability (Per Capita) Data System. http://www.ers.usda.gov/data-products/food-availability-(per-capita)-data-system/.aspx. Accessed 13 Oct 2016

USDA, National Agricultural Statistics Service (NASS) http://quickstats.nass.usda.gov/. Accessed 13 Oct 2016

USDA Natural Resources Conservation Service (NRCS) (2009) Balancing your Animals with your Forage: Small Scale Solutions for your Farm. http://www.nrcs.usda.gov/Internet/FSE_DOCUMENTS/stelprdb1167344.pdf. Accessed 13 Oct 2016

Weber C, Matthews HS (2008) Food-miles and the relative climate impacts of food choices in the United States. Environ Sci Technol 42(10):3508–3513

Zumkehr A, Campbell JE (2015) The potential for local croplands to meet U.S. food demand. Frontiers. Ecology 13(5):244–248
About this article
Cite this article
Dundar, B., Costello, C. & McGarvey, R.G. Robust optimization evaluation of reliance on locally produced foods. Environ Syst Decis 37, 34–41 (2017). https://doi.org/10.1007/s10669-016-9617-2
Keywords
Land use

Local food production

Robust optimization