Abstract
A common approach for addressing climate change is to reduce the cost of greenhouse gas mitigation through market-based mechanisms, which enable an economically efficient allocation of emissions. However, from a human development perspective, a market-based approach to emission allocation might not be appropriate, considering the value it places on social well-being. This research builds on previous empirical work to develop a framework for conceptualizing the relationship between carbon dioxide (CO2) emissions and human development using the capability approach. The framework enables a critical examination of policy prescriptions that employ market-based methods for emission allocation due to their potential for unintended consequences for underdeveloped nations. Lastly, we offer a theoretical policy proposal aimed at preventing unintended human development consequences.
Access options
Buy single article
Instant access to the full article PDF.
USD 39.95
Price excludes VAT (USA)
Tax calculation will be finalised during checkout.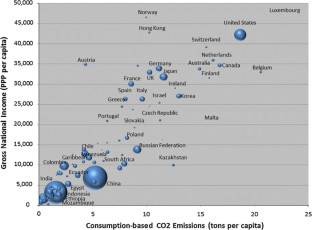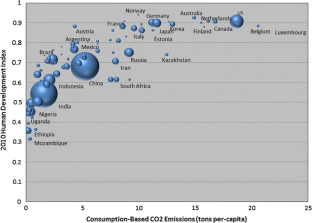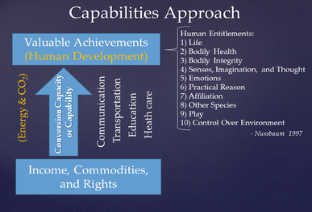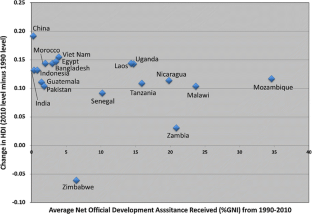 References
Alam MS, Bala BK, Huq AMZ, Matin MA (1991) A model for the quality-of-life as a function of electrical energy-consumption. Energy 16(4):739–745

Alam MS, Roychowdhury A, Islam KK, Huq AMZ (1998) A revisited model for the physical quality of life (PQL) as a function of electrical energy consumption. Energy 23(9):791–801

Aldy JE, Orszag PR, Stiglitz JE (2001) Climate change: an agenda for global collective action. Prepared for the conference on the timing of climate Change policies, Pew Center on Global Climate Change, Washington, DC

Baer P, Anthanasiou T, Kartha S, Kemp-Benedict E (2009) Greenhouse development rights: a proposal for a fair global climate treaty. Ethics, Place and Environ 12(3):267–281

Baumert KA, Goldberg DM (2006) Action targets: a new approach to international greenhouse gas controls. Clim Policy 5:567–581

Birol F (2007). Energy economics: a place for energy poverty in the agenda. Energy J 28(3):1–6. http://dx.doi.org/10.5547/ISSN0195-6574-EJ-Vol28-No3-1

Bloomberg (2014) Climate talks grapple with regional carbon markets: IEA. Available at: http://www.bloomberg.com/news/2014-11-07/climate-talks-grapple-with-regional-carbon-markets-iea.html

Brown D (2002) American heat: ethical problems with the United States' response to global warming. Rowman & Littlefield, Lanham, MD

Dias RA, Mattos CR, Balestieri JAP (2006) The limits of human development and the use of energy and natural resources. Energy Policy 34(9):1026–1031

Ezor Z (2009) Power to the people: rural electrification in Uganda. Available at: http://digitalcollections.sit.edu

Gardiner S (2004) Ethics and global climate change. Ethics 114:555–600

Goldenberg J, La Rovere EL, Coelho ST (2004) Expanding access to electricity in Brazil. Energy Sustain Dev 8(4):86–94

Green JF, Sterner T, Wager G (2014). A balance of bottom-up and top-down in linking climate policies. Nat Clim Change 4. Available at: http://www.nature.com/nclimate/journal/v4/n12/full/nclimate2429.html

International Energy Agency (2013) World energy outlook 2013. Available at: http://www.worldenergyoutlook.org/publications/weo-2013/

Jaffe J, Ranson M, Stavins RN (2009) Linking tradable permit systems: a key element of emerging international climate policy architecture. Ecol Law Q 36:798, 789–808. Available at: http://www.hks.harvard.edu/fs/rstavins/Papers/Jaffe-Ranson-Stavins-ELQ.pdf

Jamieson D (2001) Climate change and global environmental justice. In: Miller C, Edwards P (eds) Changing the atmosphere: expert knowledge and environmental governance. MIT Press, Cambridge, MA

Lomborg B (2001) Global warming. In: Lomborg B (ed) The sceptical environmentalist. Cambridge University Press, Cambridge, p 258–324

Martínez DM, Ebenhack BW (2008) Understanding the role of energy consumption in human development through the use of saturation phenomena. Energy Policy 36:1430–1435. http://dx.doi.org/10.1016/j.enpol.2007.12.016

Mechtenberg A, Borchers K, Miyingo EW, Hormasji F, Hariharan A, Makanda JV, Musaazi MK (2012) Human power (HP) as a viable electricity portfolio option below 20 W/Capita. Energy Sustain Dev 16:125–145. http://dx.doi.org/10.1016/j.esd.2011.12.006

Mintz E, Bartram J, Lochery P, Wegelin M (2001) Not just a drop in the bucket: expanding access to point-of-use water treatment systems. Am J Public Health 91(10):1565–1570

Moellendorf D (2011) A normative account of dangerous climate change. Clim Change 108:57–72

Moran DD, Wackernagel M, Kitzes JA, Goldfinger SH, Boutaud A (2008) Measuring sustainable development—nation by nation. Ecol Econ 64(3):470–474. http://dx.doi.org/10.1016/j.ecolecon.2007.08.017

Morgan J, Waskow D (2013) A new look at climate equity in the UNFCCC. Clim Policy 14(1):17–22. Available at: http://www.tandfonline.com/doi/abs/10.1080/14693062.2014.848096#.VLL7KivF-AU

Narain S (2013) Environmentalism of the Poor vs. environmentalism of the rich. Wrigley lecture series. School of Sustainability, Arizona State University, Tempe, AZ, March 27

Nelson K (2001) Early history of infectious disease: epidemiology and control of infectious diseases. In: Nelson KE, Williams CM, Graham NMH (eds) Infectious disease epidemiology: theory and practice. Aspen Publishers, Gaithersburg

Nordhaus WD (2007) The challenge of global warming: economic models and environmental policy, July 24, 2007, Yale. Available at: http://nordhaus.econ.yale.edu/dice_mss_072407_all.pdf

Nussbaum M (1997) Capabilities and human rights. Fordham Law Rev 66(2):273–300

Nussbaum M (2000) Women and human development: the capabilities approach. Cambridge University Press, Cambridge

Nussbaum M (2006) Frontiers of justice: disability, nationality, species membership. Harvard University Press, Cambridge

Nussbaum M, Sen A (1992) The quality of life. Oxford University Press, Oxford

Olsen KH (2007) The clean development mechanism's contribution to sustainable development: a review of the literature. Clim Change 84:59–73. doi:10.1007/s10584-007-9267-y

Pasternak AD (2000) Global energy futures and human development: a framework for analysis. US Department of Energy, Oak Ridge

Peters G, Minx J, Christopher J, Weberd L, Edenhoferc O (2011) Growth in emission transfers via international trade from 1990 to 2008. PNAS 108(21):8903–8908

Peters GP, Minx JC, Weber CL, Edenhfer O (2010) Growth in emission transfers viw international trade from 1990 to 2008. PNAS 108(21):8903–8908

Ranson M, Stavins RN (2012) Post-durban climate policy architecture based on linkage of cap-and-trade systems (No. w18140). National Bureau of Economic Research. Available at: http://www.nber.org/papers/w18140

Rittel H, Webber M (1973) Dilemmas in general theory of planning. Policy Sci 4:155–169

Rodrik D (2001) The global governance of trade as if development really mattered. Trade and human development series. UNDP, New York

Rogelj J, Nabel J, Chen C, Hare W, Markmann K et al (2010) Copenhagen accord pledges are paltry. Nature 464:1126–1128

Sachs J, McArthur JW, Schmidt-Traub G, Kruk M, Bahadur C, Faye M, McCord G (2004) Ending Africa's poverty trap. Economic studies program, The Brookings Institution, 35(1):117–240

Sandel MJ (2012) What money can't buy: the moral limits of markets. Farrar, Strauss and Giroux, New York

Schelling TC (1998) Costs and benefits of greenhouse gas reduction. American Enterprise Institute Press, Washington, DC

Sen AK (1990) Development as Capability Expansion. In: Griffin Keith, Knight John (eds) Human development and the international development strategy for the 1990s. Macmillan, London, pp 41–58

Sen A (1999a) Commodities and capabilities. Oxford University Press, Oxford

Sen A (1999b) Development as freedom. Anchor Books, New York

Sethi N (2015) BASIC nations to discuss climate change. Live Mint. Available at: http://www.livemint.com/Politics/T2bUYB9daeJalW9bOMwMbP/BASIC-nations-to-discuss-climate-change.html

Shue H (1993) Subsistence emissions and luxury emissions. Law & Policy 15(1):39–58

Singer P (2004) One atmosphere. In: One world: the ethics of globalization. Yale University Press

Spierre S (2013) Examining a sustainable approach to global climate policy. Dissertation, Arizona State University. Available at: http://hdl.handle.net/2286/R.A.110485

Spierre SG, Seager TP, Selinger E (2013) The diminishing returns to the 2010 human development index. J Sustain Dev 6(6):34

Steinberger J, Roberts T (2010) From constraint to sufficiency: the decoupling of energy and carbon from human needs, 1975–2005. Ecol Econ, 425–433. http://dx.doi.org/10.1016/j.ecolecon.2010.09.014

Steinberger J, Roberts T, Peters G, Baiocchi G (2012) Pathways of human development and carbon emissions embodied in trade. Nat Clim Change. http://dx.doi.org/10.1038/nclimate1371

Stern N (2007) The economics of climate change: the stern review. Cambridge University Press, Cambridge

Tol R (2009) The economic effects of climate change. J Econ Perspect 23(2):29–51

UNFCCC (2014). Lima Calls for Climate Action Puts World Track to Paris 2015. United Nations Framework Convention on Climate Change. Available at: ewsroom.unfccc.int/lima/lima-call-for-climate-action-puts-world-on-track-to-paris-2015/

Victor D (2001) The collapse of the kyoto protocol and the struggle to slow global warming. Princeton University Press, Princeton, NJ

Wiebe KS, Bruckner M, Giljum S, Lutz C (2012) Calculating energy-related CO2 emissions embodied in International Trade using global input-output model. Econ Syst Res 24(2):113–139

World Bank (2014). State and trends of carbon pricing. World Bank Group. Available at: http://www-wds.worldbank.org/external/default/WDSContentServer/WDSP/IB/2014/05/27/000456286_20140527095323/Rendered/PDF/882840AR0Carbo040Box385232B00OUO090.pdf

World Health Organization, United Nations Children's Fund (2000). Water supply and sanitation council. Global Water Supply and Sanitation Assessment 2000 Report. New York, NY: UNICEF; 2000
Acknowledgments
This material is based in part upon work supported by the National Science Foundation under Grant Numbers 1134943 and 1140190. Any opinions, findings, and conclusions or recommendations expressed in this material are those of the author(s) and do not necessarily reflect the views of the National Science Foundation. The authors would also like to thank Dr. Sonja Klinsky and Dr. Braden Allenby at Arizona State University for their insightful comments on this manuscript.
About this article
Cite this article
Clark, S.S., Seager, T.P. & Selinger, E. A development-based approach to global climate policy. Environ Syst Decis 35, 1–10 (2015). https://doi.org/10.1007/s10669-015-9533-x
Published:

Issue Date:

DOI: https://doi.org/10.1007/s10669-015-9533-x
Keywords