Abstract
Climate extremes are expected to become more frequent and intense under future warming. In a globalized economy, outages of productive capital and infrastructure have the potential to spread around the world. In order to address those repercussions in the framework of a risk analysis or a resilience strategy, a disaster's indirect consequences on the economic supply network need to be understood. We developed a numerical model to simulate these indirect effects along global supply chains for time scales of days to months. This article is the first in a series of four, which describes the damage-propagation model. In this first paper, we describe the pure damage propagation within the network and focus on the fundamental propagation of supply failure between production sites including their input and output storages and transport-related time delay. Idealized examples are presented to illustrate the dynamic damage propagation. Further articles will extend the dynamics to include demand changes due to the perturbation in the supply, the possibility to extend production to compensate for production failure, price responses and adaptive changes in the economic supply network. The underlying global supply network is based on data from multi-regional input–output tables. Transportation times are derived from geographic distances. In the initial model version presented here, indirect production losses are caused by cascading effects. They are propagated within the network without significant reduction in loss (damage conservation). They can thus be observed within the different storages or they "leak out" of the system through reduced consumption of the final consumer. As an example, we investigate the cascading behavior of losses for the machinery sector in Japan.
Access options
Buy single article
Instant access to the full article PDF.
US$ 39.95
Tax calculation will be finalised during checkout.
Subscribe to journal
Immediate online access to all issues from 2019. Subscription will auto renew annually.
US$ 79
Tax calculation will be finalised during checkout.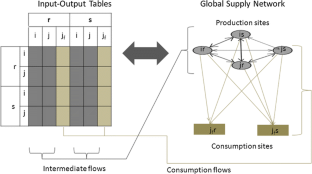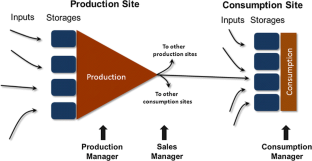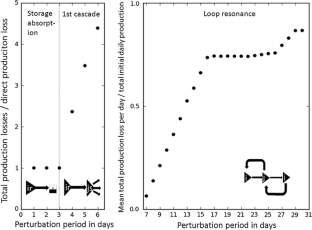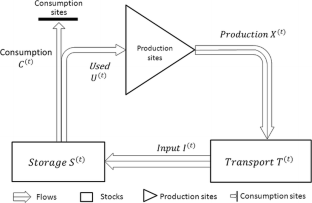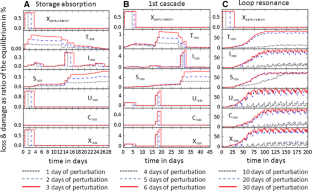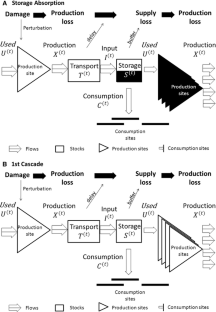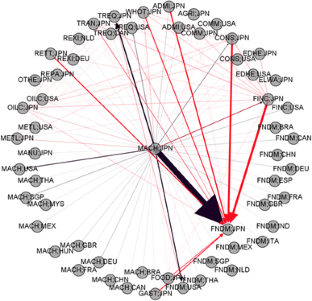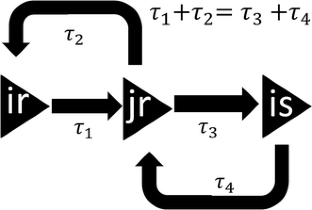 Notes
1.

Code is available upon request.
References
Andrew RM, Peters GP (2013) A multi-region input–output table based on the global trade analysis project database (GTAP-MRIO). Econ Syst Res 25:99–121. doi:10.1080/09535314.2012.761953

Auffhammer M, Ramanathan V, Vincent JR (2006) Integrated model shows that atmospheric brown clouds and greenhouse gases have reduced rice harvests in India. Proc Natl Acad Sci USA 103:19668–19672. doi:10.1073/pnas.0609584104

Bouwer L, Crompton R (2007) Confronting disaster losses. Sci NY 318:753

Bridges T, Kovacs D, Wood M (2013) Climate change risk management: a Mental Modeling application. Environ Syst Decis 33(3):376–390

Brzoska M, Scheffran J (2013) Climate and war: no clear-cut schism. Nature 498:171. doi:10.1038/498171c

Ciscar Martinez JC, Feyen L, Soria Ramirez A et al (2014) Climate Impacts in Europe. The JRC PESETA II Project. Institute for Prospective and Technological Studies, Joint Research Centre

Dietzenbacher E, Los B, Stehrer R et al (2013) The construction of world input–output tables in the WIOD project. Econ Syst Res 25:71–98. doi:10.1080/09535314.2012.761180

Emanuel K (2011) Global warming effects on US hurricane damage. Weather Clim Soc 3(4):261–268

Greenberg M, Lahr M, Mantell N (2007) Understanding the economic costs and benefits of catastrophes and their aftermath: a review and suggestions for the US federal government. Risk Anal 27(1):83–96

Haddad E, Okuyama Y (2012) Spatial propagation of the economic impacts of bombing: the case of the 2006 war in Lebanon (No. 2012_19). University of São Paulo (FEA-USP).

Haddad E, Teixeira E (2013) Economic impacts of natural disasters in megacities: the case of floods in São Paulo, Brazil. ERSA conference paper

Hallegatte S (2008) An adaptive regional input-output model and its application to the assessment of the economic cost of Katrina. Risk Anal 28:779–799. doi:10.1111/j.1539-6924.2008.01046.x

Hallegatte S (2012) Economics: the rising costs of hurricanes. Nat Clim Change 2:148–149. doi:10.1038/nclimate1427

Helbing D (2013) Globally networked risks and how to respond. Nature 497:51–59. doi:10.1038/nature12047

Hsiang S, Burke M (2014) Climate, conflict, and social stability: what does the evidence say? Clim Change 123(1):39–55

Hsiang S, Burke M, Miguel E (2013) Quantifying the influence of climate on human conflict. Science 341(6151):1235367

IPCC (2012) Managing the risks of extreme events and disasters to advance climate change adaptation. In: Field CB, Barros V, Stocker TF, Qin D, Dokken DJ, Ebi KL, Mastrandrea MD, Mach KJ, Plattner G-K, Allen SK, Tignor M, Midgley PM (eds) A special report of working groups I and II of the intergovernmental panel on climate change. Cambridge University Press, Cambridge

IPCC (2013) Climate change 2013: the physical science basis: contribution of working group I to the fifth assessment report of the intergovernmental panel on climate change

IPCC (2014) Climate change 2014: impacts, adaptation, and vulnerability. Part A: global and sectoral aspects. In: Field CB, Barros VR, Dokken DJ, Mach KJ, Mastrandrea MD, Bilir TE, Chatterjee M, Ebi KL, Estrada YO, Genova RC, Girma B, Kissel ES, Levy AN, MacCracken S, Mastrandrea PR, White LL (eds) Contribution of working group II to the fifth assessment report of the intergovernmental panel on climate change. Cambridge University Press, Cambridge

Kajitani Y, Tatano H (2014) Estimation of production capacity loss rate after the great east japan earthquake and Tsunami in 2011. Econ Syst Res 26:13–38. doi:10.1080/09535314.2013.872081

Lenton T, Ciscar J (2013) Integrating tipping points into climate impact assessments. Clim Change 117(3):585–597

Lenzen M, Kanemoto K, Moran D, Geschke A (2012) Mapping the structure of the world economy. Environ Sci Technol 46:8374–8381. doi:10.1021/es300171x

Levermann A (2014) Climate economics: make supply chains climate-smart. Nature 506:27–29. doi:10.1038/506027a

Levermann A, Bamber JL, Drijfhout S et al (2011) Potential climatic transitions with profound impact on Europe. Clim Change 110:845–878. doi:10.1007/s10584-011-0126-5

Linkov I, Varghese A, Jamil S (2005) Multi-criteria decision analysis: a framework for structuring remedial decisions at contaminated sites. In: Linkov I, Ramadan AB (eds) Comparative risk assessment and environmental decision making. Springer, Netherlands, pp 15–54

Linkov I, Bridges T, Creutzig F et al (2014) Changing the resilience paradigm. Nat Clim Change 4:407–409. doi:10.1038/nclimate2227

Mendelsohn R, Emanuel K, Chonabayashi S, Bakkensen L (2012) The impact of climate change on global tropical cyclone damage. Nat Clim Change 2:205–209. doi:10.1038/nclimate1357

Moss RH, Edmonds JA, Hibbard KA et al (2010) The next generation of scenarios for climate change research and assessment. Nature 463:747–756. doi:10.1038/nature08823

Narayanan B, Aguiar A, McDougall R (2012) Global trade, assistance, and production: the GTAP 8 data base, Center for Global Trade Analysis, Purdue University

Okuyama Y (2008) Critical review of methodologies on disaster impacts estimation. Background paper EDRR report

Okuyama Y, Santos JR (2014) Disaster impact and input–output analysis. Econ Syst Res 26:1–12. doi:10.1080/09535314.2013.871505

Peters GP, Andrew R, Lennox J (2011) Constructing an environmentally-extended multi-regional input–output table using the GTAP database. Econ Syst Res 23:131–152. doi:10.1080/09535314.2011.563234

Rahmstorf S, Coumou D (2011) Increase of extreme events in a warming world. Proc Natl Acad Sci USA 108:17905–17909. doi:10.1073/pnas.1101766108

Rose A (2004) Defining and measuring economic resilience to disasters. Disaster Prev Manag 13:307–314. doi:10.1108/09653560410556528

SEARATES LP (2014) Distances and transit time. www.searates.com/reference/portdistance. Accessed 11 Feb 2014

Strazzo S, Elsner JB, Trepanier JC, Emanuel KA (2013) Frequency, intensity, and sensitivity to sea surface temperature of North Atlantic tropical cyclones in best-track and simulated data. J Adv Model Earth Syst 5:500–509. doi:10.1002/jame.20036

Tukker A, de Koning A, Wood R et al (2013) Exiopol—development and illustrative analyses of a detailed global MR EE SUT/IOT. Econ Syst Res 25:50–70. doi:10.1080/09535314.2012.761952

Wenz L, Willner S, Bierkandt R et al (2014a) An inhomogeneous approximate-and-update approach to refine multi-regional input-output tables. Econ Syst Res. doi:10.1080/09535314.2014.987731

Wenz L, Willner S, Bierkandt R, Levermann A (2014b) Acclimate—a model for economic damage propagation. Part II: a dynamic formulation of the backward effects of disaster induced production failures in the global supply network. Environ Syst Decis. doi:10.1007/s10669-014-9521-6

World Bank (2012) Turn down the heat—why a 4 C warmer world must be avoided. World Bank, Washington. http://documents.worldbank.org/curated/en/2012/11/17097815/turn-down-heat-4%C2%B0c-warmer-world-must-avoided

Zhai AR, Jiang JH (2014) Dependence of US hurricane economic loss on maximum wind speed and storm size. Environ Res Lett 9:064019. doi:10.1088/1748-9326/9/6/064019
Acknowledgments
This research was supported by the Heinrich-Böll Foundation and the German Environmental Foundation (DBU). It has received funding from the European Union Seventh Framework Programme FP7/2007-2013 under Grant Agreement No. 603864. We thank Christian Otto for fruitful discussions.
About this article
Cite this article
Bierkandt, R., Wenz, L., Willner, S.N. et al. Acclimate—a model for economic damage propagation. Part 1: basic formulation of damage transfer within a global supply network and damage conserving dynamics. Environ Syst Decis 34, 507–524 (2014). https://doi.org/10.1007/s10669-014-9523-4
Keywords
Climate change

Disaster risk

Extreme events

Economic networks

Damage propagations

Supply chain disruption