Abstract
Due to intensive use of agronomic inputs in sugarcane farming, runoff water from these farms is loaded with high concentrations of nutrients. These nutrients find their way into rivers, lakes and sinks, eutrophicating them. Reducing the levels of these nutrients in runoff water from sugarcane farms before it is discharged into sinks will help solve the problems that arise out of eutrophication. This study employed a simple sedimentation method of making depressions in canals draining runoff water from sugarcane farms and emptying them fortnightly during the rainy season and monthly during the dry season. The method was found to significantly (p ≤ 0.05) reduce water conductivity (μS/cm), turbidity (Nephelometric Turbidity Units), total phosphates, nitrate–nitrogen, potassium, calcium, magnesium, iron, copper, sodium and zinc (ppm) in the dry season from 52.89, 148.70,0.87, 3.34, 446.00, 420.00, 205.00, 12,941.00, 261.00, 398.00, and 484.00 in untreated canals to 48.33, 30.22, 0.21, 2.95, 120.00, 154.00, 98.00, 456.00, 181.00, 234.00, and 311.00 in treated canals, respectively. And in the wet season, the parameters were reduced from 261.46, 719.30, 820.00, 25.16, 654.00, 549.00, 493.00, 19,230.00, 763.00, 748.00, and 903.00 to 128.67, 365.70, 3.47, 10.12, 136.00, 187.00, 167.00, 654.00, 207.00, 321.00, and 231.00, respectively. Dissolved oxygen significantly (p ≤ 0.05) increased from 5.11 to 8.14 ppm in the dry season and from 3.82 to 7.92 ppm wet season. Acidity reduced in the wet season from pH 5.02 to 6.20. It is, therefore, recommended that sugarcane farmers adopt this method for sustainability of aquatic systems within these zones.
Access options
Buy single article
Instant access to the full article PDF.
USD 39.95
Price includes VAT (USA)
Tax calculation will be finalised during checkout.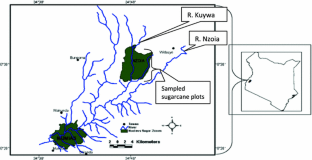 References
Allen DE, Kingston G, Rennenberg H, Dalal RC, Schmidt S (2009) Effect of nitrogenous fertilizer management and water logging on nitrous oxide emission from subtropical sugarcane soils. Agric Ecosyst Environ 136:209–217

Franson MH, Andrew, DE, Lenoe SC, Arnold EG (1995) Standard methods for the examination of water and wastewater, 19th edn. American Public Health Association, Washington, p 936, 450, 1021–1032

Anil KD (1994) Environmental chemistry, 3rd edn. New Age International (p) limited, New Delhi, pp 237–247

Australian standards (2000) Australian and New Zealand guidelines for fresh and marine water: 9.4. Aquaculture and human consumers of aquatic foods. Found at www.mincus.gov.au/_data/assets/pdf_file/0020/316145/gfmwq_guidelines_vol3-9-4.pdf

Banadda N (2011) Characterization of non point source pollutants and their dispersion in Lake Victoria: a case study of Gaba landing site in Uganda. Afr J Environ Sci Technol 5(2):73–79

Curt JS, Robert EH, Dustin G, Brian FC, Hedy K (2009) Diatom evidence for the timing and causes of eutrophication in Lake Victoria, East Africa. Hydrobiologia 636(1):463–478

Eduardo JG (2006) Design, manufacture and performance of solar powered floating fountaing. MSc thesis, Florida State University

EMCA (WQ) (2006) Environmental management and coordination (water quality) regulations, 2006 (L.N. No. 120 of 2006). Kenya Gazette Supplement No. 68 of 29 September 2006, 1–25

COWI (Consulting Engineers) (2002) Intergrated Water Quality Liminology Study for Lake Victoria, Lake Victoria Environmental Management Project part II Technical report Kenya

Günter G, Jan K, Maria S, Hendryk R, Suzana M, Joana A (2007) Sugarcane industry as a source of water pollution—case study on the situation in Ipojuca River, Pernambuco, Brazil. Water Air Soil Pollut 180:261–269

Haynes D (2000) Pesticides and heavy metal concentrations in Great Barrier Reef sediment, seagrass and dugong (Dugong dugon). PhD thesis, University of Queensland

John ED, Terrence H, Dale VH, Georgia T, Luis T, David MK (1996) Freezing as a method of sample preservation for analysis of dissolved inorganic nutrients in seawater. Mar Chem 53:173–185

KSB (2003) Kenya Sugarcane Board yearbook of statistics. Kenya Sugar Board, Nairobi

Lalah JO, Ochieng EZ, Wandiga SO (2008) Sources of heavy metal input into Winam Gulf, Kenya. Bull Environ Contam Toxicol 81:277–284

LVEMP (Lake Victoria Environmental Management Project) (2003) Lake Victoria Environmental Management Project Phase 1, Revised Draft Scientific Stocking Report- Progress During LVEMP1 and Challenges for the Future, World Bank. Washington DC

Muyodi FJ, Mwanuzi FL, Kapiyo R (2011) Environmental quality and fish communities in selected catchments of Lake Victoria. Open Environ Eng J 4:54–65. URL: http://benthamscience.com/open/toenviej/articles/V004/54TOENVIEJ.pdf

Mzimela HM, Wepener V, Cyrus DP (2003) Seasonal variation of selectedmetals in sediments, water and tissues of groovy mullet, Liza dumerelii (Mugilidae) from the Mhlathuze Estuary, South Africa. Mar Pollut Bull 46:659–676

Netondo GW, Fuchaka W, Lucy M, Tabitha N, Nelly M (2010) Agrobiodiversity endangered by sugarcane farming in Mumias and Nzoia Sugarbelts of Western Kenya. Afr J Environl Sci Technol 4(7):437

Odada EO, Daniel OO, Kassim KMN, Shem W (2004) Mitigation of environmental problems in Lake Victoria, East Africa: causal chain and policy options analyses. AMBIO 33:1–2

Omwoma S (2012) Environmental impacts of sugarcane farming, Kenya. LAP Lambert, Germany. http://www.bod.de/index.php?id=296&objk_id=668720

Omwoma S, Joseph OL, David MKO, Maurice BW (2010) Impact of fertilizers on heavy metal loads in surface soils in Nzoia nucleus estate sugarcane farms in Western Kenya. Bull Environ Contam Toxicol 85(6):602–608

Omwoma S, Lalah JO, Ongeri DMK, Owuor PO (2011) Impact of agronomic inputs in sugarcane farming on surface river water quality in the Lake Victoria Catchments. National Council for Science and Technology of Kenya conference on dissemination of research results, held on 3rd to 6th May 2011 at K.I.C.C. Nairobi, Kenya

Ongeri DMK (2008) Physicochemical parameters, heavy metal residue levels and their speciation studies in Lake Victoria Basin. PhD thesis, Maseno University

Scheren PAGM, Zanting HA, Lemmens AMC (2000) Estimation of water pollution sources in Lake Victoria, East Africa: application and elaboration of the rapid assessment methodology. J Environ Manage 58(4):235–248

Schroeder BL, Turner PET, Meyer JH, Robinson JB (1996) Advances in quantifying soil acidity and acidification rates in the South African sugar industry. In: Wilson JR, Hogarth JR, Campbell JA, Garside AL (eds) Sugarcane: research towards efficient and sustainable production, pp 256–258. CSIRO Division of Tropical Crops and Pastures, Brisbane

USEPA (United States Environmental protection Agency) (1979) Lead; ambient water quality criteria. Criteria and StandardsDivision, Office of Water Planning and Standards, Washington, DC

USEPA (United States Environmental protection Agency) (1980) Ambient water quality criteria for copper and lead. Springfield, VA: National Technical Information Service, PB 81: 117681. Washington, DC

USEPA (United States Environmental protection Agency) (2007) 40 CFR parts 136 and 503 guidelines establishing test procedures for the analysis of pollutants; analytical methods for biological pollutants in wastewater sewage sludge; final rule EPA–HQ–OW–2004–0014; FRL–8228–1 Federal Register 72(57)

Wood AW, Noble AD, Bramley RGV (2003) Sugar research and development corporation. Final Report project no. CSR024

Zueng-Sang C (2000) Relationship between heavy metal concentrations in soils of Taiwan and uptake by crops. Department of Agricultural Chemistry, National Taiwan University Taipei 106, Taiwan
Acknowledgments
We thank all the technical staff of the Department of Chemistry, Maseno University for their help. This work was partly supported by the IAEA CRP Project 13695/RO.
About this article
Cite this article
Omwoma, S., Nyaigoti Omwoyo, W., Alwala, J.O. et al. Nutrient reduction in runoff water from sugarcane farms by sedimentation method. Environmentalist 32, 494–502 (2012). https://doi.org/10.1007/s10669-012-9416-3
Keywords
Nutrients

Eutrophication

Sugarcane farming

Sedimentation

Kenya