Abstract
Man's increased demand for food and better living conditions has led to over exploitation of resources and the consequent generation of enormous amounts of liquid and solid waste materials. This is one of the global challenges for mankind. In Malaysia, palm oil mill waste (POMW) contributes the highest proportion of industrial solid wastes produced yearly. Wastes from the mills include palm oil mill effluent, decanter cake, empty fruit bunches, seed shells and the fibre from the mesocarp. Direct application of POMW into agricultural soil has resulted in a number of problems such as water pollution, leaching. However, with application rates specific for targeted plant species, land application can be employed as a permanent solution to the problem of waste from palm oil mills. This review examines the characteristics of each of the palm oil wastes and their potential for use as a future fertilizer supplement.
Access options
Buy single article
Instant access to the full article PDF.
USD 39.95
Price includes VAT (USA)
Tax calculation will be finalised during checkout.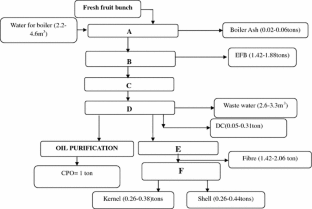 References
Abdullah M (2008) Recovery of green and healthy antioxidant from Palm Oil Mill Waste. http://www.palmoiltruthfoundation.com. Contributed by Mohamad Abdullah Wednesday, 06 August 2008

Adediran JA, Taiwo LB, Sobulo RA (2003) Effect of organic wastes and method of composting on compost maturity, nutrient composition of compost and yield of two vegetable crops. J Sustain Agri 22:95–109

AdeOluwa OO, Adeoye GO (2008) Potential of oil palm empty fruit bunch (EFB) as fertilizer in oil palm (Elaeis guineensis L Jacq.) nurseries. 16th IFOAM Organic World Congress, Modena, Italy, June 16–20, 2008, Archived at http://orgprints.org/view/projects/conference.html

Aisueni NO, Omoti U (1999) The making of compost from empty oil palm bunch refuses. Books of abstracts. Soil science society of Nigeria conference, Benin. 1999; 21–25: 48–49

Astimar AA, Das K, Husin M, Mokhtar A (2002) Effects of physical and chemical pre-treatments on xylose and glucose production from oil palm press fibre. J Oil Palm Res 14(2):10–17

Basiron Y (2006) Palm oil production through sustainable plantations. Eur J Lipid Sci Tech 109:289–295

Blatt CR (1991) Comparison of several organic amendments with a chemical fertilizer for vegetable production. Sci Hortic 47:177–191

Cayuela M, Miguel A, Sa′nchez-Monedero MA, Roig A (2008) Two-phase olive mill waste composting: enhancement of the composting rate and compost quality by grape stalks addition. Biodegradation 21:465–473

Chiroma TM, Abdulkarim BI, Kefas HM (2007) The impact of pesticide application on heavy metal (Cd, Pb and Cu) levels in Spinach. Leonardo Electron J Pract Technol 6(11):117–122

Chow MC, Ho CC (2000) Surface active properties of palm oil with respect to processing of palm oil. J Oil Palm Res 12(1):107–116

Corley RHV (1983) Potential productivity of tropical perennial crops. Exp Agric 19:217

Danmanhuri MA (1998) Hands-on experience in the production of empty fruit bunches (EFB) compost. Paper presented at the CETDEM Malaysian organic farming seminar. Petaling, Jaya, Selangor, Malaysia, 1998; 50–61. Dateline: 25/10/2002 09:45:09r

Dashiny G (2009) Oil recovery from palm oil solid wastes. Dissertation University, Malaya Pahang

Davis RD, Carlton-Smith CH (1980) Crops as indicators of the significance of contamination of soil by heavy metals. Water Research Centre Tech. Rep. TR140, Stevenage (UK)

Deraman M (1993) Carbon pellets prepared from fibers of oil palm empty fruit bunches: 1.A quantitative X-ray diffraction analysis. PORIM Bull Palm Oil Res Inst. Malaysia 26.

Ekwueribe CS, Osakwe JA, Chuku EC, Epidi TT (2008) Effect of oil palm sludge on cowpea nodulation and weed control in the humid forest zone of Nigeria. Afri J Biotechnol 7(16):2869–2873

Hamadan AB, Tarrmizi AM, Tayeb MD (1998) Empty fruit bunch mulching and nitrogen fertilizer amendment: the resultant effect on oil palm performance and soil properties. PORIM Bull Palm Oil Res Inst Malaysia 37:105–111

Haron K, Mohammed AT (2008). Efficient use of inorganic and organic fertilisers for oil palm and potential utilisation of decanter cake and boiler ash for biofertiliser production. In: Proceedings of the 2008 national seminar on biofertiliser, biogas and effluent treatment in the oil palm industry, P1; pp 21–32

Hartley CWS (1988) The oil palm, 3rd edn. Longman scientific and technical, Harlow

Hsieh SC, Hsieh CF (1990) The use of organic matter in crop production, vol 315. Taichung District Agricultural Improvement Station, Taiwan, pp 1–19

Jongtae L (2010) Effects of application methods of organic fertiliser on growth, soil chemical properties and microbial densities in organic bulb onion production. Sci Hortic 124:299–305

Kelepsei S, Nikos G, Tzortzakis S (2009) Olive mill wastes—a growing medium component for seedling and crop production of lettuce and chicory. Int J Veg Sci 15:325–329

Kittikun AH, Prasertan P, Srisuwan G, Krause A (2000) Environmental management for palm oil mill. Internet conference on material flow analysis of integrated bio-systems. March–October 2000. www.ias.unu.edu/proceedings/icibs/icmfa/kittikun/paper.html

Kolade OO, Coker AO, Sridhar MKC, Adeoye GO (2005) Palm kernel waste management through composting and crop production. J Environ Health Res 5(2):81–85

Lim B (2000) The New Straits Times. Thursday, December 28, 2000

Ma AN, Ong ASH (1985) Pollution control in palm oil mills in Malaysia. J Am Oil Chem Soc 62:261–266

Moyin-Jesu EI, Atoyosoye B (2002) Utilization of agricultural wastes for the growth, leaf and soil chemical composition of cocoa seedlings in the nursery. Pertanika J Trop Agric Sci Malays 26(1):49–58

Odedina SA, Ojeniyi SO, Awodun MA (2007) Effect of agro industrial wastes on nutrients status and performances of tomato. Glob J Environ Res 1(1):18–21

Onder T, Suat S, Mustafa C (2000) The effect of sewage sludge on the emergence and seedling growth in cucumber. J Agric Sci 11(1):1–4

Ordoñez C, Tejada M, Benitez C, Gonzalez JL (2006) Characterization of a phosphorus–potassium solution obtained during a protein concentrate process from sunflower flour. Application on rye-grass. Bioresour Technol 97:522–528

Ortiz RA, Villalobos E, Fernandez O (1992) Mulch and fertiliser effects on soil nutrient content, water conservation and oil palm growth. ASD Oil Palm Papers, 6

Pleanjai S, Gheewala SH, Garivait SS (2004) Environmental evaluation of biodiesel production from palm oil in a life cycle perspective. The joint international conference on 'Sustainable Energy and Environment (SEE)', Hua Hin, Thailand, 1–3 Dec 2004.

Prasertsan S, Prasertsan P (1996) Biomass residues from palm oil mill in thailand: an overview on quantity and potential usage. Biomass Bioenerg 11(5):387–395

Qasim M, Javed N, Himayatullah SM, Subhan M (2001) Effect of sewage sludge on the growth of maize crop. J Biol Sci 1(2):52–54

Ramli R, Shaler S, Jamaludin A (2002) Properties of medium density fibreboard from oil palm empty fruit bunch fibre. J Oil Palm Res 14(2):34–40

Rosnah MS, Astimar AA, Hasamudin W, Hassan W, Gapor MT (2009) Solid-state characteristics of microcrystalline cellulose from oil palm empty fruit bunch fibre. J Oil Palm Res 21:613–620

Rupani PF, Singh RP, Ibrahim MH, Esa N (2010) Review of current palm oil mill effluent (POME) treatment methods: vermicomposting as a sustainable practice. World Appl Sci J 11(1):70–81

Sanchez Monedero MA, Roig A, Cegarra J, Bernal MP, Noguera P, Abad M, Antón A (2004) Composts as media constituents for vegetable transplant production. Compost Sci Util 12(2004):161–168

Saw HY, Janaun J, Subbarao D (2008) Hydration properties of palm kernel cake. J Food Eng 89:227–231

Schuchardt F, Wulfert K, Darnoko, Herawan T (2008) Effect of new palm oil mil process on the EFB and POME utilisation. J Oil Palm Res pp 115–126. http://palmoilis.mpob.gov.my/publications/joproct2008sp.html

Silva JDC, Tamara LTB, Ademir AS, Rau MA, Regina LFG, Wanderley JM, Singh RP (2010) Effect of different tannery sludge compost amendment rates on growth, biomass accumulation and yield responses of Capsicum plants. Waste Manag 30(10):1976–1980

Singh RP, Agrawal M (2007) Effects of sewage sludge amendment on heavy metal accumulation and consequent responses of Beta vulgaris plants. Chemosphere 67:2229–2240

Singh RP, Agrawal M (2008) Potential benefits and risks of land application of sewage sludge. Waste Manag 28:347–358

Singh SN, Kulshreshtha K, Ahamad KJ (1997) Impact of fly ash soil amendment on seed germination, seedling growth and metal composition of Vicia faba L. Ecol Eng 9(1997):203–208

Singh RP, Ibrahim MH, Esa N, Iliyana MS (2010) Composting of waste from palm oil mill: a sustainable waste management practice. Rev Environ Sci Biotechnol 9:331–344

Singh RP, Embrandiri A, Ibrahim MH, Esa N (2011) Management of biomass residues generated from oil palm mill: vermicomposting a sustainable option. Resour Conserv Recy 55:423–434

Southworth A (1985) Palm oil and palm kernels. J Am Oil Chem Soc 62(2):250–254

Tabi MAN, Zakil AF, Fauzai MF, Ali N, Hassan O (2008) The usage of empty fruit bunch (EFB) and palm press fibre (PPF) as substrates for cultivation of pleurotus ostreatus. J Teknologi 49(F):189–196

Tangchirapat W, Saeting T, Jaturapitakkul C, Kiattikomol K, Siripanichgorn A (2007) Use of waste ash from palm oil industry in concrete. Waste Manag 27:81–88

Thambirajah JJ, Zulkifli MD, Hashim MA (1995) Microbiological and biochemical changes during the composting of oil palm empty fruit bunch; effect of nitrogen supplementation on the substrate. Bioresour Technol 52:133–144

Thani MI, Hussin R, Ibrahim WWR, Sulaiman MS (1999) Industrial processes and the environment: crude palm oil industry. Handbook No. 3. Department of Environment, Kuala Lumpur, pp 7–54

Wood BJ, Lim KH (1989) Developments in the utilization of palm oil and rubber factory effluents. Planter 65:81–98

Yacob S(2008) Progress and challenges in utilization of palm biomass. Advanced Agriecological Research Sdn.Bhd. http://www.jst.go.jp/asts/asts_j/files/ppt/15_ppt.pdf

Yusoff S (2004) Renewable energy from palm oil—innovation on effective utilization of waste. J Clean Prod 14(2006):87–93

Yusoff S, Hansen SB (2007) Feasibility study of performing a life cycle assessment on crude palm oil production in Malaysia. Int J Life Cycle Ass 12:50–58

Yusri A, Mat Rasol A, Mohammed O, Azizah H, Kume T, Hashimoto S (1995) Biodegradation of oil palm empty fruit bunch into compost by composite micro-organisms. Paper presented at the EU-ASEAN conference combustion of solids and treated product

Zahrim AY, Rakmi AR, Kalil MS (2007) Sludge composting: a case study on palm oil mill sludge (POMS). AJChE 7(2):102–107

Zainudin F, Lee KT, Kamaruddin AH, Bhatia S, Mohamed AR (2005) Study of adsorbent prepared from oil palm ash (OPA) for flue gas desulfurisation. Sep Purif Technol 40:50–60
Acknowledgment
The authors are very grateful to Prof. Sultan A. Ismail for his encouragement and suggestions throughout the editing of this manuscript. We would also like to thank Universiti Sains Malaysia under the PRGS 1001/PTEKIND/844080 grant scheme for the funding provided.
About this article
Cite this article
Embrandiri, A., Singh, R.P., Ibrahim, H.M. et al. Land application of biomass residue generated from palm oil processing: its potential benefits and threats. Environmentalist 32, 111–117 (2012). https://doi.org/10.1007/s10669-011-9367-0
Keywords
Empty fruit bunch

Decanter cake

Palm kernel cake

Land application

Composting