Abstract
Water is an essential element for humankind, animals, and plants. It is also an important element of the aquatic environment (the natural habitat of multiple species), where its quality plays a determining role in their protection and conservation. Unfortunately, the water quality of natural environments has worsened in the last decades. In sub-Saharan Africa and particularly in Bénin, in contrast to river discharges, monitoring the quality of surface water is a very rare activity. Thus, knowledge about physical and chemical properties as a basis for evaluation of the state of the environment and protection measures needed is almost absent. This article presents the results of the first structured, regular monitoring campaign on surface waters in the whole basin of the Ouémé River in Bénin Republic. With 510 km, the Ouémé River's water quality fluctuates from upstream (Taneka Koko mountains in the north) to downstream (gauging station Bonou in the south) sources. This is due to soil erosion, lack of water treatment plants, and the use of significant quantities of fertilizer in the cotton zone. The present research was initiated to study the resource degradation of this area through chemical and physical water analysis. The monitoring of water quality has been followed for 5 years on twenty physicochemical parameters, from samples taken at four gauging stations on the main channel of the Ouémé River. Means and standard deviations of water analysis results were compared to both the recommendations of the World Health Organization (WHO) and the Maximum Permissible Concentrations (MPC) for drinking water (WHO 1987). Thus, high values were observed for physical parameters, i.e., color and turbidity had peaks of 697.5 uC and 129 FTU at Bétérou station in the wet season, although certain parameters, such as total hardness, present low values compared to the recommended standards. Moreover, excluding the concentrations of NO2 − and NH4 + with values above the MPC, nutrient concentrations posed no direct risk for human consumption. However, together with phosphate concentrations (which are up to ten times higher than permissible ecological thresholds), they can cause eutrophication of the aquatic ecosystem. Due to the current flow regime, which has very low discharge rates in the dry season and torrential rainfall and high sediment loads in the wet season, the risk of eutrophication, i.e., excessive concentrations of ammonium and phosphates, is present throughout the year. Accumulation of ammonium and the distribution of nitrate and nitrites in the river water suggest that nitrification is impeded due to a lack of oxygen in both dry and wet seasons. Finally, the investigations show that the risk of water pollution exists and it is necessary to take measures of sanitation and water treatment to prevent the further degradation of water along the Ouémé River.
Access options
Buy single article
Instant access to the full article PDF.
USD 39.95
Price includes VAT (USA)
Tax calculation will be finalised during checkout.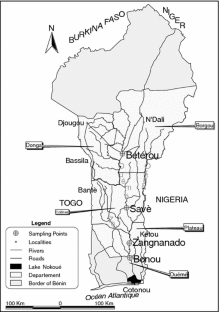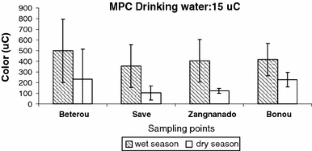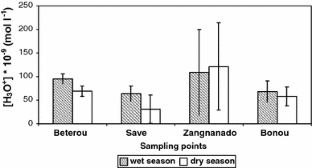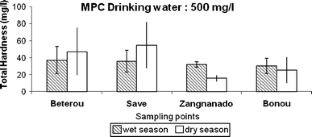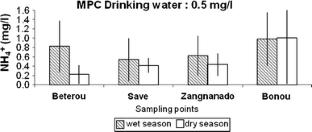 References
Adam KS, Boko M (1983) Le Bénin, SODIMAS/EDICEF, 95 p

Agbossou KE (1994) Etude de la consommation en eau de la canne à sucre sur le complexe sucrier de Savè (Bénin): contribution à l'amélioration de l'irrigation. Dissertation, École nationale du génie rural, des eaux et des forêts (ENGREF), Paris

Ajibade LT (2004) Assessment of water quality along river Asa, Ilorin, Nigeria. Environmentalist 24:11–18

Akoto O, Adiyiah J (2008) Dissolved nitrogen in drinking water resources of farming communities in Ghana. Afr J Environ Sci Tech 2:31–35

Azonnakpo OV (2005) Approvisionnement et gestion des ressources en eau dans la commune de pobè. Mémoire de maîtrise de Géographie, FLASH. Université Abomey-Calavi, Bénin, p 84

Baijot E, Moreau J, Bouda S (1991) Aspects hydrobiologiques et piscicoles des retenues d'eau en zone soudano-sahélienne. Centre Technique de Coopération agricole et Rurale, CTA, Wageningen, The Netherlands. pp 1–53

Bogardi I, Kuzelka RD, Ennenga WG (1991) Nitrate contamination : exposure, consequence and control. NATO ASI Series G: ecological sciences, vol 30. Springer, New York

Bremond R, Perrodon C (1979) Paramètres de la qualité des eaux, 2nd edn. Ministry of Environment, Paris

Chalk MP (2000) In: Bacchi OOS, Reichardt K et Calvache M (eds) Les sondes à neutrons et à rayons Gamma: leurs applications en agronomie. International Atomic Energy Agency (AIEA), Vienna

Chimwanza B, Mumba PP, Moyo BHZ, Kadewa W (2006) The impact of farming on river banks on water quality of the rivers. Int J Environ Sci Technol 2:353–358

Desjardins R (1997) Le traitement des eaux. 2è édition revue améliorée. Editions de l'Ecole Polytechnique de Montréal, Canada

DH (2000) Vision eau 2025. Direction Générale de l'Hydraulique, Bénin

Fakorédé AIM (2002) La gestion des ressources en eau par les communautés rurales de la Sous-préfecture de Ouèssè. Mémoire de Maîtrise en Géographie. DGAT/FLASH. Université Abomey-Calavi, Bénin

Gaujous D (1995) La pollution des milieux aquatiques: aide-mémoire. 2nd édn. Lavoisier, Paris

Grosclaude G (1998) L'eau. Tome II: usages et polluants. Institut National de la Recherche Agonomique, INRA, Paris, pp 11–15

IFEN (2003) La qualité de l'eau : une préoccupation environnementale forte. Données de l'environnement No. 91, Institut Français de l'Environnement. http://www.ifen.fr/publications/DE/de91.htm. Accessed 16 June 2010

IFREMER (2001) L'eutrophisation des eaux marines et saumâtres en Europe, en particulier en France. Rapport, Direction de l'Environnement et de l'Aménagement Littoral DEL/EC/01.02, Commission Européenne–DG.ENV.B1, Brussels, Belgique

INSAE (2002) Recensement Général de la Population et de l'Habitat. Institut National de la Statistique et de l'Analyse Economique, Cotonou

Kamagaté B (2006) Fonctionnement hydrologique et origine des écoulements sur un bassin versant de milieu tropical de socle au bénin : Bassin versant de la Donga (Haute Vallée de l'Ouémé). Dissertation, Université Montpellier II, France

Lalèyè P (2004) Ecologie des eaux continentales. Notes de cours de DESS/Aménagement et gestion des ressources naturelles, FSA. Université Abomey-Calavi, Bénin

Le Barbé L, Alé G, Millet B, Texier H, Borel Y, Guralde R (1993) Les ressources en eaux superficielles de la république du Bénin. ORSTOM, Paris

Marga J (1996) Les ressources en eau : conception et évaluation. Edition BRGM cartographie comptabilité Orléans cedex, France

Moiseenko TI (2005) Ecotoxicological approach to water quality assessment. Water Resour 32:163–174

Radomskii SM, Radomskaya VI, Matyugina EB, Gusev MN (2007) Basic physicochemical characteristics of the state of upper amur surface water. Water Resour 34:60–69

Rodier, J. (1984) L'analyse de l'eau: eaux naturelles, eaux résiduaires, eau de mer. 7è édn, Bordas, Paris

Schindler DW (1977) Evolution of phosphorus limitation in lakes. Sci 195:260–262

Sharpley AN, Daniel TC, Sims JT, Pote DH (1996) Determining environmentally sound soil phosphorus levels. J Soil Water Cons 51:160–166

UCTAG (2003) Guidance on selection of risk assessment criteria in relation to biological classification schemes for rivers. (Working Draft). UK Technical advisory group on the water framework directive. http://www.wfduk.org/tag_guidance/Article_05/Folder.2004-02-16.5332/TAG2003%20WP%207f%20(01). Accessed 17 August 2010

Vetsler NM, Ukolova TK, Sviridenko VD (2006) Long-term variability of oxygen and mineral phosphorus concentrations in Lake Dal'nee (Kamchatka). Water Resour 34:76–681

Wagner EG, Lanoix JN (1961) Approvisionnement en eau des zones rurales et des petites gglomérations. Série de Monographie, vol 42. OMS, Genève

WHO (1987) Normes Internationales pour l'eau de boisson, 3ème edn. WHO, Genève

Yehouenou-Pazou AE (2005) Les résidus de pesticides chimiques de synthèse dans les eaux, les sédiments et les espèces aquatiques du bassin versant du fleuve Ouémé et du lac Nokoué. Dissertation, Université d'Abomey-Calavi, Bénin

Zakaria L (1992) L'eau source de vie, Thèmes clefs d'Afrique. Encyclopédie Afrique Jeunes. Agence de coopération culturelle et technique (ACCT), Paris

Zardava K, Kiourtsidis C, Ganoulis J, Hounsou M, Ahamidé B, Agbossou E (2006) Modélisation de la Qualité de l'Eau du fleuve Ouémé. Actes de l'Atelier de restitution des résultats de recherche du projet RIVERTWIN, Parakou, pp 39–48

Zogo D (1980) Caractéristiques physico-chimiques, bactériologiques et traitements des eaux de consommation en république Populaire du Bénin. Mémoire de fin d'étude. Collège Polytechnique Universitaire, Abomey-Calavi
Acknowledgments
This work was supported respectively by the European Commission (Research Project RIVERTWIN) and by NPT 145. The authors are grateful for their financial support to facilitate the analyses in the laboratory. The anonymous reviewers are acknowledged for their valuable comment.
About this article
Cite this article
Hounsou, M.B., Ahamide, B., Agbossou, E.K. et al. Evaluation of water quality in the Ouémé River (Bénin). Environmentalist 31, 407–415 (2011). https://doi.org/10.1007/s10669-011-9356-3
Keywords
Water quality

Monitoring

Pollution

Eutrophication

Bénin Republic

West Africa