Abstract
The vermicomposting ability of Lampito mauritii (Kinberg) and Perionyx ceylanensis Michaelsen was evaluated by using three different types of organic substrates such as leaf litter of Polyalthia longifolia, Pennisetum typhoides cobs (pearl millet) and a weed, Rottboellia exaltata (whole plant except the roots) in combination with cowdung (1:1). Vermicomposting studies (120 days) conducted to optimize the number of worms required for efficient conversion based on the reduction of C/N ratio, percentage decomposition of organic substrates, total number and biomass of earthworms recovered from the vermibed substrates clearly showed that vermibeds with 4 kg of organic materials can hold about 60–80 L. mauritii and about 90–120 P. ceylanensis for efficient decomposition. The percentage decomposition of each organic substrate treated with different numbers of L. mauritii (20, 40, 60, 80 and 100 earthworms) and P. ceylanensis (30, 60, 90, 120 and 150) showed significant difference (P < 0.001) between numbers of worms introduced per vermibed but the difference between substrates was not significant within the treatments. Vermicomposting resulted in significant increase in electrical conductivity (28.54–49.82%), total nitrogen (43.96–90.83%), total phosphorus (27.42–68.10%) and total potassium (27.42–113.18%), whereas decrease in organic carbon (35.05–49.74%), C/N ratio (55.48–73.18%) and C/P ratio (50.46–66.90%) in different vermibeds introduced with L. mauritii and P. ceylanensis. Both the earthworm species can be used for vermicomposting different organic substrates; however, duration of vermicomposting with P. ceylanensis is not as much of L. mauritii. The use of L. mauritii for vermicomposting of other substrates has been well established by other workers also but standardization of P. ceylanensis, a locally available species, for vermicomposting of different organic substrates is a new finding and the species could be useful for vermiconversion of organic substrates under local conditions.
Access options
Buy single article
Instant access to the full article PDF.
US$ 39.95
Tax calculation will be finalised during checkout.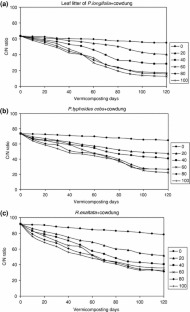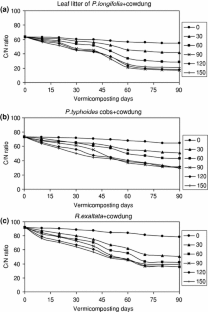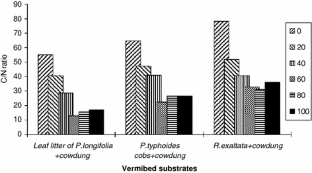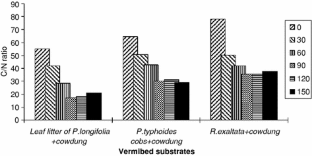 References
Brady NC (1988) The nature and properties of soils. Eurasia Publishing House (P) Ltd., New Delhi

Chaudhuri PS, Bhattacharjee G (2002) Capacity of various experimental diets to support biomass and reproduction of Perionyx excavatus. Bioresour Technol 82:147–150. doi:10.1016/S0960-8524(01)00169-9

Chopra SL, Kanwar L (1991) Analytical agricultural chemistry, 4th edn. Kalyani Publishers, New Delhi

Daniel T, Karmegam N (1999) Bio-conversion of selected leaf litters using an African epigeic earthworm, Eudrilus eugeniae. Ecol Environ Conserv 5:273–277

Gajalakshmi S, Ramasamy EV, Abbasi SA (2002) Vermicomposting of different forms of water hyacinth by earthworm Eudrilus eugeniae Kinberg. Bioresour Technol 82:165–169. doi:10.1016/S0960-8524(01)00163-8

Garg P, Gupta A, Satya S (2006) Vermicomposting of different types of waste using Eisenia foetida: A comparative study. Bioresour Technol 97:391–395. doi:10.1016/j.biortech.2005.03.009

Gaur AC (1995) Recycling of rural and urban wasted through conventional and vermicomposting. Fertilizer Development Consultation Organization, New Delhi

Govindan VS (1998) Vermiculture and vermicomposting. In: Trivedy RK, Arvind Kumar (eds) Ecotechnology for pollution control and environmental management. Einviro Media, Karad, pp 49–57

Haimi J, Huhta V (1986) Capacity of various organic residues to support adequate earthworm biomass for vermicomposting. Biol Fertil Soils 2:23–27. doi:10.1007/BF00638957

Hartenstein R (1981) Soil macroinvertebrates, aldehyde oxidase, catalase, cellulase and peroxidase. Soil Biol Biochem 15:51–54. doi:10.1016/0038-0717(83)90118-9

Hartenstein R, Hartenstein F (1981) Physico-chemical changes effected in activated sludge by the earthworm, Eisenia fetida. J Environ Qual 10:377–382

Ismail SA (1997) Vermicology–the biology of earthworms. Orient Longman Ltd., Chennai

Jackson ML (1973) Soil chemical analysis. Prentice Hall of India Pvt. Ltd., New Delhi

Joshi NV, Kelkar BV (1952) Role of earthworms in soil fertility. Indian J Agric Sci 72:169–196

Julka JM (1993) Earthworm resources of India and their utilization in vermiculture. In: The Director, Zoological Survey of India (ed) Earthworm resources and vermiculture. Calcutta, pp 51–56

Kale RD, Bano K (1991) Time and space relative population growth of Eudrilus eugeniae. In: Veeresh GK, Rajagopal D, Virakthamath CA (eds) Advances in management and conservation of soil fauna. Oxford IBH Publication, New Delhi, pp 657–664

Kale RD, Bano K, Krishnamoorthy RV (1982) Potential of Perionyx excavatus for utilizing organic wastes. Pedobiologia (Jena) 23:419–425

Karmegam N, Daniel Thilagavathy (2000a) Decomposition of leaf litters using the compost worm, Eisenia fetida. Indian J Environ Ecoplann 3:111–116

Karmegam N, Daniel Thilagavathy (2000b) Utilization of some weeds as substrates for vermicompost preparation using epigeic earthworm, Eudrilus eugeniae. Asian J Microbiol Biotechnol Environ Sci 2:63–66

Karmegam N, John Paul JA, Daniel T (2003) Vermicomposting potential of some earthworm species of South India. In: Arvind Kumar (ed) Environmental challenges of 21st century. APH Publishing Corporation, New Delhi, pp 599–611

Krishnamoorthy RV (1990) Mineralization of phosphorus by faecal phosphatases of some earthworms of Indian tropics. Proc Indian Acad Sci 99:509–518 Animal science

Lee KE, Foster RC (1991) Soil fauna and soil structure. Aust J Soil Res 29:745–776. doi:10.1071/SR9910745

Lehninger LA, Nelson LD, Cox MM (1996) Principles of biochemistry. CBS Publishers and Distributors, New Delhi

Parthasarathi K, Ranganathan LS (2000) Chemical characterization of mono and polycultured soil worm casts by tropical earthworms. Environ Ecol 18:742–746

Ranganayaki MD, Mary Babu Ismail SA, Mahendrakumar (1991) A novel technique for the preparation of biofertilizers from proteinaceous solid wastes from tannery. Chem Week 37:129

Reeh U (1992) Influence of population densities on growth and reproduction of the earthworm Eisenia andrei on pig manure. Soil Biol Biochem 24:1327–1331. doi:10.1016/0038-0717(92)90113-C

Reinecke AJ, Viljoen SA (1990) The influence of worm density on growth and cocoon production of the compost worm Eisenia fetida (Oligochaeta). Revue d'Écologie ed de Biologie du Sol 27:221–230

Singh J (1997) Habitat preference of selected Indian earthworm species and their efficiency in reduction of organic materials. Soil Biol Biochem 29:585–588. doi:10.1016/S0038-0717(96)00183-6

Suthar S (2007) Vermicomposting potential of Perionyx sansibaricus (Perrier) in different waste materials. Bioresour Technol 98:1231–1237. doi:10.1016/j.biortech.2006.05.008

Suthar S, Singh S (2008) Vermicomposting of domestic waste by using two epigeic earthworms (Perionyx excavatus and Perionyx sansibaricus). Int J Environ Sci Technol 5:99–106

Tandon HZ (1993) Methods of analysis of soils, plant, water and fertilizers. Fertilizer Development and Consultation Organization, New Delhi, p 148

Tripathi G, Bhardwaj P (2004) Decomposition of kitchen waste amended with cow manure using epigeic species (Eisenia fetida) and an anecic species (Lampito mauritii). Bioresour Technol 92:215–218. doi:10.1016/j.biortech.2003.08.013

Viljoen SA, Reinecke AJ (1994) The life-cycle and reproduction of Eudrilus eugeniae under controlled environmental conditions. Mitteilungen aus dem hamburgischen Zoologischen Museum und Institut 89:149–157

Walkley A, Black IA (1934) An examination of the Degtjareff method for determining soil organic matter and prepared modification of the chronic acid titration method. Soil Sci 34:29–38
Acknowledgement
Authors are thankful to Dr.J.M. Julka, Solan, Himachal Pradesh, for the identification of the earthworms (Ref.: EI/3 dt. 12-03-1999 & 22-01-2000).
About this article
Cite this article
Karmegam, N., Daniel, T. Investigating efficiency of Lampito mauritii (Kinberg) and Perionyx ceylanensis Michaelsen for vermicomposting of different types of organic substrates. Environmentalist 29, 287–300 (2009). https://doi.org/10.1007/s10669-008-9195-z
Received:

Accepted:

Published:

Issue Date:
Keywords
Vermicomposting

Decomposition

Lampito mauritii
Perionyx ceylanensis

Worm biomass

C:N ratio