Abstract
The cultivation of white rot edible fungus Pleurotus florida was performed in polybags. The corn cob was employed as basal substrate while eight different additives such as urea, ammonium sulphate, gram flour, soybean meal, ground nut cake and molasses were used with corn cob. Three different levels of variable combinations with corn cob were evaluated in response to different parameters of mushroom viz., mycelial growth, spawn running, primordial initiation, fruit body yield and its biological efficiency. Each additive at different combinations showed variable impact on the different stages of mushroom life cycle. The primordial initiation was observed for the first time during 20.2–35.1 days. The biological efficiencies in every supplemented set were increased over un-supplemented control set. Increasing the level of additives, the biological efficiency was negatively affected at higher levels. The cotton seed cake was found the best supplement producing 93.75% biological efficiency while soybean meal was the second best additive producing 93.00% yield. The highest growth rate, rapid mycelia run, early primordial initiation, highest yield and biological efficiency were recorded in the combination of corn cob and cotton seed cake at 2% (98 + 2) level.
Access options
Buy single article
Instant access to the full article PDF.
USD 39.95
Price includes VAT (USA)
Tax calculation will be finalised during checkout.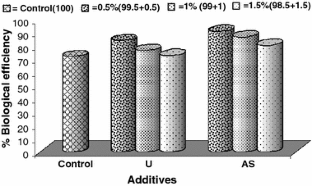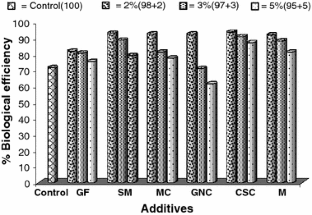 References
Azizi KA, Shamla TR, Sreekantiah KR (1990) Cultivation of Pleurotus sajor-caju on certain agro-wastes and utilization of the residues for cellulase and D-xylanase production. Mushroom J Trop 10:21–26

Balakrishnan B, Nair MC (1995) Production technology of oyster mushroom. In: Chadha KL, Sharma SR (eds) Advances in horticulture, vol 13. Mushroom Malhotra Publishing House, New Delhi, pp 109–116

Banik KS, Nandi R (2004) Effect of supplementation of rice straw with bagasse residual slurry manure on the yield, protein and mineral contents of oyster mushroom. Ind Crop Prod 20:311–319

Bano Z, Rajrathnam S (1983) Studies on cultivation of Pleurotus sajor-caju. Mushroom News Lett Trop 3:12–15

Baysal E, Peker H, Yalinkilic MK, Temiz A (2003) Cultivation of oyster mushroom on waste paper with some added supplementary materials. Bioresour Technol 89:95–97

Beever RE, Bollard EG (1970) The nature of the stimulation of fungal growth by potato extract. J Gen Microbiol 60:273–279

Betterley DA (1988) Supplementation rate; study and effect of supplementation at spawning on mushroom yield, size and quality. Spawnmate Newslett 7:1–4

Curvetto NR, Figlas D, Devalis R, Delmastro S (2002) Growth and productivity of different Pleurotus ostreatus strains on sun flower seed hulls supplemented with N-NH +4 and/or Mn (II). Bioresour Technol 84:171–176

Demirci Z (1998) Utilization of non woody waste product for Pleurotus ostreatus cultivation in the region of Eastern Black Sea. M.Sc. thesis, Trabzon, Turkey

Dhar BL, Kapoor JN (1990) Post composting nutrient supplementation for increased yields in India. Phytopathology 43:74–76

Duncan KW (1997) An ecophysiological approach to the evaluation, modification and production of mushroom growing media. Mushroom News 45:12–17

Gupta Y, Vijay B (1991) Post composting supplementation in Agaricus bisporus under seasonal growing conditions. 13th International Congress of ISMS held at Dublin, Ireland

Kalmis E, Sargin S (2004) Cultivation of two Pleurotus species on wheat straw substrates containing olive mill waste water. Int Biodeter Biodegr 53:43–47

Khanna PK, Bhandari R, Soni GL, Garcha HS (1992) Evaluation of Pleurotus spp. for growth, nutritive value and antifungal activity. Indian J Microbiol 32:197–200

Lelley JJ, JanBen A (1993) Productivity improvement of oyster mushroom substrate with a controlled release of nutrient. Mushroom News 41:6–13

Mandeel QA, Al-Laith AA, Mohamed SA (2005) Cultivation of oyster mushroom (Pleurotus spp.) on various lignocellulosic wastes. World J Microbiol Biotechnol 21:601–607

Mukhopadhyay R, Chatterjee PB, Guha AK (2002) Biochemical changes during fermentation of edible mushroom Pleurotus sajor-caju in whey. Process Biochem 38:723–725

Pant D, Reddy UG, Adholeya A (2006) Cultivation of oyster mushrooms on wheat straw and bagasse substrate amended with distillery effluent. World J Microbiol Biotechnol 22:267–275

Ragunathan R, Gurusamy R, Palaniswamy M, Swaminathan K (1996) Cultivation of Pleurotus spp. on various agro-residues. Food Chem 55:139–144

Ralph H, Kurtzman JR (1994) Nutritional needs of mushroom and substrate supplements. In: Nair MC (ed) Advances in mushroom biotechnology. Scientific Publishers, Jodhpur. India, pp. 106–110

Randle PE (1985) Supplementation of mushroom compost—a review. Mushroom J 52:263–269

Sanchez A, Ysunza F, Beltran-Garcia MJ, Esqueda M (2002) Biodegradation of viticulture wastes by Pleurotus: a source of microbial and human food and its potential use in animal feeding. J Agr Food Chem 50:2537–2542

Sashirekha MN, Rajrathnam S, Bano Z (2005) Effect of supplementing rice straw substrate with cotton seeds on the analytical characteristics of the mushroom, Pleurotus florida (Block & Tsao). Food Chem 92:255–259

Schisler LC, Sinden JW (1966) Nutrient supplementation of mushroom compost at casing vegetable oils. Can J Bot 44:1063–1067

Tisdale TE, Miyasaka SC, Hemmes DE (2006) Cultivation of the oyster mushroom (Pleurotus ostreatus) on wood substrates in Hawaii. World J Microbiol Biotechnol 22:201–206

Tshinyangu KK, Hennebert GL (1995) Effect of synthetic nutrient carriers on the fruiting of Pleurotus ostreatus var. Columbinus 54:249–254

Xing ZT, Cheng JH, Tan Q, Pan YJ (2006) Effect of nutritional parameters on laccasse production by the culinary and medicinal mushroom, Grifola frondosa. World J Microbiol Biotechnol 22:799–806
Acknowledgement
The authors are grateful to the Department of Biotechnology (DBT), New Delhi, India for the financial assistance.
About this article
Cite this article
Naraian, R., Sahu, R.K., Kumar, S. et al. Influence of different nitrogen rich supplements during cultivation of Pleurotus florida on corn cob substrate. Environmentalist 29, 1 (2009). https://doi.org/10.1007/s10669-008-9174-4
Received:

Accepted:

Published:
Keywords
Biological efficiency

Corn cob

Fruit body yield

Oyster mushroom

Pleurotus spp.

Substrate amendment