Abstract
A gap in carbon accounting within the global south and particularly in Africa is the unavailability of ordinary emission factors which may be a factor of the unavailability of activity data required to work out emission factors. The purpose of the study is to assess the carbon footprint of one of the oldest universities in West Africa and the oldest in Nigeria, the University of Ibadan. The methodology used for this is the GHG protocol by the World Resources Institute and World Business Council for Sustainable Development framework. The activities of the higher institution as presented in this study still require greater attention in the reduction emission campaign and transitioning to renewable alternative energy. This study reports the emissions on the University of Ibadan campuses that are related to Scopes 1 and 2 (direct and indirect emissions). The total CF is 5,270.952 t/CO2 eq (metric tons of CO2 equivalent), and the CF in Scope 1 and Scope 2 was estimated at 4% and 90%, respectively. Scope 2, which measures indirect emissions generated via purchased electricity, produced the highest contribution of 4,757.83 tCO2e. The activities of higher institutions as presented in this study still require greater attention in the reduction emission campaign. Higher institutions should make a conscious effort to ensure that they are at the forefront in the fight against global warming by looking closely into their activities and ensuring that they limit their carbon emission to the barest minimum.
This is a preview of subscription content,
to check access.
Access this article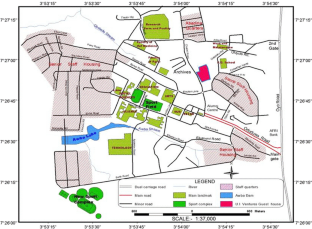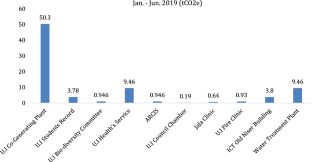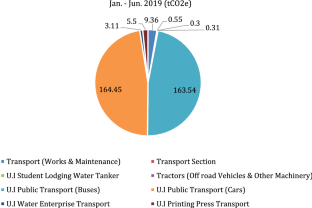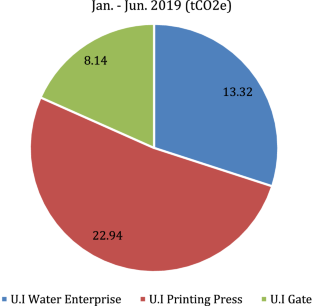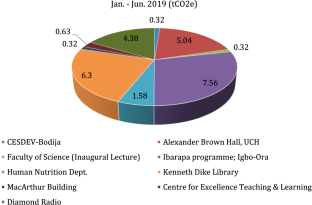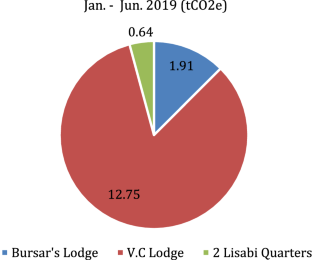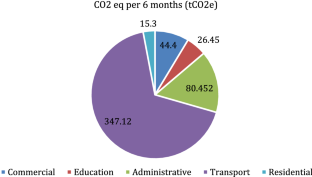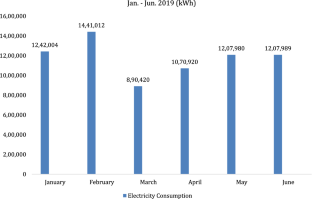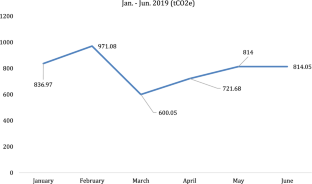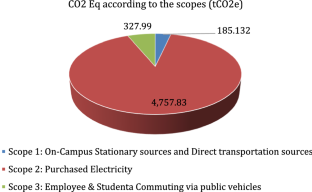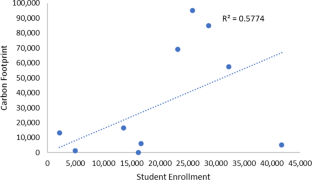 References
Baiocchi, G., Minx, J., & Hubacek, K. (2010). The impact of social factors and consumer behaviour on carbon dioxide emissions in the United Kingdom. Journal of Industrial Ecology, 14(1), 50–72.

Bin, S., & Dowlatabadi, H. (2005). Consumer lifestyle approach to US energy use and the related CO2 emissions. Energy Policy, 33(2), 197–208.

Capoor, K., & Ambrosi, P. (2009). State and trends of the carbon market 2009. The World Bank.

Carbon Trust, (2007). Carbon footprinting. An introduction for organizations. Available online at http://www.carbontrust.co.uk/publications/publicationdetail.htm?productid=CTV033.

Climate Care, (2019). Climate Care Footprint Calculator.

Change, C. (2007). IPCC fourth assessment report. The Physical Science Basis, 2, 580–595.

Chukwu, P. U., Haruna, I., Ojosu, J., & Olayande, J. S. (2015). Energy Consumption in Transport Sector in Nigeria: Current situation and ways forward Energy Planning and Analysis Department, Energy Commission of Nigeria.

Courchene, T. J., & Allan, J. R. (2008). Climate change: The case of carbon tariff/tax. Policy Options, 3, 59–64.

Department of Energy and Climate Change. (2010). Low carbon transition plan. DECC.

Environmental Protection Agency (EPA). (2017). Greenhouse gas emissions. Retrieved from http://www.epa.gov/ghgemissions/global-greenhouse-gas-emissions-data.

Good Company. (2008). The City of Vancouver, Washington: Corporate greenhouse gas emissions inventory for calendar years 2006 and 2007 report and analysis. Oregon: Good Company.

Gough, I., Abdallah, S., Johnson, V., Collins, J. and Smith, C. (2011). The Distribution of Total Greenhouse Gas Emissions by Households in the UK, and Some Implications for Social Policy.

Helmers, E., Chang, C. C., & Dauwels, J. (2021). Carbon footprinting of universities worldwide: Part I—objective comparison by standardized metrics. Environmental Sciences Europe, 33(1), 1–25.

IPCC, (2006). "Guidelines for National Greenhouse Gas Inventories, Estimation Methods", General Guidance and Report.

Jabbour, C. J. C. (2010). Greening of business schools: A systemic view. International Journal of Sustainability in Higher Education, 11(1), 49–60. https://doi.org/10.1108/14676371011010048

Kenny, T., & Gray, N. F. (2008). Comparative performance of six carbon footprint models for use in Ireland. Environmental Impact Assessment Review, 29, 1–6.

Kolka, A., Levyb, D., & Pinkesa, J. (2008). Corporate responses in an emerging climate regime: The institulisation and commensuration of carbon disclosure. European Accounting Review, 17(4), 719–745.

Letete, T. C. M., Mungwe, N. W., Guma, M., & Marquard, A. (2011). Carbon footprint of the University of Cape Town. J Energy Southern Africa, 22(2), 2–12.

Letete, T. N., Mungwe, W., & Guma, M. (2010). Report: University of Cape Town carbon footprint. University of Cape Town.

Li, X., Hongwei Tan, H., & Rackes, A. (2015). Carbon footprint analysis of student behavior for a sustainable university campus in China. Journal of Cleaner Production, 106, 97–108.

LLP, L. C. (2007). The LEK Consulting carbon footprint report 2007: Carbon footprints and the evolution of brand–consumer relationships. LEK Consulting Research Insights, I. London, LEK LLB.

Pachauri, S., & Spreng, D. (2002). Direct and indirect energy requirements of households in India. Energy Policy, 30(6), 511–523.

Padgett, J. P., Steinemann, A. C., Clarke, J. H., & Vandenbergh, M. P. (2008). A comparison of carbon calculators. Environmental Impact Assessment Review, 28, 106–115.

Passianoto, C. C., Ahrens, T., Feigl, B. J., Steudler, P. A., Do Carmo, J. B., & Melillo, J. M. (2003). Emissions of CO2, N2O, and NO in conventional and no-till management practices in Rondônia. Brazil. Biology and Fertility of Soils, 38(4), 200–208.

Rich D. (2008). Designing a U.S. Greenhouse Gas Emissions Registry. Climate and energy. World Resource Institute.

Ridhosari, B., & Rahman, A. (2020). Carbon footprint assessment at Universitas Pertamina from the scope of electricity, transportation, and waste generation: toward a green campus and promotion of environmental sustainability. Journal of Cleaner Production, 246, 119172.

Saidan, M., Khasawneh, H. J., Aboelnga, H., Meric, S., Kalavrouziotis, I., Hayek, B. O., Al-Momany, S., Al Malla, M., & Porro, J. C. (2019). Baseline carbon emission assessment in water utilities in Jordan using ECAM tool. JoUrnal of Water Supply: Research and Technology-Aqua, 68(6), 460–473.

Sangwan, K. S., Bhakar, V., Arora, V., & Solanki, P. (2018). Measuring carbon footprint of an Indian university using life cycle assessment. Procedia CIRP, 69, 475–480.

Scipioni, A., Mastrobuono, M., Mazzi, A., & Manzardo, A. (2010). Voluntary GHG management using a life cycle approach. A case study. Journal of Cleaner Production, 18(4), 299–306.

Serino, M. N., & Klasen, S. (2015). Estimation and determinants of the Philippines' household carbon footprint. The Developing Economies, 53(1), 44–62.

Solomon S, Manning M, Marquis M, & Qin D (2007) Climate change 2007-the physical science basis: Working group I contribution to the fourth assessment report of the IPCC (Vol. 4). Cambridge university press.

Standard, G. P. (2011). The greenhouse gas protocol.

Tukker, A., Cohen, M. J., Hubacek, K., & Mont, O. (2010). The impacts of household consumption and options for change. Journal of Industrial Ecology, 14(1), 13–30. https://doi.org/10.1111/j.1530-9290.2009.00208.x

UNDP. (2007). Human development report 2007/2008: Fighting climate change: Human solidarity in a divided world. Palgrave Macmillan.

UNFCCC (2012) Report of the Conference of the Parties on its eighteenth session, held in Doha from 26 November to 8 December 2012. Addendum. Part Two: Action taken by the Conference of the Parties at its eighteenth session. FCCC/CP/2012/8/Add.1. Bonn: United Nations Framework Convention on Climate Change

Wang, Y., & Shi, M. (2009). CO2 emissions induced by urban household consumption in China. Chinese Journal of Population and Resources and Environment, 7(3), 11–19.

Wiedmann, T., & Minx, J. (2007). A definition of carbon footprint. ISAUK Research Report 07-01, Durham: ISAUK Research & Consulting.

Wihersaari, M. (2005). Evaluation of greenhouse gas emission risks from storage of wood residue. Biomass and Bioenergy, 28(5), 444–453.

WRI/WBCSD. (2004). The greenhouse gas protocol: A corporate accounting and reporting standard revised edition. Geneva: World Business Council for Sustainable Development and World Resource Institute.
Additional information
Publisher's Note
Springer Nature remains neutral with regard to jurisdictional claims in published maps and institutional affiliations.
About this article
Cite this article
Adeyeye, D., Olusola, A., Orimoloye, I.R. et al. Carbon footprint assessment and mitigation scenarios: a benchmark model for GHG indicator in a Nigerian University. Environ Dev Sustain 25, 1361–1382 (2023). https://doi.org/10.1007/s10668-021-02098-1
Received:

Accepted:

Published:

Issue Date:

DOI: https://doi.org/10.1007/s10668-021-02098-1
Keywords