Abstract
Forest cover change is having an enduring link with climatic factors. This study was designed to study the impact of forest cover change in the Western Ghats on meteorological parameters like rainfall and land surface temperature (LST) between 2000 and 2019 using Landsat images. Land use land cover (LULC) data were extracted from Landsat images, and rainfall data of 53 stations were obtained from tropical rainfall measuring mission (TRMM) data. Mann–Kendall trend test, a nonparametric test, was adopted to evaluate the long-run trends in rainfall for North East (NE) and South West (SW) monsoon during the selected time period. The test results indicate that 19 stations in the North of Kerala show a positive trend in SW monsoon and 3 stations show a negative trend in NE monsoon. The breakpoint analysis of the rainfall dataset with time and with the elevation from mean sea level (MSL) is performed and the results show a breakpoint in the rainfall for the year 2008 and at 47 m elevation (MSL) from the coast of the Arabian Sea. Forest cover data show that there is a loss of 12.65% in the region for two decades span and also a significant increase in minimum LST from 8.308 to 9.208 °C and increase in maximum LST from 41.51 to 46.29 °C during the selected time period. Forest cover loss could be an important factor responsible for the increase in LST. The research outcomes would help the policymakers in improvising the measures for land management policies including plantation and urbanization.
Access options
Buy single article
Instant access to the full article PDF.
USD 39.95
Price includes VAT (USA)
Tax calculation will be finalised during checkout.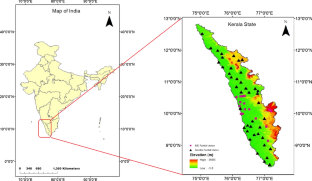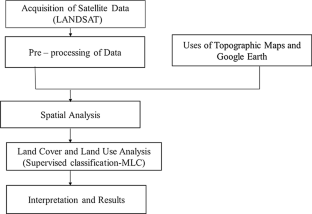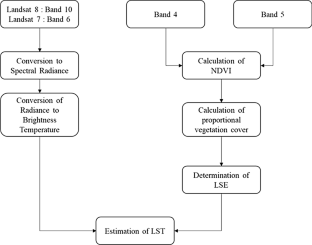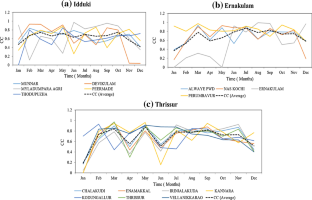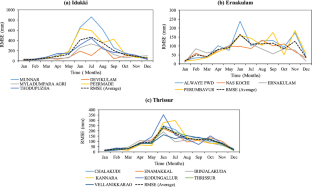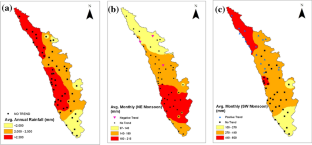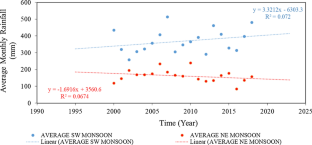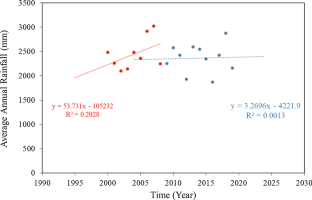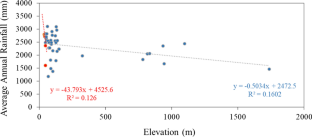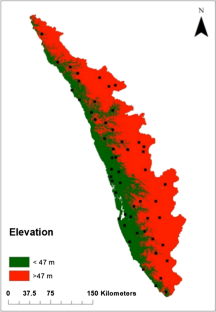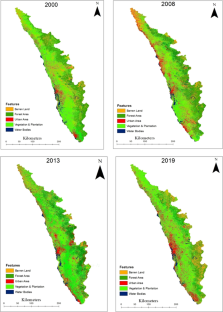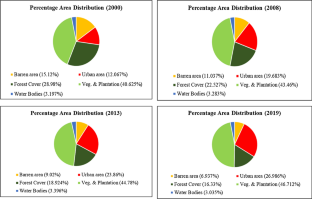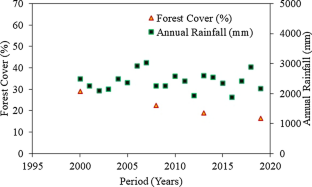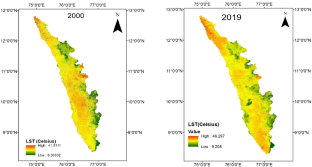 References
Aditya, V., & Ganesh, T. (2019). Deciphering forest change: Linking satellite-based forest cover change and community perceptions in a threatened landscape in India. Ambio, 48(7), 790–800.

Appiah, J. O., Agyemang-Duah, W., Sobeng, A. K., & Kpienbaareh, D. (2021). Analysing patterns of forest cover change and related land uses in the Tano-Offin Forest Reserve in Ghana: Implications for forest policy and land management. Trees, Forests and People, 100105

Asuero, A. G., Sayago, A., & Gonzalez, A. G. (2006). The correlation coefficient: An overview. Critical Reviews in Analytical Chemistry, 36(1), 41–59.

Barlow, J., Gardner, T. A., Araujo, I. S., Avila-Pires, T. C., Bonaldo, A. B., Costa, J. E., Esposito, M. C., Ferreira, L. V., Hawes, J., Hernandez, M. I. M., Hoogmoed, M. S., Leite, R. N., Lo-Man-Hung, N. F., Malcolm, J. R., Martins, M. B., Mestre, L. A. M., Miranda-Santos, R., Nunes-Gutjahr, A. L., Overal, W. L., … Peres, C. A. (2007). Quantifying the biodiversity value of tropical primary, secondary, and plantation forests. Proceedings of the National Academy of Sciences, 104(47), 18555–18560.

Bounoua, L., DeFries, R., Collatz, G. J., Sellers, P., & Khan, H. (2002). Effects of land cover conversion on surface climate. Climatic Change. https://doi.org/10.1023/A:1013051420309

Chai, T., & Draxler, R. R. (2014). Root mean square error (RMSE) or mean absolute error (MAE). Geoscientific Model Development Discussions, 7(1), 1525–1534.

Chow, G. C. (1960). Tests of equality between sets of coefficients in two linear regressions. Econometrica. https://doi.org/10.2307/1910133

De, U., Dube, R., & Rao, G. (2005). Extreme weather events over India in the last 100 years. Journal of the Indian Geophysical Union, 9, 173–187.

DeFries, R., Hansen, A., Newton, A. C., & Hansen, M. C. (2005). Increasing isolation of protected areas in tropical forests over the past twenty years. Ecological Applications, 15(1), 19–26.

Dixit, A., Sahany, S., & Choubey, S. (2019). Role of land-use-land-cover changes in the 2018 Mega-floods over Kerala (India). In Geophysical Research Abstracts.

Duangdai, E., & Likasiri, C. (2015). Mathematical model analyses on the effects of global temperature and forest cover on seasonal rainfalls: A Northern Thailand case study. Journal of Hydrology, 524, 270–278.

FAO. (2001). The State of Food and Agriculture 2001 (No. 33). Food & Agriculture Org.

Harilal, K. N., & Joseph, K. J. (2003). Stagnation and revival of Kerala economy: An open economy perspective. Economic and Political Weekly, 38(23), 2286–2294.

Himayoun, D., & Roshni, T. (2020). Geomorphic changes in the Jhelum River due to an extreme flood event: A case study. Arabian Journal of Geosciences. https://doi.org/10.1007/s12517-019-4896-9

Hosonuma, N., Herold, M., De Sy, V., De Fries, R. S., Brockhaus, M., Verchot, L., Angelsen, A., & Romijn, E. (2012). An assessment of deforestation and forest degradation drivers in developing countries. In Environmental Research Letters. https://doi.org/10.1088/1748-9326/7/4/044009

Huffman, G. J., Adler, R. F., Bolvin, D. T., Gu, G., Nelkin, E. J., Bowman, K. P., Hong, Y., Stocker, E. F., & Wolff, D. B. (2007). The TRMM multisatellite precipitation analysis (TMPA): Quasi-global, multiyear, combined-sensor precipitation estimates at fine scales. Journal of Hydrometeorology. https://doi.org/10.1175/JHM560.1

Jha, C. S., Dutt, C. B. S., & Bawa, K. S. (2000). Deforestation and land use changes in Western Ghats, India. Current Science, 79(1), 231–238.

Joseph, S., Blackburn, G. A., Gharai, B., Sudhakar, S., Thomas, A. P., & Murthy, M. S. R. (2009). Monitoring conservation effectiveness in a global biodiversity hotspot: The contribution of land cover change assessment. Environmental Monitoring and Assessment, 158(1), 169–179.

Kaosa-ard, M. S. (1993). Environment and development: The Thai experience. TDRI Quarterly Review, 8(4), 13–17.

Kumar, B. M. (2006). Land use in Kerala: Changing scenarios and shifting paradigms. Journal of Tropical Agriculture, 43, 1–12.

Kumar, S., & Roshni, T. (2019). NDVI-rainfall correlation and irrigation water requirement of different crops in the sone river-command, Bihar. Mausam, 70, 339–346.

Laurance, W. F. (2007). Have we overstated the tropical biodiversity crisis? Trends in Ecology & Evolution, 22(2), 65–70.

Li, Z. L., Tang, B. H., Wu, H., Ren, H., Yan, G., Wan, Z., Trigo, I. F., & Sobrino, J. A. (2013). Satellite-derived land surface temperature: Current status and perspectives. In Remote Sensing of Environment. https://doi.org/10.1016/j.rse.2012.12.008

Menon, S., & Bawa, K. S. (1997). Applications of geographic information systems, remote-sensing, and a landscape ecology approach to biodiversity conservation in the Western Ghats. Current Science (Special Section: Biodiversity of Western Ghats), 73(2), 134–145.

Nair, A., Joseph, K. A., & Nair, K. S. (2014). Spatio-temporal analysis of rainfall trends over a maritime state (Kerala) of India during the last 100 years. Atmospheric Environment, 88, 123–132.

Nobre, P., Malagutti, M., Urbano, D. F., De Almeida, R. A. F., & Giarolla, E. (2009). Amazon deforestation and climate change in a coupled model simulation. Journal of Climate. https://doi.org/10.1175/2009JCLI2757.1

Nogherotto, R., Coppola, E., Giorgi, F., & Mariotti, L. (2013). Impact of Congo Basin deforestation on the African monsoon. Atmospheric Science Letters. https://doi.org/10.1002/asl2.416

Pal, I., & Al-Tabbaa, A. (2009). Trends in seasonal precipitation extremes - An indicator of climate change in Kerala, India. Journal of Hydrology. https://doi.org/10.1016/j.jhydrol.2008.12.025

Patra, S. K., Shekher, M., Solanki, S. S., Ramachandran, R., & Krishnan, R. (2006). A technique for generating natural colour images from false colour composite images. International Journal of Remote Sensing. https://doi.org/10.1080/01431160600554322

Pielke, R. A., Pitman, A., Niyogi, D., Mahmood, R., McAlpine, C., Hossain, F., Goldewijk, K. K., Nair, U., Betts, R., Fall, S., Reichstein, M., Kabat, P., & de Noblet, N. (2011). Land use/land cover changes and climate: Modeling analysis and observational evidence. Wiley Interdisciplinary Reviews: Climate Change. https://doi.org/10.1002/wcc.144

Prasad, S. N., Vijayan, L., Balachandran, S., Ramachandran, V. S., & Verghese, C. P. A. (1998). Conservation planning for the Western Ghats of Kerala: I. A GIS approach for location of biodiversity hot spots. Current Science (Special Section: GIS & RS in Ecology and Conservation Biology) 75(3), 211–219.

Ramachandran, R. M., Roy, P. S., Chakravarthi, V., Sanjay, J., & Joshi, P. K. (2018). Long-term land use and land cover changes (1920–2015) in Eastern Ghats, India: Pattern of dynamics and challenges in plant species conservation. Ecological Indicators, 85, 21–36.

Reddy, C. S., Singh, S., Dadhwal, V. K., Jha, C. S., Rao, N. R., & Diwakar, P. G. (2017). Predictive modelling of the spatial pattern of past and future forest cover changes in India. Journal of Earth System Science, 126(1), 8.

Rodríguez, L. O., & Young, K. R. (2000). Biological diversity of Peru: determining priority areas for conservation. AMBIO: A Journal of the Human Environment, 29(6), 329–337.

Sarma, P. K., Lahkar, B. P., Ghosh, S., Rabha, A., Das, J. P., Nath, N. K., & Brahma, N. (2008). Land-use and land-cover change and future implication analysis in Manas National Park, India using multi-temporal satellite data. Current Science, 95(2), 223–227.

Shakun, J. D., Clark, P. U., He, F., Marcott, S. A., Mix, A. C., Liu, Z., Otto-Bliesner, B., Schmittner, A., & Bard, E. (2012). Global warming preceded by increasing carbon dioxide concentrations during the last deglaciation. Nature, 484(7392), 49–54.

Schueler, V., Kuemmerle, T., & Schr¨ode, H. (2011). Impacts of surface gold mining on land use systems in Western Ghana. Ambio, 40(5), 528–539.

Sireesha, C., Roshni, T., & Jha, M. K. (2020). Insight into the precipitation behavior of gridded precipitation data in the Sina basin. Environmental Monitoring and Assessment, 192(11), 729.

Sobrino, J. A., Jiménez-Muñoz, J. C., & Paolini, L. (2004). Land surface temperature retrieval from LANDSAT TM 5. Remote Sensing of Environment. https://doi.org/10.1016/j.rse.2004.02.003

Soman, M. K., Kumar, K. K., & Singh, N. (1988). Decreasing trend in the rainfall of Kerala. Current Science, 97, 7–12.

Wakeel, A., Rao, K. S., Maikhuri, R. K., & Saxena, K. G. (2005). Forest management and land use/cover changes in a typical micro watershed in the mid elevation zone of Central Himalaya. India. Forest Ecology and Management, 213(1–3), 229–242.

Yang, W., Zhao, Y., Wang, D., Wu, H., Lin, A., & He, L. (2020). Using principal components analysis and IDW interpolation to determine spatial and temporal changes of surface water quality of Xin'anjiang river in Huangshan, China. International Journal of Environmental Research and Public Health, 17(8), 2942.

Zachariah, K. C., Mathew, E. T., & Rajan, S. I. (2001). Impact of migration on Kerala's economy and society. International Migration. https://doi.org/10.1111/1468-2435.00135
Acknowledgements
The authors would like to thank IMD Pune for providing the dataset for the analysis, and the authors would also extend thanks to the Editor and unknown reviewers for improving the quality of the paper.
Ethics declarations
Conflict of interest
The authors confirm no conflict of interest in this work.
Additional information
Publisher's Note
Springer Nature remains neutral with regard to jurisdictional claims in published maps and institutional affiliations.
About this article
Cite this article
Anjali, K., Roshni, T. Linking satellite-based forest cover change with rainfall and land surface temperature in Kerala, India. Environ Dev Sustain (2021). https://doi.org/10.1007/s10668-021-01908-w
Received:

Accepted:

Published:
Keywords
Forest cover

Rainfall

Land surface temperature

Mann–Kendall trend test

Breakpoint analysis