Abstract
To ensure the survival and quality of life of our species, we seek sustainable development to balance the economic, social and environmental spheres in an ethical and equitable manner. The United Nations' sustainable development goals (SDGs) have become the guiding principles aimed at guaranteeing a safe space for everyone through awareness and clarity of the responsibilities of each individual. This article addresses different views on the topic "sustainable development," relating them to ethical issues and then associating the discussions with the SDGs. However, in relation to the subject of ethics and concern for planet Earth, several other documents, such as Laudato Si', Gaia and Gaia 2.0, are of great importance to complement and enrich the discussion. A global perspective is proposed, based on the encyclical Laudato Si', the Gaia theory of James Lovelock, religious concepts and idea of the good of humanity, along with the vision of Timothy Lenton who talks about Gaia 2.0. It is highlighted that understanding the role of the Church, the government and academic research in combating environmental, social and economic problems is of great relevance. Finally, based on the discussions provided herein it can be observed that although the statements and documents examined present similarities in pointing to an ethical agenda, they need further debate and research.
Access options
Buy single article
Instant access to the full article PDF.
US$ 39.95
Tax calculation will be finalised during checkout.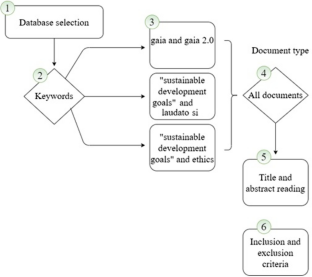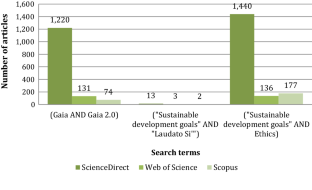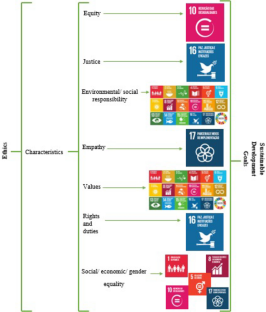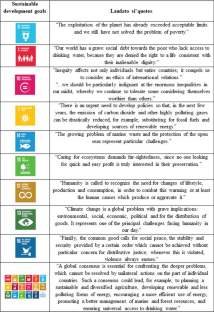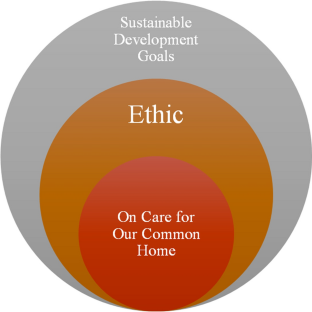 References
Amrutha, V. N., & Geetha, S. N. (2020). A systematic review on green human resource management: Implications for social sustainability. Journal of Cleaner Production, 247, 119131. https://doi.org/10.1016/j.jclepro.2019.119131

Artaxo, P. (2014). Uma nova era geológica em nosso planeta: o Antropoceno?. Revista Usp, (103), 13. https://doi.org/10.11606/issn.2316-9036.v0i103p13-24

Bartelmus, P. (2013). The future we want: Green growth or sustainable development? Environmental Development, 7(1), 165–170. https://doi.org/10.1016/j.envdev.2013.04.001

Bien, C., & Sassen, R. (2020). Sensemaking of a sustainability transition by higher education institution leaders. Journal of Cleaner Production, 256, 120299. https://doi.org/10.1016/j.jclepro.2020.120299

Boff, L. (2000). Ethos mundial—um consenso minimo entre os humano.

Bolis, I., Morioka, S. N., & Sznelwar, L. I. (2017). Are we making decisions in a sustainable way? A comprehensive literature review about rationalities for sustainable development. Journal of Cleaner Production, 145, 310–322. https://doi.org/10.1016/j.jclepro.2017.01.025

Breyer, C., Heinonen, S., & Ruotsalainen, J. (2017). New consciousness: A societal and energetic vision for rebalancing humankind within the limits of planet Earth. Technological Forecasting and Social Change, 114, 7–15. https://doi.org/10.1016/j.techfore.2016.06.029

Busoi, S. M. (2015). Sustainable Development and the Influence of Social Values A Case Study on Romania. Procedia Economics and Finance, 26(15), 46–53. https://doi.org/10.1016/s2212-5671(15)00807-2

Capra, F. (1984). The turning point: science, society, and the rising culture.

Cicin-Sain, B. (1996). Earth Summit implementation: Progress since Rio. Marine Policy, 20(2), 123–143. https://doi.org/10.1016/S0308-597X(96)00002-4

Dahl, A. L. (2012). Achievements and gaps in indicators for sustainability. Ecological Indicators, 17, 14–19. https://doi.org/10.1016/j.ecolind.2011.04.032

de Oliveira Neto, G. C., Ferreira Correia, J. M., Silva, P. C., de Oliveira Sanches, A. G., & Lucato, W. C. (2019). Cleaner Production in the textile industry and its relationship to sustainable development goals. Journal of Cleaner Production, 228, 1514–1525. https://doi.org/10.1016/j.jclepro.2019.04.334

Deak, D. (2017). Social interventions in nature. Integral Ecology and Sustainable Business Social, 26, 31–53. https://doi.org/10.1108/S1572-832320170000026003

Deneulin, S., & Zampini-Davies, A. (2017). Engaging Development and Religion: Methodological Groundings. World Development, 99, 110–121. https://doi.org/10.1016/j.worlddev.2017.07.014

Dussel, E. (1988). Ethics and community.

Dussel, E. (2000). Ética da libertação—na idade da globalização e da exclusão p. 671.

Eliade, M. (2010). História das crenças e das ideias religiosas. Retrieved from http://books.google.com.br/books?id=qJP4ngEACAAJ

Farley-Ripple, E. (2020). Wordplay or paradigm shift: The meaning of "Research Impact." International Journal of Education Policy and Leadership, 16(11). https://doi.org/10.22230/ijepl.2020v16n11a1021

Francis P. (2015). Encyclical letter LAUDATO SI'. p. 184. https://doi.org/10.1413/82725

Fryxell, G. E., & Lo, C. W. H. (2001). Organizational membership and environmental ethics: A comparison of managers in state-owned firms, collectives, private firms and joint ventures in China. World Development, 29(11), 1941–1956. https://doi.org/10.1016/S0305-750X(01)00078-X

Furtado, C. (1974). O Mito do desenvolvimento econômico.

Giraud, G., & Orliange, P. (2016). Laudato Si ' e os objetivos de desenvolvimento sustentável: Uma convergência? Cadernos Teologia Pública, 13(117), 1–28.

Guerra, J., Schmidt, L., & Lourenço, L. B. (2019). From local agenda 21 to a localized agenda 2030–the Portuguese and Brazilian cases in perspective. Community Development, 50(3), 352–367. https://doi.org/10.1080/15575330.2019.1599405

Haines, A., Alleyne, G., Kickbusch, I., & Dora, C. (2012). From the earth summit to Rio+20: Integration of health and sustainable development. The Lancet, 379(9832), 2189–2197. https://doi.org/10.1016/S0140-6736(12)60779-X

Hauck, Y. L., Bradfield, Z., & Kuliukas, L. (2020). Women's experiences with breastfeeding in public: An integrative review. Women and Birth. https://doi.org/10.1016/j.wombi.2020.04.008

Hecht, A. D., Fiksel, J., Fulton, S. C., Yosie, T. F., Hawkins, N. C., Leuenberger, H., & Lovejoy, T. E. (2012). Creating the future we want. Sustainability: Science, Practice, and Policy, 8(2), 62–75. https://doi.org/10.1080/15487733.2012.11908098

Howe, P. (2019). The triple nexus: A potential approach to supporting the achievement of the sustainable development goals? World Development, 124, 104629. https://doi.org/10.1016/j.worlddev.2019.104629

Ittekkot, V., & Milne, E. (2016). Encyclical Letter "Laudato Si": A gentle but firm nudge from Pope Francis. Environmental Development, 17, 1–3. https://doi.org/10.1016/j.envdev.2015.09.011

Koehrsen, J. (2018). Religious agency in sustainability transitions: Between experimentation, upscaling, and regime support. Environmental Innovation and Societal Transitions, 27, 4–15. https://doi.org/10.1016/j.eist.2017.09.003

Kwatra, S., Kumar, A., & Sharma, P. (2020). A critical review of studies related to construction and computation of Sustainable Development Indices. Ecological Indicators, 112(2019), 106061. https://doi.org/10.1016/j.ecolind.2019.106061

Leal Filho, W., Tripathi, S. K., Andrade Guerra, J. B. S. O. D., Giné-Garriga, R., Orlovic Lovren, V., & Willats, J. (2019). Using the sustainable development goals towards a better understanding of sustainability challenges. International Journal of Sustainable Development and World Ecology, 26(2), 179–190. https://doi.org/10.1080/13504509.2018.1505674

Lenton, T. (2011). 2 °C or not 2 °C? That is the climate question. Nature. https://doi.org/10.1038/473007a

Lenton, T. M., Held, H., Kriegler, E., Hall, J. W., Lucht, W., Rahmstorf, S., & Schellnhuber, H. J. (2008). Tipping elements in the Earth's climate system. Proceedings of the National Academy of Sciences of the United States of America, 105(6), 1786–1793. https://doi.org/10.1073/pnas.0705414105

Lenton, T. M., & Latour, B. (2018). Gaia 2.0: Could humans add some level of self-awareness to Earth's self-regulation? Science, 361(6407), 4–7. https://doi.org/10.1126/science.aau0427

Lovelock, J. (2000). Gaia: A new look at life on earth.

Mantatov, V., & Mantatova, L. (2015). Philosophical underpinnings of environmental ethics: theory of responsibility by Hans Jonas. Procedia-Social and Behavioral Sciences, 214, 1055–1061. https://doi.org/10.1016/j.sbspro.2015.11.704

Meine, C. (2018). Conserving biodiversity in a time of rapid environmental change like. Biodiversity Conservation. https://doi.org/10.1016/B978-0-12-809665-9.10463-X

Miloradova, N., & Ishkov, A. (2015). Environmental ethics as a social, professional and personal value of the students of Civil Engineering University. Procedia Engineering, 117(1), 246–251. https://doi.org/10.1016/j.proeng.2015.08.158

Morand, S., & Lajaunie, C. (2018). Ethics, Values and Responsibilities 12.1. Biodiversity and Health Medicine. https://doi.org/10.1016/B978-1-78548-115-4.50012-3

Nasibulina, A. (2015). Education for sustainable development and environmental ethics. Procedia - Social and Behavioral Sciences, 214(June), 1077–1082. https://doi.org/10.1016/j.sbspro.2015.11.708

Ohlemacher, R. (2003). The Earth observation summit: Heralding a new era for international cooperation. Space Policy, 19(4), 277–281. https://doi.org/10.1016/j.spacepol.2003.09.001

Pillay, A., & Elkadi, M. (2010). The vanishing face of gaia: A final warning. International Journal of Environmental Studies, 67(1), 97–99. https://doi.org/10.1080/00207230903385791

Rockström, J., Steffen, W., Noone, K., Persson, Å., Chapin, F. S., Lambin, E. F., & Foley, J. A. (2009). A safe operating space for humanity. Nature, 461(7263), 472–475. https://doi.org/10.1038/461472a

Rogelj, J., Shindell, D., Jiang, K., Fifita, S., Forster, P., Ginzburg, V., Vilariño, M. V. (2018). Mitigation pathways compatible with 1.5°C in the context of sustainable development. In Intergovernmental Panel on Climate Change (IPCC) (p. 82pp). Retrieved from https://www.ipcc.ch/site/assets/uploads/sites/2/2019/02/SR15_Chapter2_Low_Res.pdf

Sachs, I. (2008). Caminhos para o desenvolvimento sustentável. In Garamond. https://doi.org/10.4025/bolgeogr.v31i1.17897

Sachs, I. (2012). Dossiê sustentabilidade. Estudos Avançados, 26(74), 5–20.

Santos, J. D. J., & da Silva, P. C. (2013). Sociedade, natureza e desenvolvimento: Abordagem bibliográfica. Ambivalências, 1(2), 145–155.

Schwartzman, D. (2020). An ecosocialist perspective on gaia 2.0: The other world that is still possible. Capitalism, Nature, Socialism, 31(2), 40–49. https://doi.org/10.1080/10455752.2020.1729943

Silva, M. E., & Figueiredo, M. D. (2020). Practicing sustainability for responsible business in supply chains. Journal of Cleaner Production, 251(119621), 1–11. https://doi.org/10.1016/j.jclepro.2019.119621

Souza, F. A. C. de. (2015). A relação natureza-sociedade no modo de produção capitalista. Revista Em Pauta, 13(35), 153–168. https://doi.org/10.12957/rep.2015.18626

Stanitsas, M., Kirytopoulos, K., & Vareilles, E. (2019). Facilitating sustainability transition through serious games: A systematic literature review. Journal of Cleaner Production, 208, 924–936. https://doi.org/10.1016/j.jclepro.2018.10.157

Sun, C., Jiang, Z., Li, W., Hou, Q., & Li, L. (2019). Changes in extreme temperature over China when global warming stabilized at 1.5 °C and 2.0 °C. Scientific Reports, 9(1), 1–11. https://doi.org/10.1038/s41598-019-50036-z

UN. (2015). Universal declaration of human right. pp. 1–72.

Undp. (2015). Sustainable development goals. p. 24.

UNESCO. (2000). The ethics of freshwater use: A survey.

Wesley, H., Tittle, V., & Seita, A. (2016). No health without peace: Why SDG 16 is essential for health. The Lancet, 388(10058), 2352–2353. https://doi.org/10.1016/S0140-6736(16)32133-X
Acknowledgements
This study was conducted by the Centre for Sustainable Development (Greens), from the University of Southern Santa Catarina (Unisul) and Ânima Institute ‐ AI, in the context of the project BRIDGE—Building Resilience in a Dynamic Global Economy: Complexity across scales in the Brazilian Food-Water-Energy Nexus, funded by the Newton Fund, Fundação de Amparo à Pesquisa e Inovação do Estado de Santa Catarina (FAPESC), Coordenação de Aperfeiçoamento de Pessoal de Nível superior (CAPES), National Council for Scientific and Technological Development (CNPq) and the Research Councils United Kingdom (RCUK).
Ethics declarations
Conflict of interest
The authors declare that there are no conflicts of interest.
Additional information
Publisher's Note
Springer Nature remains neutral with regard to jurisdictional claims in published maps and institutional affiliations.
About this article
Cite this article
Guerra, J.B.S.O.A., Hoffmann, M., Bianchet, R.T. et al. Sustainable development goals and ethics: building "the future we want". Environ Dev Sustain (2021). https://doi.org/10.1007/s10668-021-01831-0
Received:

Accepted:

Published:
Keywords
Sustainable development goals

Ethics

Laudato Si'

Agenda 21

The world we want

Planetary boundaries