Abstract
Indian Sundarbans Biosphere Reserve (SBR) comprising over 100 estuarine islands and shared by human habitation and mangrove forests is considered to be a potential area for coastal aquaculture. This study, using LANDSAT imageries of the last two decades (1999–2019), delineated the spatiotemporal expansion of aquaculture at the expense of agricultural land, mudflats, and some mangroves. It also estimated a futuristic land transformation to aquaculture using the Cellular Automata-Markov Chain model. From the geospatial analysis, it is observed that (1) the aquacultures are mostly located around 22° 30′N, i.e., far away from the saline seafront, (2) total aquaculture area has increased to nearly 5.82% of the entire SBR in 2019 from 3.59% in 1999 and, (3) cyclone Aila and its surge inundation have influenced in their expansion. This growth of aquaculture took place with the loss of 3.71% (10,536.67 ha) agricultural land, 3.87% (730.40 ha) mudflat, and 0.28% (623.23 ha) mangrove from 1999 to 2009, and 6.02% (13,471.50 ha) agricultural land, 9.98% (1583.64 ha) mudflat, and 0.18% (382.35 ha) mangrove during 2009–2019. According to the predictive modeling, ~ 6% of the present agriculture area is prognosticated to be converted to aquaculture by the next decade under a business-as-usual scenario.
Access options
Buy single article
Instant access to the full article PDF.
USD 39.95
Price excludes VAT (USA)
Tax calculation will be finalised during checkout.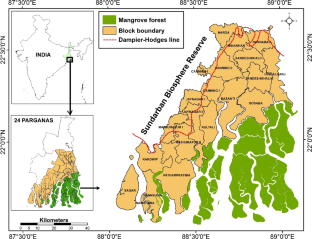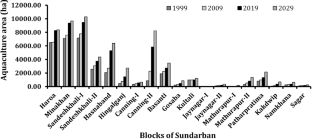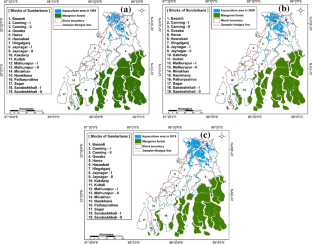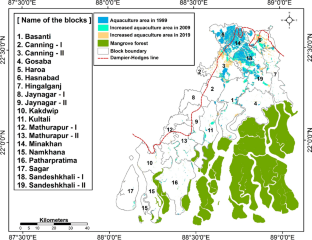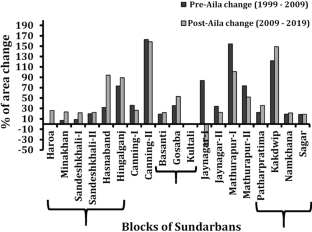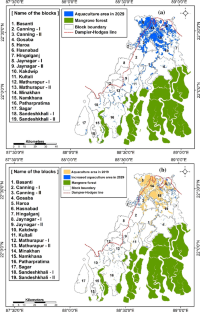 Data availability
Source of the satellite data used in this study has been properly cited in the manuscript, and field data were collected by the authors.
References
Abraham, T. J., Sasmal, D., Dash, G., Nagesh, T. S., Das, S. K., Mukhopadhayay, S. K., & Ganguly, S. (2013). Epizootology and pathology of bacterial infections in cultured shrimp Penaeus monodon Fabricius 1798 in West Bengal India. Indian J Fish, 60(2), 167–171.

Aguilar-Manjarrez, J., & Ross, L. G. (1995). Geographical information system (GIS) environmental models for aquaculture development in Sinaloa State Mexico. Aquaculture International, 3(2), 103–115. https://doi.org/10.1007/BF00117877

Ali, M. I., Imran, A., Syed, I. M., Islam, M. J., & Mallik, M. A. K. (2018). A comparative study of storm surge phenomenon associated with the tropical cyclone Aila over the Bay Of Bengal using NWP models. Journal of Engineering, 9(2), 33–40.

Annual Report of Marine Product Export Development Authority. (2009–10). Ministry of Commerce & Industry, Government of India.

Arnold, W. S., White, M. W., Norris, H. A., & Berrigan, M. E. (2000). Hard clam (Mercenaria spp.) aquaculture in Florida, USA: Geographic information system applications to lease site selection. Aquacultural Engineering, 23(1–3), 203–231.

Chakrabarti, P. (1991). Morphostratigraphy of coastal quaternaries of West Bengal and Subarnarekha delta Orissa. Indian Journal of Earth Sciences, 18(3–4), 219–225.

Chakrabarti, P. (1995). Evolutionary history of the coastal quaternaries of the Bengal plain, India. Proceedings, Indian National Science Academy, 61A(5), 343–354.

Chand, B. K., Trivedi, R. K., Dubey, S. K., & Beg, M. M. (2012). Aquaculture in changing climate of Sundarbans: Survey report on climate change vulnerabilities, aquaculture practices & coping measures in Sagar and Basanti blocks of Indian Sundarbans (p. 198). West Bengal University of Animal & Fishery Sciences.

Chander, G., Markham, B. L., & Barsi, J. A. (2007). Revised Landsat-5 thematic mapper radiometric calibration. IEEE Geoscience and Remote Sensing Letters, 4(3), 490–494. https://doi.org/10.1109/LGRS.2007.898285

Chavez, P. S. (1996). Image-based atmospheric corrections-revisited and improved. Photogrammetric Engineering and Remote Sensing, 62(9), 1025–1035.

Chopra, K., Kapuria, P., & Kumar, P. (2009). Biodiversity land use change and human well being: A study of aquaculture in the Indian Sundarbans. OUP Catalogue.

CRZ Notification Amendment. (1998). S.O. 334 (E) dated 20th April 1998, Ministry of Environment & Forests. Government of India.

DasGupta, R., & Shaw, R. (2014). Role of NGOs and CBOs in a decentralized mangrove management regime and its implications in building coastal resilience in India. In R. Shaw & T. Izumi (Eds.), Civil society organization and disaster risk reduction. Springer.

DasGupta, R., Hashimoto, S., Okuro, T., & Basu, M. (2019). Scenario-based land change modelling in the Indian Sundarban delta: An exploratory analysis of plausible alternative regional futures. Sustainability Science, 14(1), 221–240. https://doi.org/10.1007/s11625-018-0642-6

Dubey, S. K., Trivedi, R. K., Chand, B. K., Mandal, B., & Rout, S. K. (2017). Farmers' perceptions of climate change, impacts on freshwater aquaculture and adaptation strategies in climatic change hotspots: A case of the Indian Sundarban delta. Environmental Development, 21, 38–51. https://doi.org/10.1016/j.envdev.2016.12.002

Duggin, M. J., & Robinove, C. J. (1990). Assumptions implicit in remote sensing data acquisition and analysis. Remote Sensing, 11(10), 1669–1694. https://doi.org/10.1080/01431169008955124

Dutta, S., Chakraborty, K., & Hazra, S. (2017). Ecosystem structure and trophic dynamics of an exploited ecosystem of Bay of Bengal, Sundarban Estuary India. Fisheries Science, 83(2), 145–159.

Eastman, J. R. (2006). IDRISI Andes tutorial. Clark University, Worcester, MA.

FAO. (2014). The State of World Fisheries and Aquaculture. Opportunities and Challenges. Food & Agriculture Organization of the United Nations (FAO), Rome.

Feyisa, G. L., Meilby, H., Fensholt, R., & Proud, S. R. (2014). Automated water extraction index: A new technique for surface water mapping using Landsat imagery. Remote Sensing of Environment, 140, 23–35.

Ghoshal, T. K., De, D., Biswas, G., Kumar, P., & Vijayan, K. K. (2019). Brackishwater aquaculture: opportunities and challenges for meeting livelihood demand in Indian sundarbans. The Sundarbans: A disaster-prone eco-region, Springer.

Gupta, M. C. (1995). Brackish water aquaculture site selection using techniques of geographical information system (GIS). Space Application Centre, ISRO.

Hamad, R., Balzter, H., & Kolo, K. (2018). Predicting land use/land cover changes using a CA-Markov model under two different scenarios. Sustainability, 10(10), 3421.

Handbook of Fisheries and Aquaculture. (2013). Indian Council of Agricultural Research (ICAR), India. Handbook of Fisheries and Aquaculture. (2013).

Handbook of Fisheries Statistics. (2015–16). Department of Fisheries, Government of West Bengal, India.

Hazra, S., Mukhopadhyay, A., Mukherjee, S., Akhand, A., Chanda, A., Mitra, D., & Ghosh, T. (2016). Disappearance of the New Moore Island from the Southernmost Coastal Fringe of the Sundarban delta-a case study. Journal of the Indian Society of Remote Sensing, 44(3), 479–484. https://doi.org/10.1007/s12524-015-0524-7

Hazra, S., Samanta, K., Mukhopadhyay, A., & Akhand, A. (2010). Temporal Change Detection (2001–2009) Study of Sundarbans. Unpublished report. WWF-India http://glovis.usgs.gov. Surfed on 4th April, 2020.

Hazra, S., Ghosh, T., DasGupta, R., & Sen, G. (2002). Sea level and associated changes in the Sundarbans. Science and Culture, 68(9-12), 309–321.

Jayanthi, M. (2011). Monitoring brackishwater aquaculture development using multi-spectral satellite data and GIS-a case study near Pichavaram mangroves south-east coast of India. Indian Journal of Fisheries, 58(1), 85–90.

Johnson, F. A., Hutton, C. W., Hornby, D., Lázár, A. N., & Mukhopadhyay, A. (2016). Is shrimp farming a successful adaptation to salinity intrusion? A geospatial associative analysis of poverty in the populous Ganges–Brahmaputra–Meghna Delta of Bangladesh. Sustainability Science, 11(3), 423–439. https://doi.org/10.1007/s11625-016-0356-6

Kapetsky, J. M., Hill, J. M., & Worthy, L. D. (1988). A geographical information system for catfish farming development. Aquaculture, 68(4), 311–320. https://doi.org/10.1016/0044-8486(88)90245-1

Karthik, M., Suri, J., Saharan, N., & Biradar, R. S. (2005). Brackish water aquaculture site selection in Palghar Taluk, Thane district of Maharashtra, India, using the techniques of remote sensing and geographical information system. Aquacultural Engineering, 32(2), 285–302. https://doi.org/10.1016/j.aquaeng.2004.05.009

Kumar, S., Radhakrishnan, N., & Mathew, S. (2014). Land use change modelling using a Markov model and remote sensing. Geomatics, Natural Hazards and Risk, 5(2), 145–156. https://doi.org/10.1080/19475705.2013.795502

Longdill, P. C., Healy, T. R., & Black, K. P. (2008). An integrated GIS approach for sustainable aquaculture management area site selection. Ocean & Coastal Management, 51(8–9), 612–624. https://doi.org/10.1016/j.ocecoaman.2008.06.010

Mandal, B., & Dubey, S. K. (2015). Present status and prospects of black tiger shrim p farming: A case study in maritime state of West Bengal, India. Perspectives in Animal Ecology and Reproduction. Daya Publishing House

McFeeters, S. K. (1996). The use of the Normalized Difference Water Index (NDWI) in the delineation of open water features. International journal of remote sensing, 17(7), 1425–1432.

McLeod, I., Pantus, F., & Preston, N. (2002). The use of a geographical information system for land-based aquaculture planning. Aquaculture Research, 33(4), 241–250. https://doi.org/10.1046/j.1355-557x.2001.00667.x

Megahed, Y., Cabral, P., Silva, J., & Caetano, M. (2015). Land cover mapping analysis and urban growth modelling using remote sensing techniques in greater Cairo region—Egypt. ISPRS International Journal of Geo-Information, 4(3), 1750–1769.

Mishra, S. (2010). Abar Kharar Kabale Paschim Banga. Saar Samachar, 48(3), 11–30.

Mitra, A., Gangopadhyay, A., Dube, A., Schmidt, A. C., & Banerjee, K. (2009). Observed changes in water mass properties in the Indian Sundarbans (Northwestern Bay of Bengal) during 1980–2007. Current Science, 97(10), 1445–1452.

Nandy, S., & Kushwaha, S. P. S. (2011). Study on the utility of IRS 1D LISS-III data and the classification techniques for mapping of Sunderban mangroves. Journal of Coastal Conservation, 15(1), 123–137. https://doi.org/10.1007/s11852-010-0126-z

Naskar, K., & Guha Bakshi, D.N. (1987). Mangrove swamps of the Sundarbans. Naya Prokash.

Nouri, J., Gharagozlou, A., Arjmandi, R., Faryadi, S., & Adl, M. (2014). Predicting urban land use changes using a CA–Markov model. Arabian Journal for Science and Engineering, 39(7), 5565–5573. https://doi.org/10.1007/s13369-014-1119-2

Panigrahi, A., Sundaray, J. K., Ghoshal, T. K., De, D., & Ravichandran, P. (2009). Bio-Secure Zero water exchange system technology of shrimp farming for better monitoring of coastal ecosystem. Journal of Indian Society of Coastal Agricultural Research, 27, 50–53.

Pethick, J., & Orford, J. D. (2013). Rapid rise in effective sea-level in southwest Bangladesh: Its causes and contemporary rates. Global and Planetary Change, 111, 237–245. https://doi.org/10.1016/j.gloplacha.2013.09.019

Ramesh, R., & Rajkumar, R. (1996). Coastal aquaculture site selection and planning in Tamil Nadu using remote sensing and GIS. Asian-Pacific Remote Sensing and GIS Journal, 9(1), 39–49.

Regmi, R., Saha, S., & Balla, M. (2014). Geospatial analysis of land use land cover change predictive modeling at Phewa Lake Watershed of Nepal. International Journal of Current Engineering and Technology, 4, 2617–2627.

Rokni, K., Ahmad, A., Selamat, A., & Hazini, S. (2014). Water feature extraction and change detection using multitemporal Landsat imagery. Remote Sensing, 6(5), 4173–4189.

Rowe, D. K., Shankar, U., James, M., & Waugh, B. (2002). Use of GIS to predict effects of water level on the spawning area for smelt, Retropinna retropinna, in lake Taupo New Zealand. Fisheries Management and Ecology, 9(4), 205–216. https://doi.org/10.1046/j.1365-2400.2002.00298.x

Salam, M. A., Ross, L. G., & Beveridge, C. M. (2003). A comparison of development opportunities for crab and shrimp aquaculture in southwestern Bangladesh, using GIS modelling. Aquaculture, 220(1–4), 477–494. https://doi.org/10.1016/S0044-8486(02)00619-1

Samanta, K., & Hazra, S. (2012). Landuse/landcover change study of Jharkhali Island Sundarbans, West Bengal using remote sensing and GIS. International Journal of Geomatics and Geosciences, 3(2), 299–306.

Sánchez-Triana, E., Ortolano, L., & Paul, T. (2018). Managing water-related risks in the West Bengal Sundarbans: Policy alternatives and institutions. International Journal of Water Resources Development, 34(1), 78–96. https://doi.org/10.1080/07900627.2016.1202099

Sang, L., Zhang, C., Yang, J., Zhu, D., & Yun, W. (2011). Simulation of land use spatial pattern of towns and villages based on CA–Markov model. Mathematical and Computer Modelling, 54(3–4), 938–943. https://doi.org/10.1016/j.mcm.2010.11.019

Sarkar, S. K., & Bhattacharya, A. K. (2003). Conservation of biodiversity of the coastal resources of Sundarbans, Northeast India: An integrated approach through environmental education. Marine Pollution Bulletin, 47(1–6), 260–264. https://doi.org/10.1016/S0025-326X(02)00475-7

Sarkhel, P. (2015). Flood risk, land use and private participation in embankment maintenance in Indian Sundarbans. Ecological Economics, 118, 272–284. https://doi.org/10.1016/j.ecolecon.2015.08.003

Shen, L., & Li, C. (2010). Water body extraction from Landsat ETM+ imagery using adaboost algorithm. In 18th International Conference on Geoinformatics, IEEE, pp 1–4.

Sobrino, J. A., Jiménez-Muñoz, J. C., & Paolini, L. (2004). Land surface temperature retrieval from LANDSAT TM 5. Remote Sensing of Environment, 90(4), 434–440. https://doi.org/10.1016/j.rse.2004.02.003

Song, C., Woodcock, C. E., Seto, K. C., Lenney, M. P., & Macomber, S. A. (2001). Classification and change detection using Landsat TM data: When and how to correct atmospheric effects? Remote Sensing of Environment, 75(2), 230–244. https://doi.org/10.1016/S0034-4257(00)00169-3

Sphere India Report. (2009). Interagency multisectoral assessment report, Cyclone Aila – 2009.

Sun, F., Sun, W., Chen, J., & Gong, P. (2012). Comparison and improvement of methods for identifying waterbodies in remotely sensed imagery. International Journal of Remote Sensing, 33(21), 6854–6875. https://doi.org/10.1080/01431161.2012.692829

Weng, Q. (2002). Land use change analysis in the Zhujiang Delta of China using satellite remote sensing, GIS and stochastic modelling. Journal of Environmental Management, 64(3), 273–284. https://doi.org/10.1006/jema.2001.0509

Xu, H. (2006). Modification of normalised difference water index (NDWI) to enhance open water features in remotely sensed imagery. International journal of remote sensing, 27(14), 3025–3033.
Acknowledgements
Authors are grateful to the Dept. of Biotechnology; Govt. of India for funding the project (Sanction Order No. BT/IN/TaSE/70/SH/2018-19) entitled "Opportunities and trade-offs between the SDGs for food, welfare and the environment in deltas" under TaSE (towards a sustainable earth).
Ethics declarations
Conflict of interest
The authors declare that they have no conflict of interest.
Ethical statement
We the authors declare that we have stringently followed all the rules and all the accepted principles of ethical and professional conduct. While carrying out the present research, no animals were harmed or used as subjects of experiment. There was no involvement of human beings in this research and hence there is no question of sharing any private or personal information without informing the persons concerned. We also declare that all the authors have strictly complied with the authorship principles furnished by the journal.
Informed consent
All the authors have provided consent to communicate the manuscript to 'Environment, Development and Sustainability,' and the institutions of the respective author have no objection in this regard.
Additional information
Publisher's Note
Springer Nature remains neutral with regard to jurisdictional claims in published maps and institutional affiliations.
About this article
Cite this article
Giri, S., Samanta, S., Mondal, P.P. et al. A geospatial assessment of growth pattern of aquaculture in the Indian Sundarbans Biosphere Reserve. Environ Dev Sustain 24, 4203–4225 (2022). https://doi.org/10.1007/s10668-021-01612-9
Received:

Accepted:

Published:

Issue Date:

DOI: https://doi.org/10.1007/s10668-021-01612-9
Keywords