Abstract
The growth of secondary and tertiary sectors in the peri-urban villages results in development strain and causes demographic, socio-economic, and spatial transformations. Deficiency in provisioning of basic services is one of the prime concerns for these villages. This study aims to examine the present conditions and the community's attitude towards waste management, and whether the self-help groups (SHGs) can aid in developing a sense of collective responsibility. Five villages from the Bhiwandi Surrounding Notified Area in Mumbai Metropolitan Region, India, were selected for a case study investigation of the current situation of service provisioning by the rural local bodies. Questionnaire surveys were conducted for 122 households and the heads of all SHGs in the villages simultaneously. Due to the limited household surveys, the data were triangulated with documents and interviews with officials. The results were qualitatively and quantitatively analysed to understand people's perception of the SHGs and the major factors through which the groups contribute in improving livelihoods and living conditions. The SHGs also play a significant role in developing awareness of issues and social integration in the rapidly evolving structure of these peri-urban communities, as is highlighted in the case studies. The relations between SHG participation and literacy levels on the attitude towards local involvement in solid waste management for the villages were analysed. The resulting significant correlations point towards the consideration of these factors while planning for a development model for peri-urban villages. Policy-level support to the SHGs can help in fostering local partnerships and community initiatives towards better service delivery in the villages. This kind of social empowerment forms the basis for social sustainability, which in turn promotes economic and environmental sustainability.
Access options
Buy single article
Instant access to the full article PDF.
USD 39.95
Price excludes VAT (USA)
Tax calculation will be finalised during checkout.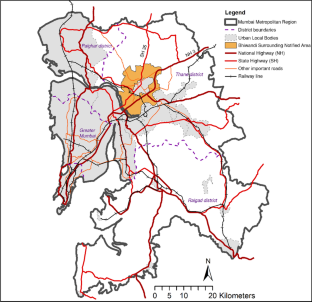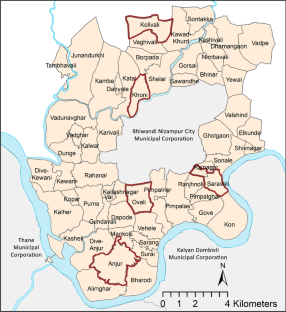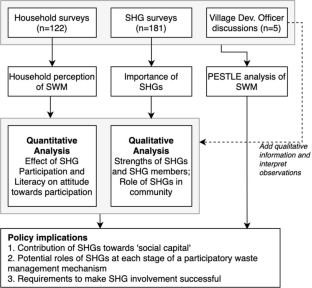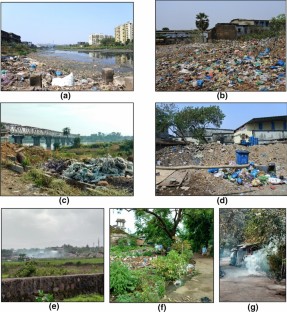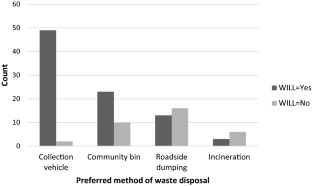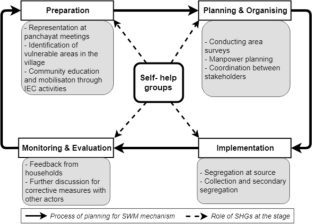 Notes
Swachh = Clean, and Bharat = India. Swachh Bharat Mission was launched in 2014 to promote sanitation coverage in rural areas and develop Solid & Liquid Waste Management systems for urban and rural areas.

Gram = village, Panchayat = council. Gram Panchayat is the rural local body consisting of representative elected by the village residents.

'Dr. Shri Nanasaheb Dharmadhikari Pratishthan' is an institution for social service conducting activities across the state of Maharashtra.

'Pandurang Shastri Swadhyay Parivar' is an organisation engaged in social reformation, and has centres across India and some other countries.
References
Allen, A. (2003). Environmental planning and management of the peri-urban interface: Perspectives on an emerging field. Environment & Urbanization, 15(1), 135–148.

APN. (2011). Peri-urban development and environmental sustainability: Examples from China and India. Final Report for APN (Asia Pacific Network) Project. Retrieved August 15, 2018, from http://www.apn-gcr.org/resources/items/show/1556.

Berry, L. H., Koski, J., Verkuijl, C., Strambo, C., & Piggot, G. (2019). Making space: How public participation shapes environmental decision-making. SEI discussion brief. Stockholm Environment Institute.

Bhandari, H., & Yasunobu, K. (2009). What is social capital? A comprehensive review of the concept. Asian Journal of Social Science, 37(3), 480–510.

Chen, H., & Meng, T. (2015). Bonding, bridging, and linking social capital and self-rated health among Chinese adults: Use of the anchoring vignettes technique. PLoS ONE, 10(11), e0142300.

Deininger, K., & Liu, Y. (2009). Long-term economic impacts of self-help groups in India. Policy Research Working Paper 4886, The World Bank Development Research Group.

Desai, R. M., & Joshi, S. (2013). Collective action and community development: Evidence from self-help groups in rural India. Policy Research working paper; no. WPS 6547; Impact Evaluation series; no. IE 101. World Bank.

Dixon, J., & McMichael, P. (2015). Revisiting the 'urban bias' and its relationship to food security. In C. D. Butler, J. Dixon, & A. G. Capon (Eds.), Health of people, places and planet (pp. 313–330). Australia National University Press.

Gaiha, R., & Nandhi, M. A. (2007). Microfinance, self-help groups and empowerment in Maharashtra. ASARC Working Paper 2007/15. Retrieved August 15, 2018, from https://www.microfinancegateway.org/sites/default/files/mfg-en-paper-microfinance-self-help-groups-and-empowerment-in-maharashtra-oct-2007.pdf.

Geneletti, D., La Rosa, D., Spyra, M., & Cortinovis, C. (2017). A review of approaches and challenges for sustainable planning in urban peripheries. Landscape and Urban Planning, 165, 231–243.

Ghatak, T. K. (2016). Municipal solid waste management in India: A few unaddressed issues. Procedia Environmental Sciences, 35, 169–175.

GoI. (2017). Guidelines for Swachh Bharat Mission Gramin. Ministry of Drinking Water and Sanitation, Government of India (GoI).

Hans, V. B. (2014). Social capital in India: A cause of concern? Available at SSRN. https://doi.org/10.2139/ssrn.2382399

Harrison, K. L. (2003). Does social capital count? The case of solid waste management and public safety in Dobsonville and Yeoville, South Africa. Dissertation submitted to The London School of Economics and Political Science, University of London, June 2003.

JICA. (2015). JICA strategy paper on solid waste management. Global Environment Department, Japan International Cooperation Agency (JICA).

Kalwani, J. D. (2017). Community participation in solid waste management in rapid urbanizing market oriented countries: Morogoro experience, Tanzania. Journal of the Geographical Association of Tanzania, 35(1–2), 38–54.

Kandpal, R., & Saizen, I. (2019a). A study on institutional imbalances of the urban-rural governance framework in Mumbai Metropolitan Region, India. Asia-Pacific Journal of Regional Science, 3(1), 137–154.

Kandpal, R., & Saizen, I. (2019b). An evaluation of the relative urbanisation in peri-urban villages affected by industrialisation: The case study of Bhiwandi in the Mumbai Metropolitan Region, India. Spatial Information Research, 27, 137–149.

Lin, J., Cai, J., Han, F., Han, Y., & Liu, J. (2016). Underperformance of planning for peri-urban rural sustainable development: The case of Mentougou District in Beijing. Sustainability, 8(9), 858.

Mappasere, F., & Idris, M. (2016). Relationship among stakeholders for solid waste management in Makassar. IOSR Journal of Humanities and Social Science, 21(5), 18–23.

Méndez-Lemus, Y., Vieyra, A., & Poncela, L. (2017). Intra-government relationships and social capital in a peripheral municipality of Michoacán, Mexico. Progress in Development Studies, 17(1), 1–23.

Mlozi, M. N. (2011). Assessment of community participation in solid waste management: The case of Mbeya City Council Tanzania. Dissertation submitted to Sokoine University of Agriculture. Retrieved August 15, 2018, from http://suaire.suanet.ac.tz:8080/xmlui/bitstream/handle/123456789/291/Malietha%20Ndelle%20Mlozi%20%20Dissertation%202011.pdf?sequence=1&isAllowed=y

MMRDA. (2012). Draft development plan 2008–2028 for Bhiwandi Surrounding Notified Area. Report for Mumbai Metropolitan Region Development Authority (MMRDA), Mumbai.

MMRDA. (2016). Draft Mumbai Metropolitan Regional Plan 2016–2036. Report for Mumbai Metropolitan Region Development Authority (MMRDA), Mumbai.

Muller, M. S., Iyer, A., Keita, M., Sacko, B., & Traore, D. (2002). Differing interpretations of community participation in waste management in Bamako and Bangalore: Some methodological considerations. Environment & Urbanization, 14(2), 241–258.

Narain, V., Banerjee, P., & Anand, P. (2014). The shadow of urbanization: The periurban interface of five Indian cities in transition. Environmental Change, Vulnerability, and Governance, East-West Center Working Papers No. 68, Honolulu.

Narasimha, B. C., Anand, P., Ravish, K. S., Navya, S. S., & Ranganath, T. S. (2016). Role of self-help groups in women empowerment and health. International Journal of Community Medicine and Public Health. https://doi.org/10.18203/2394-6040.ijcmph20162210

National Institute of Rural Development (NIRD). (1995). Panchayati Raj Institutions in select states—An analytical study. NIRD, Hyderabad. Retrieved August 15, 2018, from http://www.panchayatgyan.gov.in/documents/30336/109986/9+panchayati_raj_institiution_in_select_states.pdf/7fda3bf3-80e7-47cb-b364-e5a7bbf9b798.

Nayak, A. K. (2015). Developing social capital through self-help groups. Indore Management Journal, 7(1), 18–24.

OECD. (2001). The well-being of nations—The role of human and social capital. Centre for Education Research and Innovation at the Organisation for Economic Co-operation and Development (OECD).

Ostrom, E. (2010). Analyzing collective action. Agricultural Economics, 41(s1), 155–166.

Putnam, R. D. (1995). Bowling alone. America's declining social capital. Journal of Democracy, 6(1), 65–78.

Realpe, A., & Wallace, L. M. (2010). What is co-production? London: The Health Foundation. Retrieved January 2, 2019, from https://personcentredcare.health.org.uk/sites/default/files/resources/what_is_co-production.pdf

Sadorsky, P. (2014). The effect of urbanization on CO2 emissions in emerging economies. Energy Economics, 41(C), 147–153.

Saravanan, M. (2016). The impact of self- help groups on the socio-economic development of rural household women in Tamil Nadu—A study. International Journal of Research-Granthalayah, 4(7), 22–31.

Saxena, M. (2015). Periurban area: A review of problems and resolutions. International Journal of Engineering Research & Technology, 4(09), 15–18.

Shabani, R. A. (2015). Factors affecting community participation in solid waste management in Lindi Municipal Council Tanzania. Dissertation submitted to Open University of Tanzania. Retrieved August 15, 2018, from http://repository.out.ac.tz/1458/1/RICHARD_AUGASTINO_SHABANI_-_Dissertation_Final.pdf

Shaw, A. (2005). Peri-urban interface of Indian cities—Growth, governance and local initiatives. Economic and Political Weekly, 40(2), 129–136.

Simon, D. (2008). Urban environments: Issues on the peri-urban fringe. Annual Review of Environment and Resources, 33, 167–185.

Singh, K., & Singh, D. (2013). Study of land-use compatibility using remote sensing and GIS-Bhiwandi Surrounding Notified Area (BSNA) Mumbai. Indian Journal of Ecology, 40(1), 71–76.

Subhash, A. (2002). Community participation in solid waste management. Office of Environmental Justice.

Sundaram, A. (2012). Impact of self-help group in socio-economic development of India. IOSR Journal of Humanities and Social Science, 5(1), 20–27.

Swain, R. B., & Wallentin, F. Y. (2009). Does microfinance empower women? Evidence from self-help groups in India. International Review of Applied Economics. https://doi.org/10.1080/02692170903007540

Tacoli, C. (1998). Rural–urban interactions: A guide to the literature. Environment and Urbanization, 10(1), 147–160.

Torres, H. G. (2007). Social and environmental aspects of peri-urban growth in Latin-American megacities. UN Expert Group Meeting on population distribution, urbanisation, internal migration and development UN/POP/EGM-URB/2008/10. Retrieved August 15, 2018, from http://www.un.org/esa/population/meetings/EGM_PopDist/P10_Torres.pdf

Zahra, K., Majeed, K., Mahmood, A., & Asad, M. (2012). Impact assessment of community participation in solid waste management projects in selected areas of Faisalabad city. Journal of Urban Planning and Development, 138(4), 319–327.
Acknowledgements
This work was supported by Japanese Society for the Promotion of Science KAKENHI (Grants-in-Aid for Scientific Research) Grant Number 16H03311 and the Japanese Government Monbukagakusho Scholarship by the Ministry of Education, Culture, Sports, Science and Technology, Japan. The authors would also like to thank the local body officials and all the leaders of the self-help groups in the villages of Bhiwandi Surrounding Notified Area, for their support in carrying out this study.
Ethics declarations
Conflict of interest
The authors declare that they have no conflict of interest.
Additional information
Publisher's Note
Springer Nature remains neutral with regard to jurisdictional claims in published maps and institutional affiliations.
Supplementary Information
Below is the link to the electronic supplementary material.
About this article
Cite this article
Kandpal, R., Saizen, I. Self-help group participation towards sustainable solid waste management in peri-urban villages: evidence from Mumbai Metropolitan Region, India. Environ Dev Sustain 24, 3791–3814 (2022). https://doi.org/10.1007/s10668-021-01588-6
Received:

Accepted:

Published:

Issue Date:

DOI: https://doi.org/10.1007/s10668-021-01588-6
Keywords
Awareness

Community participation

Self-help groups

Socio-economic impact

Solid waste