Abstract
The use of wastes for biogas production has been restricted to few feedstock like cattle manure and food waste. Increasing the feedstock base for biogas production is capable of increasing the sustainability of feedstock availability. This study seeks to assess sociocultural and acceptability issues associated with the use of faecal waste (human excreta, cattle manure, etc.) as a source of energy in selected stakeholder areas in Benin City, Nigeria. Qualitative research methods were used for data collection as data were generated through survey questionnaire. Field responses were mined and analysed using Factor analysis and cluster plots generated from Factor plots were analysis using Statistical Program for Social Sciences to rank the variables in order of hierarchical means. Analyses from this study have shown that faecal waste is a dependable feedstock for biogas production while adding value to food production through digestate utilization. Furthermore, high factor loading of 0.759 for acceptance to the fact that biogas from faecal waste has the potential to improve environmental sanitation in Benin City. However, there exist considerable knowledge gap as shown in the analyses which suggest a need for continuous awareness creation, policy formulation and orientation on the importance of biogas production from a range of feedstock in tackling energy security and sustainability in line with SDGs 2, 6 and 7.
This is a preview of subscription content,
to check access.
Access this article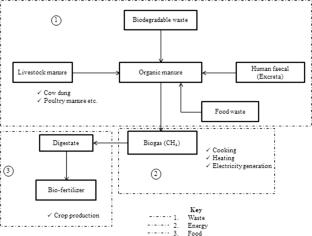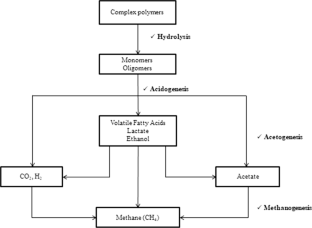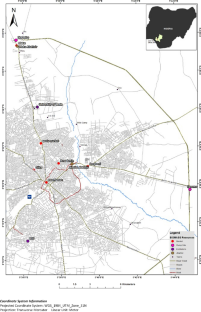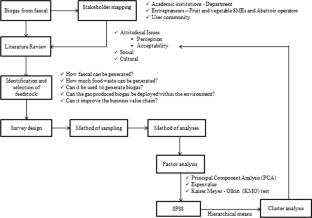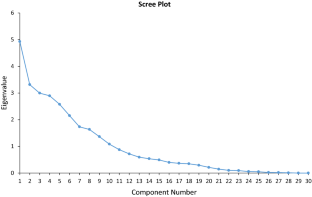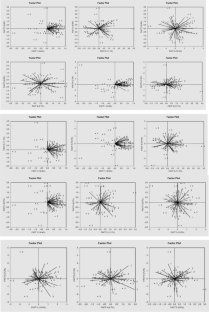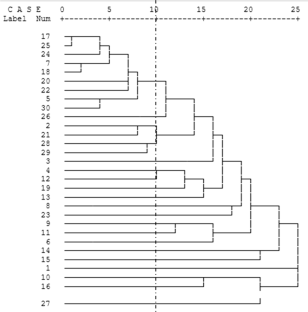 References
Abbasi, T., & Abbasi, S. A. (2010). Biomass energy and the environmental impacts associated with its production and utilization. Renewable and Sustainable Energy Reviews, 14(3), 919–937.

Abdel-Shafy, H. I., & Mansour, M. S. M. (2018). Solid waste issue: Sources, composition, disposal, recycling, and valorization. Egyptian Journal of Petroleum, 27, 1275–1290.

Abdi, H., & Williams, L. J. (2010). Principal component analysis. WIREs Computational Statistics, 2, 433–459.

Ajieh, M. U., Ogbomida, E. T., Onochie, U. P., Orerome, R. O., Akingba, O., Kubeyinje, B. F., & Ogbonmwan, S. M. (2019). Design and construction of fixed dome digester for biogas production using cow dung and water hyacinth. African Journal of Environmental Science and Technology, 14(1), 15–25.

Albihn, A., & Vinnerås, B. (2007). Biosecurity and arable use of manure and biowaste-treatment alternatives. Livestock Science, 112(3), 232–239.

Andriani, D., Arini Wresta, A., Saepudin, A., & Prawara, B. (2015). A review of recycling of human excreta to energy through biogas generation: Indonesia case. Energy Procedia, 68, 219–225.

Anjum, M., Qadeer, S., & Khalid, A. (2018). Anaerobic co-digestion of catering and agro-industrial waste: a step forward toward waste biorefinery. Frontiers in Energy Research, 6, 116. https://doi.org/10.3389/fenrg.2018.00116.

Anozie, A. N., Bakare, A. R., Sonibare, J. A., & Oyebisi, T. O. (2007). Evaluation of cooking energy cost, efficiency, impact on air pollution and policy in Nigeria. Energy, 32(7), 1283–1290. https://doi.org/10.1016/j.energy.2006.07.004.

Bonetta, S. I., Ferretti, E., Bonetta, A. A., Fezia, G., & Carraro, E. (2011). Microbiological contamination of digested products from anaerobic co-digestion of bovine manure and agricultural products. Letters in Applied Microbiology. https://doi.org/10.1111/j.1472-765x.2011.03148.x.

Brunner, P. H., & Rechberger, H. (2014). Waste to energy—key element for sustainable waste management. Waste Management, 37, 3–12. https://doi.org/10.1016/j.wasman.2014.02.003.

Bugaje, I. M. (2006). Renewable energy for sustainable development in Africa: A review. Renewable and Sustainable Energy Reviews, 10(6), 603–612.

Buit, G., & Jansen, K. (2016). Acceptance of human feces-based fertilizers in fecophobic Ghana. Human Organization, 75(1), 97.

Byrne, B. M. (2005). Factor analytic models: Viewing the structure of an assessment instrument from three perspectives. Journal of Personality Assessment, 85(1), 17–32. https://doi.org/10.1207/s15327752jpa8501_02.

Chen, Y. D., Ho, S. H., Nagarajan, D., Ren, N. Q., & Chang, J. S. (2017). Waste biorefineries—integration of anaerobic digestion and microalgae cultivation for bioenergy production. Current Opinion in Biotechnology, 50, 101–110. https://doi.org/10.1016/j.copbio.2017.11.017.

Costantini, V., Gracceva, F., Markandya, A., & Vicini, G. (2007). Security of energy supply: Comparing scenarios from a European perspective. Energy Policy, 35(1), 210–226. https://doi.org/10.1016/j.enpol.2005.11.002.

Dollhofer, V., Podmirseg, S. M., Callaghan, T. M., Griffith, G. W., & Fliegerová, K. (2015). Anaerobic fungi and their potential for biogas production. Biogas Science and Technology (pp. 41–61). Berlin: Springer.

Ezemonye, L. I. N, Ogbomida, E. T., and Ajieh, M. U. (2018). Contemporary Issues in Africa's Development: Whither the African Renaissance. Cambridge Scholars Publishing, pp. 152–173; ISBN: 978-1-5275-0363-2

Fröschle, B., Messelhäusser, U., Höller, C., & Lebuhn, M. (2015). Fate of Clostridium botulinum and incidence of pathogenic Clostridia in biogas processes. Journal of Applied Microbiology, 119, 936–947.

Garcia-Garcia, G., Woolley, E., Rahimifard, S., et al. (2017). A methodology for sustainable management of food waste. Waste Biomass, 8, 2209–2227. https://doi.org/10.1007/s12649-016-9720-0.

Giwa, A., Alabi, A., Yusuf, A., & Olukan, T. (2017). A comprehensive review on biomass and solar energy for sustainable energy generation in Nigeria. Renewable and Sustainable Energy Reviews, 69, 620–641.

Hagos, K., Zong, J., Li, D., Liu, C., & Lu, X. (2017). Anaerobic co-digestion process for biogas production: Progress, challenges and perspectives. Renewable and Sustainable Energy Reviews, 76, 1485–1496.

Ida, V., Jakub, Š, Kateřina, R., & Pavel, Ž. (2016). Using theCluster Analysis and the Principal Component Analysis in Evaluating the Quality of a Destination. Acta Universitatis Agriculturae et Silviculturae Mendelianae Brunensis, 64(2), 677–682.

Inglesi-Lotz, R. (2016). The impact of renewable energy consumption to economic growth: A panel data application. Energy Economics, 53, 58–63.

Jewitt, S. (2011). Poo gurus? Researching the threats and opportunities presented by human waste. Applied Geography, 31(2), 761–769.

Kataki, S., Hazarika, S., & Baruah, D. C. (2017). Assessment of by-products of bioenergy systems (anaerobic digestion and gasification) as potential crop nutrient. Waste Management, 59, 102–117.

Kumar, S., Smith, S. R., Fowler, G., Velis, C., Kumar, S. J., Arya, S. R., et al. (2017). Challenges and opportunities associated with waste management in India. Royal Society Open Science, 4, 1–11.

Liu, R. X., Kuang, J., Gong, Q., & Hou, X. L. (2003). Principal component regression analysis with SPSS. Computer Methods and Programs in Biomedicine, 71, 141–147.

Miles, S. L., Sun, W., Field, J., Gerba, C., & Pepper, I. L. (2013). Survival of infectious prions during anaerobic digestion of municipal sewage sludge and lime stabilization of Class B Biosolids. Journal of Residuals Science and Technology, 10, 69–75.

Mvududu, N. H., & Sink, C. A. (2013). Factor Analysis in Counseling Research and Practice. Counseling Outcome Research and Evaluation, 4(2), 75–98.

Osborne, J. W. (2015). What is rotating in exploratory factor analysis? Practical Assessment, Research, and Evaluation, 20(2), 1–8.

Panwar, N. L., Kaushik, S. C., & Kothari, S. (2010). Role of renewable energy sources in environmental protection: A review. Renewable and Sustainable Energy Reviews, 15, 1513–1524.

Paritosh, K., Kushwaha, S. K., Yadav, M., Pareek, N., Chawade, A., & Vivekanand, V. (2017). Food waste to energy: An overview of sustainable approaches for food waste management and nutrient recycling. BioMed Research International. https://doi.org/10.1155/2017/2370927.

Pavi, S., Kramer, L. E., Gomes, L. P., & Miranda, L. A. S. (2017). Biogas production from co-digestion of organic fraction of municipal solid waste and fruit and vegetable waste. Bioresource Technology, 228, 362–367. https://doi.org/10.1016/j.biortech.2017.01.003.

Rahman, H. S., & Othman, H. H. (2017). Salmonella infection. The common cause of human food poisoning. Progress in Bioscience and Bioengineering, 1, 5–10.

Refaat, A. A. (2009). The imperative need for an integrated energy and climate policy for Africa. International Journal of Energy and Environment, 3(1), 29–43.

Rensink, R. A., & Baldridge, G. (2010). The perception of correlation in scatterplots. Computer Graphics Forum, 29(3), 1203–1210.

Ronteltap, M., Khadka, R., Sinnathurai, A. R., & Maessen, S. (2009). Integration of human excreta management and solid waste management in practice. Desalination, 248(1–3), 369–376.

Seruga, P., Krzywonos, M., Paluszak, Z., Urbanowska, A., Pawlak-Kruczek, H., Niedzwiecki, L., & Pinkowska, H. (2020). Pathogen reduction potential in anaerobic digestion of organic fraction of municipal solid waste and food waste. Molecules, 25, 275.

WBA (2017). Fact Sheet 3: How to achieve the sustainable development goals through biogas. Available from: http://www.worldbiogasassociation. org/wp-content/uploads/2017/07/WBA-SDGs-Biogas-factsheet-3.pdf.

Sheets, J. P., Yang, L., Ge, X., Wang, Z., & Li, Y. (2015). Beyond land application: Emerging technologies for the treatment and reuse of anaerobically digested agricultural and food waste. Waste Management, 44, 94–115.

Surendra, K. C., Takara, D., Hashimoto, A. G., & Khanal, S. K. (2014). Biogas as a sustainable energy source for developing countries: Opportunities and challenges. Renewable and Sustainable Energy Reviews, 3, 846–859.

Toklu, E. (2013). Overview of potential and utilization of renewable energy sources in Turkey. Renewable Energy, 50, 456–463.

Verstraete, W., Morgan-Sagastume, F., Aiyuk, S., Waweru, M., Rabaey, K., & Lissens, G. (2005). Anaerobic digestion as a core technology in sustainable management of organic matter. Water Science and Technology, 52(1–2), 59–66.

Vidal-Amaro, J. J., Østergaard, P. A., & Sheinbaum-Pardo, C. (2015). Optimal energy mix for transitioning from fossil fuels to renewable energy sources–the case of the Mexican electricity system. Applied Energy, 150, 80–96.

Ward, B. J., Yacob, T. W., & Montoya, L. D. (2014). Evaluation of solid fuel char briquettes from human waste. Environmental science and technology, 48(16), 9852–9858.

Williams, B., Onsman, A., & Brown, T. (2010). Exploratory factor analysis: A five-step guide for novices. Journal of Emergency Primary Health Care (JEPHC), 8(3), 1–13.

Xiaohua, W., Chonglan, D., Xiaoyan, H., Weiming, W., Xiaoping, J., & Sangyun, J. (2007). The influence of using biogas digesters on family energy consumption and its economic benefit in rural areas-comparative study between Lianshui and Guichi in China. Renewable and Sustainable Energy Reviews, 11(5), 1018–1024.

Yu, T., & Richardson, J. C. (2015). An exploratory factor analysis and reliability analysis of the student online learning readiness (SOLR) instrument. Journal of Online Learning, 19(5), 120–141.

Zhao, Q., & Liu, Y. (2019). Is anaerobic digestion a reliable barrier for deactivation of pathogens in biosludge? Science of Total Environment, 668, 893–902.

Zurbrügg, C., & Tilley, E. (2009). A system perspective in sanitation–human waste from cradle to grave and reincarnation. Desalination, 248(1–3), 410–417.
Acknowledgements
The authors acknowledge funding for this work through the RECIRCULATE project funded by the UK Government through the Global Challenges Research Fund (GCRF).
Additional information
Publisher's Note
Springer Nature remains neutral with regard to jurisdictional claims in published maps and institutional affiliations.
About this article
Cite this article
Ajieh, M.U., Isagba, E.S., Ihoeghian, N. et al. Assessment of sociocultural acceptability of biogas from faecal waste as an alternative energy source in selected areas of Benin City, Edo State, Nigeria. Environ Dev Sustain 23, 13182–13199 (2021). https://doi.org/10.1007/s10668-020-01205-y
Received:

Accepted:

Published:

Issue Date:

DOI: https://doi.org/10.1007/s10668-020-01205-y
Keywords