Abstract
The present study is based on municipal solid waste incineration (MSWI) bottom ash stabilization when amended with cement and fiber. To simulate the effect of inclusion of cement and fibers on the behavior of MSWI bottom ash, numerous experiments were performed. The CBR test was considered as a basic parameter during the study. For CBR, a comparison was made among different test specimens under soaked and unsoaked conditions, with and without cement and fibers. The maximum dry unit weight of the bottom ash reduces, and moisture content rises due to the inclusion of cement and fiber. The results revealed that the relatively better combination was found to be highest gain of CBR value in case of 8% cement and 1% fiber. The study results also demonstrated that addition of fiber used to stabilize MSWI bottom ash reduces the stiffness as well as changes the behavior from brittle to ductile. Due to the free availability, such material can be used in compacted fills, embankments and road construction in very liberal manner. A multiple linear regression analysis of test results was carried out in order to develop a mathematical relationship to understand the intensity of different factors, i.e., MSWI bottom ash, cement content, fiber content, fiber length and curing period. The simulated model agreed reasonably with the experimental results.
Access options
Buy single article
Instant access to the full article PDF.
US$ 39.95
Tax calculation will be finalised during checkout.
Subscribe to journal
Immediate online access to all issues from 2019. Subscription will auto renew annually.
US$ 79
Tax calculation will be finalised during checkout.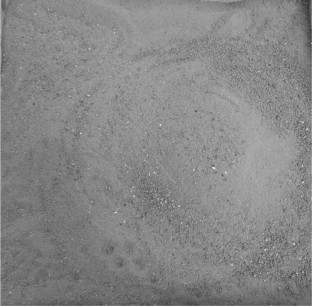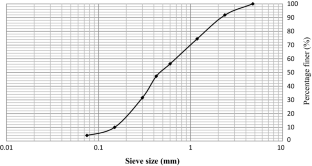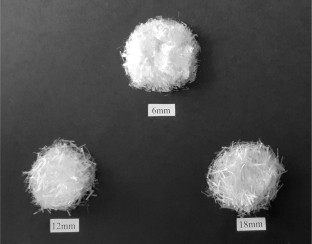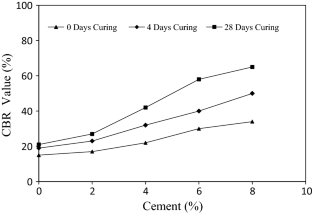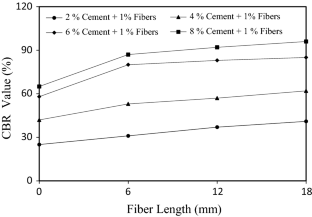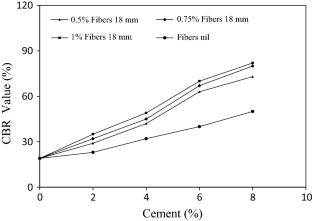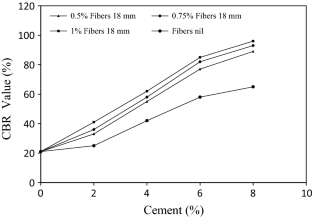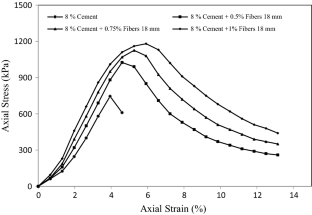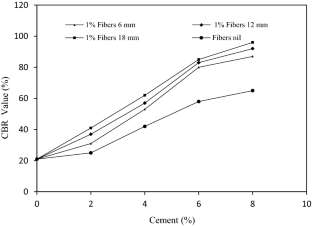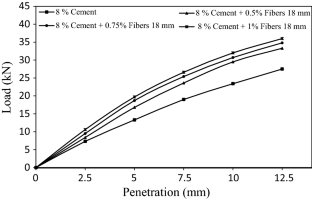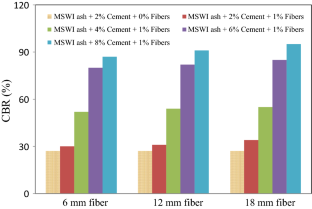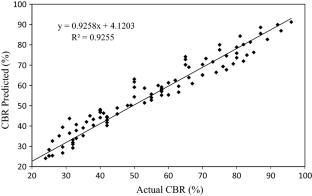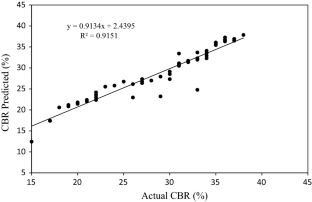 References
ASTM D6913-04. Standard test methods for particle size distribution of soils. West Conshohocken, PA: ASTM International.

ASTM D1883-05. Standard test methods for California bearing ratio test for soils. West Conshohocken, PA: ASTM International.

ASTM D1557-09. Test method for laboratory compaction characteristics of soil using modified effort. West Conshohocken, PA: ASTM International.

Cavey, J. K., Krizek, R. J., Sobhan, K., & Baker, W. H. (1995). Waste fibers in cement stabilized recycled aggregate base course material. Transportation Research Record 1486. Transportation Research Board: Washington, DC, 1486, 97–106.

Consoli, N. C., Montardo, J. P., Prietto, P. D. M., & Pasa, G. S. (2002). Engineering behavior of sand reinforced with plastic waste. Journal of Geotechnical and Geoenvironmental Engineering, 128(6), 462–472.

Forteza, R., Far, M., Seguı, C., & Cerda, V. (2004). Characterization of bottom ash in municipal solid waste incinerators for its use in road base. Waste Management, 24(9), 899–909.

Ghiassian, H., Poorebrahim, G., & Gray, D. H. (2004). Soil reinforcement with recycled carpet wastes. Waste Management, 22(2), 108–114.

Hoover, J. M., Moeller, D. T., Pitt, J. M., Smith, S. G., Wainaina, N. W. (1982). Performance of randomly oriented fiber reinforced road ways soils. Iowa DOT Project No. HR-211, Department of Transportation Engineering Division, Iowa State University, pp. 15–35.

Indian Road Congress 37. (2012). Guidelines for the design of flexible pavements. IRC-37, New Delhi, India, pp. 12–18.

Indian Road Congress (IRC). (2002). Rural roads manual. IRC-SP-20 New Delhi, India, pp. 92–101.

IS 1727:1967, Reaffirmed. (2004). Indian standard methods of test for pozzolanic materials, Bureau of Indian Standards, New Delhi.

Kaniraj, S. R., & Gayathri, V. (2003). Geotechnical behavior of fly ash mixed with randomly oriented fiber inclusions. Geotextiles and Geomembranes, 21, 123–149.

Karthik, S., Ashok, K. E., Gowtham, P., Elango, G., Gokul, D., & Thangaraj, S. (2014). Soil stabilization by using fly ash. IOSRJMCE, 10, 20–26.

Kumar, P., & Singh, S. P. (2008). Fiber-reinforced fly ash subbases in rural roads. Journal of Transportation Engineering, ASCE, 134, 171–180.

Lam, C. H., Ip, A. W., Barford, J. P., & McKay, G. (2010). Use of incineration MSW ash: A review. Sustainability, 2(7), 1943–1968.

Mc Caustland, D. E. J. (1925). Lime dirt in roads. Proceedings of National Lime Association, 7, 12–18.

Muntohar, A. S. (2000). Evaluation of the usage of plastic sack rubbish as fabric in expansive embankment stabilization. Jurnal Ilmiah Semesta Teknika, 3(2), 85–95.

Ramlakhan, B., Kumar, S. A., & Arora, T. R. (2013). Effect of lime and fly ash on engineering properties of black cotton soil. International Journal of Emerging Technology and Advanced Engineering, 3(11), 535–541.

Raymond, G. P. (2002). Reinforced ballast behaviour subjected to repeated load. Geotextiles and Geomembranes, 20(1), 39–61.

Sabat, A. K., & Bose, B. (2013). Improvement in geotechnical properties of an expansive soil using fly ash-quarry dust mixes. EJGE, 18, 3487–3500.

Sharma, R. K., & Hymavathi, J. (2016). Effect of fly ash, construction demolition waste and lime on geotechnical characteristics of a clayey soil: A comparative study. Environmental Earth Sciences, 75(5), 377.

Show, K. Y., Tay, J. H., & Goh, A. T. (2003). Reuse of incinerator fly ash in soft soil stabilization. Journal of Materials in Civil Engineering, 15(4), 335–343.

Singh, D., & Kumar, A. (2017a). Geo-environmental application of municipal solid waste incineration ash stabilized with cement. Journal of Rock Mechanics and Geotechnical Engineering, 2(9), 370–375.

Singh, D., & Kumar, A. (2017b). Performance evaluation and geo-characterization of municipal solid waste incineration ash material amended with cement and fiber. International Journal of Geosynthetics and Ground Engineering, 2(3), 1–9.

Tang, C., Shi, B., Gao, W., Chen, F., & Cai, Y. (2007). Strength and mechanical behavior of short polypropylene fiber reinforced and cement stabilized clayey soil. Geotextiles and Geomembranes, 25(3), 194–202.

Umar, M., Alhassan, H. M., Abdulfatah, A. Y., & Idris, A. (2013). Beneficial use of class-C fly ash in improving marginal lateritic soils for road construction. EJGE, 18, 2815–2822.
Additional information
Publisher's Note
Springer Nature remains neutral with regard to jurisdictional claims in published maps and institutional affiliations.
About this article
Cite this article
Singh, D., Kumar, A. Factors affecting properties of MSWI bottom ash employing cement and fiber for geotechnical applications. Environ Dev Sustain 22, 6891–6905 (2020). https://doi.org/10.1007/s10668-019-00519-w
Received:

Accepted:

Published:

Issue Date:
Keywords
MSWI bottom ash

Cement

Fibers

Stabilization

CBR