Abstract
Other than seasonal variation, river regulation due to hydropower generation can influence the water quality downstream. Therefore, the objectives of this study were to determine the water quality and estimate the pollutant loading of the Rajang River and its tributaries at the Pelagus area downstream of the Bakun hydroelectric Dam. The study was conducted at 11 stations three times, in July 2015 during dry season (spillway opened), in January (spillway closed) and March 2016 (spillway opened) during wet season. Results of the water quality classification show deterioration from 91% Class II in dry season to 64–82% Class III in rainy season mainly due to an increase in total suspended solids caused by soil erosion in the river basin. The pollutant loads were high particularly during wet season with TSS reaching 945,763 Mg/day, and hence, mitigation measures to reduce the pollutant loads in the river are essential. Nevertheless, two tributaries, Mela River and Kapit Hulu River where stations 4 and 5 are located, are recommended for the conservation of sensitive aquatic organisms as they are classified as Class II throughout the seasonal variation indicating good quality freshwater. The Bakun dam turbine discharge affected the downstream river water quality as shown by the low dissolved oxygen content of < 5 mg/L extending beyond 204 km downstream of the dam when the spillway was closed. Thus, raising the level of dissolved oxygen downstream of the dam during closed spillway and reducing suspended solids are recommended for the benefits of sensitive aquatic organisms.
Access options
Buy single article
Instant access to the full article PDF.
US$ 39.95
Tax calculation will be finalised during checkout.
Subscribe to journal
Immediate online access to all issues from 2019. Subscription will auto renew annually.
US$ 79
Tax calculation will be finalised during checkout.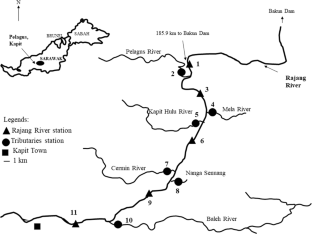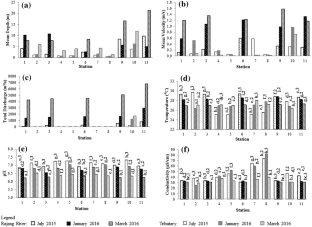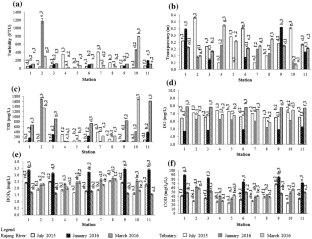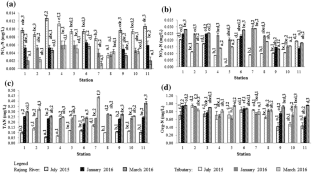 References
Abdulkareem, J. H., Jamil, N. R., & Sulaiman, W. N. A. (2018). Non-point source (NPS) simulation in a tropical complex catchment. International Journal of Applied Environmental Sciences,13(2), 145–160.

Beck, M. W., Claassen, A. H., & Hundt, P. J. (2012). Environmental and livelihood impacts of dams: Common lessons across development gradients that challenge sustainability. International Journal of River Basin Management,10(1), 73–92.

Brown, G. W. (1973). The impact of timber harvest on soil and water resources (pp. 1–17)., Cooperative Extension Service Corvallis, OR: Oregon State University.

Chapra, S. C. (1997). Surface water quality modeling. New York City, NY: McGraw-Hill Companies Inc.

Costanzo, S. D., O'Donohue, M. J., & Dennison, W. C. (2003). Assessing the seasonal influence of sewage and agricultural nutrient inputs in subtropical river estuary. Estuarine Research Federation,26(4A), 857–865.

Cunha, D. D. A., & Ferreira, L. V. (2012). Impacts of the Belo Monte hydroelectric dam construction on pioneer vegetation formations along the Xingu River, Para State, Brazil. Brazilian Journal of Botany,35(2), 159–167.

Dahlgren, R. A. (1998). Effects of forest harvest on stream-water quality and nitrogen cycling in the Caspar Creek Watershed. USDA Forest Service Gen. Tech. Rep. PSW-GTR-168, USDA.

DOE. (2014). Malaysia Environmental Quality Report of 2013. Department of Environment, Ministry of Natural Resources and Environment.

Donald, W. M., Peter, R. R., & Dressing, S. A. (2013). Pollutant load estimation for water quality monitoring projects (pp. 1–21). Fairfax, VA: U.S. Environmental Protection Agency, Tetra Tech, Inc.

El-Sadek, A., Radwan, M., & Abdel-Gawad, S. (2005). Analysis of load versus concentration as water quality measures. In Ninth International Water Technology Conference (Vol. 1, No. 1, pp. 1281–1292).

Gandaseca, S., Rosli, N., Ngayop, J., & Arianto, C. I. (2011). Status of water quality based on the physico-chemical assessment on river water at wildlife sanctuary Sibuti Mangrove Forest, Miri, Sarawak. American Journal of Environment Sciences,7(3), 269–275.

Gibrilla, E. K. P., Bam, D., Adomako, D., Ganyagio, S., Dampare, S. B., Achoribo, E., et al. (2011). Seasonal evaluation of raw, treated and distributed water quality from the Barekese Dam (River Offin) in the Ashanti Region of Ghana. Water Quality, Exposure and Health,3(1), 157–174.

Gokbulak, F., Serengil, Y., Ozhan, S., Ozyuvaci, N., & Balci, N. (2008). Effect of timber harvest on physical water quality characteristics. Water Resources Management,22(5), 635–649.

Guo, H., Hi, Q., Zhang, Q., & Feng, S. (2012). Effect of the three gorges dam on Yangtze river flow and river interaction with Poyang Lake: 2003–2008. Journal of Hydrology,416(417), 19–27.

Hach. (2015). Hach water analysis handbook. Loveland, CO: Hach Company.

Hon, J., & Shibata, S. (2013). A review on land use in the Malaysian State of Sarawak, Borneo and recommendations for wildlife conservation inside production forest environment. Borneo Journal of Resource Science and Technology,3(2), 22–35.

Horne, A. J., & Goldman, C. R. (1994). Limnology (2nd ed.). New York City, NY: McGraw-Hill Inc.

Ismail, W. R., & Ibrahim, M. N. (2015). An assessment of sediment and nitrogen input into the upper Merbuk estuary, Kedah, Malaysia. Water Quality, Exposure and Health,7(6), 79–88.

Jenkins, D., Connors, J. J., & Greenberg, A. E. (2005). Standard methods for the examination of water and wastewater (21st ed.). Washington, DC: American Public Health and Association.

Johnson, C. N., Fisher, P. R., Huang, J., Yeager, T. H., Obreza, T. A., Vetanovetz, R. P., et al. (2013). Effect of fertilizer potential acidity and nitrogen form on the pH response in a peat-based substrate with three floricultural species. Scientia Horticulturae,162(1), 135–143.

Lessard, J. L., & Hayes, D. B. (2003). Effects of elevated water temperature on fish and macroinvertebrate communities below small dams. River Research and Applications,19(7), 721–732.

Li, X., Dong, S., Zhao, Q., & Liu, S. (2010). Impacts of Manwan Dam construction on aquatic habitat and community in Middle Reach of Lancang River. Procedia Environmental Sciences,2(5), 706–712.

Lin, Q. (2011). Influence of dams on river ecosystem and its countermeasures. Journal of Water Resource and Protection,3(1), 60–66.

Ling, T. Y., Dana, M. J., Bostam, S., & Nyanti, L. (2012). Domestic wastewater quality and pollutant loadings from urban housing areas. Iranica Journal of Energy and Environment,3(2), 129–133.

Ling, T. Y., Gerunsin, N., Soo, C. L., Nyanti, L., Sim, S. F., & Grinang, J. (2017a). Seasonal changes and spatial variation in water quality of a large young tropical reservoir and its downstream river. Journal of Chemistry, Article ID 8153246, 16.

Ling, T. Y., Layang, H. W., Then, Y. P., & Apun, K. (2006). Impacts of pig farming on the water quality of Serin River, Sarawak. Sains Malaysiana,35(1), 45–50.

Ling, T. Y., Nyanti, L., Muan, T., Grinang, J., Sim, S. F., & Mujahid, A. (2016a). Physicochemical parameters of Bakun reservoir in Belaga, Sarawak, Malaysia, 13 months after reaching full supply level. Sains Malaysiana,45(2), 157–166.

Ling, T. Y., Soo, C. L., Heng, T. L. E., Nyanti, L., Sim, S. F., & Jongkar, G. (2016b). Physicochemical characteristics of river water downstream of a large tropical hydroelectric dam. Journal of Chemistry, Article ID 7895234, 7.

Ling, T. Y., Soo, C. L., Liew, J. J., Nyanti, L., Sim, S. F., & Grinang, J. (2017b). Influence of rainfall on the physicochemical characteristics of a tropical river in Sarawak, Malaysia. Polish Journal of Environmental Studies,26(5), 2053–2065.

Ling, T. Y., Soo, C. L., Phan, T. P., Nyanti, L., Sim, S. F., & Grinang, J. (2017d). Assessment of water quality of Batang Rajang at Pelagus Area, Sarawak, Malaysia. Sains Malaysiana,46(3), 1–10.

Ling, T. Y., Soo, C. L., Sivalingam, J. R., Nyanti, L., Fong, S. S., & Grinang, J. (2016c). Assessment of the water and sediment quality of tropical forest streams in upper reaches of the Baleh River, Sarawak, Malaysia, subjected to logging activities. Journal of Chemistry, Article ID 8503931.

Ling, T. Y., Srikaran, R., Kho, C. P., & Nyanti, L. (2010). Organic matter, nutrients and trace metals of Serin River. World Applied Sciences Journal,8(4), 496–502.

Martins, J. A., Brand, V. S., Capucim, M. N., Machado, C. B., Allasia, D. G., & Martins, L. D. (2016). The impact of rainfall and land cover changes on the flow of a medium-sized river in the South of Brazil. Energy Procedia,95(16), 272–278.

Metcalf & Eddy. (2004). Wastewater engineering treatment, disposal, and reuse (4th ed.). Singapore: McGraw-Hill Inc.

Preece, R. (2004). Cold water pollution below dams in New South Wales. Sydney: Department of Infrastructure, Planning and Natural Resources.

Rutherford, J. C., Blackett, S., Blackett, C., Saito, L., & Davies-Colley, R. J. (2010). Predicting the effects of shade on water temperature in small streams. New Zealand Journal of Marine and Freshwater Research,31(5), 707–721.

Schelker, J., Eklof, K., Bishop, K., & Laudon, H. (2012). Effects of forestry operations on dissolved organic carbon concentrations and export in boreal first-order streams. Journal of Geophysical Research: Biogeosciences,117(1), 1–12.

SEB. (2015). Sarawak Energy Berhad Annual Report of 2015, Towards becoming a regional powerhouse. Sarawak Energy Berhad.

Sinaga, A. C., Nugraha, W. D., & Rezagama, A. (2017). Determination of pollutant load of BOD and Fecal Coliform by QUAL2E. Environmental Engineering Journal, 20(17), 2454–2457.

Ugwu, A. I., & Wakawa, R. J. (2012). A study of seasonal physicochemical parameters in river USMA. American Journal of Environmental Sciences,8(5), 569–576.

UPUM. (2002). Kajian pencegahan pencemaran dan peningkatan kualiti air Sungai Langat. Department of Environment.

Wang, Q. G., Du, Y. H., Su, Y., & Chen, K. Q. (2012). Environmental impact post-assessment of dam and reservoir projects: a review. Procedia Environmental Sciences,13(1), 1439–1443.

Wera, F. A., Ling, T. Y., Nyanti, L., Sim, S. F., & Grinang, J. (2019). Effects of opened and closed spillway operations of a large tropical hydroelectric dam on the water quality of the downstream River. Journal of Chemistry, Article ID 6567107, 11.

Wildi, W. (2010). Environmental hazards of dams and reservoirs. Near Curriculum in Natural Environmental Science,88(1), 187–197.

Yang, H. J., Shen, Z. M., Zhang, J. P., & Wang, W. H. (2007). Water quality characteristics along the course of the Huangpu River (China). Journal of Environmental Sciences,19(1), 1193–1198.

Yosup, Z., Tan, L. W., Ujang, Z., Mohamed, M., & Nasir, K. A. (2005). Runoff quality and pollution loadings from a tropical urban catchment. Journal of Water Science and Technology,52(9), 125–132.
Acknowledgements
The authors are grateful for the financial support provided by the Sarawak Energy Berhad through Grant No. GL(F07)/SEB/2C/2013(18) and the facilities provided by Universiti Malaysia Sarawak.
Additional information
Publisher's Note
Springer Nature remains neutral with regard to jurisdictional claims in published maps and institutional affiliations.
About this article
Cite this article
Tawan, AS., Ling, TY., Nyanti, L. et al. Assessment of water quality and pollutant loading of the Rajang River and its tributaries at Pelagus area subjected to seasonal variation and river regulation. Environ Dev Sustain 22, 4101–4124 (2020). https://doi.org/10.1007/s10668-019-00374-9
Received:

Accepted:

Published:

Issue Date:
Keywords
Bakun dam

Dissolved oxygen

Spillway operation

Turbidity

Tailwater