Abstract
Traditional medicinal plants play a central role in primary health care in most African communities, including that of the Maasai. Unfortunately, the local Maasai knowledge is under enormous pressure from introduction of agriculture, population growth, and climate change—all of which affect availability and regeneration of natural resources and ecosystem services which are accompanied by erosion of traditional knowledge. Loss of medicinal plants and the knowledge related to them would have devastating effects on the Maasai community. Therefore, it is important to document the plants and the traditional knowledge related to their use, and conservation and management. We interviewed 31 informants who were especially knowledgeable about medicinal plants. Based on these interviews, we document 62 plant species that the Loita Maasai use as medicine, and we describe the parts of the plant that are used, the methods of preparation, and how they are used. We rank them according to their importance to the people and discuss the management practices developed for these resources, and we evaluate the conservation status.
This is a preview of subscription content, log in to check access.
Access options
Buy single article
Instant access to the full article PDF.
US$ 39.95
Price includes VAT for USA
Subscribe to journal
Immediate online access to all issues from 2019. Subscription will auto renew annually.
US$ 99
This is the net price. Taxes to be calculated in checkout.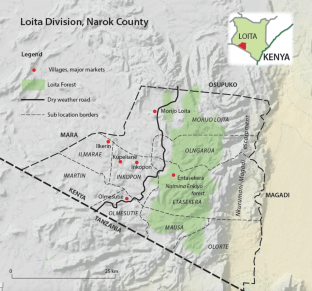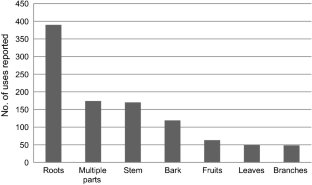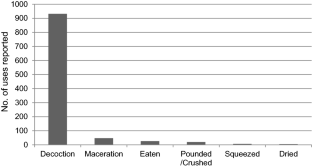 References
Akerele, O., Heywood, V., & Synge, H. (1991). Conservation of medicinal plants. New York: Cambridge University Press.

Babbie, E. (2010). The basics of social research (5th ed.). Belmont, CA: Thomson Wadsworth.

Berkes, F. (1999). Sacred ecology. Traditional ecological knowledge and resource management. Philadelphia, London: Taylor and Francis.

Berkes, F., & Davidson-Hunt, I. J. (2006). Biodiversity, traditional management systems, and cultural landscapes: Examples from the boreal forest of Canada. International Social Science Journal,58(187), 35–47. https://doi.org/10.1111/j.1468-2451.2006.00605.x.

Bjørklund, I. (1990). Sámi reindeer pastoralism as an indigenous resource management system in northern Norway: A contribution to the common property debate. Development and Change,21(1), 75–86. https://doi.org/10.1111/j.1467-7660.1990.tb00368.x.

Borgatti, S. P. (1996). ANTHROPAC 4.0 user's guide. Natick, MA: Analytic Technologies.

Braun, V., & Clarke, V. (2006). Using thematic analysis in psychology. Qualitative Research in Psychology,3(2), 77–101.

Burford, G., Rafiki, M. Y., & Ole Ngila, L. (2001). The forest retreat of Orpul: A holistic system of health care practiced by the Maasai tribe of East Africa. The Journal of Alternative and Complementary Medicine,7(5), 547–551. https://doi.org/10.1089/10755530152639774.

Bussmann, R. W., Gilbreath, G. G., Solio, J., Lutura, M., Lutuluo, R., Kunguru, K., et al. (2006). Plant use of the Maasai of Sekenani Valley, Maasai Mara, Kenya. Journal of Ethnobiology and Ethnomedicine,2(1), 22–27. https://doi.org/10.1186/1746-4269-2-22.

Colding, J., & Folke, C. (2001). Social taboos: "Invisible" systems of local resource management and biological conservation. Ecological Applications,11(2), 584–600. https://doi.org/10.2307/3060911.

Cook, F. E. M. (1995). Economic botany data collection standard. International working group on taxonomic databases for plant science. Kew: Royal Botanic Gardens.

Feeny, P. (1976). Plant apparency and chemical defense. In J. W. Wallace & R. L. Nansel (Eds.), Biochemical interactions between plants and insects. Recent advances in phytochemistry (pp. 1–40). New York: Plenum Press. https://doi.org/10.1007/978-1-4684-2646-5_1.

Fortini, P., Di Marzio, P., Guarrera, P. M., & Iorizzi, M. (2016). Ethnobotanical study on the medicinal plants in the Mainarde Mountains (central-southern Apennine, Italy). Journal of Ethnopharmacology,184, 208–218. https://doi.org/10.1016/j.jep.2016.03.010.

Galman, S. C. (2007). Shane, the lone ethnographer: A beginner's guide to ethnography. Lanham, MD: AltaMira Press.

Hamilton, A. C., & Radford, E. A. (2007). Identification and conservation of important plant areas for medicinal plants in the Himalaya. Salisbury: Plant Life International.

Ingold, T., & Kurttila, T. (2000). Perceiving the environment in Finnish Lapland. Body and Society,6(3–4), 183–196. https://doi.org/10.1177/1357034X00006003010.

Junsongduang, A., Balslev, H., Inta, A., Jampeetong, A., & Wangpakapattanawong, P. (2014). Karen and Lawa medicinal plant use: Uniformity or ethnic divergence?. Journal of Ethnopharmacology,151(1), 517–527.

Kala, C. P. (2000). Status and conservation of rare and endangered medicinal plants in the Indian trans-Himalaya. Biological Conservation,93(3), 371–379. https://doi.org/10.1016/S0006-3207(99)00128-7.

Kew.org. (2016). State of the world's plants. https://stateoftheworldsplants.com/. Accessed 20 Aug 2017.

Khafagi, I. K., & Dewedar, A. (2000). The efficiency of random versus ethno-directed research in the evaluation of Sinai medicinal plants for bioactive compounds. Journal of Ethnopharmacology,71, 365–376.

Kimondo, J., Miaron, J., Mutai, P., & Njogu, P. (2015). Ethnobotanical survey of food and medicinal plants of the Ilkisonko Maasai community in Kenya. Journal of Ethnopharmacology,175, 463–469.

Kiringe, J. W. (2005). Ecological and anthropological threats to ethno-medicinal plant resources and their utilization in Maasai communal ranches in the Amboseli Region of Kenya. Ethnobotany Research and Applications,3, 231–241. https://doi.org/10.17348/era.3.0.231-242.

Kiringe, J. W. (2006). A survey of traditional health remedies used by the Maasai of southern Kaijiado district, Kenya. Ethnobotany Research and Application,4, 61–73. https://doi.org/10.17348/era.4.0.61-74.

Kisangau, D. P., Lyaruu, H. V. M., Hosea, K. M., & Joseph, C. C. (2007). Use of traditional medicines in the management of HIV/AIDS opportunistic infections in Tanzania: A case in the Bukoba rural district. Journal of Ethnobiology and Ethnomedicine,3, 29. https://doi.org/10.1186/1746-4269-3-29.

Kokwaro, J. O. (2009). Medicinal plants of east Africa. Nairobi: University of Nairobi Press.

Lucena, R., Albuquerque, U., Monteiro, J., Almeida, C., Florentino, A., & Ferraz, J. (2007). Useful plants of the semi-arid northeastern region of Brazil—A look at their conservation and sustainable use. Environmental Monitoring and Assessment,125, 281–290. https://doi.org/10.1007/s10661-006-9521-1.

Lucena, R. F. P., Medeiros, P. M., Araújo, E. F., Alves, A. G. C., & Albuquerque, U. P. (2012). The ecological apparency hypothesis and the importance of useful plants in rural communities from northeastern Brazil: An assessment based on use value. Journal of Environmental Management,96, 106–115. https://doi.org/10.1016/j.jenvman.2011.09.001.

Maroyi, A. (2011). An ethnobotanical survey of medicinal plants used by the people in Nehma communal area, Zimbabwe. Journal of Ethnopharmacology,136, 347–354.

Maundu, P., Berger, D., Ole Saitabau, C., Nasieku, J., Kipelian, M., Mathenge, S., Morimoto, Y., & Höft, R. (2001). Ethnobotany of the Loita Maasai: Towards community management of the forest of the lost child. Experiences from the Loita ethnobotany project. People and Plants Working Paper (Vol. 8, pp. 1–34). Paris: UNESCO. http://unesdoc.unesco.org/images/0012/001266/126660e.pdf. Accessed 20 Mar 2013.

Muchiru, A. N., Western, D., & Reid, R. S. (2009). The impact of abandoned pastoral settlements on plant and nutrient succession in an African savanna ecosystem. Journal of Arid Environments,73, 322–331.

Mukungu, N., Abuga, K., Okalebo, F., Ingwela, R., & Mwangi, J. (2016). Medicinal plants used for management of malaria among the Luhya community of Kakamega East sub-County, Kenya. Journal of Ethnopharmacology,194, 98–107.

Nault, A., & Gagnon, D. (1993). Ramet demography of Allium tricoccum, a spring ephemeral, perennial forest herb. Journal of Ecology,81(1), 101–119. https://doi.org/10.2307/2261228.

Niamir-Fuller, M. (1998). The resilience of pastoral herding in Sahelian Africa. In F. Berkes & C. Folke (Eds.), Linking social and ecological systems: Management practices and social mechanisms for building resilience (pp. 250–284). Cambridge: Cambridge University Press.

Odera, J. A. (1997). Traditional beliefs, sacred groves and home garden technologies. In A. M. Kinyua & W. M. KofiTsekpo (Eds.), Conservation and utilization of indigenous medicinal plants and wild relatives of food crops (pp. 43–48). Nairobi: UNESCO.

Okello, M. M., & Kiringe, J. W. (2004). Threats to biodiversity and their implications in protected and adjacent dispersal areas of Kenya. Journal for Sustainable Tourism,12(1), 55–69. https://doi.org/10.1080/09669580408667224.

Ole-Miaron, J. O. (2003). The Maasai ethnodiagnostic skill of livestock diseases: A lead to traditional bioprospecting. Journal of Ethnopharmacology,84(1), 79–83.

Olmsted, I., & Alvarez-Buylla, E. R. (1995). Sustainable harvesting of tropical trees: Demography and matrix models of two palm species in Mexico. Ecological Applications,5(2), 484–500. https://doi.org/10.2307/1942038.

Ongugo, R. A., Osumba, P. A., & Tuzo, P. M. (2011). Traditional forest use and institutional change: Case study of Loita community forest. Narok South district, Kenya. In Paper presented at the 13th biennial conference of international association for the study of the commons (IASC), Hyderabad, India. http://iasc2011.fes.org.in/papers/docs/95/submission/original/95.pdf. Accessed 22 Jan 2014.

Patton, M. Q. (1999). Qualitative research and evaluation methods (3rd ed.). Newbury Park, CA: Sage Publications Inc.

Phillips, O., & Gentry, A. H. (1993a). The useful plants of Tambopata, Peru: I. Statistical hypotheses test with new quantitative technique. Economic Botany,47(1), 15–32. https://doi.org/10.1007/bf02862203.

Phillips, O., & Gentry, A. H. (1993b). The useful plants of Tambopata, Peru: II. Additional hypothesis testing in quantitative ethnobotany. Economic Botany,47(1), 33–43. https://doi.org/10.1007/bf02862204.

Phumthum, M., Srithi, K., Inta, A., Junsongduang, A., Tangjitman, K., Pongamornkul, W., et al. (2018). Ethnomedicinal plant diversity in Thailand. Journal of Ethnopharmacology,214, 90–98. https://doi.org/10.1016/j.jep.2017.12.003.

Quinlan, M. (2005). Considerations for collecting freelists in the field: Examples from ethnobotany. Field Methods,17(3), 219–234.

Rock, J. H., Beckage, B., & Gross, L. J. (2004). Population recovery following differential harvesting of Allium tricoccum Ait. in the southern Appalachians. Biological Conservation,116(2), 227–234. https://doi.org/10.1016/s0006-3207(03)00193-9.

Saitabau, H. O. (2011). The role of ceremonies in preserving cultural diversity and conserving biodiversity for sustainable livelihood. ISE (International Society of Ethnobiology) Newsletter. http://www.ethnobiology.net/docs/Henri%20ole%20Saitabau_final.pdf. Accessed 17 Mar 2013. 

Smith, J. J. (1993). Using ANTHOPAC 3.5 and a spreadsheet to compute a free-list salience index. CAM—Cultural Anthropology Methods Newsletter,5(3), 1–3.

Srithi, K., Balslev, H., Wangpakapattanawong, P., Srisanga, P., & Trisonthi, C. (2009). Medicinal plant knowledge and its erosion among the Mien (Yao) in northern Thailand. Journal of Ethnopharmacology,123(2), 335–342. https://doi.org/10.1016/j.jep.200.

Ticktin, T., & Nantel, P. (2004). Dynamics of harvested populations of the tropical understory herb Aechmea magdalenae in old-growth versus secondary forests. Biological Conservation,120(4), 461–470. https://doi.org/10.1016/j.biocon.2004.03.019.

Turner, N. J., Ignace, M. B., & Ignace, R. (2000). Traditional ecological knowledge and wisdom of aboriginal peoples in British Columbia. Ecological Applications,10(5), 1275–1287. https://doi.org/10.1890/1051-0761(2000)010%5b1275:TEKAWO%5d2.0.CO;2.

World Health Organization. (2010). WHO fact sheet No. 134. http://www.pearlrichards.org/the-problem.html. Accessed 23 Jan 2013.

Yemele, M. D., Telefo, P. B., Lienou, L. L., Tagne, S. R., Fodouop, C. S. P., Goka, C. S., et al. (2015). Ethnobotanical survey of medicinal plants used for pregnant women's health conditions in Menoua division-West Cameroon. Journal of Ethnopharmacology,160, 14–31.
Acknowledgements
Special gratitude is expressed to all the Loita people who agreed to participate in this study. The first author is grateful for great help from Charles Ole Saitabau, Dominic Kirigwi, and host families. JN sincerely thanks Dr. Patricia Layton, Dr. Karen Hall, and Dr. Betty Baldwin from Clemson University for their guidance, constructive comments, and suggestions during the entire study period. HBs participation was supported by a grant from the Maasai Mara Science and Development Initiative.
Ethics declarations
Conflict of interest
The authors declare that they have no conflict of interest.
Ethics approval
This study obtained Institutional Review Board (IRB) approval, Number IRB2013-149 from Clemson University, USA, where it formed part of the first author's M.Sc. study.
Informed consent
The data collection was done with prior permission, and informed consent was obtained verbally from all participants. Ethical research procedures involving confidentiality, anonymity, and the rights of withdrawal were followed.
Additional information
Publisher's Note
Springer Nature remains neutral with regard to jurisdictional claims in published maps and institutional affiliations.
About this article
Cite this article
Nankaya, J., Nampushi, J., Petenya, S. et al. Ethnomedicinal plants of the Loita Maasai of Kenya. Environ Dev Sustain 22, 2569–2589 (2020). https://doi.org/10.1007/s10668-019-00311-w
Received:

Accepted:

Published:

Issue Date:
Keywords
Conservation

Local knowledge

Management

Primary health care