Abstract
Changing climate is posing considerable threats to agriculture, the most vulnerable sector, and to smallholder farming systems, the predominant agricultural livelihood activity in Africa. Study of specific systems enables clearer and more effective responses to be directly targeted for enhanced adaptation, but there is limited knowledge guiding specific subsector vulnerability assessments. We applied the Livelihood Vulnerability Index to understand and identify the nature and sources of vulnerability among smallholder horticultural farming households to climate variability in two districts in Ghana. A total of 480 households engaging in fruit and vegetable crop production were surveyed in Keta and Nsawam districts of Ghana. Data were collected on indicators for Livelihood Vulnerability Index components such as socio-demographic profiles, livelihood strategies, social networking, health, food, production, water, natural disasters, and climate variability. The vulnerability-contributing factors were aggregated in a composite index and differences were compared. The results indicate that smallholder horticultural farmers in Keta are more vulnerable in relation to high exposure and high sensitivity to climate variability, while smallholders in Nsawam are more vulnerable in terms of low capacity to adapt to climate variability. As it is the case for smallholder horticultural farming communities, the study suggests that Livelihood Vulnerability Index can be broadly applied to highlight potential areas for intervention and reduce the vulnerability of sector-specific farming communities within local and national levels.
This is a preview of subscription content, log in to check access.
Access options
Buy single article
Instant access to the full article PDF.
US$ 39.95
Tax calculation will be finalised during checkout.
Subscribe to journal
Immediate online access to all issues from 2019. Subscription will auto renew annually.
US$ 99
Tax calculation will be finalised during checkout.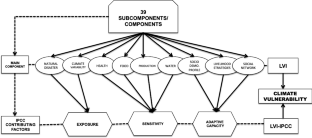 References
Abdulai, J., Nimoh, F., Darko-Koomson, S., & Kassoh, K. F. S. (2017). Performance of vegetable production and marketing in peri-urban Kumasi, Ghana. Journal of Agricultural Science,9(3), 202–218.

Adger, W. N. (2003). Social capital, collective action, and adaptation to climate change. Economic Geography,79(4), 387–404.

Adger, W. N., Brooks, N., Bentham, G., & Agnew, M. (2004). New indicators of vulnerability and adaptive capacity. Change,5, 128.

AGRA (2017) Africa Agriculture Status Report: The business of smallholder agriculture in Sub-Saharan Africa (issue 5), Nairobi, Kenya.

Alexander, L. V., Zhang, X., Peterson, T. C., Caesar, J., Gleason, B., Klein Tank, A. M. G., et al. (2006). Global observed changes in daily climate extremes of temperature and precipitation. Journal of Geophysical Research Atmospheres,111(5), 1–22.

Alley, R. (2014). Meteorology. State College: Department of Geosciences, College of Earth and MineralSciences, The Pennsylvania State University.

Anim-Kwapong, G.J. & Frimpong, E.B. (2005). Vunerability and adaptation assessment under the Netherlands climate change studies assisstance programme phase 2 (NCCSAP2)—vulnerability of agriculture to climate change- impact of climate change on cocoa production, New Tafo.

Antwi-Agyei, P., Dougill, A. J., Fraser, E. D. G., & Stringer, L. C. (2013). Characterising the nature of household vulnerability to climate variability: Empirical evidence from two regions of Ghana. Environment, Development and Sustainability,15(4), 903–926.

Arndt, C., Asante, F., & Thurlow, J. (2015). Implications of climate change for Ghana's economy. Sustainability, 7(6), 7214–7231.

Barsley, W., De Young, C. & Brugere, C. (2013). Vulnerability assessment methodologies: an annotated bibliography for climate change and the fisheries and aquaculture sector. FAO Fisheries and Aquaculture Circular No. 1083, vol. 1083, p. 43.

Bisaro, A., Wolf, S., & Hinkel, J. (2010). Framing climate vulnerability and adaptation at multiple levels: Addressing climate risks or institutional barriers in Lesotho? Climate and Development,2(2), 161–175.

Challinor, A., Wheeler, T., Garforth, C., Craufurd, P., & Kassam, A. (2007). Assessing the vulnerability of food crop systems in Africa to climate change. Climate Change,83, 381–399.

Chambers, R. & Conway, G.R. (1992). Sustainable rural livelihoods: Practical concepts for the 21st century, Ids Discussion Paper.

Dumenu, W. K., & Obeng, E. A. (2016). Climate change and rural communities in Ghana: Social vulnerability, impacts, adaptations and policy implications. Environmental Science & Policy,55, 208–217.

Eakin, H., & Bojórquez-Tapia, L. A. (2008). Insights into the composition of household vulnerability from multicriteria decision analysis. Global Environmental Change,18(1), 112–127.

Etwire, P. M., Al-Hassan, R. M., Kuwornu, J. K. M., & Osei-Owusu, Y. (2013). Application of livelihood vulnerability index in assessing vulnerability to climate change and variability in Northern Ghana. Journal of Environment and Earth Science,3(2), 157–170.

Fosu-Mensah, B., Vlek, P. L. G., & MacCarthy, D. S. (2012). Farmers' perception and adaptation to climate change: a case study of Sekyedumase district in Ghana. Environment, Development …,14(4), 495–505.

Fussel, H. (2007). Vulnerability : A generally applicable conceptual framework for climate change research. Global Environmental Change,17, 155–167.

Fussel, H., & Klein, R. J. T. (2006). Climate change vulnerability assessments: An evolution of conceptual thinking. Climatic Change,75, 301–329.

Gbetibouo, G.A., Ringler, C. & Hassan, R. 2010, Vulnerability of the South African farming sector to climate change and variability : An indicator approach Vulnerability of the South African farming sector to climate change and variability : An indicator approach, vol. 34, no. September 2015, pp. 175–87.

GSS (2014a). 2010 Population and housing census: Keta municipality-district analytical report, Accra-Ghana.

GSS (2014b). 2010 Population and housing census: Nsawam Adoagyiri municipality-district analytical report, Accra-Ghana.

Hahn, M. B., Riederer, A. M., & Foster, S. O. (2009). The Livelihood Vulnerability Index: A pragmatic approach to assessing risks from climate variability and change—a case study in Mozambique. Global Environmental Change,19(1), 74–88.

Hinkel, J. (2011). Indicators of vulnerability and adaptive capacity: Towards a clarification of the science–policy interface. Global Environmental Change,21, 198–208.

IPCC (2013). Climate change 2013: The physical science basis. In T.F. Stocker, D. Qin, G.-K. Plattner, M. Tignor, S.K. Allen, J. Boschung, A. Nauels, Y. Xia, V. Bex & M.P.M. (eds.), The IPCC's fith assessment report, Cambridge University Press, Cambridge, United Kingdom and New York, NY, USA, p. 33.

IPCC (2014). Climate change 2014: Impacts, adaptation, and vulnerability. In C.B. Field, V.R. Barros, D.J. Dokken, K.J. Mach, M.D. Mastrandrea, T.E. Bilir, M. Chatterjee, K.L. Ebi, Y.O. Estrada, R.C. Genova, B. Girma, E.S. Kissel, A.N. Levy, S. MacCracken, P.R. Mastrandrea (ed.), The IPCC's fith assessment report. Cambridge University Pre, Cambridge, United Kingdom and New York, NY, USA.

Laube, W., Schraven, B., & Awo, M. (2012). Smallholder adaptation to climate change: Dynamics and limits in Northern Ghana. Climatic Change,111(3), 753–774.

Leichenko, R. M., & O'brien, K. L. (2002). The dynamics of rural vulnerability to global change: The case of southern Africa. Mitigation and adaptation strategies for global change, 7(1), 1–18.

Lin, J. Y. (1991). Education and innovation adoption in agriculture: Evidence from hybrid rice in China. American Journal of Agricultural Economics,73(3), 713–723.

Madhuri, P., Tewari, H. R., & Bhowmick, P. K. (2014). Livelihood vulnerability index analysis: An approach to study vulnerability in the context of Bihar. Journal of Disaster Risk,6(1), 1–13.

Malhotra, S. K. (2017). Horticultural crops and climate change : A review. Indian Journal of Agricultural Sciences,87(1), 12–22.

McCarthy, J., Canziani, O., Leary, N., Dokken, D., & White, K. (2001). Climate Change 2001: Impacts, Adaptation, and Vulnerability. New York: Cambridge University Press.

Morton, J. F. (2007). The impact of climate change on smallholder and subsistence agriculture. Proceedings of the National Academy of Sciences,104(50), 19680–19685.

NAB Council (2014). Factsheet—Vegetables Ghana, The Hague, Netherlands.

Notenbaert, A., Karanja, S. N., Herrero, M., Felisberto, M., & Moyo, S. (2013). Derivation of a household-level vulnerability index for empirically testing measures of adaptive capacity and vulnerability. Regional Environmental Change,13(2), 459–470.

OECD/FAO. (2016). OECD-FAO Agricultural Outlook 2016-2025. Paris: OECD Publishing.

Panthi, J., Aryal, S., Dahal, P., Bhandari, P., Krakauer, N. Y., & Pandey, V. P. (2016). Livelihood vulnerability approach to assessing climate change impacts on mixed agro-livestock smallholders around the Gandaki River basin in Nepal. Regional Environmental Change,16(4), 1121–1132.

Preston, B. L., Yuen, E. J., & Westaway, R. M. (2011). Putting vulnerability to climate change on the map: A review of approaches, benefits, and risks. Sustainability Science,6(2), 177–202.

Raemaekers, S. & Sowman, M. (2015). Community-level socio-ecological vulnerability assessments in the Benguela current large marine ecosystem., FAO Fisheries and Aquaculture Circular, vol. 1110.

Riede, J. O., Posada, R., Fink, A. H., & Kaspar, F. (2016). What's on the 5th IPCC Report for West Africa? In J. A. Yaro & J. Hesselberg (Eds.), Adaptation to Climate Change and Variability in Rural West Africa (pp. 7–24). Switzerland: Springer International Publishing.

Rurinda, J., Mapfumo, P., van Wijk, M. T., Mtambanengwe, F., Rufino, M. C., Chikowo, R., et al. (2014). Sources of vulnerability to a variable and changing climate among smallholder households in Zimbabwe: A participatory analysis. Climate Risk Management,3, 65–78.

Shah, K. U., Dulal, H. B., Johnson, C., & Baptiste, A. (2013). Understanding livelihood vulnerability to climate change: Applying the livelihood vulnerability index in Trinidad and Tobago. Geoforum,47, 125–137.

Stanturf, J. A., Warren, M. L., Charnley, S., Polasky, S. C., Goodrick, S. L., Armah, F., et al. (2011). Ghana climate change vulnerability and adaptation assessment. Washington DC: United States Agency for International Development.

Sullivan, C. A., Meigh, J. R., & Fediw, T. S. (2002). Derivation and testing of the Water Poverty Index phase I - Final Report, Center for Ecology and Hydrology CEH. Natural Environment Research Council, UK.

Thomas, D., Osbahr, H., Twyman, C., Adger, N. & Hewiston, B. 2005, ADAPTIVE: Adaptations to climate change amongst natural resource-dependent societies in the developing world: Across the Southern African climate gradient, vol 35.

Tiani, A. M., Besa, M. C., Devisscher, T., Pavageau, C., Butterfield, R., Bharwani, S., et al. (2015). Assessing current social vulnerability to climate change: A participatory methodology. Bogor, Indonesia: CIFOR.

Williams, P. A., Crespo, O., Atkinson, C. J., & Essegbey, G. O. (2017). Impact of climate variability on pineapple production in Ghana. Agriculture & Food Security,6(1).

Wolters, M. L., & Kuenzer, C. (2015). Vulnerability assessments of coastal river deltas—categorization and review. Journal of Coastal Conservation,19(3), 345–368.

World Bank. (2009). Disaster Risk Management Programs for Priority Countries, G.F. for D.R. and. In R. G. Secretariat (Ed.), Global Facility for Disaster Reduction and Recovery. Washington DC 20433, USA: The World Bank.
Acknowledgements
This work is supported with funding from the Organisation for Women in Science for the Developing World (OWSD) Fellowship Program and Swedish International Development Cooperation Agency (Sida). All statements made and interpretations given from the findings and conclusion arrived are the views of the authors and not the opinion of OWSD and/or Sida.
Electronic supplementary material
Below is the link to the electronic supplementary material.
About this article
Cite this article
Williams, P.A., Crespo, O. & Abu, M. Assessing vulnerability of horticultural smallholders' to climate variability in Ghana: applying the livelihood vulnerability approach. Environ Dev Sustain 22, 2321–2342 (2020). https://doi.org/10.1007/s10668-018-0292-y
Received:

Accepted:

Published:

Issue Date:
Keywords
Climate variability

Vulnerability

Smallholders

Horticultural production

Livelihood Vulnerability Index (LVI)

Ghana