Abstract
Farmers' knowledge, attitudes, and beliefs are of paramount importance in shaping the on-farm adoption and diffusion of integrated pest management (IPM). In particular, for invasive pests, this (gendered) knowledge base can dictate how fast and effective farmers respond to emerging threats. In this study, we employ qualitative and quantitative methods to assess agro-ecological knowledge and pest management behavior of small-scale cassava growers in rural Vietnam and Laos, when faced with two new biotic threats, i.e., the invasive cassava mealybug Phenacoccus manihoti and cassava witches broom disease. Despite their pronounced impact on crop yields, farmers overall had limited knowledge of recent invaders and regularly ascribed their appearance to "climate change". Growers were largely unaware of preventative tactics for pest control, and resorted to curative measures (e.g., unguided pesticide sprays) at the P. manihoti invasion front. Farmers' attitudes toward invasive pests were highly context- and locality-dependent, and knowledge scores differed between households positioned along a gender continuum. Though women assumed a minor role in IPM decision-making and possessed comparatively deficient knowledge, they favored agro-ecological approaches and took on key tasks in the selection of propagation material. Gender roles in cassava crop protection are equally context-dependent, yet women may be well-positioned to promote IPM practices such as the use of disease-free planting material. Future extension should thus pay attention to (a) strengthening (women) farmers' knowledge base, to empower them as change agents and drive IPM adoption, and (b) transferring local innovations between sites, eventually through visual educational aids. Given the increasing importance of invasive pests in many developing countries, our work emphasizes how adult education and (adaptive) co-learning should become core components of mitigation programs.
Access options
Buy single article
Instant access to the full article PDF.
US$ 39.95
Tax calculation will be finalised during checkout.
Subscribe to journal
Immediate online access to all issues from 2019. Subscription will auto renew annually.
US$ 79
Tax calculation will be finalised during checkout.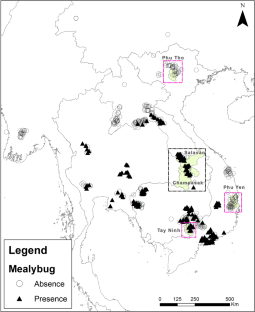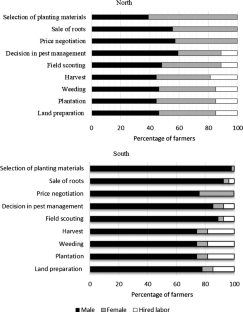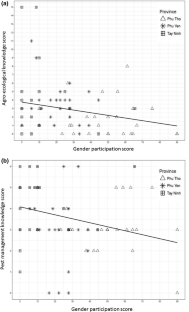 References
Atreya, K. (2007). Pesticide use knowledge and practices: A gender differences in Nepal. Environmental Research,104(2), 305–311.

Bellotti, A. C., Campo, B. V. H., & Hyman, G. (2012). Cassava production and pest management: Present and potential threats in a changing environment. Tropical Plant Biology,5(1), 39–72.

Bentley, J. W. (1989). What farmers don't know can't help them: The strengths and weaknesses of indigenous technical knowledge in Honduras. Agriculture and Human Values,6(3), 25–31.

Bentley, J. W., Rodriguez, G., & Gonzalez, A. (1994). Science and people: Honduran campesinos and natural pest control inventions. Agriculture and Human Values,11(2/3), 178–182.

Bentley, J. W., & Thiele, G. (1999). Bibliography: Farmer knowledge and management of crop disease. Agriculture and Human Values,16, 75–81.

Chambers, R. (1997). Whose reality counts?—Putting the first last. London: Intermediate Technology.

Chen, R. J., Huang, J., & Qiao, F. B. (2013). Farmers' knowledge on pest management and pesticide use in Bt cotton production in China. China Economic Review,27, 15–24.

Chowdhury, A., Odame, H. H., Thompson, S., & Hauser, M. (2015). Enhancing farmers' capacity for botanical pesticide innovation through video-mediated learning in Bangladesh. International Journal of Agricultural Sustainability, 13(4), 326–349.

Christensen, R. H. B. (2015). Ordinal—regression models for ordinal data. R package version 2015.6-28.

Christie, M. E., Van Houweling, E., & Zseleczky, L. (2015). Mapping gendered pest management knowledge, practices and pesticide exposure pathways in Ghana and Mali. Agriculture and Human Values,32(4), 761–775.

Dangles, O., Carpio, F. C., Villares, M., Yumisaca, F., Liger, B., Rebaudo, F., et al. (2010). Community-based participatory research helps farmers and scientists to manage invasive pests in the Ecuadorian Andes. AMBIO: A Journal of the Human Environment,39(4), 325–335.

Edwards-Jones, G. (2006). Modelling farmer decision-making: Concepts, progress and challenges. Animal Science,82, 783–790.

Erbaugh, J., Donnermeyer, M. J., Amujal, M., & Kyamanywa, S. (2003). The role of women in pest management decision making in eastern Uganda. Journal of International Agricultural and Extension Education,10(3), 71–81.

Garcia, A. M. (2003). Pesticide exposure and women's health. American Journal of Industrial Medicine,44(6), 584–594.

García-Barrios, L., Cruz-Morales, J., Vandermeer, J., & Perfecto, I. (2017). The Azteca Chess experience: Learning how to share concepts of ecological complexity with small coffee farmers. Ecology and Society,22, 2.

Garcia-Llorente, M., Martin-Lopez, B., Gonzalez, J. A., Alcorlo, P., & Montes, C. (2008). Social perceptions of the impacts and benefits of invasive alien species: Implications for management. Biological Conservation,141, 2969–2983.

Graziosi, I., Minato, N., Alvarez, E., Dung, N. T., Heng, C. H., Hoat, T. X., et al. (2016). Emerging pests and diseases of South-east Asian cassava: A comprehensive evaluation of geographic priorities, management options and research needs. Pest Management Science,72, 1071–1089.

Griffin, S. (1978). Woman and nature: the roaring within her. New York: Harper & Row.

Grossman, J. M. (2003). Exploring farmer knowledge of soil processes in organic coffee systems of Chiapas, Mexico. Geoderma,111, 267–287.

Gurung, A. B. (2003). Insects—A mistake in god's creation? Tharu farmer's perception and knowledge of insects: A case study of Gobardiha village development committee, Dang-Deukhuri, Nepal. Agriculture and Human Values,20, 337–370.

Haverkort, B., & Hiemstra, W. (1999). Food for thought: Ancient visions and new experiments of rural people. London: ETC/COPMAS/Zed Books.

Horton, D. E., & Ewell, P. T. (1991). Sweet potato pest management: A social science perspective. In R. K. Jansson & V. R. Kandakuri (Eds.), Sweet potato pest management—A global perspective (pp. 407–427). Boulder, CO: Westview Press.

Jørs, E., Hay-Younes, J., Condarco, M., & Condarco, G. (2013). Is gender a risk factor for pesticide intoxications among farmers in Bolivia? A cross-sectional study. Journal of Agromedicine,18(2), 132–139.

Le, T. T. N., Graziosi, I., Cira, T. M., Gates, M. W., Parker, L., & Wyckhuys, K. A. G. (2018). Landscape context does not constrain biological control of Phenacoccusmanihoti in intensified cassava systems of southern Vietnam. Biological Control,121, 129–139.

Litsinger, J. A., Edgar, M. L., & Canapi, B. L. (2009). Eliciting farmer knowledge, attitudes, and practices in the development of integrated pest management programs for rice in Asia. In R. Peshin & A. K. Dhawan (Eds.), Integrated pest management: Dissemination and impact (pp. 119–273). New York: Springer.

Meijer, S. S., Catacutan, D., Ajayi, O. C., Sileshi, G. W., & Nieuwenhuis, M. (2015). The role of knowledge, attitudes and perceptions in the uptake of agricultural and agroforestry innovations among smallholder farmers in sub-Saharan Africa. International Journal of Agricultural Sustainability,13, 40–54.

Merchant, C. (1989). Ecological revolutions: Nature, gender and science in New England. Chapel Hill: University of North Carolina Press.

Morse, S., & Buhler, W. (1997). IPM in developing countries: The danger of an ideal. Integrated Pest Management Reviews,2, 175–185.

Nazarea-Sandoval, V. D., & Rhoades, R. E. (1994). Rice, reason and resistance: A comparative study of farmers' vs scientists' perception and strategies. In R. S. Zeigler, S. A. Leong, & P. S. Ten (Eds.), Rice blast disease (pp. 559–575). Wallingford: CAB International.

Neuenschwander, P. (2001). Biological control of the cassava mealybug in Africa: A review. Biological Control,21(3), 214–229.

Orr, A. (2003). Integrated pest management for resource-poor African farmers: Is the emperor naked? World Development,31, 831–845.

Pauli, N., Abbott, L. K., Negrete-Yankelevich, S., & Andrés, P. (2016). Farmers' knowledge and use of soil fauna in agriculture: A worldwide review. Ecology and Society,21(3), 19.

Poubom, C. F. N., Awah, E. T., Tchuanyo, M., & Tengoua, F. (2005). Farmers' perceptions of cassava pests and indigenous control methods in Cameroon. International Journal of Pest Management,51(2), 157–164.

Pouratashi, M., & Irvani, H. (2012). Farmers' knowledge of integrated pest management and learning style preferences: Implication for service delivery. International Journal of Pest Management,58(4), 346–352.

Price, L. L. (2001). Demystifying farmers' entomological and pest management knowledge: Amethodology for assessing the impacts on knowledge from IPM-FFS and NES interventions. Agriculture and Human Values,18(2), 153–176.

Quisumbing, A. R., Meinzen-Dick, R., Raney, T. L., Croppenstedt, A., Behrman, J. A., & Peterman, A. (2014). Closing the knowledge gap on gender in agriculture". In A. R. Quisumbing, et al. (Eds.), Gender in agriculture: Closing the knowledge gap (pp. 3–27). Rome: Food and Agriculture Organization.

Rebaudo, F., & Dangles, O. (2013). An agent-based modeling framework for integrated pest management dissemination programs. Environmental Modelling and Software,45, 141–149.

Rocheleau, D., Thomas-Slayter, B., & Wangari, E. (1996). Feminist political ecology: Global issues and local experiences. New York: Routledge.

Rodas, S., & O'Neil, R. J. (2006). A survey of Indiana soybean producers following the introduction of a new invasive pest, the soybean aphid. American Entomologist,52, 146–149.

Röling, N., & Van De Fliert, E. (1994). Transforming extension forsustainable agriculture: The case of integrated pest management in rice in Indonesia. Agriculture and Human Values,11(2–3), 96–108.

Schut, M., Rodenburg, J., Klerkx, L., van Ast, A., & Bastiaans, L. (2014). Systems approaches to innovation in crop protection: A systematic literature review. Crop Protection,56, 98–108.

Seager, J. (1993). Earth follies: Feminism, politics and the environment. London: Earthscan.

Shackleton, R. T., Le Maitre, D. C., & Richardson, D. M. (2015). Stakeholder perceptions and practices regarding Prosopis (mesquite) invasions and management in South Africa. Ambio,44(6), 569–581.

Sherwood, S. G. (1997). Little things mean a lot: Working with Central American farmers to address the mystery of plant disease. Agriculture and Human Values,14(2), 181–189.

Steiner, K., & Scheidegger, U. (1994). Improving soil fertility management in tropical highlands: Supporting farmers' initiatives. In A.E. Budelman (Ed.) Proceedings of the international symposium on system-oriented research in agriculture and rural development: Agricultural R&D at the crossroads (pp. 93–103). Amsterdam: Royal Tropical Institute.

Tuttle, S., Lindner, J., & Dooley, K. (2004). Men, women, and participatory delivery strategies for selected villagers in northeast Mexico. Journal of International Agricultural and Extension Education,11(1), 61–69.

Van Campenhout, B., Vandevelde, S., Walukano, W., & Van Asten, P. (2017). Agricultural extension messages using video on portable devices increased knowledge about seed selection, storage and handling among smallholder potato farmers in Southwestern Uganda. PLoS ONE,12(1), e0169557.

Warren, D. M., Slikkerveer, L. J., & Titilola, S. O. (1989). Indigenous knowledge systems: Implications for agriculture and international development. Ames: Iowa State University.

Wilson, R. S., Tucker, M. A., Hooker, N. H., Le Jeune, J. T., & Doohan, D. (2008). Perceptions and beliefs about weed management: perspectives of Ohio grain and produce farmers. Weed Technology,22, 339–350.

Wyckhuys, K. A. G., Bentley, J. W., Lie, R., Nghiem, L. T. P., & Fredrix, M. (2018). Maximizing farm-level uptake and diffusion of biological control innovations in today's digital era. BioControl,63, 133–148.

Wyckhuys, K. A. G., Burra, D. D., Tran, D. H., Graziosi, I., Walter, A. J., Nguyen, T. G., et al. (2017). Soil fertility regulates invasive herbivore performance and top-down control in tropical agro-ecosystems of Southeast Asia. Agriculture, Ecosystems & Environment,249, 38–49.

Wyckhuys, K. A. G., & O'Neil, R. J. (2007a). Local agro-ecological knowledge and its relationship to farmers' pest management decision making in rural Honduras. Agriculture and Human Values,24, 307–321.

Wyckhuys, K. A. G., & O'Neil, R. J. (2007b). Role of opinion leadership, social connectedness and information sources in the diffusion of IPM in Honduran subsistence maize agriculture. International Journal of Pest Management,53, 35–44.

Wyckhuys, K. A. G., & O'Neil, R. J. (2010). Social and ecological facets of pest management in Honduran subsistence agriculture: implications for IPM extension and natural resource management. Environment, Development and Sustainability,12(3), 297–311.
Acknowledgements
This research was supported by an EU-IFAD grant executed by the International Center for Tropical Agriculture CIAT (CIAT-EGC-60-1000004285) and further support was extended through the global, CGIAR-wide Research Program (CRP) on Roots, Tubers and Banana (RTB). In Vietnam, survey work was facilitated through national, provincial and district-level offices of the Plant Protection Department, PPD (Ministry of Agriculture and Rural Development, MARD). We are grateful to Mr. Ngo Tien Dung and Ms. Hong Hanh for seamless facilitation of field activities. We thank Mr. Lao Thao for crucial logistical support in Laos, and are equally thankful to Ms. Lan Ngoc Le and Lisa Anderberg for their support in undertaking field work in Vietnam and Laos, respectively. Finally, we are grateful to all participant farmers for their helpful cooperation in personal interviews or focal-group discussions.
Funding
This study was conducted as part of an EC-funded, IFAD-managed, CIAT-executed program (CIAT-EGC-60-1000004285), while additional funding was provided through the CGIAR-wide Research Program on Roots, Tubers and Banana (CRP-RTB).
Ethics declarations
Conflict of interest
All authors declare that there are no conflicts of interest.
Ethical approval
Approval for farmer surveys in both Laos and Vietnam was obtained from CIAT's institutional ethical committee.
About this article
Cite this article
Upadhyay, B., Burra, D.D., Nguyen, T.T. et al. Caught off guard: folk knowledge proves deficient when addressing invasive pests in Asian cassava systems. Environ Dev Sustain 22, 425–445 (2020). https://doi.org/10.1007/s10668-018-0208-x
Received:

Accepted:

Published:

Issue Date:
Keywords
Biological control

Invasive species

Diffusion of innovations

Knowledge transfer

Learning

Folk knowledge

Sustainable intensification