Abstract
Customary institutions have existed in parallel with statutory institutions for many years in Africa. These traditional water management systems were employed to manage the use of water resources and resolve conflicts associated with them. Although national governments introduced conventional water management approaches, which operate more effectively in urban areas, customary institutions' activities in water governance continue to exist in rural Africa. Long before the advent of colonialism, most rural communities which have now transformed into modern African societies had various rules, norms, taboos and values governing the use of water. Although not legally recognised in the wake of colonialism, the concept of legal pluralism has continued to gain ground in colonial Africa. Rooted in the mass–elite theory and the cultural lag concept, the paper adopts a critical literature review approach to explain the dissonance in customary and statutory water management institutions in the Okavango Delta, Botswana. Analysis of existing water management documents revealed that the post-independence statutory water institutions continue to weaken the customary approach to water use and management. Findings indicate that statutory institutions emphasise on the economic conception of water despite the fact that the resource has also a social value. This absolute conceptualisation of water as an economic commodity creates the dissonance in water management, especially in rural areas and most especially in the Okavango Delta where water is still perceived to have cultural values.
Access options
Buy single article
Instant access to the full article PDF.
US$ 39.95
Tax calculation will be finalised during checkout.
Subscribe to journal
Immediate online access to all issues from 2019. Subscription will auto renew annually.
US$ 79
Tax calculation will be finalised during checkout.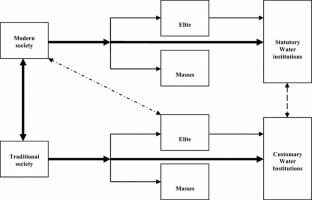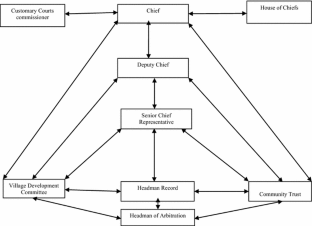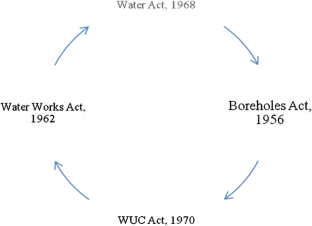 References
Abrams, P. (2004) Water in religion, the water page. Water Policy International Ltd. http://www.thewaterpage.com/religion.htm. Accessed March 3, 2017.

Agyenim, J., & Gupta, J. (2010). The evolution of Ghana's water law and policy. Review of European Community and International Environmental Law, 19(3), 339–350.

Anderson, J. E. (2014). Public policymaking. An introduction (8th ed.). College Station: Texas, A & M University Press.

Augustine, M. (2016). The role of traditional leaders in post independence countries Botswana, Ghana and Zimbabwe. Policy Brief, Helen Suzman Foundation.

Bauer, K. R., & Smith, Z. A. (2007). Value in water resources management: What is water worth? Water International, 32(S1), 877–888.

Bowen, G. A. (2009). Document analysis as a qualitative research method. Qualitative Research Journal, 9(2), 27–40.

Bowker, J. (Ed.). (1997). The Oxford dictionary of world religions. Oxford: Oxford University Press.

Brown, J. R., & Rivera, J. A. (2000). Acequias de comun: The tension between collective action and private property rights. In 8th Biennial conference of the IASCP; constituting the commons: Crafting sustainable commons in the new millennium.

Burton, M. G., & Higley, J. (1987). Elite settlements. American Sociological Review, 52, 295–307.

Cantwell, L. (2015). Chiefly power in a frontline state: Kgosi Linchwe II, the Bakgatla and Botswana in the South African liberation struggle, 1948–1994. Journal of Southern African Studies, 41(2), 255–272.

Chikozho, C., & Latham, J. (2005). Shona customary practices in the context of water sector reforms in Zimbabwe. In International workshop on African water law: Plural legislative frameworks for rural water management in Africa, January 26–28, 2005, Johannesburg, South Africa.

Coulter, R. T. (2010). Law of self-determination and the United Nations Declaration on the rights of indigenous peoples. UCLA Journal of International Law and Foreign Affairs, 15, 1.

Craig, D., & Gachenga, E. (2010). The recognition of indigenous customary law in water resource management. Water Law, 20, 278.

Denbow, J., & Thebe, P. (2006). Culture and customs of Botswana. London: Greenwood Press.

Espeland, W. N. (1998). The struggle for water: Politics, rationality, and identity in the American Southwest. Chicago: University of Chicago Press.

Fromherz, C. (2008). Indigenous peoples' courts: Egalitarian juridical pluralism, self-determination, and the United Nations declaration on the rights of indigenous peoples. University of Pennsylvania Law Review, 156(5), 1341–1381.

Gachenga, E. W. (2012). Integrating customary and stutory systems of water governance for sustainable development. The case of the Marakwet of Kenya. Sydney: University of Western Sydney.

Godin, B. (2010). Innovation without the word: William F. Ogburn's contribution to the study of technological innovation. Minerva, 48, 277–307. https://doi.org/10.1007/s11024-010-9151-1.

Goldin, B., & Gelfand, M. (1975). African law and custom in Rhodesia (1st ed.). Cape Town: Juta & Company.

Grindle, S. M., & Thomas, J. W. (1991). Public choices and policy change: The political economy of the reform in developing countries. Baltimore: The John Hopkins University Press.

Harmsworth, G., Awatere, S., & Robb, M. (2016). Indigenous Māori values and perspectives to inform freshwater management in Aotearoa-New Zealand. Ecology and Society, 21(4), 9.

Hook, G., & Raumati, L. (2011). Cultural perspectives of fresh water. MAI Review, 2, Article/442.

Hutchins, W. A. (1928). The community acequia: Its origin and development. The Southwestern Historical Quarterly, 31(3), 261–284.

Ifezue, G. (2015). Understanding chieftainship in Botswana: The status and powers of chiefs in present day Botswana. Journal of African Law, 59(2), 271–293.

Kane, M., Oloka-Onyango, J., & Tejan-Cole, A. (2005, December). Reassessing customary law systems as a vehicle for providing equitable access to justice for the poor. In Arusha conference, "new frontiers of social policy" (pp. 12–15).

Kanwar, P., Kaza, S., & Bowden, W. B. (2016). An evaluation of Māori values in multiscalar environmental policies governing Kaipara Harbour in New Zealand. International Journal of Water Resources Development, 32(1), 26–42.

Kaplan, S. (1990). Being needed, adaptive muddling and human environment relationships. In R. I. Selby, K. H. Anthony, J. Choi, & B. Orland (Eds.), Coming of age (pp. 19–25). Oklahoma City: Environmental Design Research Association.

Kgathi, D. L., Kniveton, D., Ringrose, S., Turton, A. R., Vanderpost, C. H. M., Lundqvist, J., & Seely, M. (2006). The Okavango: A river supporting its people, environment and economic development. Journal of Hydrology, 331(1), 3–17.

Killander, M. (2010). African human rights law in theory and practice. In S. John & A. McBeth (Eds.), Handbook on international human rights law. Cheltenham: Edward Elgar.

Kitchenham, B. (2004). Procedures for performing systematic reviews (pp. 1–33). Keele: Keele University. http://www.inf.ufsc.br/*aldo.vw/kitchenham.

Kitchenham, B., Pearl Brereton, O., Budgen, D., Turner, M., Bailey, J., & Linkman, S. (2009). Systematic literature reviews in software engineering—A systematic literature review. Information and Software Technology, 51(1), 7–15.

Kolawole, O. D. (2001). Local knowledge utilization and sustainable rural development in the 21st century. Indigenous Knowledge and Development Monitor, 9(3), 13–15.

Kolawole, O. D. (2012a). Intersecting Western and local knowledge: Critical issues for development research in Africa. Journal of Knowledge Globalization, 5(2), 1–23.

Kolawole, O. D. (2012b). Agrarian reforms and the African green revolution. World Journal of Science, Technology and Sustainable Development, 9(4), 301–316. https://doi.org/10.1108/20425941211271504.

Kolawole, O. D. (2014). Habitus: How cultural values shape local communities' perceptions about flood in the Okavango Delta of Botswana. In M. R. Motsholapheko & D. L. Kgathi (Eds.), Flooding: Risk factors, environmental impacts and management strategies (pp. 87–107). New York: Nova Science Publishers.

Kolawole, O. D. (2015). Twenty reasons why local knowledge will remain relevant to development. Development in Practice, 25(8), 1189–1195.

Latham, J., & Chikozho, C. (2004). Customary law and integrated water resources management: A case for indigenous institutional governance. IWRM and Environmental Domicile. Paper for the WATERNET/WARFSA Workshop 2004.

Lewin, K. (1947). Frontiers in group dynamics. In Cartwright, D. (Ed.) (1952), Field theory in social science: Selected theoretical papers by Kurt Lewin (pp. 188–237). London: Social Science Paperbacks.

Liu, X., Lindquist, E., Vedlitz, A., & Vincent, K. (2010). Understanding local policymaking: Policy elites' perceptions of local agenda setting and alternative policy selection. Policy Studies Journal, 38(1), 69–91.

Maganga, F. (2003). Incorporating customary laws in implementation of IWRM: Some insights from Rufiji River Basin, Tanzania. Physics and Chemistry of the Earth, 28(20–27), 995–1000.

McFarland, A. S. (1987). Interest groups and theories of power in America. British Journal of Political Science, 17(02), 129–147.

Memon, P. A., & Kirk, N. (2012). Role of indigenous Māori people in collaborative water governance in Aotearoa/New Zealand. Journal of Environmental Planning and Management, 55(7), 941–959.

Mogende, E., & Kolawole, O. D. (2016). Dynamics of local governance in natural resources conservation in the Okavango Delta, Botswana. Natural Resources Forum, 40, 93–102. https://doi.org/10.1111/1477-8947.12098/pdf.

Morapedi, W. G. (2010). Demise or resilience? Customary law and chieftaincy in twenty-first century Botswana. Journal of Contemporary African Studies, 28(2), 215–230.

Mtisi, S. (2011). Water reforms during the crisis and beyond: Understanding policy and political challenges of reforming the water sector in Zimbabwe. Working Paper 333 Overseas Development Institute 111 Westminster Bridge Road London SE1 7JD, August 2011, https://www.odi.org.uk.

Muyambo, T., & Maposa, R. S. (2014). Linking culture and water technology in Zimbabwe: Reflections on Ndau experiences and implications for climate change. Journal of African Studies and Development, 6(2), 22.

Nicol, A., & Mtisi, S. (2003). 4. Politics and water policy: A southern Africa example. IDS Bulletin, 34(3), 41–53.

Ogburn, W. F. (1950). Social change with respect to culture and original nature. New York: Viking.

Ostrom, V. (1962). The political economy of water development. The American Economic Review, 52(2), 450–458.

Peet, R. (2007). Geography of power: Making global economic policy. London: Zed Books.

Ramazzotti, M. (1996). Readings in African customary water law. FAO Legislative Study 58. Rome: Food and Agricultural Organization of the United Nations.

Republic of Botswana, Botswana National Water Policy. 2012, Gaborone.

Russo, K. A., & Smith, Z. A. (2013). Conventional values of water. What water is worth: Overlooked non-economic value in water resources (pp. 1–21). New York: Palgrave Macmillan.

Sabatier, P. A. (1991). Political science and public policy. PS. Political Science & Politics, 24(02), 144–147.

Sage, C. M., & Woolcock, M. (Eds.). (2006). The World Bank legal review (Vol. 2). Washington: The World Bank. https://doi.org/10.1596/978-0-8213-6831-2.

Schapera, I. (1994). A handbook of Tswana law and custom. London: International African Institute.

Sebola, M. P. (2014). The politicization of government administration: The limited "brutal" options of the South African government administration. Mediterranean Journal of Social Sciences, 5(7), 208.

Segadika, P. (2006). Managing intangible heritage at Tsodilo. Museum International, 58(1–2), 31.

Sharma, K. (2005). Role of traditional structures in local governance for local development: The case of Botswana. Washington, DC: World Bank.

Sharma, K. (2013). Role of traditional structures in local governance for local development: The case of Botswana, Gaborone.

Sidanius, J., & Pratto, F. (2001). Social dominance: An intergroup theory of social hierarchy and oppression. Cambridge: Cambridge University Press.

Walker, J. L. (1966). A critique of the elitist theory of democracy. American Political Science Review, 60(02), 285–295.

Wallace, H., Pollack, M. A., & Young, A. R. (Eds.). (2015). Policy-making in the European Union. Washington: Oxford University Press.
About this article
Cite this article
Gondo, R., Kolawole, O.D. & Mbaiwa, J.E. Dissonance in customary and statutory water management institutions: issues of cultural diversity in the management of water resources in the Okavango Delta, Botswana. Environ Dev Sustain 21, 1091–1109 (2019). https://doi.org/10.1007/s10668-018-0093-3
Received:

Accepted:

Published:

Issue Date:
Keywords
Colonialism

Customary

Dissonance

Institutions

Legal pluralism

Statutory