Abstract
Quantitative ethnobotany researches can contribute much to guide biodiversity conservation, especially in developing countries. Our study presents a step-by-step approach to identify priority species for local conservation of useful woody species. The presented approach includes (1) an investigation of the popularity and versatility of woody species in the local people, (2) an estimation of the ecological availability of useful tree species in the forest and (3) identification of local priority species for conservation. We focused the study on the Wari-Maro forest reserve in the Sudanian zone of Benin as an example to implement such approach and identify useful priority species for sustainable conservation and management strategies development. Ethnobotanical surveys were conducted with people in surrounding villages of the forest composed by different sociocultural groups. Floristic vegetation surveys were performed within the forest to assess the local ecological availability of used woody species. A principal component analysis was performed to analyze the versatility, the popularity and the ecological availability of species. Spearman's correlation test was used to assess relation between variables. In total, 79 woody species were reported for seven main types of uses: technology, construction, medicinal, veterinary, food, forage and energy. Among them, 35 were most popular and versatile, and 3 were characterized as priorities for conservation especially regarding their less availability and more versatility. We discussed the used approach by the underlining importance of integrating wood uses or multiples uses in conservation priorities setting and conservation decision-making of useful woody tree species.
This is a preview of subscription content, log in to check access.
Access options
Buy single article
Instant access to the full article PDF.
US$ 39.95
Price includes VAT for USA
Subscribe to journal
Immediate online access to all issues from 2019. Subscription will auto renew annually.
US$ 99
This is the net price. Taxes to be calculated in checkout.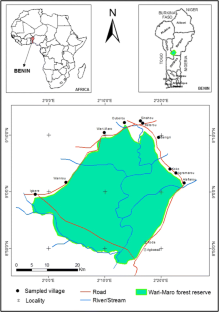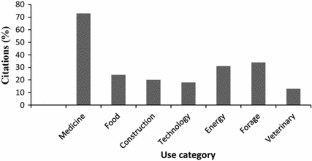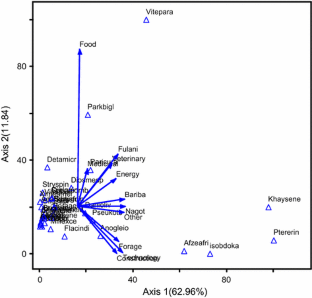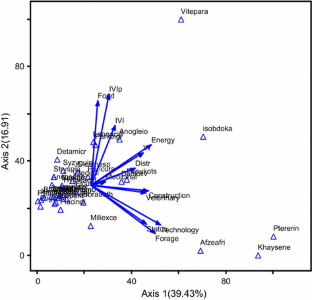 References
Adomou, C. A., Agbani, O. P., & Sinsin, B. (2011). Plants. In: P. S. Neuenschwander, B. Sinsin, G. Goergen (Eds.), Protection de la nature en Afrique de l'Ouest: Une liste rouge pour le Bénin. Nature Conservation in West Africa: Red List for Benin. International Institute of Tropical Agriculture, Ibadan, Nigeria, p. 365.

Albuquerque, U. P. (2006). Re-examining hypotheses concerning the use and knowledge of medicinal plants: A study in the Caatinga vegetation of NE Brazil. Journal of Ethnobiology and Ethnomedicine, 2, 30.

Albuquerque, U. P., & Hanazaki, N. (2009). Five problems in current ethnobotanical research—and some suggestions for strengthening them. Human Ecology, 37, 653–661.

Albuquerque, U. P., Araujo, T. A. S., Ramos, M. A., do Nascimento, V. T., de Lucena, R. F. P., Monteiro, J. M., et al. (2009). How ethnobotany can aid biodiversity conservation: Reflections on investigations in the semi-arid region of NE Brazil. Biodiversity Conservation, 18, 127–150.

Albuquerque, U. P., Soldati, G. T., Sieber, S. S., Medeiros, P. M., Caetano de Sa, J., & de Souza, L. C. (2011). Rapid ethnobotanical diagnosis of the Fulni-ô Indigenous lands (NE Brazil): Floristic survey and local conservation priorities for medicinal plants. Environment, Development and Sustainability, 13, 277–292.

Amusa, T. O., Jimoh, S. O., Aridanzi, P., & Haruna, M. (2010). Ethnobotany and Conservation of Plant Resources of Kainji Lake National Park, Nigeria. Ethnobotany Research & Applications, 8, 181–194.

Assogbadjo, A. E., Kyndt, T., Chadare, F. J., Sinsin, B., Gheysen, G., Eyog-Matig, O., et al. (2009). Genetic fingerprinting using AFLP cannot distinguish traditionally classified baobab morphotypes. Agroforestry Systems, 75, 157–165.

Barnham, B. L., Coomes, O. T., & Takasaki, Y. (1999). Rain forest livelihoods: Income generation, household wealth and forest use. Unasylva, 198(50), 34–42.

Bennett, B. C., & Prance, G. T. (2000). Introduced Plants in the Indigenous Pharmacopoeia of Northern South America. Economic Botany, 54(1), 90–102.

Bhat, R., Karim, A. A., & Tongkat, A. (2010). A review on its ethnobotany and pharmacological importance. Fitoterapia, 81, 669–679.

Brehm, J. M., Maxted, N., Martins-Loução, M. A., & Ford-Lloyd, B. V. (2010). New approaches for establishing conservation priorities for socio-economically important plant species. Biodiversity and Conservation, 19, 2715–2740.

Bridges, K. W., & Lau, Y. H. (2006). The skill acquisition process relative to ethnobotanical methods. Ethnobotany Research & Applications, 4, 115–118.

Burgess, N., Hales, J. D., Underwood, E., Dinerstein, E., Olson, D., Itoua, I., et al. (2004). Terrestrial ecoregions of Africa and Madagascar: A conservation assessment.

CBD. (1994). Convention on biological diversity. Châtelaine, Switzerland, Interim Secretariat for the Convention on Biological Diversity: Text and annexes.

Chadare, F. J., Hounhouigan, J. D., Linnemann, A. R., Nout, M. J. R., & Van Boekel, M. A. J. S. (2008). Indigenous knowledge and processing of Adansonia digitata L. food products in Benin. Ecology of Food and Nutrition, 47(4), 338–362.

Cunha, L. V. F. C., & Albuquerque, U. P. (2006). Quantitative ethnobotany in an atlantic forest fragment of Northeastern Brazil—implications to conservation. Environmental Monitoring and Assessment, 114, 1–25.

Cunningham, A. B. (1993). African medicinal plants: Setting priorities at the interface between conservation and primary healthcare. People and plants working paper 1. Paris: UNESCO.

Dhar, U., Rawal, R. S., & Upreti, J. (2000). Setting priorities for conservation of medicinal plants—A case study in the Indian Himalaya. Biological Conservation, 95, 57–65.

Fandohan, B., Assogbadjo, A. E., Glèlè Kakaï, R., Kyndt, T., & Sinsin, B. (2011). Quantitative morphological descriptors confirm traditionally classified morphotypes of Tamarindus indica L. fruits. Genetic Resources and Crop Evolution, 58, 299–309.

FAO. (2010). Evaluation des ressources forestieres mondiales (p. 54). Rome: Rapport National BÉNIN.

Gao, L. (2003). The conservation of Chinese rice biodiversity: Genetic erosion, ethnobotany and prospects. Genetic Resources and Crop Evolution, 50(1), 17–32.

Gavin, C. M., & Anderson, G. J. (2007). Socioeconomic predictors of forest use values in the Peruvian Amazon: A potential tool for biodiversity conservation. Ecological Economics, 60, 752–762.

Gbaï, I., Vodounou, J. B. & Houndagba, C. J. (2011). La dynamique liée aux effets des activités agricoles sur les écosystèmes dans le bassin supérieur de la Sô au Bénin. Actes du 3eme Colloque des sciences, cultures et Technologies de l'UAC-Bénin.

Glèlè Kakaï, R., & Sinsin, B. (2009). Structural description of two Isoberlinia dominated vegetation types in the Wari-Maro Forest Reserve (Benin). South African Journal Botany, 75, 43–51.

Guèze, M., Luz, A. C., Paneque-Gálvez, J., Macía, M. J., Orta-Martínez, M., Pino, J., et al. (2014). Are ecologically important tree species the most useful? A case study from indigenous people in the Bolivian Amazon. Economic Botany, 68, 1–15.

Houehanou, T. D., Assogbadjo, A. E., Glèlè, Kakaï R., Houinato, M., & Sinsin, B. (2011). Valuation of local preferred uses and traditional ecological knowledge in relation to three multipurpose tree species in Benin (West Africa). Forest Policy and Economics, 13, 554–562.

Houehanou, T. D., Glèlè Kakaï, R. L., Assogbadjo, A. E., Kindomihou, V., Houinato, M., Wittig, R., et al. (2013). Change in the woody floristic composition, diversity and structure from protected to unprotected savannahs in Pendjari Biosphere Reserve (Benin, West Africa). African Journal of Ecology, 51, 358–365.

Houinato, M., & Sinsin, B. (2002). Analyse phytogéographique de la région des Monts Kouffé au Bénin. Systematics and Geography of Plants, 71(1), 889–910.

INSAE. (2016). Rapport du Quatrième Recensement Général de la Population et de l´Habitation. Bénin.

IUCN. (2012). IUCN Red List Categories and Criteria Version 3.1, Second ed. Gland.

Kala, C. P., Farooquee, N. A., & Dhar, U. (2004). Priorization of medicinal plants on the basis of available knowledge, existing practices and use value status in Uttaranchal, Índia. Biodiversity and Conservation, 13, 453–469.

Kristensen, M., & Balslev, H. (2003). Perceptions, use and availability of woody plants among the Gourounsi in Burkina Faso. Biodiversity and Conservation, 12, 1715–1739.

Lucena, R. F. P., Medeiros, P. M., Araujo, E. L., Alves, A. G. C., & Albuquerque, U. P. (2012). The ecological apparency hypothesis and the importance of useful plants in rural communities from Northeastern Brazil: An assessment based on use value. Journal of Environmental Management, 96, 106–115.

Lykke, A. M. (2000). Local perceptions of vegetation change and priorities for conservation of woody-savanna vegetation in Senegal. Journal of Environmental Management, 59, 107–120.

Oliveira, R. L. C., Lins Neto, E. M. F., Araujo, E. L., & Albuquerque, U. P. (2007). Conservation priorities and population structure of woody medicinal plants in an area of Caatinga vegetation (Pernambuco state, NE Brazil). Environnement Monitoring Assessessment, 132, 189–206.

Phillips, O., & Gentry, A. H. (1993). The useful plants of Tambopata, Peru: Additional hypothesis testing in quantitative ethnobotany. Economy Botany, 47, 33–43.

Reitsma, J. M. (1988). Forest Vegetation in Gabon. Tropenbos Technical Series 1. The Netherlands, p. 142.

Rossato, S. C., Leitão, Filho H., & Begossi, A. (1999). Ethnobotany of caiçaras of the Atlantic Forest coast (Brazil). Economic Botany, 53, 387–395.

Sagar, R., Raghubanshi, A. S., & Singh, J. S. (2003). Tree species composition, dispersion and diversity along a disturbance gradient in a dry tropical forest region of India. Forest Ecology and Management, 186, 61–71.

Sanchez-Azofeita, G. A., Quesada, M., & Rodriguez, J. P. (2005). Research priorities for neotropical dry forests. Biotropica, 37(4), 477–485.

Sop, T. K., Oldeland, J., Bognounou, F., Schmiedel, U., & Thiombiano, A. (2012). Ethnobotanical knowledge and valuation of woody plants species: A comparative analysis of three ethnic groups from the sub-Sahel of Burkina Faso. Environment, Development and Sustainability, 14, 627–649.

Tabuti, J. R. S. (2007). The uses, local perceptions and ecological status of 16 woody species of Gadumire Sub-county, Uganda. Biodiversity Conservation, 16, 1901–1915.

Tardío, J., & Pardo-de-Santayana, M. (2008). Cultural importance indices: A comparative analysis based on the useful wild plants of Southern Cantabria (Northern Spain). Economic Botany, 62(1), 24–39.

Tchibozo, E. A. (2014). Landscape characterization and modeling degradation by fragmentation of plant formations: Case of Ketu and Dogo classified forest (East Center of Benin). International Journal of Innovative Research in Science, Engineering and Technology, 3(12), 18238–18251.

Ticktin, T. (2004). The ecological implications of harvesting non-timber forest products. Journal of Applied Ecology, 41, 11–21.

Torre-Cuadros, M. L. A., & Isabelle, G. A. (2003). Traditional ecological knowledge and use of vegetation in southeastern Mexico: A case study from Solferino. Biodiversity Conservation, 12, 2455–2476.

van Andel, T. R., Croft, S., van Loon, E. E., Quiroz, D., Towns, A. M., & Raes, N. (2015). Prioritizing West African medicinal plants for conservation and sustainable extraction studies based on market surveys and species distribution models. Biological Conservation, 181, 173–181.

Vandermeer, J., & Perfecto, I. (1995). Breakfast of biodiversity: The truth about rainforest destruction (p. 185). Oakland: Food First Books.

Vodounou, J.-B. K., Akoegninou, A., & Tchamie, T. T. K. (2011). Dynamique de l'occupation du sol dans le bassin de la rivière Sô au Bénin. Revue Scientifique en Environnement, 7, 81–102.

Weckerle, C. S., Cabras, S., Castellanos, M. E., & Leonti, M. (2011). Quantitative methods in ethnobotany and ethnopharmacology: Considering the overall flora—Hypothesis testing for over- and underused plant families with the Bayesian approach. Journal of Ethnopharmacology, 137, 837–843.

White, F. (1983). The vegetation of Africa. A descriptive memoir to accompany the Unesco/Aetfat/Unso vegetation map of Africa UNESCO. Natural Resources Research, 20, 1–356.

Yaoitcha, A. S., Houehanou, T. D., Fandohan, A. B., & Houinato, M. R. B. (2015). Prioritization of useful medicinal tree species for conservation in Wari-Maro Forest Reserve in Benin: A multivariate analysis approach. Forest Policy and Economics, 61, 135–146.

Zizka, A., Thiombiano, A., Dressler, S., Nacoulma, B. M. I., Ouédraogo, A., Ouédraogo, I., et al. (2015). Traditional plant use in Burkina Faso (West Africa): A national-scale analysis with focus on traditional medicine. Journal of Ethnobiology and Ethnomedicine, 11, 9.
Acknowledgements
This work was funded by the International Foundation for Science (IFS) through a research Grant (N°D/5449-1) provided to Thierry D. Houehanou. Alexander von Humboldt Foundation through Georg Forster Research Fellowship (HERMES) Ref 3.4—BEN—1163520—GFHERMES-P provided to Thierry D. Houehanou is thanked for its support to complete this manuscript writing. We thank the anonymous reviewers for their comments, and local people living around the Wari-Maro forest reserve.
Electronic supplementary material
Below is the link to the electronic supplementary material.
About this article
Cite this article
Ahoyo, C.C., Houehanou, T.D., Yaoitcha, A.S. et al. A quantitative ethnobotanical approach toward biodiversity conservation of useful woody species in Wari-Maro forest reserve (Benin, West Africa). Environ Dev Sustain 20, 2301–2320 (2018). https://doi.org/10.1007/s10668-017-9990-0
Received:

Accepted:

Published:

Issue Date:
Keywords
Versatility

Ecological availability

Quantitative ethnobotany

Conservation priorities