Abstract
Untreated whey, which is generated in the cheese industry, is a problem of pollution because of its high organic load (HOL). Due to its richness in lactose and protein, whey can be used to produce compounds of interest, such as benzyl carbonyl (BC). BC has a rose aroma and is widely used in industry. There are few studies that used whey for the production of benzyl carbonyl, and there are virtually no nuclear magnetic resonance (NMR) analyses or studies of the effect of BC production on the reduction of HOL. The pH of sweet whey is adjusted to 4.8, which is later pasteurized at 63 °C/30 min with an initial inoculum of K. marxianus (1 × 106 CFU/mL). The NMR spectra are obtained using a spectrometer Varian® NMR, 400 MHz. The chemical oxygen demand is analyzed according to the APHA 2005 standard methods. The content of residual lactose is 0.45 g/L (96 h), with an efficiency of removal up to 99.10%. The efficiency of removal of ACO up to 97.58% is obtained, which is superior to the value previously reported in the literature, with an initial HOL concentration of 50,583 mgO2/L. The maximum throughput of BC was 1.205 g/L (48 h). The 1H NMR spectra of sweet whey presented BC signal characteristics, with two signal triplets (J = 6.4 Hz) at δ 3.9 and 3.0 ppm, which correspond to hydrogens bonded to the hydroxyl, and at δ 7.15–7.35, which correspond to aromatic hydrogens.
Access options
Buy single article
Instant access to the full article PDF.
US$ 39.95
Tax calculation will be finalised during checkout.
Subscribe to journal
Immediate online access to all issues from 2019. Subscription will auto renew annually.
US$ 79
Tax calculation will be finalised during checkout.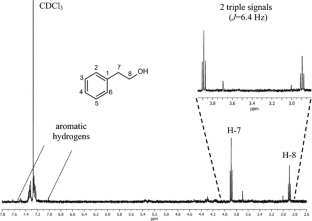 References
Achmon, Y., Zelas, Z., & Fishman, A. (2013). Cloning Rosa hybrid phenylacetaldehy de synthase for the production of 2-phenylethanol in a whole cell Escherichia coli system. Applied Microbiology and Biotechnology. doi:10.1007/s00253-013-5269-z.

Aggelopoulos, T., Katsieris, K., Bekatorou, A., Pandey, A., Banat, M. I., & Koutinas, A. A. (2014). Solid state fermentation of food waste mixtures for single cell protein, aroma volatiles and fat production. Food Chemistry, 145, 710–716.

Aktas, N., Boyaci, H. I., Mutlu, M., & Abdurrahman, T. (2006). Optimization of lactose utilization in deproteinated whey by Kluyveromyces marxianus using response surface methodology (RMS). Bioresource Technology, 97, 2252–2259.

Araujo, K., Páez, G., Mármol, Z., Ferrer, J., Ramones, E., Mazzarri, C. I., et al. (2007). Effect of lactose concentration on the grow kinetics of Kluyveromyces marxianus var. marxianus and production of β-D-galactosidade (E.C. 3.2.1.23). Revista Técnica de la Facultad de Ingeniería Universidad del Zulia, 1, 64–73.

Carrasco, C. A., & Guerra, M. (2010). Whey as a source of bioactive peptides. Anales Venezolanos de Nutrición, 23, 42–49.

Carvalho, F., Prazeres, R. A., & Rivas, J. (2013). Cheese whey wastewater: Characterization and treatment. Science of the Total Environment, 445–446, 385–396.

Celińska, E., Kubiak, P., Bialas, W., Dziadas, M., & Grajek, W. (2013). Yarrowia lipolytica: The novel and promising 2-phenylethanol producer. Journal of Industrial Microbiology and Biotechnology, 40, 389–392.

Davila-Vazquez, G., Alatriste-Mondragón, F., de León-Rodríguez, A., & Razo-Flores, E. (2008). Fermentative hydrogen production in batch experiments using lactose, cheese whey and glucose: Influence of initial substrate concentration and pH. International Journal of Hydrogen Energy, 33(19), 4989–4997.

Dragone, G., Mussatto, I. S., Oliveira, M. J., & Teixeira, A. J. (2009). Characterisation of volatile compounds in an alcoholic beverage produced by whey fermentation. Food Chemistry, 112, 929–935.

Etschmann, M. M. W., Bluemke, W., Sell, D., & Schrader, J. (2002). Biotechnological production of 2-phenylethanol. Applied Microbiology and Biotechnology, 59, 1–8.

Etschmann, M. M. W., Sell, D., & Schrader, J. (2004). Medium optimization for the production of the aroma compound 2-phenylethanol using a genetic algorithm. Journal of Molecular Catalysis. B, Enzymatic, 29, 187–193.

Fang, G., & Daugulis, A. (2009). Bioproduction of the aroma compound 2-phenylethanol in a solid-liquid two-phase partitioning bioreactor system by Kluyveromyces marxianus. Biotechnology and Bioengineering, 104, 332–339.

Gannoun, H., Khelifi, E., Bouallagui, H., Touhami, Y., & Hamdi, M. (2008). Ecological clarification of cheese whey prior to anaerobic digestion in upflow anaerobic filter. Bioresource Technology, 99, 6105–6111.

Garavaglia, J., Hickmann, F. S., Mara, P. T., Carmo, P. M., & Záchia, A. M. (2007). Bioconversion of l-phenylalanine into 2-phenylethanol by Kluyveromyces marxianus in grape must cultures. World Journal of Microbiology & Biotechnology, 23, 1273–1279.

Groeneveld, P., Stouthamer, A. H., & Westerhoff, H. V. (2009). Super life—how and why'cell selection' leads to the fastest-growing eukary-ote. Federation of European Biochemical Societies Journal, 276, 254–270.

Guimarães, M. R., Teixeira, A. J., & Domingues, L. (2010). Fermentation of lactose to bio-ethanol by yeasts as part of integrated solutions for the valorisation of cheese whey. Biotechnology Advances, 28, 375–384.

Hadiyantoa, L., Ariyantia, D., Ainia, P. A., & Pinundia, S. D. (2014). Optimization of ethanol production from whey through fed-batch fermentation using Kluyveromyces marxianus. Energy Procedia, 47, 108–112.

Hazelwood, L. A., Daran, J. M., & van Maris, A. J. A. (2008). The Ehrlich pathway for fusel alcohol production: A century of research on Saccharomyces cerevisiae metabolism. Applied and Environmental Microbiology, 74, 2259–2266.

Holland, B., Yazdi, S. R., Titapiccolo, G. I., & Corredig, M. (2010). Separation and quantification of caseins and casein macropeptide using ion-exchange chromatography. Journal of Dairy Science, 93, 893–900.

Horstch, R., Loser, C., & Bley, T. (2008). A two-stage CSTR cascade for studying the effect of inhibitory and toxic substances in bioprocesses. Engineering in Life Sciences, 6, 650–657.

Jawad, R., Elleman, C., Vermeer, L., Drake, F. A., Woodhead, B., Martín, G. P., et al. (2012). The measurement of the β/α anomer composition within amorphous lactose prepared by spray and freeze drying using a simple 1H-NMR method. Pharmaceutical Research, 29, 511–524.

Lomascolo, A., Lesage, M. L., Haon, M., Navarro, D., Antona, C., Faulds, C., et al. (2001). Evaluation of the potential of Aspergillus niger species for the bioconversion of l-phenylalanine into 2-phenylethanol. World Journal of Microbiology & Biotechnology, 17, 99–102.

Lu, X., Wang, Y., Zong, H., Ji, H., Zhuge, B., & Dong, Z. (2016). Bioconversion of L-phenylalanine to 2-phenylethanol by the novel stress-tolerant yeast Candida glycerinogenes WL2002-5. Bioengineered, 6, 418–423.

Lukondeh, T., Ashbolt, N. J., & Rogers, P. L. (2003). Evaluation of Kluyveromyces marxianus FII 510700 grown on a lactose-based medium as a source of a natural bioemulsifier. Journal of Industrial Microbiology and Biotechnology, 30, 715–720.

Madureira, A. R., Tavares, T., Gomes, A. M. P., Pintado, M. E., & Malcata, F. X. (2010). Invited review: Physiological properties of bioactive peptides obtained from whey proteins. Journal of Dairy Science, 93, 437–455.

Mihal, M., KriŠtofíková, L., & Marcŏs, J. (2013). Production of 2-phenylethanol in hybrid system using airlift reactor and immersed hollow fiber membrane module. Chemical Engineering and Processing, 72, 144–152.

Morrissey, J. P., Maria, M., Etschmann, W., Schrader, J., & Billerbeck, G. M. (2015). Cell factory applications of the yeast Kluyveromyces marxianus for the biotechnological production of natural flavor and fragrance molecules. Yeast, 32, 3–16.

Páez, G., Pérez, A., Araujo, A., Mármol, Z., & Rincón, M. (2012). Effect of lactose concentration over β-D-galactosidase production by Kluyveromyces marxianus ATCC 8554 in fed batch cultures. Revista de la Sociedad Venezolana de Microbiología, 32, 50–54.

Páez-Lerma, J. B., Arias, G. A., Rutiaga, Q. O., Barrio, E., & Soto, C. N. (2014). Yeasts Isolated from the alcoholic fermentation of agave duranguensis during mezcal production. Food Biotechnology, 4, 27–34.

Paladino, S., Sánchez, M. L., & Maza, M. (2004). Yeast assimilable nitrogen effect on the fermentation rate of grape must (vitis vinifera l). Fca uncuyo, 1, 79–86.

Prazeres, A. R., Carvalho, F., & Rivas, J. (2013). Fenton-like application to pretreated cheese whey wastewater. Journal of Environmental Management, 129, 199–205.

Ratanapariyanuch, K., Tyler, R., Young, Y. S., & Reaney, M. J. T. (2012). Biorefinery process for protein extraction from oriental mustard (Brassica juncea (L.) Czern.) using ethanol stillage. AMB Express, 1, 2–10.

Sánchez, D. R., Pérez, G. A., Codón, C. A., Benítez, T., & Rincón, A. M. (2014). Overproduction of 2-phenylethanol by industrial yeasts to improve organoleptic properties of bakers´ products. International Journal of Food Microbiology, 180, 7–12.

Spălăţelu, C. (2012). Biotechnological valorisation of whey. Innovative Romanian Food Biotechnology, 10, 1–8.

Stark, D., Münch, T., Sonnleitner, B., Marison, I. W., & von Stockar, U. (2002). Extractive bioconversion of 2-phenylethanol from l-phenylalanine by Saccharomyces cerevisiae. Biotechnology Progress, 18, 514–523.

Urbina, C. E., Muñoz, N. R., Manriquez, J. F., Ramírez, J. C., Ordaz, R. N., & Mayer, G. J. (2000). Batch andfed-batch cultures for the treatment of whey with mixed yeast cultures. Process Biochemistry, 35, 649–657.

Wang, H., Dong, Q., Guan, A., Meng, C., Shi, X., & Guo, Y. (2011). Synergistic inhibition effect of 2-phenylethanol and ethanol on bioproduction of natural 2-phenylethanol by Saccharomyces cerevisiae and process enhancement. Journal of Bioscience and Bioengineering, 112, 26–31.

Wittmann, C., Hans, M., & Bluemke, W. (2002). Metabolic physiology of aroma-producing Kluyveromyces marxianus. Yeast, 19, 1351–1363.

Yadav, J. S. S., Bezawada, J., Ajila, C. M., Yan, S., Tyagi, R. D., & Surampalli, R. V. (2014). Mixed culture of Kluyveromyces marxianus and Candida krusei for single-cell protein production and organic load removal from whey. Bioresource Technology, 164, 119–127.

Zopellari, F., & Bardi, L. (2013). Production of bioethanol from effluents of the dairy industry by Kluyveromyces marxianus. New Biotechnology, 30, 607–613.

Zwietering, M. H., Jongenburger, I., Rombouts, F. M., & Van't Riet, K. (1990). Modeling of the bacterial growth curve. Applied and Environmental Microbiology, 6, 1875–1881.
Acknowledgements
We are grateful to The National Science and Technology Council (CONACYT) for the support given and for the granted scholarship for the development of this work.
About this article
Cite this article
Conde Báez, L., Castro Rosas, J., Villagómez Ibarra, J.R. et al. Production of benzyl carbonyl (rose aroma) from whey and its effect on pollutant load removal. Environ Dev Sustain 21, 609–619 (2019). https://doi.org/10.1007/s10668-017-0048-0
Received:

Accepted:

Published:

Issue Date:
Keywords
Benzyl carbonyl

Sweet whey

Chemical oxygen demand

NMR