Abstract
In climate change adaptation, contract farming can facilitate the adoption of coping and adaptation strategies, but such dynamics are less understood in the literature. This study uses primary data collected from a cross section of crop farmers in northern Ghana and a simultaneous equation systems approach to examine the links between contract farming and adoption of climate change coping and adaptation strategies. The major coping and adaptation strategies used by farmers include spraying of farms with chemicals, row planting, mixed farming, mixed cropping and crop rotation. Econometric results confirm that contract farming enhances the adoption of climate change adaptation strategies, but there is also a feedback effect on contract farming, such that farmers adopting more adaptation strategies have higher probabilities to get contract offer. This makes contract farming a viable policy instrument to consider in climate change adaptation. Furthermore, land ownership and extension services exert significant positive influence on adoption. As much as possible, coping and adaptation strategies should effectively be communicated to crop farmers. Policy-wise, development actors and successive governments in Ghana should encourage and facilitate contract or group farming, as was in the case of the National Block Farming, led by Ghana's Ministry of Food and Agriculture.
This is a preview of subscription content, log in to check access.
Access options
Buy single article
Instant access to the full article PDF.
US$ 39.95
Price includes VAT for USA
Subscribe to journal
Immediate online access to all issues from 2019. Subscription will auto renew annually.
US$ 99
This is the net price. Taxes to be calculated in checkout.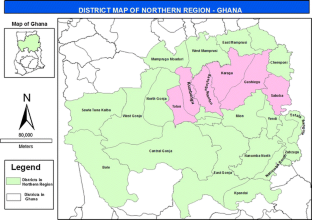 References
Amikuzino, J., & Donkoh, S. (2012). Climate variability and yields of major staple food crops in Northern Ghana. African Crop Science Journal, 20, 349–360.

Antwi-Agyei, P., Stringer, L. C., & Dougill, A. J. (2014). Livelihood adaptations to climate variability: Insights from farming households in Ghana. Regional Environmental Change, 14, 1615–1626.

Armah, F. A., Odoi, J. O., Yengoh, G. T., Obiri, S., Yawson, D. O., & Afrifa, E. K. (2011). Food security and climate change in drought-sensitive savanna zones of Ghana. Mitigation and Adaptation Strategies for Global Change, 16, 291–306.

Barrett, C. B., Bachke, M. E., Bellemare, M. F., Michelson, H. C., Narayanan, S., & Walker, T. F. (2012). Smallholder participation in contract farming: Comparative evidence from five countries. World Development, 40, 715–730.

Baumann, P. (2000). Equity and efficiency in contract farming schemes: The experience of agricultural tree crops. London: Overseas Development Institute.

Bellemare, M. F. (2015). Contract farming: What's in it for smallholder farmers in developing countries? Choices, 30, 1–4.

Bingen, J., Serrano, A., & Howard, J. (2003). Linking farmers to markets: Different approaches to human capital development. Food Policy, 28, 405–419.

Clapp, R. A. (1994). The moral economy of the contract. In P. D. Little & M. J. Watts (Eds.), Living under contract. Madison, WI: University of Wisconsin Press.

Codjoe, S. N. A., Atidoh, L. K., & Burkett, V. (2011). Gender and occupational perspectives on adaptation to climate extremes in the Afram Plains of Ghana. Climatic Change, 110, 431–454.

Connor, D. (2008). Organic agriculture cannot feed the world. Field Crops Research, 106, 187–190.

Coulibaly, J. Y., Gbetibouo, G. A., Kundhlande, G., Sileshi, G. W., & Beedy, T. L. (2015). Responding to crop failure: Understanding farmers' coping strategies in Southern Malawi. Sustainability, 7, 1620–1636.

Dumenu, W. K., & Obeng, E. A. (2016). Climate change and rural communities in Ghana: Social vulnerability, impacts, adaptations and policy implications. Environmental Science and Policy, 55, 208–217.

Eaton, C., & Shepherd, A. (2001). Contract farming: Partnerships for growth. Rome: Food & Agriculture Organization.

Ekboir, J., Boa, K., & Dankyi, A. (2002). Impact of no-till technologies in Ghana. In CIMMYT, international maize and wheat improvement center.

Foltz, J. D. (2003). The economics of water-conserving technology adoption in Tunisia: An empirical estimation of farmer technology choice*. Economic Development and Cultural Change, 51, 359–373.

Freguin-Gresh, S., d'Haese, M., & Anseeuw, W. (2012). Demythifying contract farming: Evidence from rural South Africa. Agrekon, 51, 24–51.

Greene, W. (1998). Sample selection in credit-scoring models. Japan and the World Economy, 10, 299–316.

Greene, W. H. (2003). Econometric analysis (5th ed.). NJ: Upper Saddle River.

GSS. (2012). Population and housing census 2010. Accra: Ghana Statistical Service.

Gujarati, D. N. (2004). Basic econometrics (4th ed.). New York: McGraw-Hill.

Heckman, J. J. (1976). The common structure of statistical models of truncation, sample selection and limited dependent variables and a simple estimator for such models. Annals of Economic and Social Measurement, 5(4), 475–492. (NBER).

Heckman, J. J. (1979). Sample selection bias as a specification error. Econometrica: Journal of the Econometric Society, 31, 153–161.

Helling, A. P., Conner, D. S., Heiss, S. N., & Berlin, L. S. (2015). Economic analysis of climate change best management practices in vermont agriculture. Agriculture, 5, 879–900.

Huang, C. L. (1993). Simultaneous-equation model for estimating consumer risk perceptions, attitudes, and willingness-to-pay for residue-free produce. Journal of Consumer Affairs, 27, 377–396.

Huddleston, P. (2011). Contract farming and technology transfer: Perspectives from the Philippines' oil palm industry. In M. Tonts, M. Abu & B. Siddique (Eds.), Globalisation, agriculture and development perspectives from the Asia-Pacific. Cheltenham: Edward Elgar Publishing, Inc.

Huddleston, P., & Tonts, M. (2007). Agricultural development, contract farming and Ghana's oil palm industry. Geography, 92, 266–278.

Huh, W. T., & Lall, U. (2013). Optimal crop choice, irrigation allocation, and the impact of contract farming. Production and Operations Management, 22, 1126–1143.

Huq, S., Reid, H., Konate, M., Rahman, A., Sokona, Y., & Crick, F. (2004). Mainstreaming adaptation to climate change in least developed countries (LDCs). Climate Policy, 4, 25–43.

IPCC (2014). Climate change 2014: Impacts, adaptation, and vulnerability. Part A: Global and sectoral aspects. In C. B. Field, V. R. Barros, D. J. Dokken, K. J. Mach, M. D. Mastrandrea, T. E. Bilir, M. Chatterjee, K. L. Ebi, Y. O. Estrada, R. C. Genova, B. Girma, E. S. Kissel, A. N. Levy, S. MacCracken, P. R. Mastrandrea, & L. L. White (Eds.) Contribution of working group II to the 5th assessment report of the intergovernmental panel on climate change. Cambridge: Cambridge University Press.

Kariuki, I. M., & Loy, J.-P. (2016). Contractual farming arrangements, quality control, incentives, and distribution failure in Kenya's smallholder horticulture: A multivariate probit analysis. Agribusiness. doi:10.1002/agr.21462.

Key, N., & McBride, W. (2003). Production contracts and productivity in the US hog sector. American Journal of Agricultural Economics, 85, 121–133.

Kirsten, J., & Sartorius, K. (2002). Linking agribusiness and small-scale farmers in developing countries: Is there a new role for contract farming? Development Southern Africa, 19, 503–529.

Kranjac-Berisavljevic, G., Bayorbor, T., Abdulai, A., Obeng, F., Blench, R., Turton, C., et al. (1999). Rethinking natural resource degradation in semi-arid sub-Saharan Africa: The case of semi-arid Ghana. London: Overseas Development Institute/University of Development Studies.

Kudadjie-Freeman, C., Richards, P., & Struik, P. C. (2008). Unlocking the potential of contract farming: Lessons from Ghana. UK: International Institute for Environment and Development London.

Kumar, M. V. S. (2009). The relationship between product and international diversification: The effects of short-run constraints and endogeneity. Strategic Management Journal, 30, 99–116.

Lacombe, G., McCartney, M., & Forkuor, G. (2012). Drying climate in Ghana over the period 1960–2005: Evidence from the resampling-based Mann–Kendall test at local and regional levels. Hydrological Sciences Journal, 57, 1594–1609.

Laube, W., Schraven, B., & Awo, M. (2011). Smallholder adaptation to climate change: Dynamics and limits in Northern Ghana. Climatic Change, 111, 753–774.

Lolig, V., Donkoh, S. A., Obeng, F. K., Ansah, I. G. K., Jasaw, G. S., Kusakari, Y., et al. (2014). Households' coping strategies in drought-and flood-prone communities in Northern Ghana. Journal of Disaster Research, 9, 542–553.

Masakure, O., & Henson, S. (2005). Why do small-scale producers choose to produce under contract? Lessons from nontraditional vegetable exports from Zimbabwe. World Development, 33, 1721–1733.

Mertz, O., Mbow, C., Reenberg, A., & Diouf, A. (2009). Farmers' perceptions of climate change and agricultural adaptation strategies in rural Sahel. Environmental Management, 43, 804–816.

Mirza, M. M. Q. (2003). Climate change and extreme weather events: Can developing countries adapt? Climate Policy, 3, 233–248.

Miyata, S., Minot, N., & Hu, D. (2009). Impact of contract farming on income: Linking small farmers, packers, and supermarkets in China. World Development, 37, 1781–1790.

MoFA (2013). Agriculture in Ghana: Facts and figures 2012.

Müller, C., Cramer, W., Hare, W. L., & Lotze-Campen, H. (2011). Climate change risks for African agriculture. Proceedings of the National Academy of Sciences, 108, 4313–4315.

Narayanan, S. (2014). Profits from participation in high value agriculture: Evidence of heterogeneous benefits in contract farming schemes in Southern India. Food Policy, 44, 142–157.

Ngigi, S. N., & Denning, G. (2009). Climate change adaptation strategies: Water resources management options for smallholder farming systems in sub-Saharan Africa. MDG Centre.

Oya, C. (2012). Contract farming in sub-Saharan Africa: A survey of approaches, debates and issues. Journal of Agrarian Change, 12, 1–33.

Ramaswami, B., Birthal, P. S., & Joshi, P. K. (2009). Grower heterogeneity and the gains from contract farming: The case of Indian poultry. Indian Growth and Development Review, 2, 56–74.

Saenger, C., Qaim, M., Torero, M., & Viceisza, A. (2013). Contract farming and smallholder incentives to produce high quality: Experimental evidence from the Vietnamese dairy sector. Agricultural Economics, 44, 297–308.

Shrestha, S., Deb, P., & Bui, T. T. T. (2016). Adaptation strategies for rice cultivation under climate change in Central Vietnam. Mitigation and Adaptation Strategies for Global Change, 21, 15–37.

Simtowe, F., & Zeller, M. (2006). The impact of access to credit on the adoption of hybrid maize in Malawi: An empirical test of an agricultural household model under credit market failure. MPRA. https://mpra.ub.uni-muenchen.de/id/eprint/45.

Singh, S. (2002). Contracting out solutions: Political economy of contract farming in the Indian Punjab. World Development, 30, 1621–1638.

Sofranko, A., Frerichs, R., Samy, M., & Swanson, B. (1999). Will farmers organize: Structural change and loss of control over production. In 62nd annual meeting of the rural sociological society. Chicago.

Tompkins, E. L., & Adger, W. N. (2003). Building resilience to climate change through adaptive management of natural resources. Tyndall centre for climate change research working paper 27.

Verbeek, M. (2010). A guide to modern econometrics (3rd ed.). Chichester: Wiley.

Warning, M., & Key, N. (2002). The social performance and distributional consequences of contract farming: An equilibrium analysis of the Arachide de Bouche program in Senegal. World Development, 30, 255–263.

Wooldridge, J. M. (2012). Introductory econometrics: A modern approach (5th ed.). Mason, OH: South-Western Cengage Learning.

Wuepper, D., & Sauer, J. (2016). Explaining the performance of contract farming in Ghana: The role of self-efficacy and social capital. Food Policy, 62, 11–27.
Acknowledgments
The study was supported financially by the GSSP of the International Food Policy Research Institute (IFPRI) through its Scholarship program for Master's level research. We also honestly acknowledge our anonymous reviewers, whose comments have been very vital in reshaping the direction of this article.
About this article
Cite this article
Azumah, S.B., Donkoh, S.A. & Ansah, I.G.K. Contract farming and the adoption of climate change coping and adaptation strategies in the northern region of Ghana. Environ Dev Sustain 19, 2275–2295 (2017). https://doi.org/10.1007/s10668-016-9854-z
Received:

Accepted:

Published:

Issue Date:
Keywords
Contract farming

Climate change

Coping and adaptation strategies

Simultaneous equation systems

Northern Ghana