Abstract
Overuse of nitrogen (N) fertilizers in agriculture activities has caused severe water pollution in China. The lack of data at producer level hampers decision makers in the development and implementation of efficient policies to curb excessive N-fertilizer use. In a survey of 300 farm households in the Liangzihu Lake basin, we identified factors associated with farmers' decisions on N-fertilizer use and application rate. Household survey and multiple linear regression models indicate that the average application rate in the study region is 229 kg N ha−1, which exceeds the recommended rate for maximum profit for cereal crops (maize, wheat, and rice) in China of 150–180 kg N ha−1. High N-application rates are associated with low farmland productivity (coefficient = −15.66, p = 0.02), a high share of off-farm income (coefficient = 27.14, p = 0.003), and a low education level of the household head (coefficient = −10.83, p = 0.039). Neither physical infrastructure nor access to input markets appears to be related to N-application rates. It may be concluded that excessive use of N in agriculture of Central China is mainly a problem of insufficient awareness and high share of off-farm income.
Access options
Buy single article
Instant access to the full article PDF.
US$ 39.95
Tax calculation will be finalised during checkout.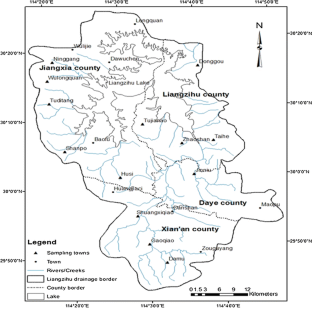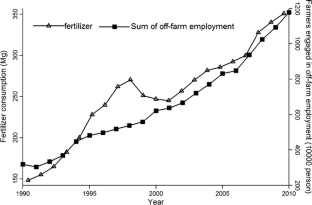 Notes
1.

Average currency exchange rate 2012: 1 US $ = 6.3125 yuan.
References
Almasri, M. N., & Kaluarachchi, J. J. (2007). Modeling nitrate contamination of groundwater in agricultural watersheds. Journal of Hydrology, 343, 211–229.

Bosch, D. J., Cook, Z. L., & Fuglie, K. O. (1995). Voluntary versus mandatary agricultural policies to protect water quality: Adoption of nitrogen testing in Nerbraska. Review of Agricultural Economics, 17, 13–24.

Brauw, A. D., & Giles, J. (2008). Migrant labor markets and the welfare of rural households in the developing world: Evidence from China. The World Bank.

Cameron, A. C., & Traivedi, P. K. (Eds.). (2010). Microeconometrics using Stata, (Revised ed.). Texas, USA: StataCrop LP.

Cameron, K. C., Di, H. J., & Moir, J. L. (2013). Nitrogen losses from the soil/plant system: A review. Annals of Applied Biology, 162, 145–173.

Fu-liang, J., & Gu-cheng, L. (2012). Empirical study on impact of rural infrastructure investment on rural economic growth. Journal of Huazhong Agricultural University, 6, 36–40.

Galloway, J. N., Townsend, A. R., Erisman, J. W., Bekunda, M., Cai, Z., Freney, J. R., et al. (2008). Transformation of the nitrogen cycle: Recent trends, questions, and potential solutions. Science, 320, 889–892.

Giampietro, M., & Pastore, G. (Eds.). (2001). Operationalizing the concept of sustainabilitz in agriculture: Characterizing agroecosystems on a multi-Ceiteria, multiple Scale performance space, 1 edition. Agroecosystem sustainability developing practical strategies. London, UK: CRC Press.

Han, H.-Y., & Zhao, L.-G. (2009). Farmers' character and behavior of fertilizer application—Evidence from a survey of Xinxiang County, Henan Province, China. Agricultural Sciences in China, 8, 1238–1245.

Huang, J., Hu, R., Cao, J., & Rozelle, S. (2008). Training programs and in-the-field guidance to reduce China's overuse of fertilizer without hurting profitability. Journal of Soil and Water Conservation, 63, 165–167.

Huang, J. K., Hu, R., Chao, J., & Rozelle, S. (2009). Agricultural extension system reform and agent time allocation in China. China Economic Review, 20, 303–315.

Huang, J., Wang, X., Zhi, H., Huang, Z., & Rozelle, S. (2011). Subsidies and distortions in China's agriculture: Evidence from producer-level data. Australian Journal of Agricultural and Resource Economics, 55, 53–71.

Hubei Provincial Bureau of Statistics (Ed.). (2008). Hubei Rural Statistical Yearbook. Beijing, China: China Statistics Press.

Jia, X.-P., Huang, J.-K., Xiang, C., Hou, L.-K., Zhang, F.-S., Chen, X.-P., et al. (2013). Farmer's adoption of improved nitrogen management strategies in maize production in China: An experimental knowledge training. Journal of Integrative Agriculture, 12, 364–373.

Ju, X., Liu, X., Zhang, F., & Roelcke, M. (2004). Nitrogen fertilization, soil nitrate accumulation, and policy recommendations in several agricultural regions of China. AMBIO: A Journal of the Human Environment, 33, 300–305.

Ju, X. T., Xing, G. X., Chen, X. P., Zhang, S. L., Zhang, L. J., Liu, X. J., et al. (2009). Reducing environmental risk by improving N management in intensive Chinese agricultural systems. Proceedings of the National Academy of Sciences United States of America, 106, 3041–3046.

Juan, Zhou, & Quan-quan, J. (2015). Advantages and Predicament of Family Farm Land Transfer-A Case Study on Some Village in Huangpi, Hubei. Journal of Huazhong University of Science and Technology, 29, 132–140.

Kormawa, P., Munyemana, A., & Soule, B. (2003). Fertilizer market reforms and factors influencing fertilizer use by small-scale farmers in Bénin. Agriculture, Ecosystems & Environment, 100, 129–136.

Kuangfei, L., Yaling, X., Xuefeng, L., & Pastore, G. (1999). Loss of nitrogen, phosphorus, and potassium through crop harvests in agroecosystems of Qianjiang, Hubei Province, PR China. Critical Reviews in Plant Sciences, 18, 393–401.

Kung, J. K.-S., & Cai, Y.-S. (2000). Property rights and fertilizing practices in rural China-evidence from Northern Jiangsu. Modern China, 26, 276–308.

Levy, P. S., & Lemeshow, S. (1999). Sampling for populations: Methods and applications (3rd ed.). New York: Wiley.

Li, Z. H., & Sun, D. Z. (Eds.). (2009). Study on the ecological environment protection of Liangzihu Lake. Beijing: Science Press.

Li, Z., Zhao, L., Zhang, J., Chen, H., & Zhou, Z. (2009). Strategic study on ecological environment protection for Liangzihu Lake. Environmental Science and Technology, 32, 34–40.

Li-heng, Ma., Ying, Zhang, Biao, Sui, Cai-ling, Liu, Wang Ping, Gu, Suo-di, Shen Qi-rong, et al. (2011). The impact factors of excessive fertilization in Jiangsu Province. Journal of Yangzhou University, 32, 48–52.

Meyer-Aurich, A., Weersink, A., Gandorfer, M., & Wagner, P. (2010). Optimal site-specific fertilization and harvesting strategies with respect to crop yield and quality response to nitrogen. Agricultural Systems, 103, 478–485.

Mosier, A., Kroeze, C., Nevison, C., Oenema, O., Seitzinger, S., & Cleemput, O. V. (1998). Closing the global N2O budget nitrous oxide emissions through the agricultural nitrogen cycle. Nutrient Cycle in Agroecosystem, 52, 225–248.

Mueller, N. D., Gerber, J. S., Johnston, M., Ray, D. K., Ramankutty, N., & Foley, J. A. (2012). Closing yield gaps through nutrient and water management. Nature, 490, 254–257.

National Bureau of Statistics of China. (2010). China statistical yearbook (Vol. 2011). Beijing, China: China Statistics Press.

Pedersen, A., Thorup-Kristensen, K., & Jensen, L. S. (2009). Simulating nitrate retention in soils and the effect of catch crop use and rooting pattern under the climatic conditions of Northern Europe. Soil Use and Management, 25, 243–254.

Peng, S. B., Buresh, R. J., Huang, J. L., Yang, J. C., Zou, Y. B., Zhong, X. H., et al. (2006). Strategies for overcoming low agronomic nitrogen use efficiency in irrigated rice systems in China. Field Crops Research, 96, 37–47.

Qiu, D., Wu, Z., Liu, B., Deng, J., Fu, G., & He, F. (2001). The restoration of aquatic macrophytes for improving water quality in a hypertrophic shallow lake in Hubei Province, China. Ecological Engineering, 18, 147–156.

Waithaka, M. M., Thornton, P. K., Shepherd, K. D., & Ndiwa, N. N. (2007). Factors affecting the use of fertilizers and manure by smallholders: The case of Vihiga, western Kenya. Nutrient Cycling in Agroecosystems, 78, 211–224.

Wang, X., Huang, J., Zhang, L., & Rozelle, S. (2011). The rise of migration and the fall of self employment in rural China's labor market. China Economic Review, 22, 573–584.

Weiju, Wu, Lingling, Wang, Bin, Zhang, Qi, Liao, Yan, Zhu, & Jie, T. (2015). Baseline survey and evaluation on environment of Liangzi Lake Basin. Water Resource Protection, 31, 98–102.

Yang, L. Z., & Sun, B. (Eds.). (2008). Nutrient cycle and balance management in Chinese agriculttural system (1st ed.). Beijing, China: Science Press.

Yong-jun, Hu, & Man-de, Z. (2014). Farmers behavior influenced by labour force mitigation and food commercialization-Based on the data from 587 households in China. Chinese Economic and Trade, 3, 18–22.

Yunju, L., Kahrl, F., Jianjun, P., Roland-Holst, D., Yufang, S., Wilkes, A., & Jianchu, X. (2012). Fertilizer use patterns in Yunnan Province, China: Implications for agricultural and environmental policy. Agricultural Systems, 110, 78–89.

Zhi-wei, Zhou, Jing, Rao, & Ting, Z. (2013). Influential factors analysis on fertilization behavior of farmers in metropolitan suburbs-Based on survey of 202 farmers in Beijing suburbs. Joumal of Southern Agriculture, 44, 2102–2106.

Zhou, Y., Yang, H., Mosler, H.-J., & Abbaspour, K. C. (2010). Factors affecting farmers' decisions on fertilizer use: A case study for the Chaobai watershed in Northern China. Journal of Sustainable Development, 4, 80–102.

Zhu, Z. L., & Chen, D. L. (2002). Nitrogen fertilizer use in China-contributuions to food production, impacts on the environment strategies. Nutrient Cycling in Agroecosystems, 63, 117–127.

Zhu, Z., & Zhang, F. (Eds.). (2010). Study on N fertilizer apllication in main Agro-ecosystem and improve N fertilizer utility (1st ed.). Beijing, China: Science Press.
Acknowledgments
The authors are grateful to the survey team members who supported the data collection. Thanks also to Guido Lüchters from the Center for Development Research (ZEF), Bonn University, for his excellent assistance in the statistical analysis. This work was financially supported by Fiat Panis Foundation Dr. Hermann Eiselen Ph.D. Grant through Center for Development Research (ZEF) and the Federal Ministry of Education and Research (BMBF) through an IPSWaT scholarship, by the Chinese Administration of Science and Technology through the National Science and Technology Program for benefiting people (S2013GMD100042), as well as by the Natural Science Foundation of Hubei Province (2014CFB545).
About this article
Cite this article
Zhang, J., Manske, G., Zhou, P.Q. et al. Factors influencing farmers' decisions on nitrogen fertilizer application in the Liangzihu Lake basin, Central China. Environ Dev Sustain 19, 791–805 (2017). https://doi.org/10.1007/s10668-016-9765-z
Received:

Accepted:

Published:

Issue Date:
Keywords
Chemical fertilizer

Farmers' behaviour

Fertilizer management

Nitrate pollution

Overuse