Abstract
Forecasting the likely economic losses arising from North Atlantic hurricanes is high on the agenda of both Caribbean and North American stakeholders. This paper develops a general equilibrium framework to conduct an impact assessment of climate change and hurricane formation. General equilibrium analysis accounts for not only primary effects but also feedback effects. The model simulations suggest that output losses occurring due to hurricanes are likely to have economy-wide effects. However, the rural economies of the region are likely to suffer the greatest (relative) effects. The findings of this study suggest that rural livelihoods should be mainstreamed in any adaptation initiatives adopted by the region. Ignoring these neighbourhood features in adaptation plans could negatively impact on poverty and unemployment in rural areas.
Access options
Buy single article
Instant access to the full article PDF.
USD 39.95
Price excludes VAT (USA)
Tax calculation will be finalised during checkout.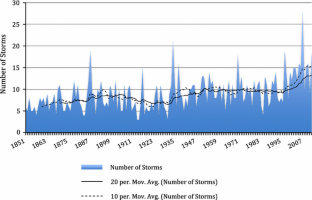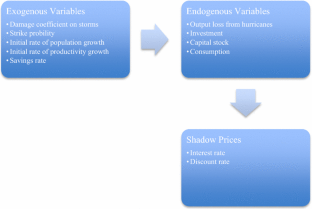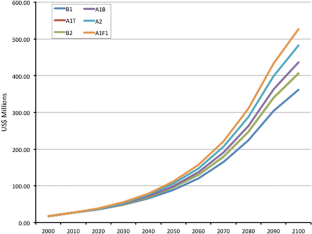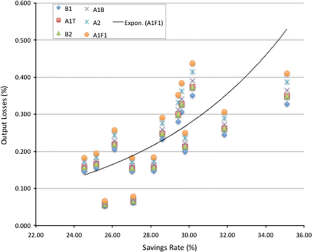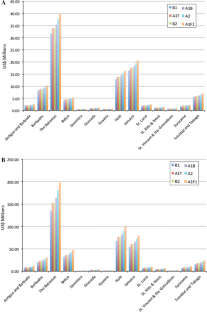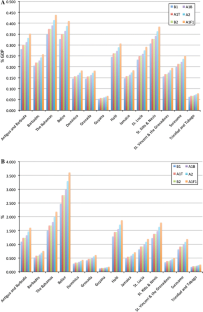 Notes
Average yearly insured losses in 2006 prices were about USD 2–3 billion in the 1970s and rose to more that USD 30 billion over 2001–2006.

A greater discussion of the PDI is provided later in this section of the study.

The study's results do not consider the effect of current or likely future policy interventions to change global carbon emissions.

PPP indicates purchasing power parity.
References
Ahsan, R. M., & Eusuf, A. Z. (1994). Determinants of spatial and gender differences in coastal cyclone shelter use in island and mainland areas in Cox's Bazar. Oriental Geographer, 38(1–2), 44–58.

Bengtsson, L., et al. (2007). How may tropical cyclones change in a warmer climate. Tellus, 59A, 539–561.

Boswell, M. R., Deyle, R. E., Smith, R. A., & Baker, E. J. (1999). A quantitative method for estimating probably public costs of hurricanes. Environmental Management, 23(3), 359–372.

Bries, J., Debrot, A., & Meyer, D. (2004). Damage to the leeward reefs of Curacao and Bonaire, Netherlands Antilles from a rare storm event: Hurricane Lenny, November 1999. Coral Reefs, 23(2), 197–307.

Burton, C. G. (2010). Social vulnerability and hurricane impact modeling. Natural Hazards Review, 11(2), 58–68.

Chan, J. C. L., & Liu, K. S. (2004). Global warming and western north Pacific typhoon activity from an observational perspective. Journal of Climate, 17, 4590–4602.

Changnon, S. A., Pielke, R. A., Changnon, D., Sylves, R. T., & Pulwarty, R. (2000). Human factors explain the increased losses. Bulletin of the American Meteorological Society, 81, 437–442.

Crompton, R. P., Pielke, R. A., & McAneney, K. J. (2011). Emergence timescales for detection of anthropogenic climate change in US tropical cyclone loss data. Environmental Research Letters, 6(1), 014003.

Davenport, A. (1990). The impact of structural damage in Jamaica due to hurricane gilbert and the prospects for disaster reduction. Journal of Wind Engineering Industrial Aerodynamics, 36(1–3), 53–62.

Djalante, R., Holley, C., & Thomalla, F. (2011). Adaptive governance and managing resilience to natural hazards. International Journal of Disaster Risk Science, 2(4), 1–14.

Doornik, J. A. (2009). An introduction to OxMetrics 6: A software system for data analysis and forecasting. London: Timberlake Consultants Ltd.

Elliott, W., Moore, W., & Thompson, S. (2012). Climate change and atlantic storm activity. Boston: International Institute of Forecasters.

Elsner, J. B., & Jagger, T. H. (2004). A hierarchical Bayersian approach to seasonal hurricane modelling. Journal of Climate, 17, 2813–2827.

Elsner, J. B., Kossin, J. P., & Jagger, T. H. (2008). The increasing intensity of the strongest tropical cyclones. Nature Letters, 455, 1–4.

Emanuel, K. (2007). Environmental factors affecting tropical cyclone power dissipation. Journal of Climate, 20(22), 5497–5509.

Frazier, T. G., Wood, N., Yarnal, B., & Bauer, D. H. (2010). Influence of potential sea level rise on societal vulnerability to hurricane storm-surge hazards, Sarasota Country, Florida. Applied Geography, 30(4), 490–505.

Gardner, T., Cote, I., Gill, J., Grant, A., & Watkinson, A. (2005). Hurricanes and Caribbean Coral Reefs: Impacts, recovery patterns and role in long-term decline. Ecology, 86(1), 174–184.

Gibbs, T. (2004). The effects of hurricane Ivan on structures in Grenada. Bridgetown: Institute of Structural Engineers/Caribbean Development Bank.

Goldenburg, S., Landsea, C., Mestas-Nunez, A., & Gray, W. (2001). The recent increase in Atlantic hurricane activity: Causes and implications. Science, 293(5529), 474–479.

Gray, W. (1984a). Atlantic seasonal hurricane frequency: Part I. El Nino and 30 mb quasibiennial oscillation influences. Monthly Weather Review, 112, 440–455.

Gray, W. (1984b). Atlantic seasonal hurricane frequency: Part II. Forcasting its variability. Monthly Weather Review, 112, 1669–1683.

Gray, W., Landsea, C. W., Mielke, P. W., & Berry, K. J. (1992). Predicting Atlantic seasonal hurricane activity 6–11 months in advance. Weather and Forecasting, 7, 440–455.

Hagen, A. B., & Landsea, C. W. (2012). On the classification of extreme Atlantic hurricanes utilizing mid-twentieth-century monitoring capabilities. Journal of Climate, 25(13), 4461–4475.

IPCC. (2007). AR4 Synthesis Report. Geneva: Intergovernmental Panel on Climate Change.

IPCC. (2012). Managing the risks of extreme events and disasters to advance climate change adaptation. Geneva: Intergovernmental Panel on Climate Change.

Klima, K., Lin, N., Emmanuel, K., Morgan, M. G., & Grossmann, I. (2012). Hurricane modification and adaptation in Miami-Dade County. Environmental Science and Technology, 46, 636–642.

Knaff, J. A., Sampson, C., & DeMaria, M. (2005). An operational statistical typhoon intensity prediction scheme for the Western North Pacific. Weather and Forecasting, 20, 688–699.

Knutson, T. R., & Tuleya, R. E. (2004). Impact of CO2-induced warming on simulated hurricane intensity and precipitation sensitivity to the choice of climate model and convective parameterisation. Journal of Climate, 17, 3477–3495.

Knutson, T., et al. (2010). Tropical Cyclones and Climate Change. Nature Geoscience, 3, 157–163.

Landsea, C. W., Gray, W. M., Mielke, P. W., & Berry, K. J. (1992). Long-term variations of western Sahelian Monsoon rainfall and intense US landfalling hurricanes. Journal of Climate, 5, 1528–1534.

Landsea, C. W., Harper, B. A., Hoarau, K., & Knaff, J. A. (2006). Climate change: Can we detect trends in extreme tropical cyclones? Science, 313(5786), 452–454.

Leatherman, S. P., Chowdhury, A. G., & Robertson, C. J. (2007). Wall of wind full-scale, destructive testing of coastal houses and hurricane damage mitigation. Journal of Coastal Research, 23(5), 1211–1217.

Lewis, J. (1991). Shelter, settlements, policy and the poor. In Tropical cyclones and island states, (pp. 39–44). London: ITDG.

Lugo, A. (2000). Effects and outcomes of Caribbean hurricanes in a climate change scenario. Science of the Total Environment, 262(3), 243–251.

Lugo, A., Applefield, M., Pool, D., & McDonald, R. (1983). The impact of hurricane David on the forests of dominica. Canadian Journal of Forest Research, 13(2), 201–211.

Martinez, M., & Intralawan, A. (2007). The ecological, economic and social importance of the coasts. Ecological Economics, 254–272.

Mendelsohn, R., Dinar, A., & Williams, L. (2006). The distributional impact of climate change on rich and poor countries. Environment and Development Economics, 11(2), 159–178.

Moore, W. (2010). The impact of climate change on Caribbean tourism demand. Current Issues in Tourism, 13(5), 495–505.

Moore, W., & Walkes, C. (2010). Does industrial concentration impact on the relationship between policies and volatility? International Review of Applied Economics, 24(2), 179–202.

Nicholls, R. J. (2003). An expert assessment of storm surge "hotspots". Final Report (Draft Version) to Center for Hazards and Risk Research, Lamont-Dohert Observatory, Columbia University.

Nordhaus, W., & Yang, Z. (1996). Regional dynamic general-equilibrium model of alternative climate-change strategies. American Economic Review, 86(4), 741–765.

OECS. (2004). Grenada: Macro-socio-economic assessment of the damages caused by hurricane Ivan. Organisation of Eastern Caribbean States.

Ohiduzzaman, M. (1993). Socio-economic and environmental effects of the 1991 cyclone in coastal Bangladesh: A local level analysis. Unpublished Masters in Urban and Regional Planning (MURP) thesis. Bangladesh University of Engineering and Technology (BUET).

Paeth, H., Hense, A., Glowienka-Hense, R., Voss, S., & Cubasch, U. (1999). The North Atlantic oscillation as an indicator for greenhouse-gas induced regional climate change. Climate Dynamics, 15(12), 953–960.

Peduzzi, P., et al. (2012). Global trends in tropical cyclone risk. Nature Climate Change, 2(4), 289–294.

Pfeffer, W. T., Harper, J. T., & O'Neel, S. (2008). Kinematic constraints on glacier contributions to 21st-centry sea-level rise. Science, 321(5894), 1340–1343.

Pielke, R. A., Gratz, J., Landsea, C. W., Collins, D., Saunders, M. A., & Musulin, R. (2008). Normalized hurricane damage in the United States. Natural Hazards Review, 9(1), 29–42.

Pielke, R. A, Jr, Rubiera, J., Landsea, C., Fernandez, M. L., & Klein, R. (2003). Hurricane vulnerability in Latin America and the Caribbean: Normalized damage and loss potentials. Natural Hazards Review, 4(3), 101–114.

Prevatt, D., Dupigny-Giroux, L., & Masters, F. (2010). Engineering perspectives on reducing hurricane damage to housing in CARICOM Caribbean islands. Natural Hazards Review, 11(4), 140–150.

Pries, A., Branch, L., & Miller, D. (2009). Impact of hurricanes on habitat occupancy and spatial distribution of beach mice. Journal of Mammalogy, 90(4), 841–850.

Rogers, C. (2001). Degradation of marine ecosystems and decline of fishery resources in marine protected areas in the US virgin islands. Environmental Conservation, 28(4), 312–322.

Shi, P., Shuaila, J., Chenla, W., & Lu, L. (2010). Study on large-scale disaster risk assessment and risk transfer models. International Journal of Disaster Risk Science, 1(2), 1–8.

Strobl, E. (2012). The economic growth impact of natural disasters in developing countries: Evidence from hurricane strikes in the central American and Caribbean regions. Journal of Development Economics, 97(1), 130–141.

Trenberth, K. E., & Shea, D. J. (2006). Atlantic Hurricanes and natural variability in 2005. Geophysical Research Letters, 33(2), 1–4.

Whitehead, J. C., Maiolo, J. R., Wilson, K., Smith, K. T., Edwards, B., & Van Willigen, M. (2000). Heading for higher ground: Factors affecting real and hypothetical hurricane evacuation behavior. Environmental Hazards, 2, 133–142.

Yartey, C., Narita, M., Nicholls, G., & Okwuokei, J. (2012). The challenges of fiscal consolidation and debt reduction in the Caribbean. Washington: International Monetary Fund.
About this article
Cite this article
Moore, W., Elliott, W. & Lorde, T. Climate change, Atlantic storm activity and the regional socio-economic impacts on the Caribbean. Environ Dev Sustain 19, 707–726 (2017). https://doi.org/10.1007/s10668-016-9763-1
Received:

Accepted:

Published:

Issue Date:

DOI: https://doi.org/10.1007/s10668-016-9763-1
Keywords
General equilibrium

North Atlantic hurricanes

Caribbean

Climate change