Abstract
The current sustainability-driven urban reality is complex. Planning for such a multidimensional environment is even more complex. Alternatives to traditional planning approaches are sought in an attempt to create liveable and lively urban public spaces. The lively planning approach is based on the principles of place-making, planning scales and within various planning dimensions, with the aim to design successful public spaces. This paper evaluates the role that lively planning integrated approach can play in creating sustainable, liveable and lively public spaces, by determining the scale of implementation and identifying the dimensions of lively planning that could be incorporated in public space design and planning. The scale and dimensions of the lively planning integrative approach are linked to each another, and examples of elements to be incorporated in the design of a public space are included as a conclusion of this research.
Access options
Buy single article
Instant access to the full article PDF.
US$ 39.95
Tax calculation will be finalised during checkout.
Subscribe to journal
Immediate online access to all issues from 2019. Subscription will auto renew annually.
US$ 79
Tax calculation will be finalised during checkout.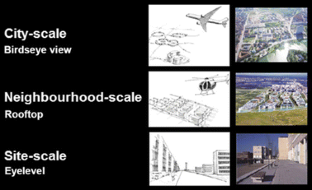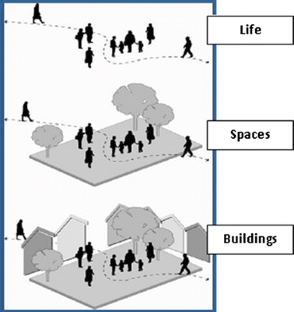 References
Baltimore City Department of Planning. (2010). Downtown Open Space Plan, Baltimore, Maryland. Project for Public Spaces. Flannigan Consulting, Sabra Wang Associates. December 2010, p. 202.

Berger-Schmitt, R. (2000). Social cohesion as an aspect of the quality of societies: Concept and measurement. EuReporting Working Paper No. 14. Mannheim: Centre for Survey Research and Methodology (ZUMA).

Birtles, P. J., Hore, J., Dean, M., Hamilton, R., Dahlenburg, J., Moore, J. & Bailey, M. (2014). Creating a liveable city—The role of ecosystem services. Blacktown City Council & Sydney Co-operative for Urban Water Research Independent.

Campbell, S. (1996). Green cities, growing cities, just cities? Urban planning and the contradictions of sustainable development. Journal of the American Planning Association, 62, 296–312.

Catalyst Architecture. (2009). Eco-logical placemaking.

Cilliers, S. S., Cilliers, E. J., Lubbe, C. E., & Siebert, S. J. (2013). Ecosystem services of urban green spaces in African countries—Perspectives and challenges. Urban Ecosystems, 16(4): 681–702. ISNB: 1573-1642. doi:10.1007/s11252-012-0254-3. http://link.springer.com/article/10.1007%2Fs11252-012-0254-3#page-1 http://link.springer.com/journal/11252/16/4/page/1.

Cilliers, E. J. & De Jong, N. (2013). Planning for lively spaces: Adding value to old spaces (South African approach). 49th ISOCARP conference, Brisbane, 1–4 October 2013.

Cilliers, E. J., Diemont, E., Stobbelaar, D. J. & Timmermans, W. (2011). Sustainable green urban planning: The workbench spatial quality method. Journal of Place Management and Development, 4(2): 214–224. ISSN: 1753-8335. http://www.emeraldinsight.com/journals.htm/journals.htm?issn=1753-8335&volume=4&issue=2&articleid=1941368&show=pdf.

Cilliers, E. J., & Timmermans, W. (2014). The importance of creative participatory planning in the public place-making process. Environment and Planning B: Planning and Design, 41, 413–429. EPB 139-098.

Cilliers, E. J., Timmermans, W., van den Goorbergh, F. & Slijkhuis, J. S. A. (2012). The Lively Cities (LICI) background document: LICI theory and planning approaches. Part of the LICI project (Lively Cities, made possible by INTERREG IVB North West Europe, European Regional Development Fund, European Territorial Cooperation, 2007–2013. Wageningen University of Applied Sciences, Van Hall Larenstein).

Cities Alliance. (2007). Liveable Cities: The benefits of urban environmental planning. A cities alliance study on good practices and useful tools (p. 162). Washington: York Graphic Services.

City of Vancouver. (2008). Eco density. How density, design, and land use will contribute to environmental sustainability, affordability, and liveability. Summary report. p. 24.

Crane, A. (2011). Intervening with agriculture: A participatory action case study of guerilla gardening in Kingston, Ontario. Queens University Department of Environmental Studies. April 2011.

Dixon, T. (2011). Sustainable urban development to 2050: Complex transitions in the built environment of cities. Oxford Institute for Sustainable Development, Oxford Brookes University, Retrofit 2050 Working Paper WP2011/5.

Efroymson, D., Thanha, T. T. K. & HA, P. T. (2009). Public spaces: How they humanize cities. Dhaka. p. 88.

Ganley, B. (2010). Re-weaving the community, creating the future. Storytelling at the heart and soul of healthy communities. Orton Family Foundation. 52 pp.

Gehl, J. (2004). Lively, attractive and safe cities, but how? Cities for people as design challenge. Centre for Public Space Research, School of Architecture, The Royal Danish Academy of Fine Arts. Paper presented at the Stockholm Conference "New Urbanism and Beyond", 4–8 October 2004. p. 42.

Greenspace. (2001). Greenspace. European Commission Science, Research and Development Fifth Framework Programme 1998–2002. Key Action 4 "City of Tomorrow and Cultural Heritage". Co-ordinated by the Department of Planning & Environmental Policy at University College Dublin. http://www.ucd.ie/greensp/.

Hampton, K. N., & Gupta, N. (2008). Community and social interaction in the wireless city: wi-fi use in public in semi-public spaces. New Media and Society, 10(6), 831–850.

Hampton, K. N., Livio, O., & Goulet, L. S. (2010). The social life of wireless urban spaces: Internet use, social networks, and the public realm. Journal of Communication, 60(4), 701–722.

Herzele, A., & Wiedemann, T. (2002). A monitoring tool for the provision of accessible and attractive urban green spaces. Landscape and Urban Planning, 63(2), 109–126.

Hobart City Council. (2011). Hobart 2010 public spaces and public life, a city with people in mind: Gehl plans for a lively inner city. p. 2.

Humphreys, L. (2007). Mobile social networks and social practice: A case study of Dodgeball. Journal of Computer-Mediated Communication, 13(1), 341–360.

Jassem, H. C. (2010). Municipal WiFi: The Coda. Journal of Urban Technology, 17(2), 3–20. Routledge.

Kaymaz, I. (2013). Urban landscapes and identity. Advances in landscape architecture, Chapter 29, pp. 739–760.

Kazmierczak, A. E., & James, P. (2008). The role of urban green spaces in improving social inclusion. School of Environment and Life Sciences. Salford: University of Salford.

Lambert, A., McQuire, S. & Papastergiadis, N. (2013). Free WI-FI and Public Space. The state of Australian public initiatives. School of culture and communication, Faculty of Arts, the University of Melbourne.

Land Information Access Association. (1999). Building a sense of place. A cooperative approach to discovering and preserving community character.

Liu, Z., Mao, F., Zhou, W., Li, Q., Haung, J., & Zhu, X. (2007). Accessibility assessment of urban green space: A quantitative perspective. School of Architecture (p. 2). Beijing: Tsinghua University.

Malone, K. (2002). Street life: Youth, culture and competing uses of public space. Environment & Urbanization, 14(2), 157–168.

McMILLAN, D. W., & Chavis, D. M. (1986). Sense of community: A definition and theory. Journal of Community Psychology, 14(1), 6–23.

Okulicz-Kozaryn, A. (2013). City life: Rankings (livability) versus perceptions (satisfaction). Social Indicators Research, 110(2), 433–451.

Pacione, M. (2005). Urban geography: A global perspective (2nd ed., p. 686). New York: Routledge.

Placemaking Chicago. (2012). Placemaking Chicago. A neighborhood guide to placemaking in Chicago. http://www.placemakingchicago.com/index.asp.

PPS Project for Public Spaces. (2012). Place-making for creating lively cities, training manual. LICI. p. 135.

Raven, M. (2007). The place matters toolkit. Livable neighborhoods: Resources and training for community-based planners. Municipal Art Society Planning Center.

Rogerson, R. J. (1999). Quality of life and city competitiveness. Urban Stud, 36(5–6), 969–985.

Ryan, Z. (2006). The good life, new public spaces for recreation. New York: Van Alen Institute.

Sarkissian, W., Hofer, N., Shore, Y., Vajda, S., & Wilkinson, C. (2009). Kitchen table sustainability—Practical recipes for community engagement with sustainability. London: Earthscan.

Sikiaridi, E. & Vogelaar, F. (2000). The use of space in the information/communication processing the unplannable. Workshop "Ruimtegebruik", Amsterdam, March.

Soholt, H. (2004). Life, spaces and buildings—Turning the traditional planning process upside down. Paper presented to Walk21-V Cities for People. The Fifth International Conference on Walking in the 21st Century, June 9–11, 2004 Copenhagen, Denmark. Partner, GEHL Architects ApS, Urban Quality Consultants, Copenhagen.

Stigsdotter, U. A. (2008). Urban green spaces: Promoting health through city planning. Swedish university of Agricultural Sciences. p. 17.

VCEC Victorian Competition and Efficiency Commission. (2011). Measures of liveability and sustainability. p. 19. http://www.vcec.vic.gov.au.
About this article
Cite this article
Cilliers, E.J., Timmermans, W., van den Goorbergh, F. et al. Designing public spaces through the lively planning integrative perspective. Environ Dev Sustain 17, 1367–1380 (2015). https://doi.org/10.1007/s10668-014-9610-1
Received:

Accepted:

Published:

Issue Date:
Keywords
Sustainable development

Planning scales

Lively spaces

Green planning

Integrated approach