Abstract
Oil palm (Elaeis guineensis) has become one of the most rapidly expanding crops in the world. Many countries have promoted its cultivation as part of a broader rural development strategy aimed at generating paid work and producing both export commodities and biofuels. However, oil palm expansion has often occurred at the expense of ecosystems and subsistence agriculture, and on lands riddled with tenure conflicts. In this article, we analyse the implications of the combined effect of labouring in oil palm plantations and land access on households, and we discuss how these implications affect human well-being in two indigenous communities of the Polochic valley, Guatemala. Combining participant observation, semi-structured interviews, and land-time budget analysis at household level, we reveal how oil palm cultivation increases incomes for plantation workers' households, but decreases the productivity of maize cultivation, reduces the time that household members have available for other activities and, particularly, reduces women's resting time. In contrast, households that focus more intensively on maize cultivation show higher degrees of food security and women can allocate more time to social activities. However, our results also show that maize consumption per capita has not decreased in households working in oil palm plantations since such crop is considered sacred by the Q'eqchi' and plays a central role in their diet and culture. In conclusion, we argue that while working for an oil palm cultivation can increase specific elements of the basic material conditions for a good life, other aspects such as food security, health, freedom of choice, and social relationships can become deteriorated.
This is a preview of subscription content, log in to check access.
Access options
Buy single article
Instant access to the full article PDF.
US$ 39.95
Price includes VAT for USA
Subscribe to journal
Immediate online access to all issues from 2019. Subscription will auto renew annually.
US$ 99
This is the net price. Taxes to be calculated in checkout.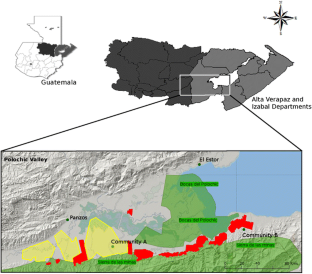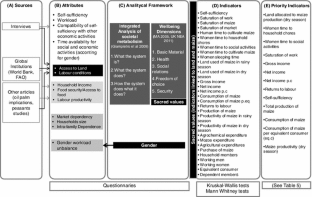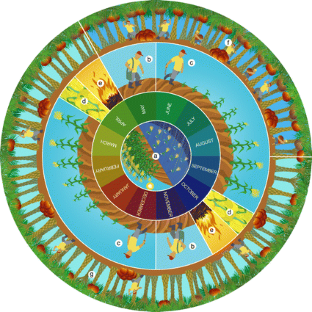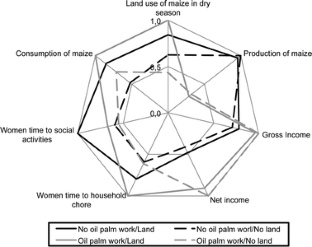 Notes
1.

General poverty lines calculated by an inter-institutional technical team of INE, Planning Secretariat of the Presidency (SEGEPLAN), with the assistance of World Bank.

2.

Gini coefficient equal to 0 represents perfect equality, whereas a coefficient of 1 represents extreme inequality.

3.

Ixcán (Quiché), Chisec, Fray Bartolomé de las Casas (Alta Verapaz), and Sayaxché (Petén).

4.

It involves using an accounting framework that uses human activity instead of per capita figures. Here, human activity is measured in hours (a person has a budget of 24 h per day to allocate to different activities). The main advantages of using hours to represent human activity are the following: it allows to keep track of the activities developed by the society; we can scale up and down indicators, i.e., aggregate them across scales; and they represent demographic and institutional information (e.g., workload).

5.
References
Achten, W. M. J., & Verchot, L. V. (2011). Implications of biodiesel-induced land-use changes for CO2 emissions: Case studies in Tropical America, Africa, and Southeast Asia. Ecology and Society, 16(4), art. 14. doi:10.5751/ES-04403-160414.

Agarwal, B. (2000). Conceptualising environmental collective action: Why gender matters. Cambridge Journal of Economics, 24, 283–310.

Alonso-Fradejas, A. (2012). Land control-grabbing in Guatemala: The political economy of contemporary agrarian change. Canadian Journal of Development Studies, 33(4), 509–528.

Alonso-Fradejas, A., Alonzo, F., & Dürr, J. (2008). Caña de azúcar y palma africana: combustibles para un nuevo ciclo de acumulación y dominio en Guatemala. Guatemala: Magna Terra Editores.

Alonso-Fradejas, A., Caal, J. L., & Chinchilla, T. (2011). Plantaciones agroindustriales, dominación y despojo indígena-campesino en la Guatemala del s. XXI.. Guatemala: Magna Terra Editores.

Babel, M. S., Shrestha, B., & Perret, S. R. (2011). Hydrological impact of biofuel production: A case study of the Khlong Phlo Watershed in Thailand. Agricultural water management, 101(1), 8–26.

BANGUAT. (2010). Banco de Guatemala. http://www.banguat.gob.gt/inc/main.asp?id=413&aud=1&lang=1. Accessed March 29, 2010.

Behrman, J., Meinzen-dick, R., & Quisumbing, A. (2012). The gender implications of large-scale land deals. Journal of Peasant Studies, 39(1), 49–79.

Belcher, B., Imang, N., & Achdiawan, R. (2004). Rattan, rubber, or oil palm: Cultural and financial consideration for farmers in Kalimantan. Economic Botany, 58(1), 77–87.

Boserup, E. (1990). Economic and demographic relationships in development essays selected and introduced by T. Paul Shutlz. Baltimore and London: The Johns Hopkins University Press.

Bouyssou, D. (1990). Building criteria: a prerequisite for MCDA. In C. A. Bana e Costa (Ed.), Readings in multiple criteria decision aid (pp. 58–80). Berlin: Springer.

Broadbent, E. N., Zambrano, A. M. A., Dirzo, R., Durham, W. H., Driscoll, L., Gallagher, P., Salters, R., Schultz, J., Colmenares, A., & Randolph, S. G. (2012). The effect of land use change and ecotourism on biodiversity: A case study of Manuel Antonio, Costa Rica, from 1985 to 2008. Landscape ecology, 27(5), 731–744.

Cardenas, R. (2012). Green multiculturalism: Articulations of ethnic and environmental politics in Colombia's black communities. Journal of Peasant Studies, 39(2), 309–333. doi:10.1080/03066150.2012.665892.

Chayanov, A. (1974). La organización de la unidad económica campesina. Buenos Aires: Nueva Visión.

Creutzig, F., Corbera, E., Bolwig, S., & Hunsberger, C. (2013). Integrating place-specific livelihood and equity outcomes into global assessments of bioenergy deployment. Environmental Research Letters, 8(3), 035047.

Danielsen, F., Beukema, H., Burgess, N. D., Parish, F., Bruehl, C. A., Donald, P. F., Phalan, B., Reijnders, L., Strubig, M., & Fitzherbert, E. B. (2009). Biofuel plantations on forested lands: Double jeopardy for biodiversity and climate. Conservation Biology, 23(2), 348–358.

Deininger, K., Byerlee, D., Lindsay, J., Norton, A., Selod, H., & Stickler, M. (2011). Rising global interest in farmland. Can it yield sustainable and equitable benefits?. Washington, DC: World Bank.

Edwards, D. P., Larsen, T. H., Docherty, T. D., Ansell, F. A., Hsu, W. W., Derhé, M. A., Hamer, K, C., & Wilcove, D. S. (2011). Degraded lands worth protecting: The biological importance of Southeast Asia's repeatedly logged forests. Proceedings of the Royal Society B: Biological Sciences, 278(1702), 82–90.

El Observador. (2013). Palma africana enraizándose en las tierras del Ixcán. El Enfoque, 30. Guatemala: El Observador.

FAO. (2001). Maiz en los trópicos: Mejoramiento y producción. Rome: FAO.

FAO. (2010a). Global forest resources assessment 2010. Rome: Food and Agriculture Organization of the United Nations.

FAO. (2010b). Memoria de labores 2010. Guatemala. http://coin.fao.org/coinstatic/cms/media/8/13070344496140/memoria_de_labores_2010_final_bajares_03052011.pdf. Accessed Dec 10, 2011.

FAOSTAT. (2011). Statistical database. http://faostat.fao.org/site/339/default.aspx. Accessed Dec 10, 2011.

Fayle, T. M., Turner, E. C., Snaddon, J. L., Chey, V. K., Chung, A. Y. C., Eggleton, P., et al. (2010). Oil palm expansion into rain forest greatly reduces ant biodiversity in canopy, epiphytes and leaf-litter. Basic and Applied Ecology, 11(4), 337–345. doi:10.1016/j.baae.2009.12.009.

Feintrenie, L., Chong, W. K., & Levang, P. (2010). Why do farmers prefer oil palm? Lessons learnt from Bungo district, Indonesia. Small-Scale Forestry, 9(3), 379–396.

Firdaus, M. S., Gandaseca, S., Ahmed, O. H., Muhamad, N., & Majid, A. (2010). Effect of converting secondary tropical peat swamp forest into oil palm plantation on selected peat soil physical properties. American Journal of Environmental Sciences, 6(4), 402–405.

Fischer, G., & Shah, M. (2010). Farmland investments and food security: Statistical annex. Luxembourg: World Bank and International Institute for Applied Systems Analysis Contract.

Foley, J. A., DeFries, R., Asner, G. P., Barford, C., Bonan, G., Carpenter, S. R., et al. (2005). Global consequences of land use. Science, 309(5734), 570–574.

Gasparatos, A., Stromberg, P., & Takeuchi, K. (2011). Biofuels, ecosystem services and human wellbeing: Putting biofuels in the ecosystem services narrative. Agriculture, Ecosystems & Environment, 142(3–4), 111–128. doi:10.1016/j.agee.2011.04.020.

German, L., Schoneveld, G. C., & Pacheco, P. (2011). The social and environmental impacts of biofuel feedstock cultivation: Evidence from multi-site research in the forest frontier. Ecology and Society, 16(3), 24.

Germer, J., & Sauerborn, J. (2007). Estimation of the impact of oil palm plantation establishment on greenhouse gas balance. Environment, Development and Sustainability, 10(6), 697–716. doi:10.1007/s10668-006-9080-1.

Giampietro, M., Mayumi, K., & Ramos-Martin, J. (2009). Multi-scale integrated analysis of societal and ecosystem metabolism (MuSIASEM): Theoretical concepts and basic rationale. Energy, 34(3), 313–322. doi:10.1016/j.energy.2008.07.020.

Gillespie, P. (2012). Participation and power in Indonesian oil palm plantations. Asia Pacific Viewpoint, 53(3), 254–271. doi:10.1111/j.1467-8373.2012.01494.x.

Goebertus, J. (2008). Palma de Aceite y desplazamiento Forzado en zona Bananera: "Trayectorias" entre recursos naturales y conflicto. Colombia Internacional, 67, 152–175.

Grandia, L. (2006). Land dispossession and enduring inequity for the Q'eqchi' Maya in the Guatemalan and Belizean frontier colonization process reactions. Berkeley, CA: University of California-Berkeley.

Grandia, L. (2011). Projecting smallholders: Road, the Puebla to Panama Plan and land grabbing in the Q'eqchi' lowlands of Northern Guatemala. Land deal politics initiative. http://www.iss.nl/fileadmin/ASSETS/iss/Documents/Conference_papers/LDPI/13_Liza_Grandia.pdf. Accessed May 12, 2011.

Grünbühel, C. M., & Schandl, H. (2005). Using land-time-budgets to analyse farming systems and poverty alleviation policies in the Lao PDR. International Journal of Global Environmental Issues, 5(3–4), 142–180.

Hammel, E. A. (2005). Chayanov revisited: A model for the economics of complex kin units. Proceedings of the National Academy of Sciences of the United States of America, 102(19), 7043–7046.

Henson, I. E. (2005). An assessment of changes in biomass carbon stocks in tree crops and forests in Malaysia. Journal of Tropical Forest Science, 17(2), 279–296.

Hernández, S., & Castañeda, F. (2011). El Programa de Palma Africana: ¿Un programa de seguridad alimentaria y nutricional? Guatemala: Centro Internacional para Investigaciones en Derechos Humanos (CIIDH) and Facultad Latinoamericana de Ciencias Sociales (FLACSO).

Höbinger, T., Schindler, S., Seaman, B. S., Wrbka, T., & Weissenhofer, A. (2011). Impact of oil palm plantations on the structure of the agroforestry mosaic of La Gamba, southern Costa Rica: Potential implications for biodiversity. Agroforestry Systems, 85(3), 367–381. doi:10.1007/s10457-011-9425-0.

Huntington, H. P. (2000). Using traditional ecological knowledge in science: Methods and applications. Ecological Applications, 10(5), 1270–1274.

Hurtado, L. (2008). Dinámicas agrarias y reproducción campesina en la globalización. El caso de Alta Verapaz, 1970–2007. Guatemala: F&G Editores.

INE. (2002). XI Censo Nacional de Población and VI de Habitación. Guatemala Government.

INE. (2004). Censo Nacional Agropecuario. Guatemala Government.

INE. (2006). Encuesta Nacional de Condiciones de Vida. Guatemala Government. http://www.ine.gob.gt/np/encovi/encovi2006.htm. Accessed May 10, 2010.

IPBES. (2013). Recommended conceptual framework of the Intergovernmental science-policy platform on biodiversity and ecosystem services-advance 19th UNEP. http://www.ipbes.net/images/K1353197-%20IPBES-2-4%20-%20Revised%20advance.pdf. Accessed September 2013.

Janssen, R., & Rutz, D. D. (2011). Sustainability of biofuels in Latin America: Risks and opportunities. Energy Policy, 39(10), 5717–5725. doi:10.1016/j.enpol.2011.01.047.

Julia, & White, B. (2012). Gendered experiences of dispossession: Oil palm expansion in a Dayak Hibun community in West Kalimantan. Journal of Peasant Studies, 39(3–4), 995–1016.

Koczberski, G., & Curry, G. N. (2004). Divided communities and contested landscapes: Mobility, development and shifting identities in migrant destination sites in Papua New Guinea. Asia Pacific Viewpoint, 45(3), 357–371.

Koczberski, G., Curry, G. N., & Bue, V. (2012). Oil palm, food security and adaptation among smallholder households in Papua New Guinea. Asia Pacific Viewpoint, 53(3), 288–299.

MA. (2005). Ecosystems and human well-being: Synthesis. Washington, DC: Island Press.

McCarthy, J. (2010). Processes of inclusion and adverse incorporation: Oil palm and agrarian change in Sumatra, Indonesia. The Journal of Peasant Studies, 37(4), 821–850. doi:10.1080/03066150.2010.512460.

McCarthy, J., & Cramb, R. (2009). Policy narratives, landholder engagement, and oil palm expansion on the Malaysian and Indonesian frontiers. Geographical Journal, 175(2), 112–123. doi:10.1111/j.1475-4959.2009.00322.

McCarthy, J. F., Gillespie, P., & Zen, Z. (2012). Swimming upstream: Local Indonesian production networks in "globalized" palm oil production. World Development, 40(3), 555–569.

Miller, G. A. (1956). The magical number seven, plus or minus two: Some limits on our capacity for processing information. Psychological Review, 63(2), 81.

Mingorría, S., & Gamboa, G. (2010). Metabolismo socio-ecológico de comunidades campesinas Q'eqchi' y la expansión de la agro-industria de caña de azúcar y palma africana: Valle del Río Polochic, Guatemala. Guatemala: Magna Terra Editores.

Murdiyarso, D., Hergoualc'h, K., & Verchot, L. V. (2010). Opportunities for reducing greenhouse gas emissions in tropical peatlands. Proceedings of the National Academy of Sciences, 107(46), 19655–19660.

Murray Li, T. (2011). Centering labor in the land grab debate. Journal of Peasant Studies, 38(2), 281–298. doi:10.1080/03066150.2011.559009.

Netting, R. Mc C. (1993). Smallholders, householders, farm families and the ecology of intensive, sustainable agriculture. California: Stanford University Press.

Obidzinski, K., Andriani, R., Komarudin, H., & Andrianto, A. (2012). Environmental and social impacts of oil palm plantations and their implications for biofuel production in Indonesia. Ecology and Society, 17(1). doi:10.5751/ES-04775-170125.

Ostrom, E., & Schlager, E. (1996). The formation of property rights. In S. Hanna, C. Folke, & K.-G. Mäller (Eds.), Rights to nature. Washington, DC: Island Press.

Pehnelt, G., & Vietze, C. (2013). Recalculating GHG emissions saving of palm oil biodiesel. Environment, Development and Sustainability, 15(2), 429–479. doi:10.1007/s10668-012-9387-z.

PESAN. (2009). Plan Estratégico de Seguridad Alimentaria y Nutricional 2009–2012. Guatemala: Secretaría de Seguridad Alimentaria y Nutricional. http://siteresources.worldbank.org/EXTLACREGTOPNUT/Resources/4160377-1357590589927/89964981357590799892/89965601357606723728/SESAN_2009.pf. Accessed May 10, 2010.

Phalan, B. (2009). The social and environmental impacts of biofuels in Asia: An overview. Applied Energy, 86, 21–29. doi:10.1016/j.apenergy.2009.04.046.

ProRural. (2009). Resumen operativo de ProRural. Guatemala Government.

ProRural. (2010). Plan Operativo Anual del Fondo Nacional de Desarrollo -FONADES-. Guatemala Government.

Raudsepp-Hearne, C., Peterson, G. D., & Bennett, E. M. (2010). Ecosystem service bundles for analyzing tradeoffs in diverse landscapes. Proceedings of the National Academy of Sciences, 107(11), 5242–5247.

Ribeiro, G. (2007). Base de Datos Geográfica del Laboratorio SIG-MAGA. Guatemala.

Rist, L., Feintrenie, L., & Levang, P. (2010). The livelihood impacts of oil palm: Smallholders in Indonesia. Biodiversity and Conservation, 19(4), 1009–1024. doi:10.1007/s10531-010-9815-z.

SAA. (2010). Memoria de Labores 2010. http://portal.saa.gob.gt/. Accessed May 11, 2011.

Saisana, M., & Tarantola, S. (2002). State-of-the-art report on current methodologies and practices for composite indicator development. Applied Statistics Group. Institute for the Protection and the Security of the Citizen. Technological and Economic Risk Management Unit. Ispra (VA), Italy: Joint Research Centre European Commission.

Sandker, M., Suwarno, A., & Campbell, B. (2007). Will forests remain in the face of oil palm expansion? Simulating change in Malinau, Indonesia. Ecology and Society, 12(2). Retrieved from http://www.ecologyandsociety.org/vol12/iss2/art37/ES-2007-2292.pdf.

Santos-Martín, F., Martín-López, B., García-Llorente, M., Aguado, M., Benayas, J., & Montes, C. (2013). Unraveling the relationships between ecosystems and human wellbeing in Spain. PLoS ONE, 8(9), e73249.

Scheidel, A. (2013). Flows, funds and the complexity of deprivation: Using concepts from ecological economics for the study of poverty. Ecological Economics, 86, 28–36. doi:10.1016/j.ecolecon.2012.10.019.

Smith, L. M., Case, J. L., Smith, H. M., Harwell, L. C., & Summers, J. K. (2012b). Relating ecoystem services to domains of human well-being: Foundation for a U.S. index. Ecological Indicators. doi:10.1016/j.ecolind.2012.02.032.

Smith, D. R., Townsend, T. J., Choy, A. W. K., Hardy, I. C. W., & Sjögersten, S. (2012a). Short-term soil carbon sink potential of oil palm plantations. GCB Bioenergy, 4(5), 588–596. doi:10.1111/j.1757-1707.2012.01168.

Solano, L. (2009). Estudio del destino de la producción de caña de azúcar y palma africana y la situación de la producción y el mercado de agrocombustibles en Guatemala. Guatemala: ActionAid.

Solano, L. (2011). Valle del Polochic: El poder de dos familias. El Enfoque, 16. Guatemala: El Observador.

Solano, L., & Solís, F. (2010). La Palma Africana: Agronegocio que se expande. Territorio: Posiciones Contrapuestas. El Enfoque, 6. Guatemala: El Observador.

Tallis, H., Kareiva, P., Marvier, M., & Chang, A. (2008). An ecosystem services framework to support both practical conservation and economic development. Proceedings of the National Academy of Sciences, 105(28), 9457–9464.

Taracena, A., & Ruano, E. (2001). Las exclusiones heredadas e inventadas durante el siglo XX en Guatemala. Cuadernos de Desarrollo Humano. Guatemala: SNU.

Turner, E. C., & Foster, W. A. (2009). The impact of forest conversion to oil palm on arthropod abundance and biomass in Sabah, Malaysia. Journal of Tropical Ecology, 25(1), 23.

UK NEA. (2011). The UK national ecosystem assessment: Synthesis of the key findings. Cambridge: UNEP-WCMC.

UNDP. (2013). Human development report 2013. The rise of the South: Human progress in a diverse world. http://hdr.undp.org/en/media/HDR_2013_EN_complete.pdf. Accessed Nov 10, 2013.

UNEP. (2008). Global environment outlook (GEO-4). In C. J. Cleveland (Ed.) Encyclopaedia of earth. Environmental information coalition. Washington, DC: National Council for Science and the Environment. http://www.eoearth.org/article/Global_Environment_Outlook_%28GEO-4%29:_Chapter_5. Accessed March 16, 2013.

USDA. (2010). Agricultural projections to 2019.

Wagner, R. (2001). Historía del café de Guatemala. Guatemala: Villegas Asociados.

Wakker, E. (2006). The Kalimantan border oil palm mega project. Finance. Amsterdam: Friends of the Earth Netherlands & SSNC.

World Bank. (2007). World development report: Agriculture for Development.

World Bank. (2011). The World Bank group framework and IFC strategy for engagement in the oil palm sector.
Acknowledgments
This research was partially funded by the Agència Catalana de Cooperació al Desenvolupament, Generalitat de Catalunya, and the Latin American and Caribbean Environmental Economics Program. Sara Mingorría acknowledges the financial support from an MAE grant of the AECID associated with the PERT Program of San Carlos University of Guatemala. Esteve Corbera acknowledges the financial support of the Spanish Research, Development and Innovation Secretariat (RYC-2010-07183) and of a Marie Curie Career Integration Grant within the EC-FP7 (PCIG09-GA-2011-294234). We thank the communities of the Polochic valley for their active participation in the research and the research team Instituto de Estudios Agrarios y Rurales of the Coordinadora de ONGs y Cooperativas in Guatemala for their logistic support during fieldwork. We are grateful to Adrián Miguel for his help with the design of the agrarian calendar, to Suzette Paguirigan for proofreading early versions of this paper, to the Rural System Group at ICTA-UAB for insightful methodological comments, and to two anonymous reviewers for their very useful comments. The views expressed and any errors remain our own responsibility.
Appendix
Appendix
See Table 9.
About this article
Cite this article
Mingorría, S., Gamboa, G., Martín-López, B. et al. The oil palm boom: socio-economic implications for Q'eqchi' households in the Polochic valley, Guatemala. Environ Dev Sustain 16, 841–871 (2014). https://doi.org/10.1007/s10668-014-9530-0
Received:

Accepted:

Published:

Issue Date:
Keywords
Palm oil

Gender

Guatemala

Indigenous communities

Societal metabolism

Well-being indicators